Committed to the Topic: Logo restrictions & USATF Annual Meeting
Committed to the Topic: Logo restrictions & USATF Annual Meeting
Dec 16, 2011
by Jonathan Gugala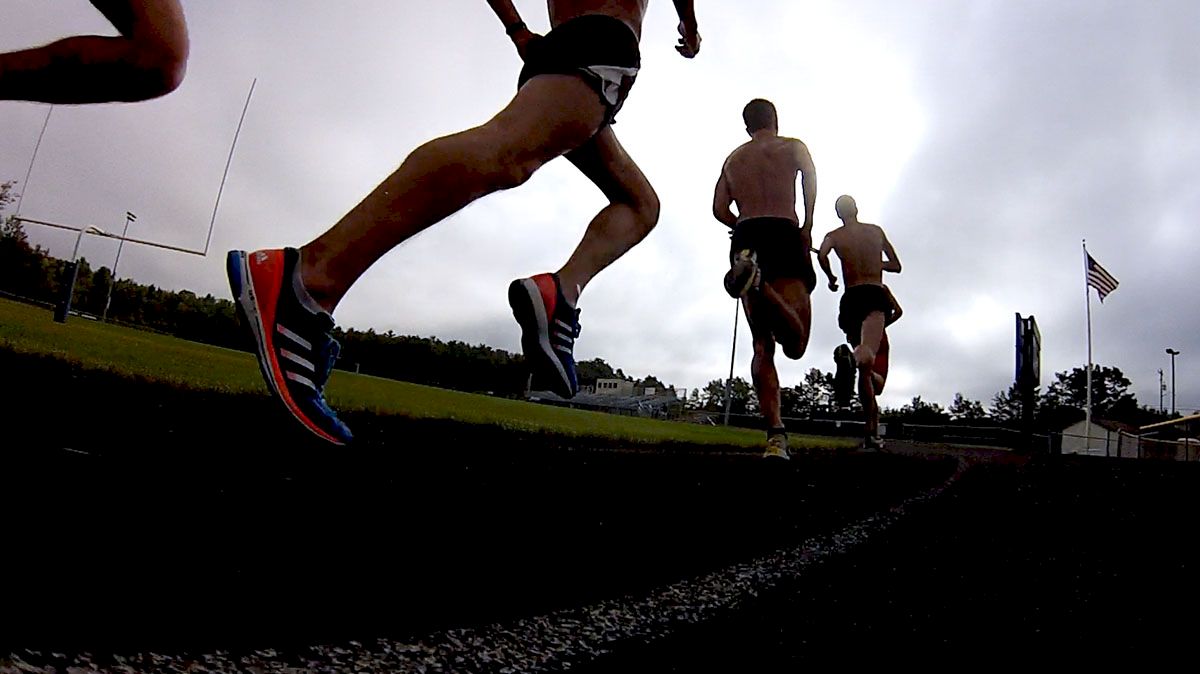 Unlike other major sports like football, baseball, basketball and hockey, professional runners haven't had a strong collective voice in the business matters that affect their livelihood.

The athletes in major team sports are organized in independent unions whose sole purpose is representing athletes' interests. Because of their unified power, unions are able to collectively bargain with the owners of the sports leagues to come to agreements on issues that affect a variety of labor and financial issues. When there are differences that can't be resolved, the players can go on strike or the owners can lock the players out.

Although American athletes fought the same challenges with the AAU in the 1970s, until recently, there has been no such organized group for current athletes. As a result, the sport's international and national governing bodies, major meet and race directors and the biggest sponsors have controlled the decision-making process of all major issues.
Athletes have often served various advisory roles with those organizations, and they have agents, too, but neither gives any single athlete the power to affect change. The only way to get their concerns addressed is to organize and use the leverage of a unified group.
In what might be considered a small step in getting organized, about 150 members of the revitalized Track and Field Athletes Association (TFAA) took on the USATF at its annual meeting last weekend in St. Louis. The athletes were there to address the hot-button issue of limited logo placement on uniforms.
On one side, the athletes wanted the ability to garner their own individual sponsorships to maximize their income-earning power during their brief stints as marketable athletes. On the other side, the IAAF and USATF have limited additional logos on team uniforms to not infringe upon the perceived exclusivity of primary sponsors.

While there are no USTAF regulations in place restricting multiple sponsorships for an athlete, the IAAF has limited logo placement to only a chief sponsor and a local club affiliation for events it sanctions — such as the Olympics and various world championships. Logo placement on an athlete's body — in the form of paint or tattoos — is strictly forbidden. USATF, while not having regulations specifying these issues (instead, termed "guidelines"), has followed suit in enforcing IAAF policy at USATF-sanctioned events. (Many major events have their own guidelines. For example, the New York City Marathon limits additional logos on athletes, which is why Lauren Fleshman infamously had a logo from her Picky Bar energy bar company removed from her arm moments before the start of this year's race,)

Athletes say the lack of placement opportunities limits their marketing opportunities, as secondary sponsors are reluctant to invest without visibility. Event organizers say they're concerned about lessening the involvement of their major sponsors if a competing logo is allowed on an athlete's uniform.

These rules have recently been brought to the public debate by Nick Symmonds, a six-time U.S. champion who is sponsored by Nike through the Oregon Track Club Elite program. In a blog post on FloTrack dated Oct. 3, he made wide-ranging indictments of the governing bodies of USATF and IAAF, stating "these regulations are the biggest problem with our sport today." He also started a Facebook group titled "I'm tired of USATF and IAAF crippling our sport," which garnered widespread support among track and field fans and athletes alike, swelling to 4,000 members in the first 24 hours of its inception.

The Dec. 2 meeting began peaceably enough until approximately 45 minutes into the meeting, when Nike's Global Director of Sports Marketing John Capriotti, seated on stage, received a text from an overseas colleague regarding the presence of a live stream of the meeting that the TFAA had set up, and which FloTrack had embedded on its website.

According to Jill Geer, USATF's chief communication officer, after three separate instances where audience members were asked to stop the feed, Capriotti left the room along with industry reps from Saucony and Reebok.

USATF president Stephanie Hightower then reprimanded athletes for what Geer says Hightower viewed as a "breach of trust and etiquette." Hightower also left, and in the following moments of tension, an AAC representative was even threatened with expulsion from the meeting.

TFAA officials have declined comment on the events, but Symmonds, a member of the TFAA, and with its full backing, said the TFAA-sponsored feed was in never a secret; there was no mention prior to the meeting on restrictions of press or privacy (Indeed, the meeting began open to the press. After the incident, all non-invitees and non-AAC members were required to leave before the closed-door meeting reconvened.)

"If you want to facilitate an open and honest discussion [between participants], it's in a closed business meeting," Geer said. She was unable to confirm that a media ban was made known to participants prior to the start of the meeting.

Capriotti, as well as other Nike representatives and USATF president Stephanie Hightower, did not return. Saucony and Reebok reps did return to resume the dialogue.

After the meeting's restart, many athletes in the room echoed Symmonds' issues. But from Geer's perspective, the most important thing was that the athletes themselves were able to be educated from the IAAF, USATF and corporate sponsors as to how their sponsorships — chiefly, money — come about. By opening the exclusivity clause that most athletes have signed into, representatives said, it's only logical that the monetary amount will be less. If you go about change, you risk losing money, Bob Hersh, the IAAF representative present at the meeting, said.

Symmonds, citing the loss of four more indoor meets in Europe last year, says, "The status quo isn't working, so why should we be scared of change?

However, the machine of change doesn't just start with an "on" switch.

"It's not a matter of changing a rule and that's it," says Geer, adding, "[Administration execs and industry reps] are looking out for the athletes, even though it may not seem that way to the athletes," and that the issue is "grossly over-simplified."

Citing the $13 million USATF receives each year from Nike, its exclusive sponsor, Geer says "more than 67 percent of our budget goes to athlete support and events. It's not just a logo on an athlete; it's money flowing through multiple channels, eventually into the pocket of the athlete."

A resolution was introduced by the TFAA regarding the enforcement of IAAF regulations on USATF-regulated meets, but it tabled later in the weekend at the behest of the athletes' lawyer who submitted it.
(Regulations at a particular meet are seldom unilateral; the 2012 U.S. Olympic trials in Eugene are governed by the IAAF and USATF. International Olympic Committee regulations can also be present, depending on the meet.)
Khadevis Robinson, president of the TFAA, pointed out that bringing the issue to a vote could result in a breach of contract with current sponsors. "No one wins in that situation," he said.
Still, Robinson was pleased with the outcome. "Everyone won," he says. "Before any contract is entered into [by USATF] in the future, the athletes' voices will be heard."
"This is the best way to moved forward," Geer said of the decision. "We will be working together, between the [USATF] board and athletes. The next step is to keep talking."

While Symmonds acknowledged that the rulebooks would not change because of a vote, he views it as a victory for the athletes. "We are very excited there will be some clarity," he says.

The other major development came as a surprise. Hersh, the IAAF official present, revealed that as of January 1, 2012, the secondary uniform logo would be opened to commercial logos, not simply club affiliations. "We didn't believe our ears," says one AAC and TFAA representative who wished to remain anonymous. "We kept asking for clarification, for him to repeat it, but it was true."

USATF has also capitulated, and will open up regulations on singlets for the Dec. 10 USATF club cross country championships in Seattle, Wash.

"[USATF Interim CEO] McNees fought it, but the club council was able to persuade him to lift the uniform restrictions for club nationals next week," tweeted Becca Gillespy Peter of Club Northwest.

But not all in attendance were as optimistic with the day's results. One AAC delegate, who wished to remain anonymous, says he felt the discussion was circular, the finger-pointing overwhelming, and the solution a matter of grays. "We're going to challenge it on our own," he said.

These disparate views on the same meeting only serve to underscore the difficult nature of the problem, and its emerging solutions.

"Everyone remains committed to the topic," Geer says. And it's clear that TFAA, with Symmonds as its backer, will continue to raise these issues.

"Everyone was afraid of losing their [shoe] contracts if they said anything," he says. "Not anymore."