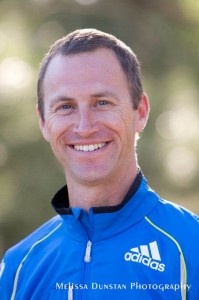 © Copyright - 2012 - Christopher Kelsall
Greg McMillan is into his fourth year running adidas-McMillan
Elite -
a post-collegiate program for runners who compete over distances from 5k to the marathon. McMillan
Elite
, Inc. is a non-profit Olympic development running team based in Flagstaff, Arizona.
The team is a collaboration between adidas and McMillan Running Company. McMillan is a coach, competitive masters-age athlete and physiologist. He incorporates training methods from some of the most respected coaches and physiologist from around the world including Joe Vigil, Arthur Lydiard, Dr. Dave Martin, Gabriel Rosa and others.
Recently
adidas-McMillanElite
athletes have enjoyed success at the Olympic Trials Marathon that took place in Houston, Texas, with Brett Gotcher running 2:11:06 and Nick Arciniaga finishing in 2:11:30. Team McMillan won the
USATF National Club Cross Country Championships
December 11, 2011. They have won three of four years. The year they didn't win, they did not enter a team.
Christopher Kelsall:
Nick Arciniaga's 2:11:30 marathon time is impressive considering his 10k personal best of 28:29 and half-marathon of 1:03:22. Where you surprised by this result?
Greg McMillan:
All his workouts indicated that he could run that time and he had run 2:11:47 at RNR San Diego the previous June so it was very doable. With regard to his shorter distance PRs, we must remember that these days, many athletes like Nick are going to the marathon quickly after college and not worrying about their shorter distance times. The old concept of run as fast as you can at 5K and 10K then move up isn't financially possible for athletes like Nick. They have to go to the distance where they can survive financially and that's certainly not the track. I'm sure Nick could run much faster than his current 10K and half-marathon PRs, but he's focused on the marathon and running faster at shorter distances isn't his priority. He'll likely lower those times when he gets a chance to race a fast 10K and half-marathon. That said, however, we are working hard to improve his speed in training and you'll see that with what we hope will be some breakthrough performances over the next couple of years.
CK:
What workouts did you have him run to demonstrate his ability to hit the time indicators?
GM:
Our main marathon predictor workout is a 15-mile Japanese-style tempo run. The first 11 miles are run at marathon effort (not pace since we are at altitude) with the last 4 miles nearly all out. If an athlete is able to perform well in this workout while tolerating the mileage and other workouts in our marathon training plan, then there's good chance of success in the marathon. Over the years, I've gathered enough data from all the athletes in our program that I get an idea of what to expect on race day. What's interesting, of course, is the individual variation. I know how Nick needs to perform to predict his time which is a bit different than how Brett Gotcher needs to perform to predict his time. Coaching is all about individualization.
CK:
How far out from race do you have athletes do the Japanese style tempo run?
Read the rest of the interview at
Athletics Illustrated
Read over 100 interviews by Christopher Kelsall at
Athletics Illustrated