Create a free account to unlock this article!
Get Started
Already a subscriber? Log In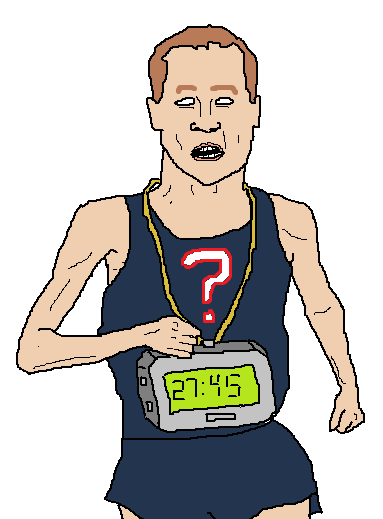 "Did you guys hear that Nathan Ritzenburg broke 13 for the 3 mile?"inquired my pal and teammate Bobby several weeks after Dathan Ritzenhein set the then-American record in the 5k. Rit'z 12:56.27 clocking in August of 2009 set the -admittedly small- world (of American distance running) on fire. And while Bobby's sense of humor relies heavily on intentional misrememberings of pseudo-celebrity names ("like how everyone has that one uncle that forgets names, ya know?"), nowadays, it would not be out of the realm of possibility for Ritzenhein's name to be botched by the moderate to serious track fan. Bobby's sardonic commentary on the pro running scene is now focused on the Gavin Rutt's, Craig Skolltinsky's, Karla Groucher's, and Sharlene Finnegan's on the circuit; poor Nathan is an afterthought these days.
Make no mistake. Ritzenhein, a Michigan native and Colorado alum, has enjoyed a decorated career. He has been a champion at every level from Footlocker, to NCAAs, and has been a presence at national and international competitions for years. But since his breakout summer, the oft-injured Ritz has found himself in a spell of bad luck. Consistent stints of training have eluded him, while stress fractures have targeted his svelte frame like some sort of brittle-bone-seeking-missiles. Something as seemingly harmless as 200 meter repeats on a too-tightly banked indoor track in Michigan have spelled disaster of a season-ending magnitude. Adding insult to injury -yup, that pun was intended- was a 4th place finish at the Olympic Trials Marathon in Houston this past winter.
However, Ritz appears to be rounding back into form at just the right time. At Occidental a spikeless Ritzenhein cruised to a 13:14.72 in what was reportedly a controlled effort. Less than 10 days later he raced a 10,000m in 27:50.82, which although left him disappointed, ensured him a spot in the United States Olympic Trials in that event. And so with his confidence buoyed Ritz will enter the trials with a hearty dosage of swagger, but no Olympic "A" standard of 27:45.00. (From his blog: "The last time this [uninterrupted training] happened I ran 12:56 and I believe that I am at that level of fitness again.")
The list of American men currently with the standard is a short one, highlighted by Galen Rupp, who, with his 26:48.00 seed time, is nestled comfortably in the proverbial marsupial pouch that is being the hands down favorite. Tim Nelson, Ben True, Brent Vaughn, Chris Derrick, Matt Tegenkamp, and Bobby Curtis (although he hasn't declared) make up the rest of the standard-holders, many of whom have first and last names that could be switched. But the real intrigue comes from those on the outside, looking in: Ritz, Scott Bauhs, Aaron Braun, and Brian Olinger all need for the pace to be honest, or their respective Olympic dreams will whither and fade into the well-pollinated Eugene dusk. Should any member of the latter group snag a top 3 finish, unless he did so running under 27:45, he will be watching the Olympic 10,000m from home in his Underoos, taking long hard pulls from a 2 liter jug of Sunny D between bouts of uncontrollable sobbing.
Dathan Ritzenhein has an ace up his sleeve (something that Olinger, Braun, Bauhs and the rest of the 27:5Xers can't even hope to conjure up come race day, but also something that ultimately all of these fellas will benefit from): Galen Rupp as a teammate. Oregon's favorite son has the wheels and qualifying mark to not worry about pace; if it's fast, he can outclass the field, if it's slow, he can blow their doors off over the last 400 meters. If Occidental is any indication, members of Team Salazar have a tendency to pace their comrades, and there is no greater display of mock-camaraderie than paving the way for a teammate to represent his country. Don't be surprised to see Galen clipping off 66 second 400s for the majority of the race with Ritz shadowing him every step of the way. Only time will tell, and hopefully that telling time is under 27:45.00.