A lot of people watched the 10k in anticipation to see whether or not Dathan Ritzenhien would qualify for the Olympic Games. Ritz had to finish in the top three, which no one questioned possible, but he also had to run the Olympic A Standard of 27:45.0 or better. Ritz had failed in two 10k races earlier this season so questions lingered about whether or not one of America's all-time best distance runners would make his third Olympic Team.
Ritz answered himself and any doubters with a superb run of 27:36, nine seconds clear of the mark after a 13:56 first half. Ritz ran with team Galen Rupp and long time competitor Matt Tegenkamp for most of the way until Rupp make a breaking move with 1200 meters to go. Tegenkamp outkicked Ritz over the final 400 meters for the runner-up spot to send the three big names to London!
Great race, interviews to follow...
Watch more video of 2012 U.S. Olympic Team Trials, Track & Field on flotrack.org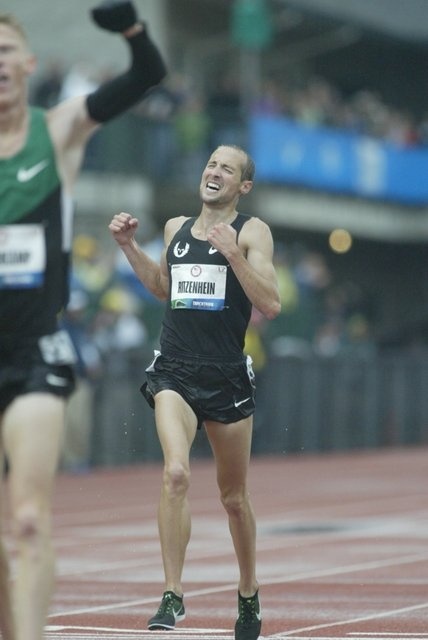 | Men's 10000 Meter Run | Final |
| --- | --- |
| Record | Tag | Time | Athlete | Affiliation | Date |
| --- | --- | --- | --- | --- | --- |
| World | W | 26:17.53 | Kenenisa Bekele | ETH | August 26 2005 |
| American | A | 26:48.00 | Galen Rupp | Nike | September 16 2011 |
| Meet | M | 27:36.49 | Meb Keflezighi | Nike | July 9 2004 |
| OG A | | 27:45.00 | | | |
| Place | Athlete Name | Affiliation | Time | | | | | | | |
| --- | --- | --- | --- | --- | --- | --- | --- | --- | --- | --- |
| 1 | Galen Rupp | Nike | 27:25.33 | | M | | | | | |
| 2 | Matt Tegenkamp | Nike / Oregon TC Elite | 27:33.94 | | | | | | | |
| 3 | Dathan Ritzenhein | Nike | 27:36.09 | | | | | | | |
| 4 | Chris Derrick | Stanford | 27:40.23 | | | | | | | |
| 5 | Aaron Braun | adidas/McMillan Elite | 27:41.54 | | | | | | | |
| 6 | Ryan Vail | Brooks | 27:52.53 | | | | | | | |
| 7 | Brent Vaughn | Nike | 27:55.44 | | | | | | | |
| 8 | Luke Puskedra | Oregon | 27:56.62 | | | | | | | |
| 9 | Bobby Mack III | Unattached | 27:58.07 | | | | | | | |
| 10 | Robert Curtis | Reebok | 27:58.48 | | | | | | | |
| 11 | Hassan Mead | Minnesota | 27:59.04 | | | | | | | |
| 12 | Benjamin True | Saucony | 28:08.17 | | | | | | | |
| 13 | Jacob Riley | Hansons-Brooks Distance Projec | 28:08.36 | | | | | | | |
| 14 | Tim Nelson | Nike / Oregon TC Elite | 28:15.11 | | | | | | | |
| 15 | Joseph Chirlee | U.S. Army | 28:17.84 | | | | | | | |
| 16 | Jeff Schirmer | ASTF | 28:35.18 | | | | | | | |
| 17 | Christopher Landry | Unattached | 28:35.46 | | | | | | | |
| 18 | Girma Mecheso | Oklahoma State | 28:38.73 | | | | | | | |
| 19 | Josh Simpson | AST | 28:48.32 | | | | | | | |
| 20 | David Jankowski | ZAP Fitness Reebok | 29:00.67 | | | | | | | |
| 21 | James Strang | Unattached | 29:09.77 | | | | | | | |
| 22 | Mikhail Sayenko | Brooks / Club Northwest | 29:18.57 | | | | | | | |
| 23 | Juan Carlos Trujillo | adidas | 29:36.50 | | | | | | | |
| DNF | Scott Bauhs | Unattached | | | | | | | | |