Amy Hastings of Brooks Running shed tears of joy after her dramtic come from behind win with 150 meters to go in the Women's 10K. Hastings was fourth at the 2012 Olympic Marathon Trials in Houston at the begining of the year. Tonight in Eugene Hastings beat Marathon Olympian Shalane Flanagan and NCAA Champion Natosha Rogers to win the USA title and stamp her ticket to the 2012 Olympics. Also on the team because of A Standards are Lisa Uhl and Janet Cherobon-Bawcom if Shalane Flanagan decides to focus on the marathon. Rogers does not have the A standard, so she will not be on the team to London.
Tears of joy in Eugene after tears of disapointment in Houston.
Watch more video of 2012 U.S. Olympic Team Trials, Track & Field on flotrack.org


Amy Hastings tired, relieved, exhausted after her win in the 10K.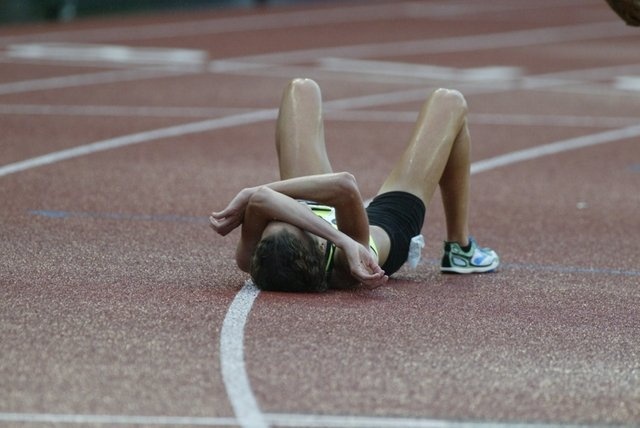 1
Amy Hastings
Brooks
31:58.36
2
Natosha Rogers
Texas A&M
31:59.21
3
Shalane Flanagan
Nike / Oregon TC Elite
31:59.69
4
Lisa Uhl
Nike / Oregon TC Elite
32:03.46
5
Alisha Williams
Boulder Running Company/adidas
32:08.51
6
Tara Erdmann
Unattached
32:09.15
7
Janet Cherobon-Bawcom
Nike
32:17.06
8
Stephanie Rothstein
adidas/McMillan Elite
32:24.25
9
Deborah Maier
Unattached
32:25.82
10
Kellyn Johnson
adidas/McMillan Elite
32:30.40
11
Alissa McKaig
ZAP Fitness Reebok
32:31.66
12
Meaghan Nelson
Iowa State
32:32.45
13
Rebecca Donaghue
New Balance
32:37.39
14
Adriana Nelson
Unattached
32:38.95
15
Rachel Ward
Ragged Mountain Racing
32:39.53
16
Liz Costello
Unattached
32:53.31
17
Alvina Begay
Nike
32:58.63
18
Katie McGregor
Reebok
33:11.92
19
Addie Bracy
Unattached
33:14.12
20
Wendy Thomas
Boulder Running Company/adidas
33:17.40
21
Katie DiCamillo
New Balance Boston
33:26.72
22
Katie Matthews
Boston University
33:45.22