Told You So!
July 23rd, 2012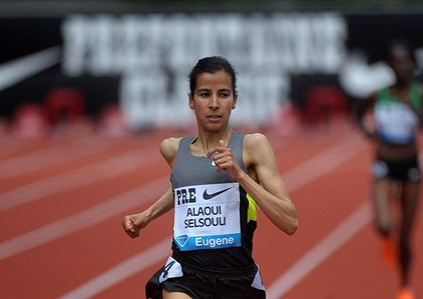 Some not so surprising news occured today when former drug cheat Mariem Alaoui Selsouli confirmed suspicions of doping and is now facing a lifetime ban for her second doping offense. Selsouli's urine sample from the Meeting Areva in Paris tested positive for the diuretic furosemide, and according to IAAF and WADA rules, a second doping offense means that she now faces a lifetime ban from track and field. Selsouli served her previous sentence from 2009 until 2011 after testing positive for EPO. After serving her first suspension, she burst onto the racing scene this year with a dirty vengence by running a huge personal best in Paris where she won in a time of 3:56.17. It was the fastest time in the world since Russia's Yuliya Fomenko ran 3:55.68 at the same meet in 2006. Fomenko also went on to serve a doping suspension. It was Selsouli's performance in Paris that caused suspicion, and now the suspicion has been confirmed.

That's right folks, you heard it here on Flotrack weeks before she tested positive. Selsouli will most likely take time off from running to spend more time with Rashid Ramzi and Ben Johnson. Check out the full story here on athleticsweekly.com.




---

When are they "Clean"?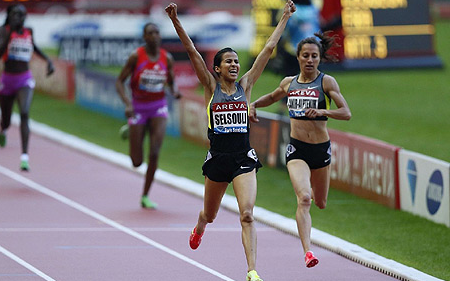 It was a big week for former drug cheats Mariem Alaoui Selsouli and Askli Cakir Alptekin, who according to the International Association of Athletics Federation, ran in "the best quality race of the summer," at the Meeting Areva in Paris. Selsouli and Cakir, led a field of 1500 superstars to a new world leading time followed by five women under the four minute barrier. Selsouli of Morocco, who just recently returned to the racing circuit in August 2011 from her suspension, surged through the finish line past Cakir in a new world leading time of 3:56.17 followed by a personal best of 3:56.62 for Cakir.
It was undoubtedly an impressive performance in women's middle distance running, but at the same time leaves one feeling uneasy knowing the fraudulent past of the winner and runner up.
Selsouli and Cakir have a few things in common. Both athletes are currently running the fastest they have ever run in their careers and both have been suspended for failed drug tests in the past. Selsouli crushed her previous personal best by four and a half seconds while Cakir had an even bigger improvement with five and a half seconds. Selsouli is most recently returning from a two-year ban for testing positive in a failed drug test in 2009, while Cakir served a two-year drug ban for a violation in 2004.
It cannot be argued that the race was a truly impressive performance. The two leaders went out with the pack in a 62.32 first quarter, followed by a 65.60, and an unbelievable 61.60 for the third lap, which is unheard of even in an honest 1500. That crucial third lap put Selsouli and Cakir away from the rest of the pack and in a battle between each other, which ended when Selsouli kicked down Cakir in the final 80 meters of the race. That unbelievable third lap was followed by another insanely fast final quarter of 61.66. The previous world leader, Abeba Aregawi of Ethiopia finished third in a 3:58.59, but couldn't touch Selsouli and Cakir.
Selsouli has had an impressive yet tainted career to say the least. She placed 4th at the World Championships in 2007 and was a bronze medalist at the World Indoor Championships in the 3k in 2008. After a failed drug test in 2009, Selsouli served a suspension from August 2009 to August 2011. She has made her return with a breakout season, arguably the best she has ever run, finishing 2nd at the 2012 World Indoor Championships and first in the 3,000m at the Pre Classic.
Cakir also boasts solid marks with personal bests of 2:03.09 in the 800 meters, a recent 3:56.62 in the 1500 meters, and a 9:36.01 in the steeplechase, all after serving a two-year suspension from a failed drug test in 2004. This year has been filled with standout performances for Cakir, particularly in the 1500 where she took first place at the European Championships as well as the bronze medal at the World Indoor Championships.
It is great to see new world leading times being hit, especially when they are run weeks before the Olympic Games begin. That being said, can one be truly excited knowing that the new world leaders are former drug cheats who are currently running the fastest times of their careers? Since both Selsouli and Cakir have served their suspension, are their slates wiped completely clean or will their tainted pasts prevent the crowd from cheering wholeheartedly? Being "clean" may be easier said than done.