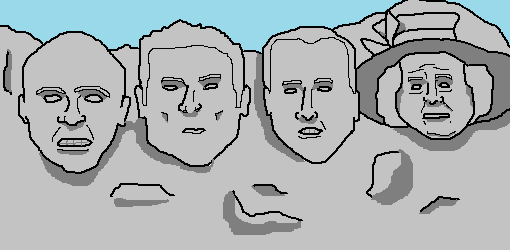 The men's 5,000m at this weekend's Aviva London Grand Prix promises to be a real crowd pleaser, spilling over with titillating story lines. Last week saw 11 men -all hailing from Ethiopia or Kenya- shatter the 13 minute barrier in Paris's installment of Diamond League action. In this race, Gebremeskel of Ethiopia established a new World Leading mark of 12:46.81 while his youthfully mustachioed countryman Gebrhiwet blitzed a 12:47.53, good for a Junior World Record. In fact, the top ten finishers from this barn burner now occupy the top ten slots on the IAAF performance list. In the words of Professor Gerald Lambeau of Good Will Hunting, "the gauntlet has been thrown down." Enter Mo Farah, whose task it will be to "answer, and answer with vigor."
Farah's 2012 12:56.98 clocking gives him the fastest seed time at Aviva. He'll look to make minced meat of the field, which features no other men who have dipped under 13 this season (although Uganda's Kipsiro, boasting a lifetime PB of 12:50.72 leads the charge of 5 others who have at one point or another ducked under 13:00). Farah's intrigue in this affair is twofold however, as not only is he the favorite to win based solely on recent results, but he is also the hometown hero. A dutiful patriot with a flare for the dramatic, Mo will surely put on a show for his fellow Brits.
Kenya will be supplying several "don't count me out" type guys to challenge Farah. Mark Kiptoo, at 36, is an elder statesman of sorts, and will be toting bests of 12:53.46 and 26:54.64 to the line. Sammy Mutahi and Emmanuel Bett, perennial near-the-fronters, should not be discounted either. Without any 12:4X types, the Kenyan brigade may not be as dominant as usual, and when coupled with the fact that there will be nary an Ethiopian in sight, this race could be made interesting by a less than clear natural pecking order.
Though lacking in big names who are currently in top form -compared to Paris's gun show, at least- the Grand Prix will surely delight fans of brash, burly (by distance runner standards), Australians. Craig Mottram will be toeing the line on Friday as he continues his quest to revert back into the Big Mzungu of yore. Perhaps best known for his penchant for mentioning the "size of [his] balls" on national television, Mottram is also a a fairly accomplished runner, having turned in bests of 3:48.98 (mile), 8:03.50 (2 miles), and 12:55.76 (5,000m). His 2011 and 2012 times have been markedly improved from his slump in the later years of the 2000s, and this race could be a great opportunity to continue the process of getting back on the horse.
Dathan Ritzenhein is also entered. After securing his spot alongside Galen Rupp and Matt Tegenkamp on the 10,000m team, Ritz will be looking to bust even more rust and blow off even more dust. He believes he is in close to 12:56 shape again, and this race will provide as good an opportunity as any before the Big Show for him to validate his confidence. If Salazar again encourages his boys to share the load, Dathan could be propelled to a quick time with help from Farah. Imagine, dear readers, a scenario in which American and Brit trade off pacing duties in front of a packed stadium of crazed Englishmen; with every lead swap the training partners (and presumably friends) glance reassuringly into each other's eyes, give a supportive nod... perhaps a pat on the rump that says "I'm here for you," and continue to grind out 62 second quarters. Of course, a tactical affair is equally probable.
With the Games approximately 3 weeks out, and only Monaco remaining on the Diamond League circuit, Aviva may serve as a last chance to blow the tubes out or ensure all systems are go for these athletes. Here's to an interesting contest.