One to Watch: Great Britain's Ross Murray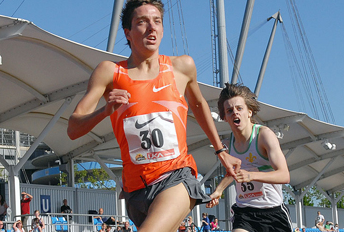 The Emsley Carr Mile at the Aviva London Grand Prix this past weekend was the race to watch and as expected posted some impressive times despite the rainy conditions on the track. 2011 World Championships silver medalist Silas Kiplagat took the victory in a time of 3:52.44, but was chased down in an extremely close second place by Great Britain's Ross Murray in a 3:52.77. What many track fans don't know is that Murray of the Gateshead Harriers has had a run of unbelievable personal bests this year in the 1500, going from a 3:43 in 2010 to 3:34 this year in the event. To top it off, the Emsley Carr Mile was the Brit's first attempt at the distance. Murray's development as a middle distance runner has been outstanding to say the least and with the Olympic Games approaching, the hometown favorite will definitely be one to watch.
"It was good," enthused the Gateshead athlete, "On the first lap I didn't feel great, in the middle lap I actually felt alright and then on the last lap I just absolutely went for it," said Murray explaining the race in an interview with United Kingdom Athletics.
Murray boasts personal bests of 1:50.69 in the 800 meters (2009), 7:58.37 in the Indoor 3k (2011), and a recent 3:34.76 in the 1500 this past May. His 1500 development over the years has been the dream progression for a middle distance runner. Beginning in 2007, Murray ran a time of 3:51.75 in the distance, which was followed in 2008 with a personal best of 3:47.50, and later in 2010 with an improvement of four seconds in a time of 3:43.51. 2012 was an explosion for the Gateshead athlete who started the year running a 3:46.16 and closed the spring with a huge personal best of nine seconds in a time of 3:34.76, an unheard of improvement for a middle distance runner. As his incredible performance this past weekend suggests, Murray looks to be continuing his streak of personal bests this season as he heads into the Olympic Games.
"It was absolutely amazing coming down that home straight, I've never heard anything like it in my life. Going in to the Olympics what more do I need? I'm absolutely over the moon. I excelled myself again which is unbelievable for me."