A Big Hurdle For Jager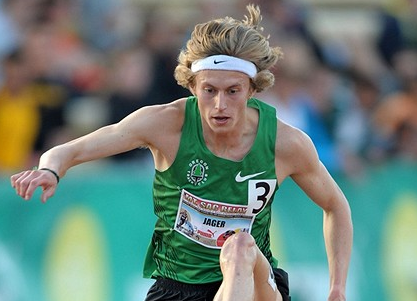 Evan Jager is in for an interesting race tomorrow at Herculis Monaco. Coming off an easy win at the US Trials, Jager will for the first time face a stacked international field of steeplechasers, making tomorrow a true test for the young Oregon Track Club athlete.
"It will be nice to test myself against them this summer and see how it goes," Jager said in an interview with the Chicago Tribune, "At this point, I have no clue. This whole year is a learning process."
With only four steeplechases under his belt, 23 year-old Jager has run a personal best almost every time he has stepped onto the track this season. Having posted a personal best of 8:17.40 in Eugene, Jager will face the toughest field yet in his young steeple career, and with the American record of 8:08.82 in range, it will definitely be a race to watch.
The last time Jager stepped onto the track in Monaco was in 2009 where he posted an impressive time of 7:41.78 in the 3,000. In that same year at 20 years old, Jager ran a personal best of 13:22.18 in the 5k, which shows that he has the flat speed to possibly contend for the American record.
Although Jager has had great success at the National level, it will be a different story on the global stage. Eighteen runners have run faster than 8:17.4 this season with two below eight minutes and seven below 8:09.
Tomorrow he will toe the line with four of the six current fastest steeplechasers in the world, which includes world leader Paul Kipsiele Koech who has run 7:54.31, Richard Mateelong (7:56.81), Jarius Birech (8:03.43), and Conselus Kipruto (8:06.10). With such a fierce looking field and the world record of 7:53.63 in sight, Koech may be on a mission.
The men's steeple tomorrow will be the last event on the track, building up for what is sure to be an exciting race. With four of the fastest steeplechasers in the world leading the pack tomorrow, how will Jager handle being in the middle of a world class field? It will be the biggest hurdle yet for the new American steeple star.

Interview with Jager with Flotrack's Kevin Liao today in Monaco

Watch more video of Diamond League: 2012 Herculis Monaco on flotrack.org
Diamond League: 2012 Herculis Monaco
Men's Steeplechase
| ATHLETE | DATE OF BIRTH | NATION | PB | SB |
| --- | --- | --- | --- | --- |
| | | | | |
| | | | | |
| | | | | |
| | | | | |
| | | | | |
| | | | | |
| | | | | |
| | | | | |
| | | | | |
| | | | | |
| | | | | |
| | | | | |
| | | | | |
| | | | | |