Uganda gets second ever Olympic gold, Meb finishes 4th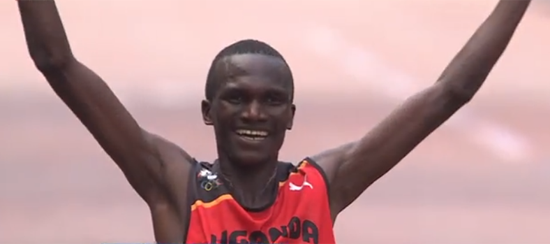 FULL MARATHON RESULTS & SPLITS

23 year old Stephen Kiprotich makes history with men's marathon victory in 2:08:01. It marks only the second Gold medal is history for Uganda, with the last coming in 1972 with John Akii-Bua in the 400 hurdles. Kiprotich took down pre-race favorite Kenyan Wilson Kipsang (#2 all-time in the marathon) who earned the bronze. Abel Kirui, the other Kenya favorite who had won the last two World Championship marathon titles, finished in second for silver. Kiprotich made his move around the 23 mile mark and never looked back, winning by 26 seconds.

Meb Keflezghi was the United States lone finisher after the both Ryan Hall and Abdi Abdirahman dropped out around 18k into the race. He finished in 4th place running 2:11:06, just over three minutes behind the winner and 1:29 outside of the medals. Meb has been a model of consistency in American marathoning over the last few years with wins in NYC and at the Olympic Trials. Meb was also the Olympic silver medalist in the event back at the 2004 Games in Greece.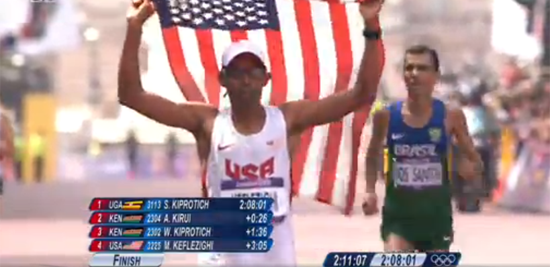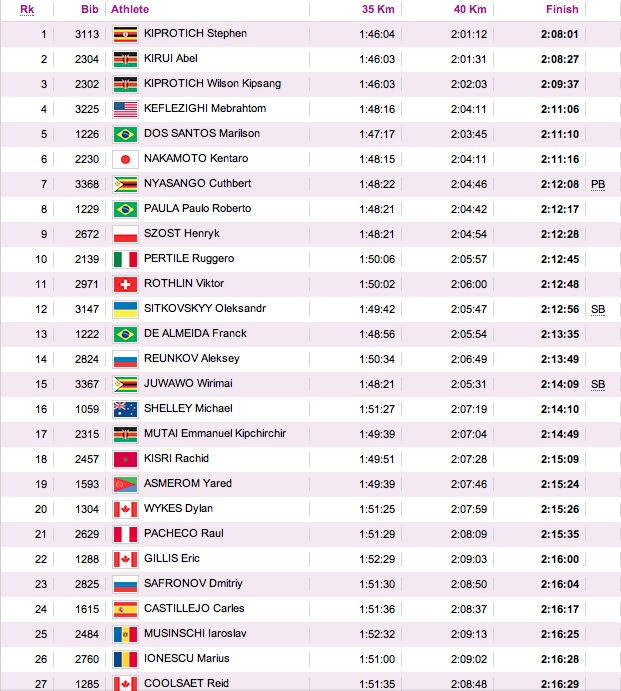 ---
Meb moves to 4th, runs in US flag!
Time: 2:11:06
Time behind winner: 3:05
Time behind medals: 1:29
---
Stephen Kiprotich takes down Kenyan Favorites!
Time: 2:08:01
Margin of Victory: 26 seconds
Gold: Stephen Kiprotich (Uganda)
Silver: Abel Kirui (KEN)
Bronze: Wilson Kipsang (KEN)
---
Split Update: 40k
Time: 2:01:12
Leader: Stephen Kiprotich (Uganda)
Lead: 19 seconds over Kirui (KEN)
Kiprotich's lead continues to grow as he checks over his should to get a feel for the cushion.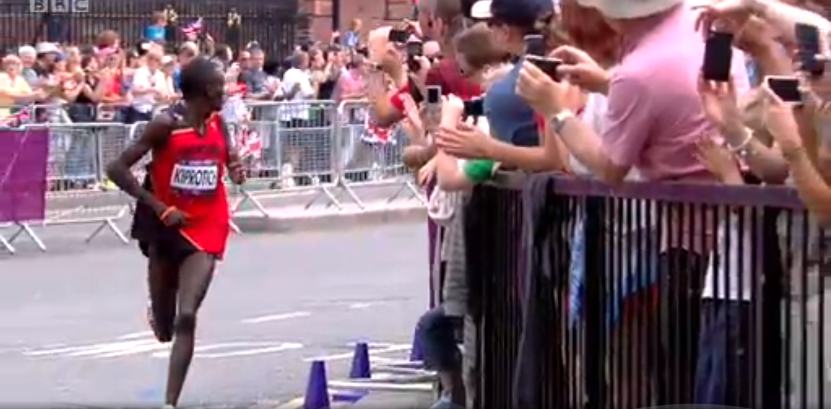 Meb sits in 6th place behind Nakamoto of Japan.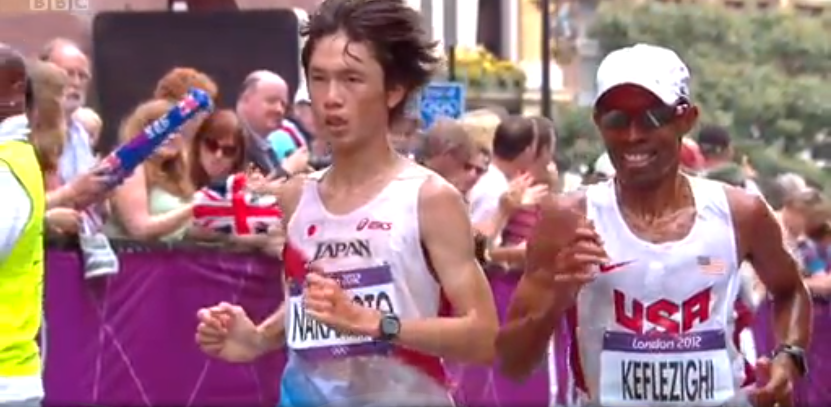 Brit Scott Overall sits near the top 30 as he comes up on 40k.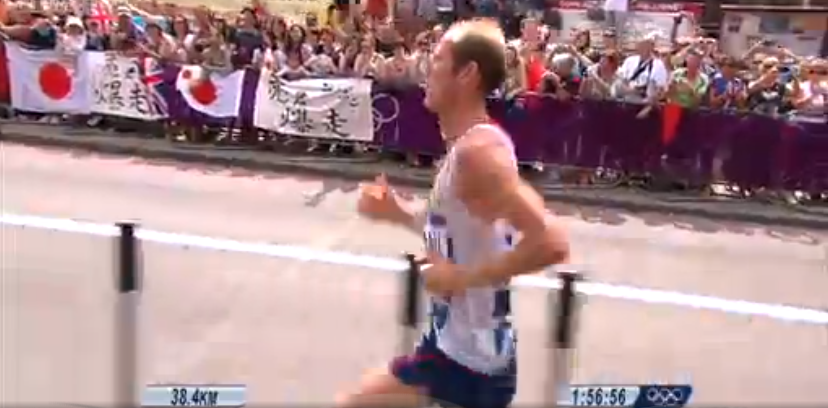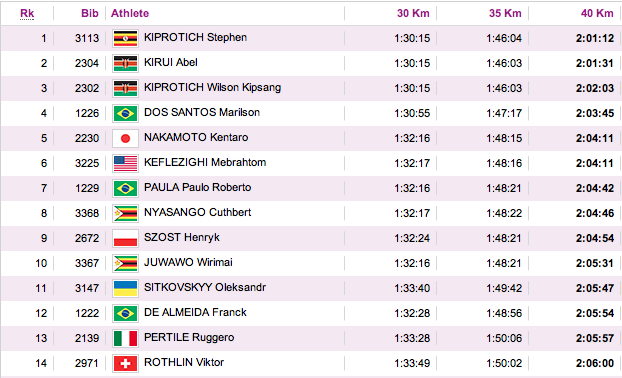 ---
The Move is Made!
Just when we thought Uganda's Stephen Kiprotich was getting dropped, he comes back to make an unexpected move to take the lead over Kipsang and Kirui at 23 mile mark!
Take a look from camera one that missed the move around the curve, notice Kiprotich a step back in 4th.
Camera Angle 2 that caught the action up close and personal!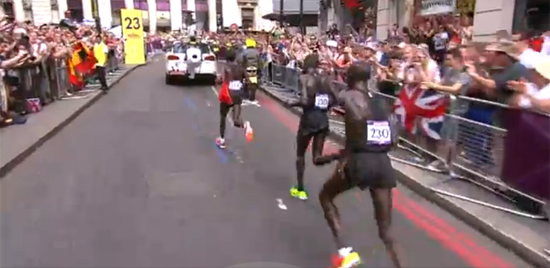 ---
Split Update: 35k - Kenyans dropping Kiprotich, Meb moves to 7th!
Time: 1:46:03 (last 5k, 15:48)
Leader: Abel Kirui/Wilson Kipsang (KEN)
Lead: 1 second over Kiprotich (Uganada), 1:14 over 4th place Dos Santos (BRA)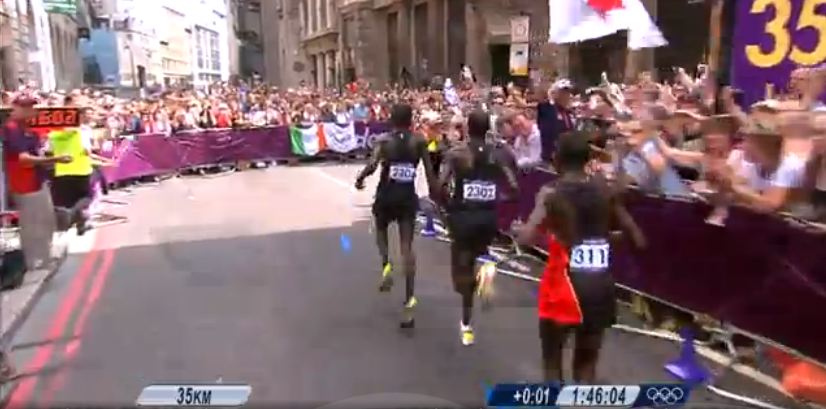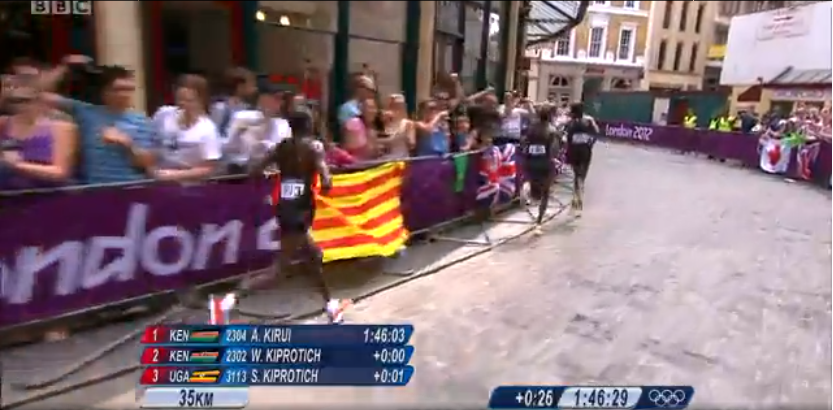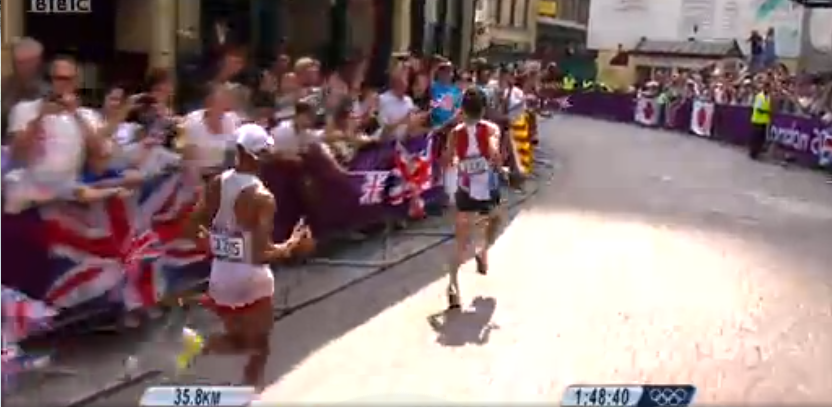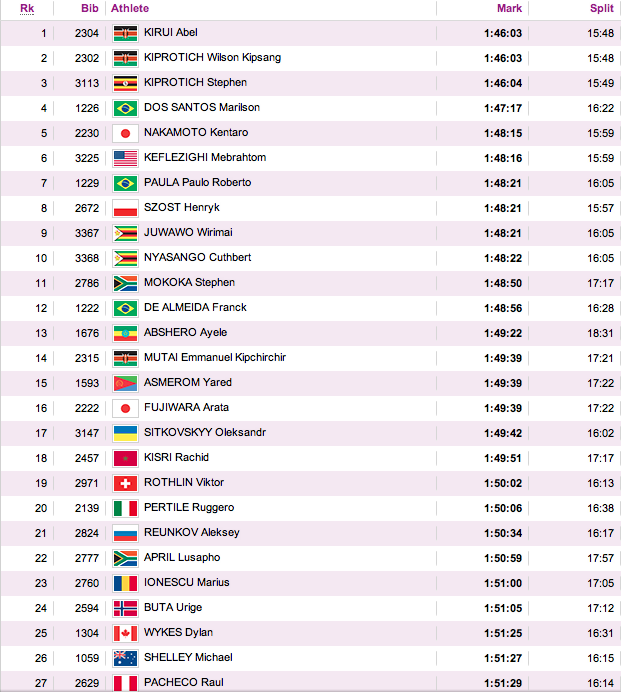 ---
Split Update: 30k
Time: 1:30:15 (last 5k, 15:17)
Leader: Abel Kirui/Wilson Kipsang (KEN), Kiprotich (Uganda)
Lead: 36 seconds in front of 4th
The three run up front together, Kirui looks strongest of the group. Meb sits in 10th with a group of eight (one has dropped from the group) at 1:32:17.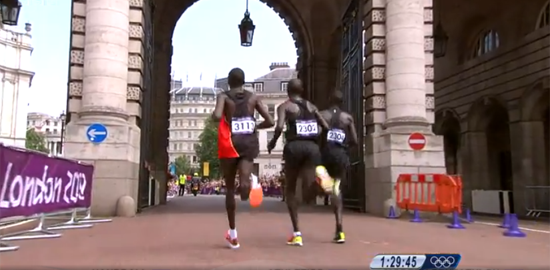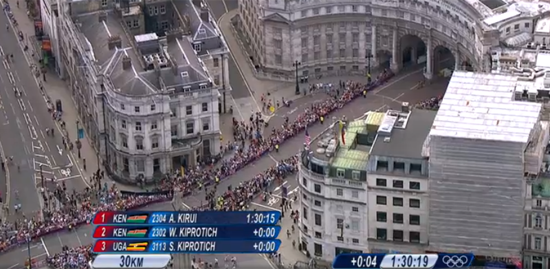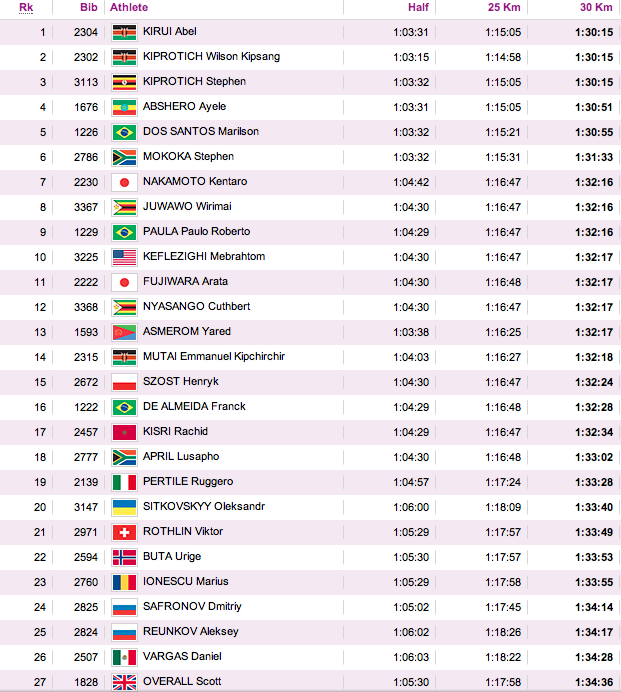 ---
And then there were three...Kipsang has company
Distance: 26.2k
Just past 25k, Kipsang's lead is no more as Kirui (KEN), and Kiprotich (Uganda) are right with him. Abshero of Ethiopia has dropped. This race just got real!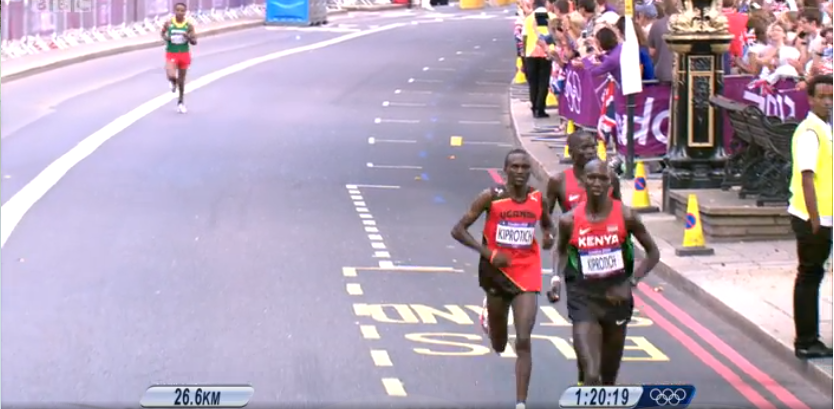 ---
Split Update: 25k - Chasers are closing!
Time: 1:14:58 (last 5k, 15:01)
Leader: Wilson Kipsang (KEN)
Lead: 7 seconds
Lead is beginning to shrink for Kipsang as Kirui, Kiprotich and Abshero are chasing him down. Meb still with group of nine athletes, sitting in 14th at 1:16:47.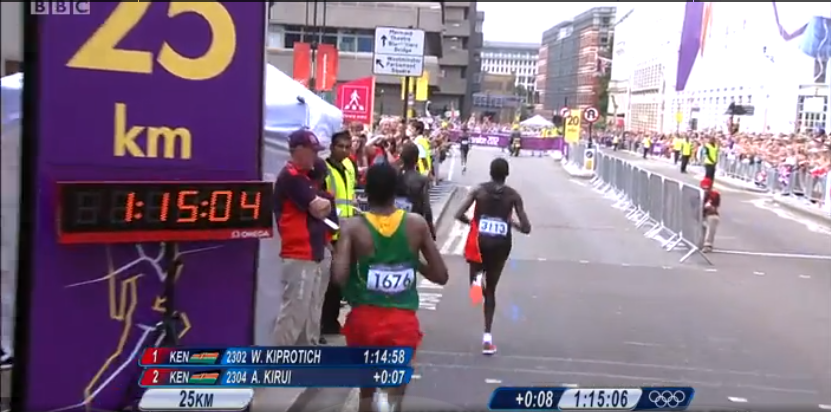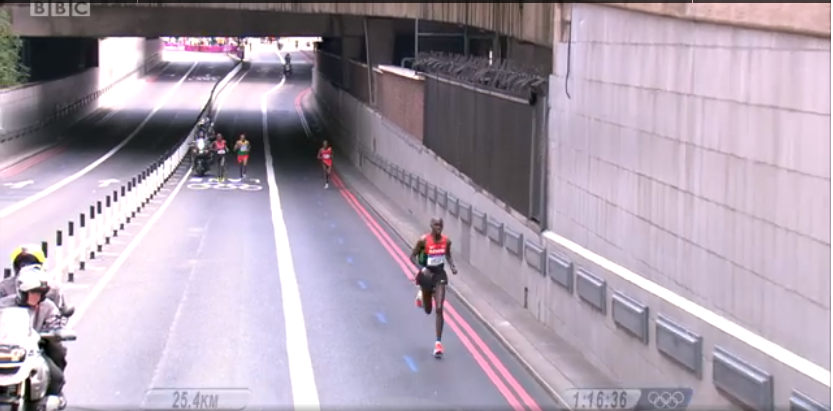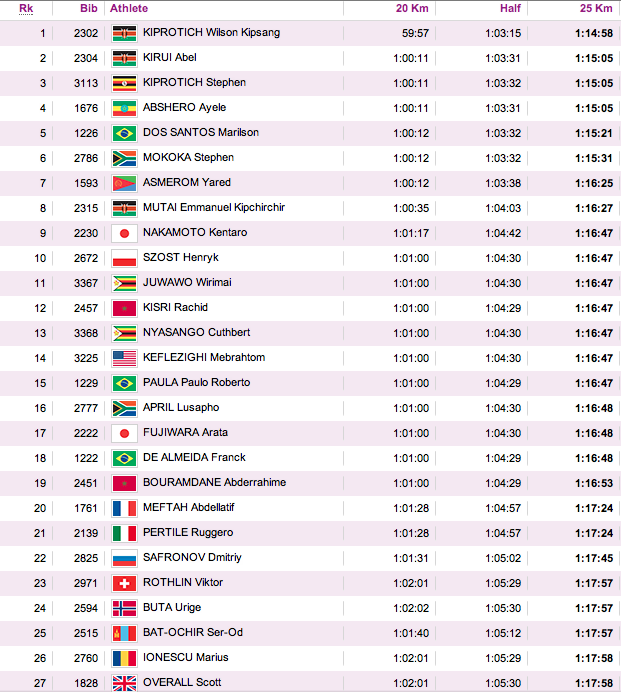 ---
Split Update: Half Marathon
Time: 1:03:15 (2:06:30 pace)
Leader: Wilson Kipsang (KEN)
Lead: 16 seconds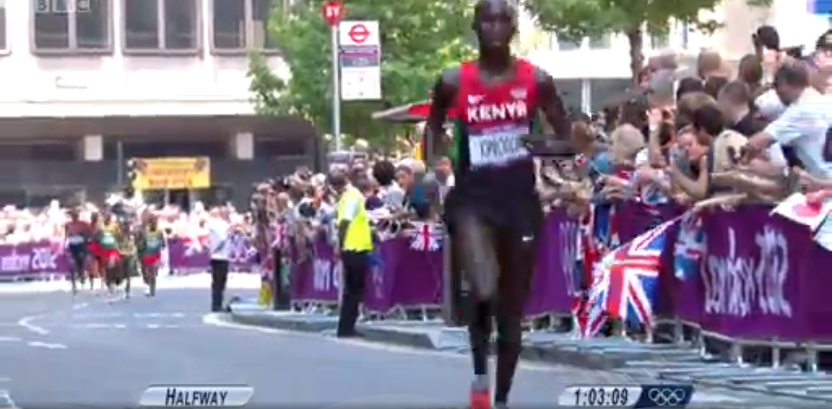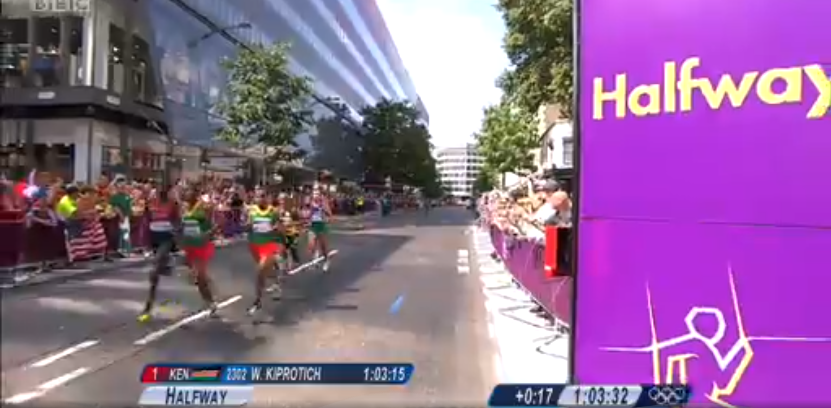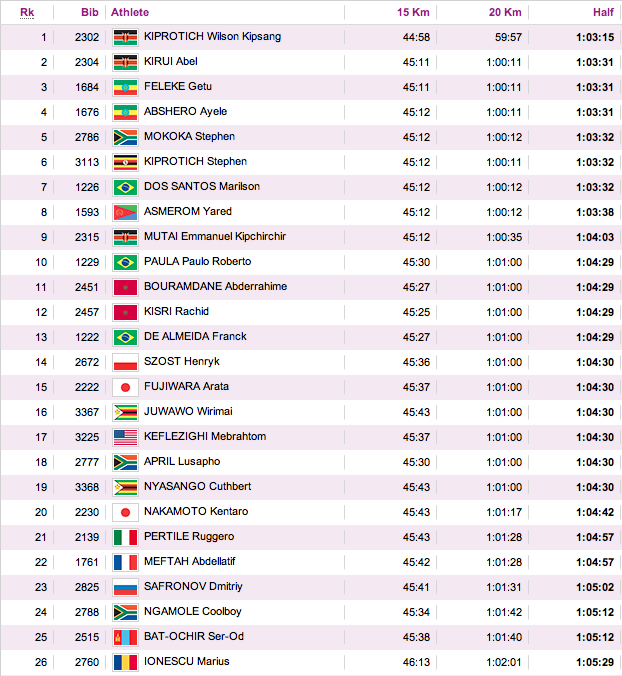 ---
Split Update: 20k
Time: 59:57 (last 5k, 14:59)
Leader: Wilson Kipsang (KEN)
Lead: 14 seconds
Kipsang continues to lead, but the gap is not growing.
Meb - 1:01:00 (1:03 behind, in pack that contains 10-19th place)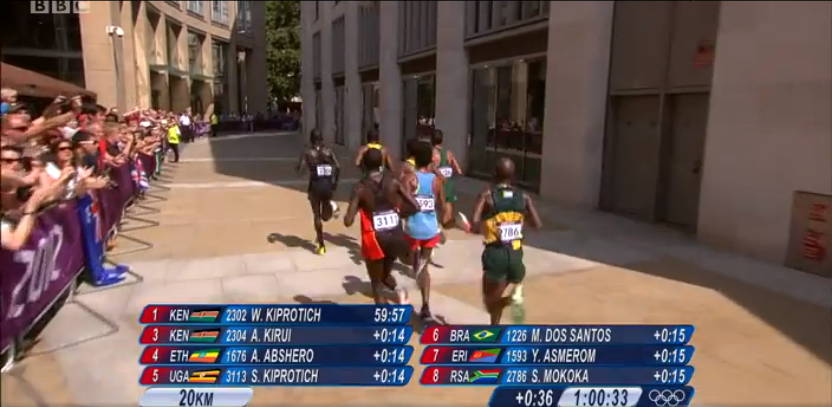 ---
Abdi Out!
Distance: 18k
Just after Ryan Hall drops out, USA's Abdi Abdirahman drops out as well. Reports are not out as to what happened to Abdi, but not the USA only has one representative in Meb Keflezghi.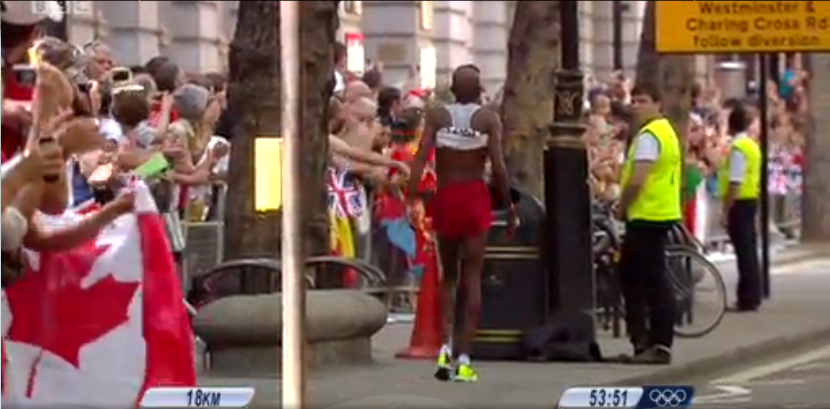 ---
RYAN HALL DROPS OUT!
Distance: 17.3k
Ryan Hall steps off the course at 17.3k into the race and holds his hamstring. Reports on the broadcasts say Hall came into the race with a tight hamstring but he tried to give it a go, unfortunately the hamstring continued to tighten up during the race.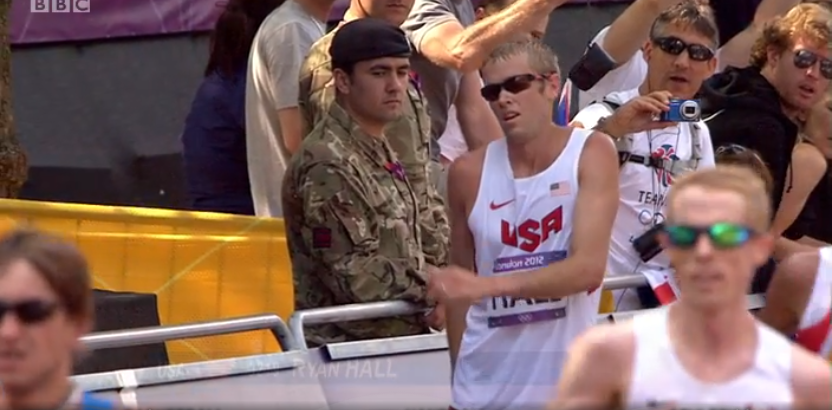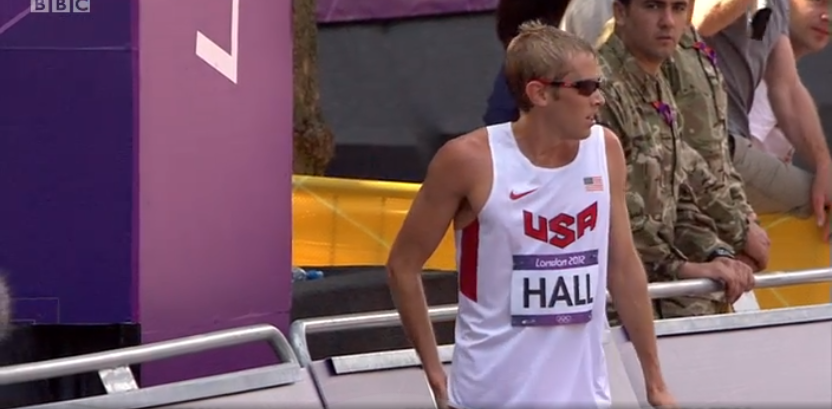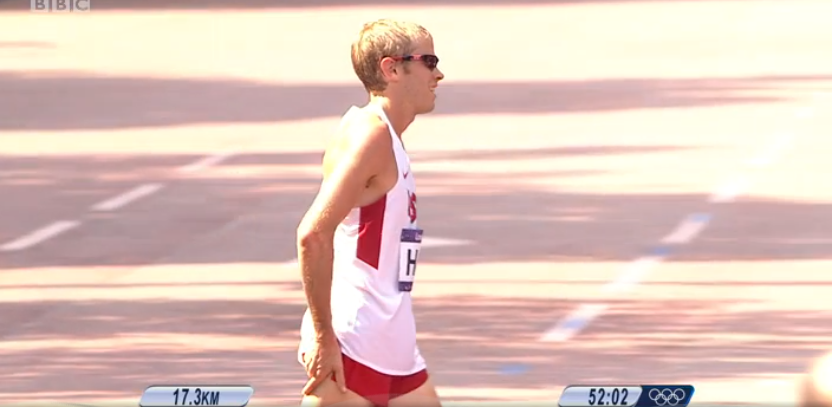 ---
Split Update: 15k
Time: 44:58 (last 5k, 14:20)
Leader: Wilson Kipsang (KEN)
Lead: 13 seconds
Kipsang continues to lead. Only 8 remain in the chase group.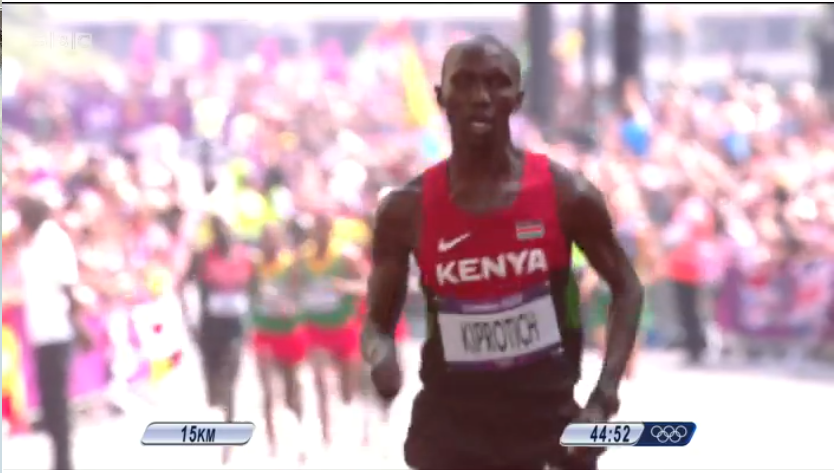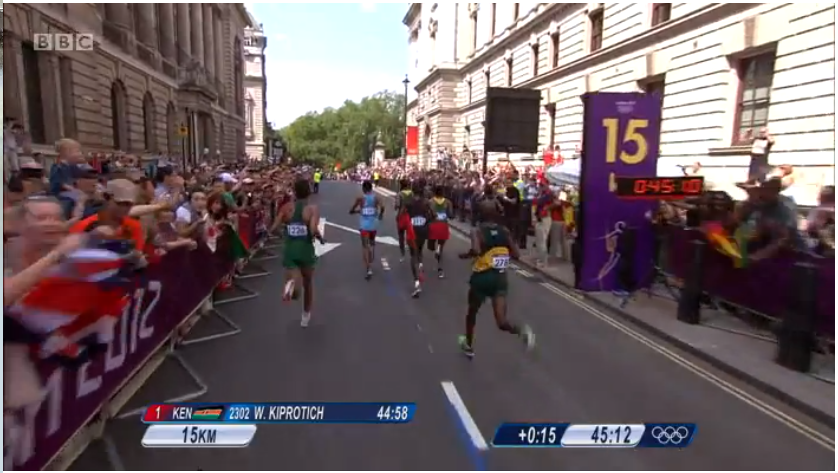 ---
Kipsang Makes a break for it!
Distance: 12.4k
Just after 12k Wilson Kipsang of Kenya takes off with the lead and puts a huge gap on the field. He is #2 all-time in marathon and right now he is showing that to his competitors. Meb is outside of the lead pack.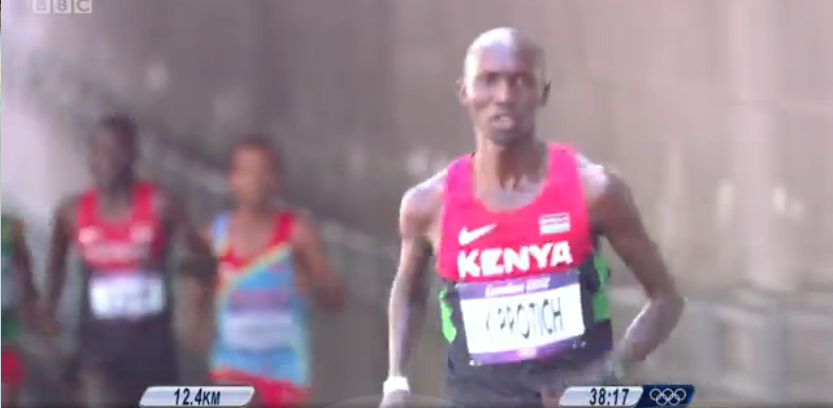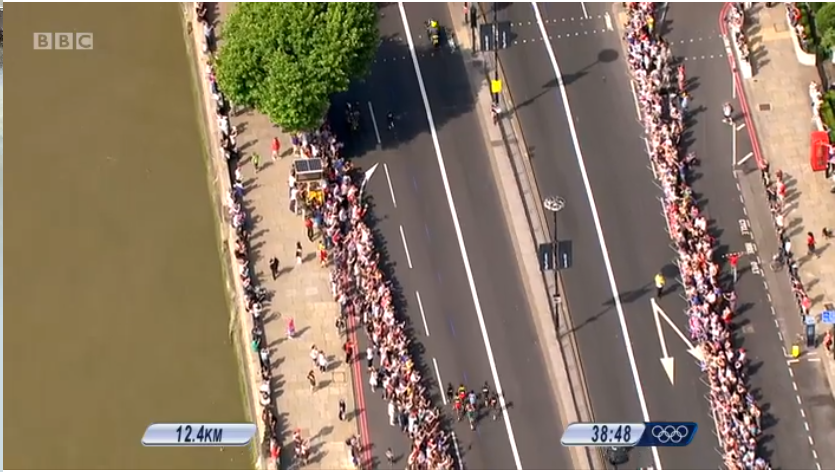 ---
Split Update: 10k
Time: 30:38 (last 5k 15:15)
De Almeida still leads, pack is remains large 8 seconds behind him. Hall is 7 seconds off the front of the pack.
Meb - 30:46 (15th place)
Abdi - 30:48 (33rd)
Hall - 30:53 (38th)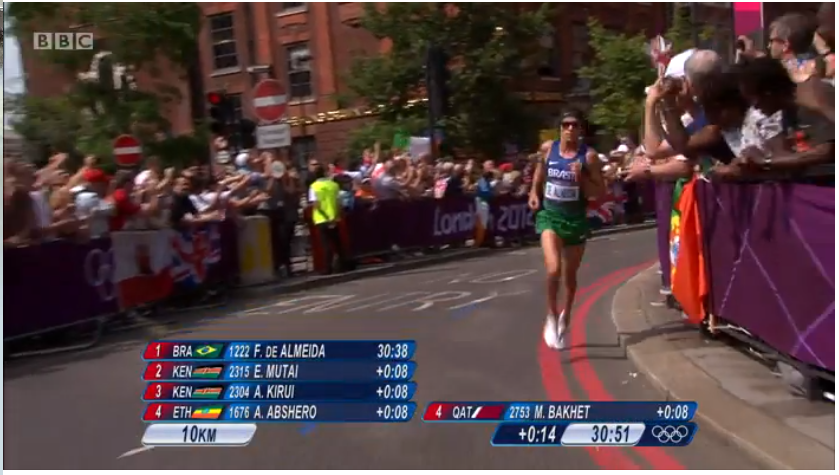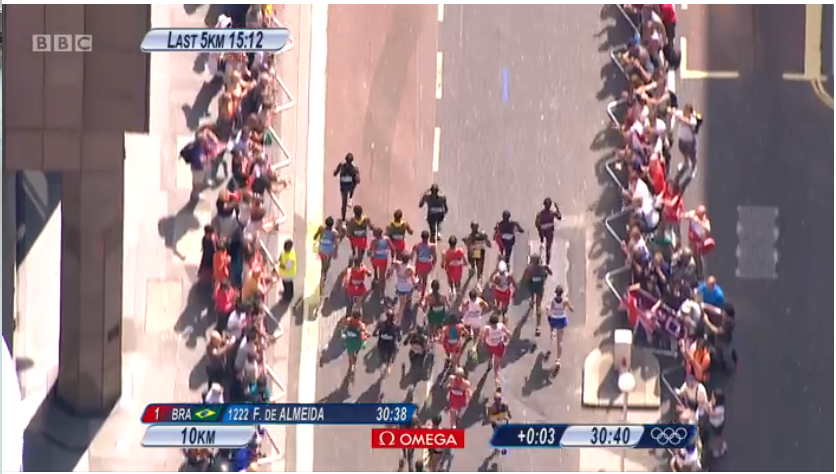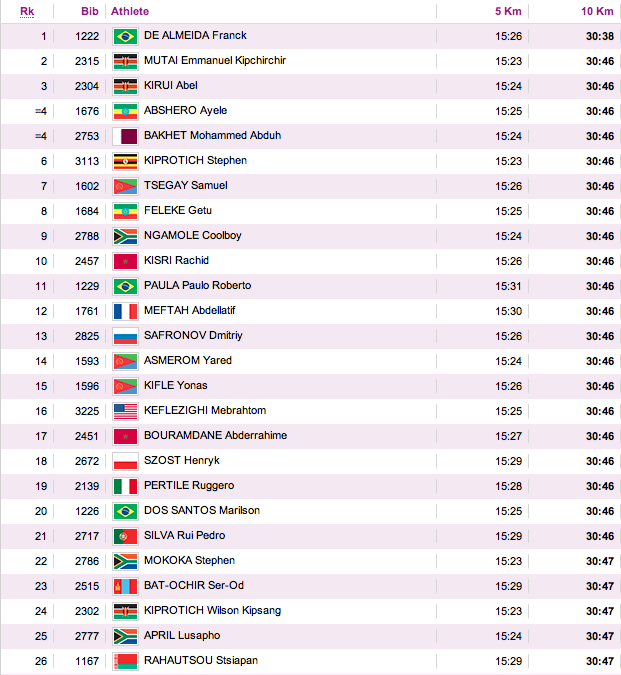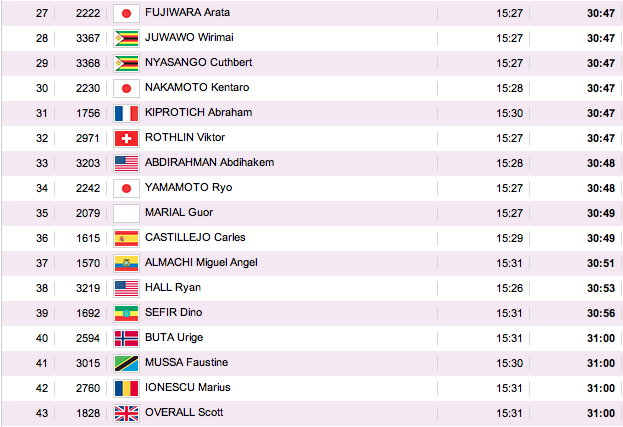 ---
Meb Leads pack
Distance: 7k
Its early but De Almeida of Brazil has gapped the field. Meb has took control of the chase pack to try and close in on the leader. Meb says he is in PR shape and he is not afraid in with the best right now!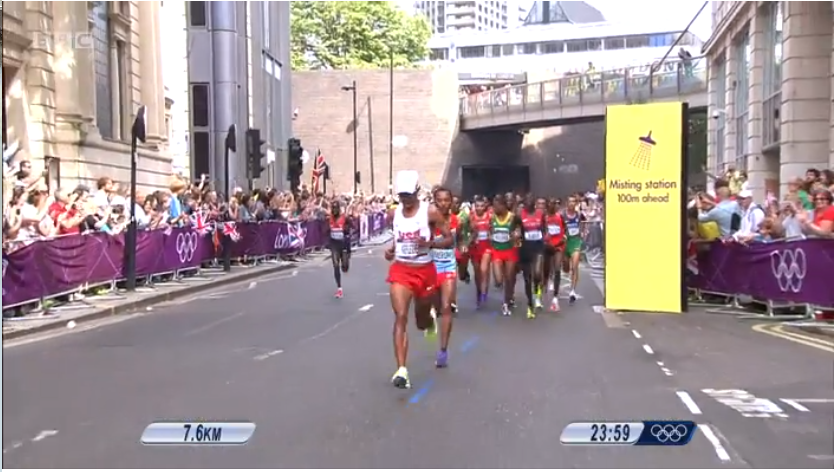 ---
Split Update: 5k
Split - 15:23
Pace - Sub 2:10
The pack is tight with Kenya 1-2 at the first 5k and the pace is relatively honest for a championship marathon. There are 35 men within 5 seconds of the leaders. Group is tight
Meb - 15:25
Hall - 15:26
Abdi - 15:28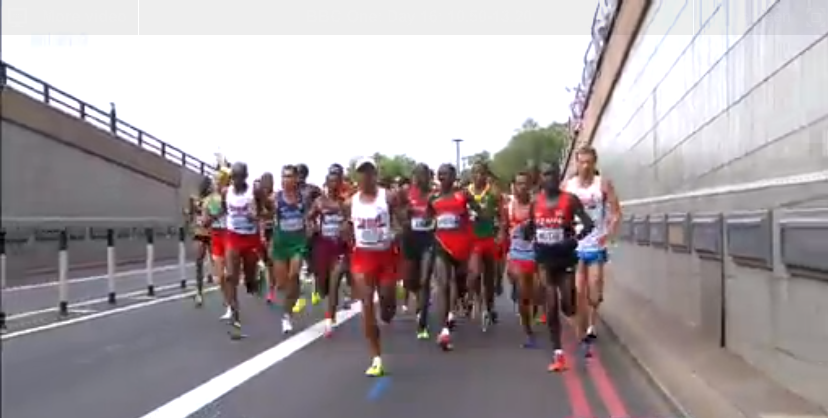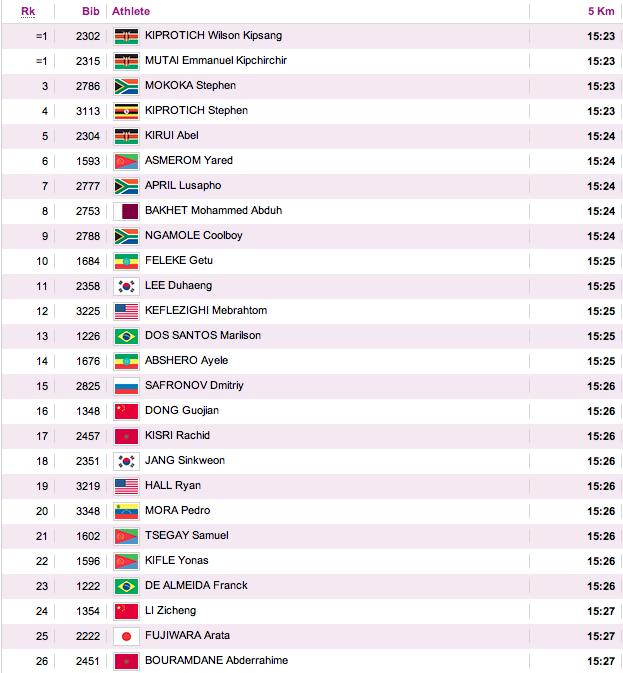 ---
Marathon is Off!! Will USA Get 30 Medals?
USA will have possibly it's toughest task ahead trying to win a medal in the men's marathon. With Kenyan and Ethiopian domination in the event it does not look likely but hey its a marathon.....anything can happen!
See the marathon preview here
.
---

last updated: July 18th at 6:05pm CT
Men's Marathon Quick Hits
2012 London Olympic Games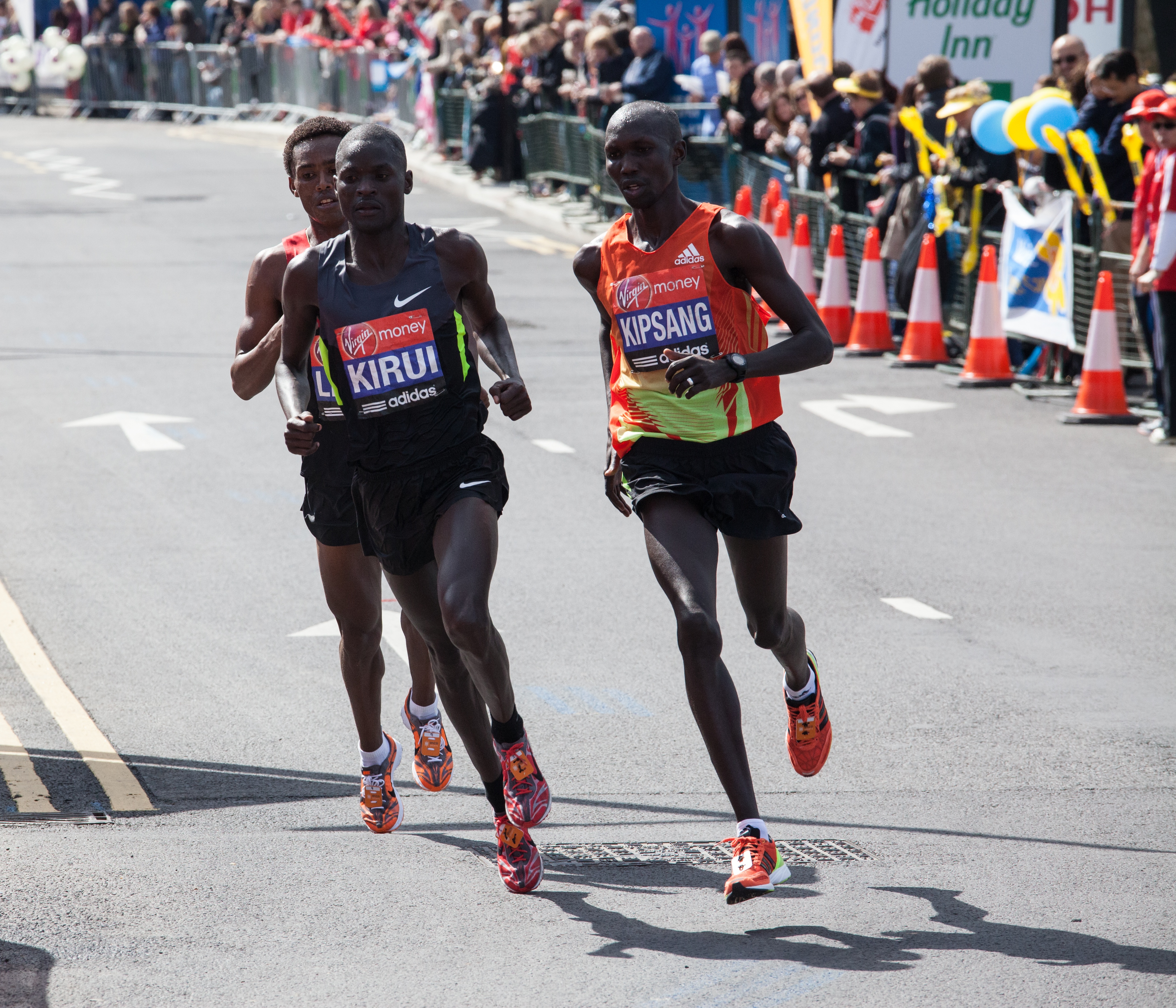 Marathon Schedule:
Day 10, August 12th (5:00am CT)
Marathon Records:
World Record - 2:03:38 - Patrick Mukau (KEN) 25 September 2011
Olympic Record - 2:06:32 - Sammy Wanjiru (KEN) 24 August 2008
American Record - 2:05:38 - Khalid Khannouchi 14 April 2002
2:04:58 - Ryan Hall 17 April 2011

The Favorites:
(personal best/season best)
1.Wilson Kiprotich, Kenya (2:03:42/2:03:42) - Only four seconds behind the World Record holder, who will not be in the race. A man among boys.
2. Emmanuel Mutai, Kenya (2:04:40/2:04:40) - This young man has ran a slew of 2:06 marathons and last year popped a 2:04. A solid pick.
3. Abel Kirui, Kenya (2:05:04/2:07:56) - It's hard not to pick the entire Kenyan team as the favorites. Could they sweep? Who's to say. Any given Sunday.
The Americans:
1. Meb Keflezighi (2:09:08) - 2004 Silver medalist. PR'd at the trials. Fastest man in Skechers
2. Ryan Hall (2:04:58/2:09:30) - The quirky American with a heart as gold as his locks. He could do well in London.
3. Abdi Abdirahman (2:08:56/2:09:47) - The Black Cactus. The man who usually comes out of nowhere. Three time Olympian, first time in the marathon.

Past 1500 Olympic Results: (from wiki)

---