The Aussie Gets the Olympic Record!!!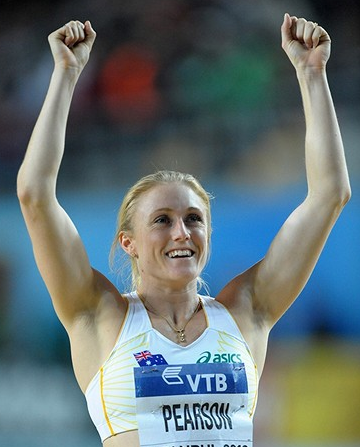 The women's 100H final did not fail to disappoint as World Champion Sally Pearson of Australia earned Olympic Gold in a new Olympic record of 12.35! Dawn Harper of the US gave her a run for her money with the silver medal in a new personal best of 12.37! American teammate Kellie Wells also had a great performance with a personal best of 12.48 to take the bronze medal! Lolo Jones followed in a close 4th place finish and season's best of 12.58.


Results:


Finals Are Set for Women's Hurdles:
---
Semi-Finals Live Updates (Finals to follow this evening):

1. Dawn Harper of the USA, the returning Olympic Champ, runs a blazing 12.46 to destroy heat #1. The time is a .01 PR and the #2 time in the world. Only Sally Pearson of Australia, 2011 World Champ, has run faster (12.40). All of a sudden Harper is poised to defend her title. Beate Schrott of Austria was second in 12.82.
Next in on time: Shermaine Williams (JAM) 12.83, Alina Talay (BEL) 12.84
Heat 2: Australia's Sally Pearson answered Harper's performance running 12.39, one of her fastest times ever. USA's Lolo Jones came out of the blocks and scuffed her foot on the ground which held her back slightly, although she got out faster than Pearson. Lolo finished third in 12.71 which puts her as the first time qualifier with one heat remaining. Jessica Zelinka, the Canadian Heptathlete, took the second spot in 12.66.
Next in on time: Lolo Jones (USA) 12.71, Tiffany Porter (GRB) 12.79
Heat 3: Kellie Wells got out fast and dominated heat 3 with a near personal best of 12.52 to win heat 3. She was followed by Turkey's Yanit Nevin in a new national record of 12.58.
Final two in on time: Lolo Jones (USA) 12.71, Phylicia George (Canada) 12.65
Results:

---
Semi-final start lists:
Heat 1
Tuesday 07 August 2012 -
19:15
Heat 2
Tuesday 07 August 2012 -
19:23
Heat 3
Tuesday 07 August 2012 -
19:31
---

Updates from first round heats:
Heat 1:
Tiffany Porter
got off to the blazing start but faded in the final stretches to finish third and get an automatic qualifying spot to the final.
Alina Talay
of Belarus was first in 12.71 and Canadian heptathlete
Jessica Zelinka
was second.
Heat 2:
With
Jessica Ennis
having withdrawn the individual hurdles competition, a watered down second heat was won by Austria's
Beate Schrott
in 13.07 seconds. Kazakhstan's
Anastassiya Pilipenko
, the fastest seeded runner in the section, struggled with an injury and finished well behind the leaders.
Heat 3:
Kellie Wells
, fresh off her upset win over Sally Pearson at the Crystal Palace Diamond League meet, easily won section three in 12.69 seconds.
Heat 4:
Defending Olympic champion
Dawn Harper
is back to defend her title but was edged by Turkey's
Nevin Yanit
who won the heat in 12.70 seconds.
Heat 5:
In her last competition at Crystal Palace,
Sally Pearson
was beaten. That certainly wasn't the case with a blazing 12.58 second run in her prelim race, good enough to win by nearly half a second.
Heat 6:
Lolo Jones
earned a season's best 12.68 seconds to edge ahead of Canada's
Phyllcia George
. The big news from the heat was 2009 world champion
Brigitte Foster-Hylton
clipping hurdle six and losing her momentum, eventually finishing well back in the field. She is by far the biggest name who failed to get out of the preliminaries.
---

last updated: July 21st at 6:05pm CT
Women's 100m Hurdles Quick Hits
2012 London Olympic Games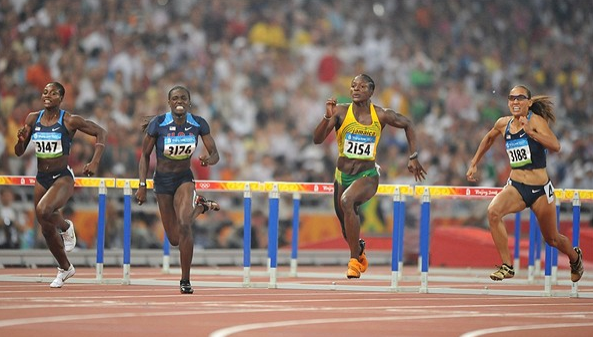 100 Meter Hurdles Schedule:
Day 4, Aug 6th - Round 1 (4:05pm CT) - qualifying procedure TBA
Day 5, Aug 7th - Semi-final (1:15pm CT) - qualifying procedure TBA
Day 5, Aug 7th - Finals (3:00pm CT)
100 Meter Hurdle Records:
World Record - 12.21 - Yordanka Donkova (Bulgaria) 8/20/1988
Olympic Record - 12.37 - Joanna Hayes (USA) 8/24/2004
American Record - 12.33 - Gail Devers 7/23/2000
The Favorites:
(personal best/season best)
1. Sally Pearson, Australia (12.28/12.40) - 2011 World Champion, Silver medalist in 2008 Olympic Games
2. Brigitte Foster-Hylton, Jamaica (12.45/12.51) - 2009 World Champion, 6th place at the 2008 Olympic Games
3. Kellie Wells, United States (12.50/12.54) - Semi-finalist at 2011 World Championships, first Olympic Games
The Americans:
1. Kellie Wells (12.50/12.54) - Semi-finalist at 2011 World Championships, first Olympic Games
2. Dawn Harper (12.47/12.65) - Bronze medalist at 2011 World Championships
3. Lolo Jones (12.43/12.74) - 7th place finish at 2008 Olympic Games

Past 100m Hurdles Olympic Results: (from wiki)

2000 Olympic Games

2004 Olympic Games

2008 Olympic Games

---