Women's 5k Live Updates:

1k - The first k was not terribly quick for this stacked field. Pavey of Great Britain led the group into the beginning with a time of 3:07 to start. Dibaba and Cheriuyiut are behind her. Everyone looks like they are cruising at the moment.

The pack is sticking together, no one has really made a huge move. The pace has stayed pretty slow. 3k mark is coming up and it's looking like it will come down to a really hard kick. Pavey has taken the lead again with the Americans in the mix and running together. Bleasedale of Great Britain has moved up as well along with the Kenyans.

With 4 laps to go, Dibaba, the 10k Champion took the lead and the Kenyans and Ethiopians follow her to the lead group. With two laps to go Dibaba and her Ethiopian teammate Defar have picked up the pace to 68 second quarters.

1 lap to go!! It's an East African race with the three fastest women of all time up front!! The final homestretch was one of the most exciting 5k finishes ever as Defar, Dibaba, and Cheriuyot battled for the medal positions. Dibaba, the reigning Olympic Champion just didn't have the kick today as her Ethiopian teammate Defar, the former Olympic Champion came back and blew past her for the gold medal in 15:04.25 to end a very tactical final. Cheriuyot of Kenya also had a strong kick as she passed Dibaba as well and won the silver. Dibaba came through the line with the bronze after leading the final third of the race.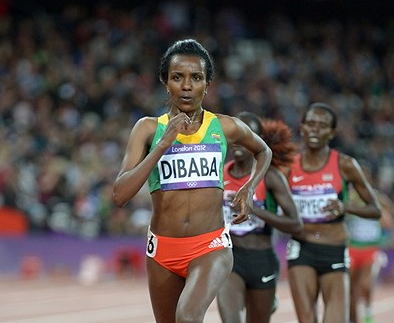 Tirunesh Dibaba - reigning Olympic Champion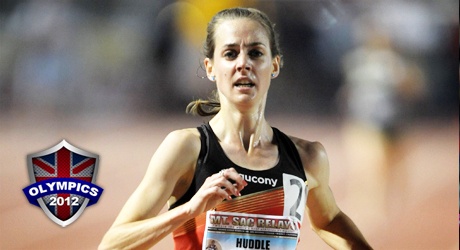 Huddle Shows No Fear, Leads Field Until the End

1
1702
Gelete Burka
ETH
15:01.44

Q

.

2
2327
Vivian Jepkemoi Cheruiyot
KEN
15:01.54

Q

.

3
2336
Sally Jepkosgei Kipyego
KEN
15:01.87

Q

.

4
1849
Julia Bleasdale
GBR
15:02.00

Q

(PB)
5
3297
Molly Huddle
USA
15:02.26

Q

(SB)
6
2881
Yelena Nagovitsyna
RUS
15:02.80
(PB)
7
1871
Joanne Pavey
GBR
15:02.84
(SB)
8
1258
Shitaye Eshete
BRN
15:05.48
(PB)
9
2159
Elena Romagnolo
ITA
15:06.38
(PB)
10
2257
Hitomi Niiya
JPN
15:10.20
(PB)
11
1142
Almensh Belete
BEL
15:10.24
(SB)
12
3279
Kim Conley
USA
15:14.48
(PB)
13
2263
Mika Yoshikawa
JPN
15:16.77
(PB)
14
2151
Nadia Ejjafini
ITA
15:24.70

.

15
1315
Sheila Reid
CAN
15:27.41

.

16
3017
Zakia Mrisho
TAN
15:39.58

.

17
1097
Layes Abdullayeva
AZE
15:45.69

.

18
2761
Roxana Elisabeta Birca
ROU
16:01.04
Culley Runs PR and Autos For next round

Position
Bib
Athlete
Country
Mark

.

1
1706
Tirunesh Dibaba
ETH
14:58.48

Q

.

2
1703
Meseret Defar
ETH
14:58.70

Q

.

3
2333
Viola Jelagat Kibiwot
KEN
14:59.31

Q

.

4
2859
Olga Golovkina
RUS
15:05.26

Q

(PB)
5
3281
Julie Culley
USA
15:05.38

Q

(PB)
6
1256
Tejitu Daba
BRN
15:05.59
(PB)
7
2164
Silvia Weissteiner
ITA
15:06.81
(SB)
8
2250
Kayoko Fukushi
JPN
15:09.31
(SB)
9
1870
Barbara Parker
GBR
15:12.81
(PB)
10
2100
Fionnuala Britton
IRL
15:12.97
(PB)
11
3168
Lyudmyla Kovalenko
UKR
15:18.60

.

12
1654
Judith Plá
ESP
15:20.39
(PB)
13
2602
Karoline Bjerkeli Grøvdal
NOR
15:24.86
(PB)
14
3089
Dudu Karakaya
TUR
15:28.32

.

15
1084
Eloise Wellings
AUS
15:35.53

.

16
2510
Sandra López
MEX
15:55.16

.

.

2475
Nadia Noujani
MAR
DNF

.

.

2729
Sara Moreira
POR

Round 1 Start Lists:

Tuesday 07 August 2012 -

10:55
Tuesday 07 August 2012 -

11:19
---

last updated: July 21st at 6:05pm CT
Women's 5000 Quick Hits
2012 London Olympic Games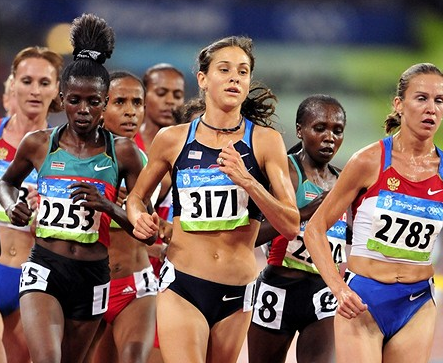 5,000 Meter Schedule:
Day 5, Aug 7th - Round 1 (4:55pm CT) - qualifying procedure TBA
Day 8, Aug 10th - Finals (2:05pm CT)
5,000 Meter Records:
World Record - 14:11.15 - Tirunesh Dibaba 6/6/2008
Olympic Record - 14:40.79 - Gabriela Szabo (Romania) 9/25/2000
American Record - 14:44.76 - Molly Huddle 8/27/2010
The Favorites:
(personal best/season best)
1. Vivian Jepkemoi Cheruiyot, Kenya (14:20.87/14:35.62) - 2011 World Champion, fifth place finish at the 2008 Olympic Games
2. Meseret Defar, Ethiopia (14:12.88/14:35.65) - Bronze medalist at the 2011 World Championships, bronze medalist at the 2008 Olympic Games & 2004 Olympic Gold Medalist
3.Tirunesh Dibaba, 2008 Olympic Gold Medalist
The Americans:
1. Julie Culley (15:13.77/15:13.77) - Semi-finalist at 2009 World Championships
2. Molly Huddle (14:44.76/15:14.40) - Semi-finalist at 2011 World Championships
3. Kim Conley (15:19.79/15:19.79) - First Olympic Games

Past 5,000m Olympic Results: (from wiki)

---