I made a great discovery yesterday that is both exciting and likely financially devistating on my part - gambling on sports is legal here in Great Britain.

The follwing sites have aggregated odds from a number of different betting shops.

http://www.oddschecker.com/olympics/athletics/mens
http://www.oddschecker.com/olympics/athletics/womens

All events have lines for certain individuals to win the event as well as odds for top three finishes and "prop bets" for some of the more popular events like the 100 and 1500 meters.

Who would you bet on in the men's 5000 meters?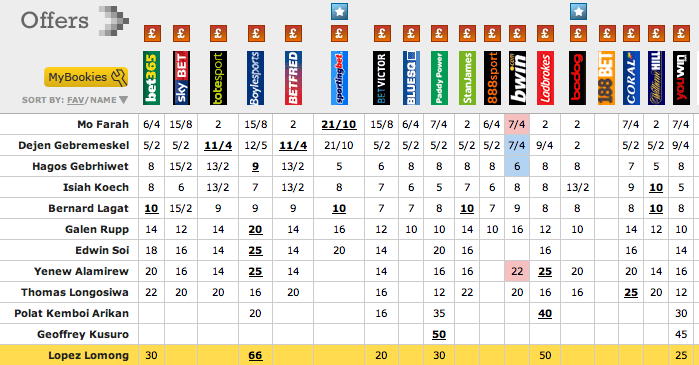 A few of the lines stood out to me as good bets to make.

Oddmakers have Nick Willis at 5/1 to medal in the 1500. Last week Nick was third in Monaco in personal best time of 3:30.35. In his last competition before the Beijing Olympics, the Kiwi finished third in Monaco in a time of 3:33.51. He went on to win the silver medal. See the trend? Willis is fitter than he's ever been and ready to mix things up in London.

Bernard Lagat, despite losing at the U.S. Trials and looking mediocre in 1500/mile races this season, is only 7/1 or even as much as 10/1 to win the 5000 meters. Sure, Mo Farah and Dejen Gebremeskel have looked amazing this year but Lagat has always brought his 'A' game to championship races. Also remember Bernard looked terrible in races leading up to the World Championships in 2007 but walked away from Osaka with two world titles.

Other bets I like?

Tianna Madison is 6/1 to medal in the women's 100 meters. For someone who has finished in the top three in every 100 race she's run this year, I like those odds.

High jumper Brigetta Barrett is somewhere between 10/1 and 14/1 to win gold. Given the fact she's tied for the second highest jump in the world, she's got a lot better shot than that.

Morgan Uceny came into 2012 as one of the favorites for the Olympic 1500 meter title but has fallen from that position with a beavy of women running fast this year. She's fallen to 25/1 on many sites and as much as 40/1 at one sportsbook. Even though she hasn't been on top this season, the high payoff makes even the smallest wager worth it.

Although wagering in the United States is not legal, what are some bets you would make? Let's hear your comments below!