next update here
---
last update: August 4, 7:49am CT
Jessica Ennis!!
In the final event of the Heptathlon, Jessica Ennis of Great Britain strode her way to a 2:08.95 finish in the 800m. With that, her score was bumped up to 6,955 points a new Commonwealth and Britich Record.
Full Results can be found here
After six events,
Jess Ennis
has all but clinched the gold medal.
The Briton has a solid 6.48 meter leap in the long jump, just six centimeters shy of her chief rival
Tatyana Chernova
of Russia. Ennis walked away from the event with a 260 point lead over Lithuania's
Austra Skujyte
.
Ennis continued her hot streak in the javelin with a 46.61 meter toss, just shy of her PB of 47.11. The effort earns her 795 points and gives her a huge cushion heading into the final event of the competition, the 800 meters.
---
(last update Aug 3, 5:55 CT)

Standings After 4 Events:


---

200m Results:


Shot Put Results:

---
Last updated: August 3 at 11:40am CT
Jessica Ennis bounced off her world's best in the hurdles with a 1.86 meter effort in the high jump. Ennis holds on to a 25 point lead over American Hyleas Fountain.
Ennis's top rival, 2011 world champion Tatyana Chernova of Russia currently sits in 16th place 218 points behind the Brit. Chernova's strengths, however, lie in some of the second day events like the javelin that Ennis is typically weaker in.
The shot put and 200 meters wrap up the heptathlon competition today.
Current standings:
Standings after Event 2
W = Wind m/s
M = Mark
P = Points
Legend
---
Last updated August 3 at 4:47am
ENNIS GOING FOR GOLD....IN 100 HURDLES?!?!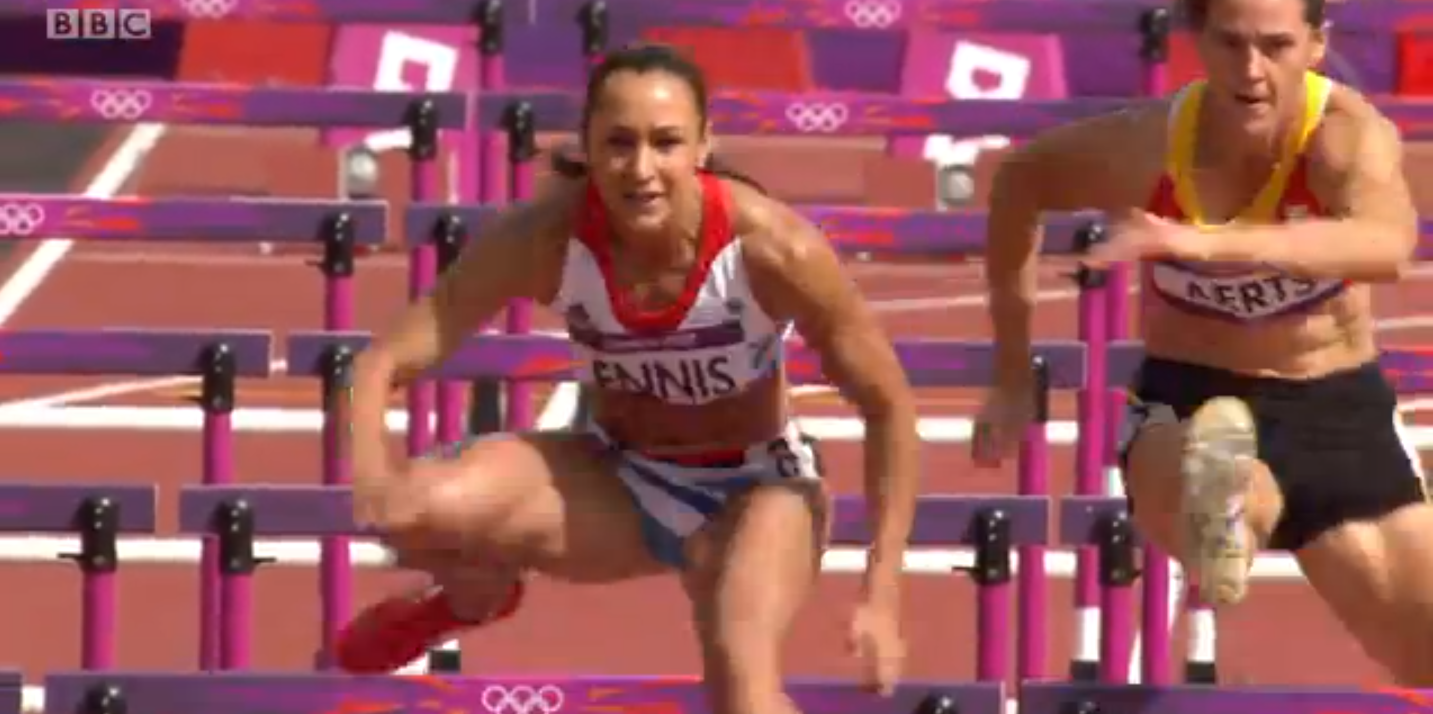 The home nation pressure didn't seem to faze Britain's
Jess Ennis
as she ran 12.54 seconds to shatter the heptathlon world record in the 100 meter hurdles. The time earns her 1195 points in the heptathlon competition. More importantly though, she now puts her name in the running for double Olympic Gold. Ennis, also entered in the open 100 Hurdles, smashed her previous PR of 12.79 and now ranks tied for #3 in the world. Only Sally Pearson and Bridgette Foster-Hylton have run faster. Her hep hurdles time of 12.54 is the idential time to that of Dawn Harper's 2008 Olympic gold medal performance.
Canadian
Jessica Zelinka
was second in 12.65 seconds for 1178 points while U.S. Trials champion
Hyleas Fountain
was third in 12.70 seconds, earning 1170 points. Both set personal bests.
Full Results Page Here!