Dare to Dream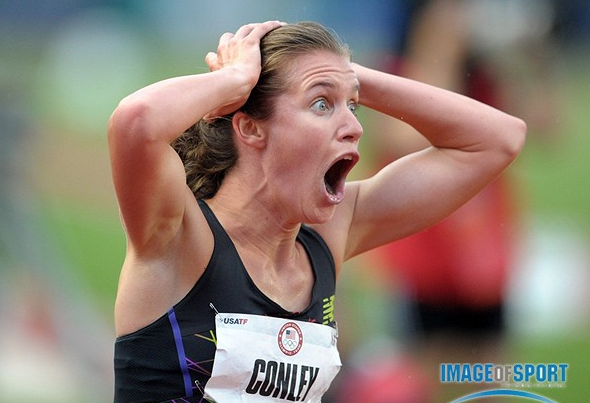 Kim Conley has never won a major meet. She was never an All-American in college. She had never even competed at the NCAA Championships, but after finishing 3rd at the US Trials, Conley is about to race in the 2012 Olympic Games against the best in the world.
"It has completely expanded my horizons in terms of what is possible if you allow yourself to dream and eventually believe in something," said Conley reflecting on her journey from college to making the 2012 Olympic team.
Conley was a decent runner coming out of high school. She posted marks of 2:16 in the 800, 4:52 for 1600, and 10:58 for 3200m, all respectable times but not top recruit status. She attended UC Davis for five years and during that time she posted a personal best of 16:17 in the 5k but never qualified for the NCAA Championships. One year she came down with food poisoning and the next year her shoe came off during the first 600 meters of the NCAA Regional race. Luck was not on her side but a great support system was behind her.
"My coach, Drew Wartenburg, convinced me to put myself in a situation where running could be my top priority for a few years to see how well I could develop. He taught me a lot about what it means to pursue running as a profession rather than a hobby," said Conley when asked about her decision to compete after college.
It has been a long road for Conley but since her college graduation in 2009, she has had the dream progression of anyone who wishes to improve after college. In 2010, Conley ran her first 10k in 33:22.28 and from that point she continued to build momentum and strength. In 2011 she posted personal bests of 4:12.05 in the 1500 and 15:38.13 in the 5k. She also finished 2nd at the 2011 USA 5k Road Championships and 3rd at the 2011 USA 10k Road Championships, leading into what would be the best year of her running career.
"When my coach, Drew Wartenburg and I sat down in 2009 and talked about how to become the best possible 5k runner I could be by the trials in 2012 we talked about two things: becoming strong enough to run a good 10k and fast enough to run a good 1500," said Conley.
In what was one of the greatest stories of the 2012 Olympic Trials, Conley blew away the crowd of Hayward Field when she fought with everything she had to earn the 3rd place spot in the 5k and her ticket to London. Not only did she finish 3rd in a stacked field, but she also achieved the A standard by finishing in 15:19.79, just two-tenths of a second below the standard time.
"Right before I went into the call room before the race my coach handed me a note and at the end of it he wrote 'do something heroic.' With 500m left in the race I heard him yelling for me and those words floated through my head again and inspired me to dig down and leave everything I had out on the track," said Conley, "It's an amazing feeling to know that I far surpassed what I could reasonably dream about 4 years ago, and was still afraid to even set as a goal a year ago."
Conley's performances over these past few years give great meaning to the old saying, "dare to dream," and in tomorrow's 5k preliminary heat, her dream will become a reality.
"What I understand now is that to get there I had to act like it from the beginning and although it took a lot longer than I had hoped, eventually everything came together for me."