Alan Webb returned to action as he won the 2012 Chick-fil-A 5k in Sterling, VA with a time of 14:29. Webb, who ran the 5000m at the 2012 U.S. Olympic Trials, has been trying to rekindle the magic from his 2007 season where he ran the American record in the mile of 3:46.91 and a personal best in the 800m of 1:43.84.
While Webb has primarily been a miler his entire career, it appears as a move up to the 5000m may be in his future. Webb has personal bests of 8:11.48 in the two-mile, 13:10.86 in the 5000m, and 27:34.72 in the 10,000m.
Although he had run an U.S. Olympic Trials 1500m qualifying time of 3:37, Webb chose to run the 5000m at the Trials. Webb's acceptance into the U.S. Olympic Trials 5000m was shrouded in controversey as he had only run 13:49, which ranked him behind runners that should have been permitted into the race before him. Webb was eliminated in the qualifying rounds of the 5000m with a time of 14:01.25.
Webb appearered at the awards ceremony with his newborn baby girl, Joanie. Alan and his wife, Julia Webb, welcomed their first child into the world on June 27th, 2012.
Alan with his daughter after victory. (photo from Facebook)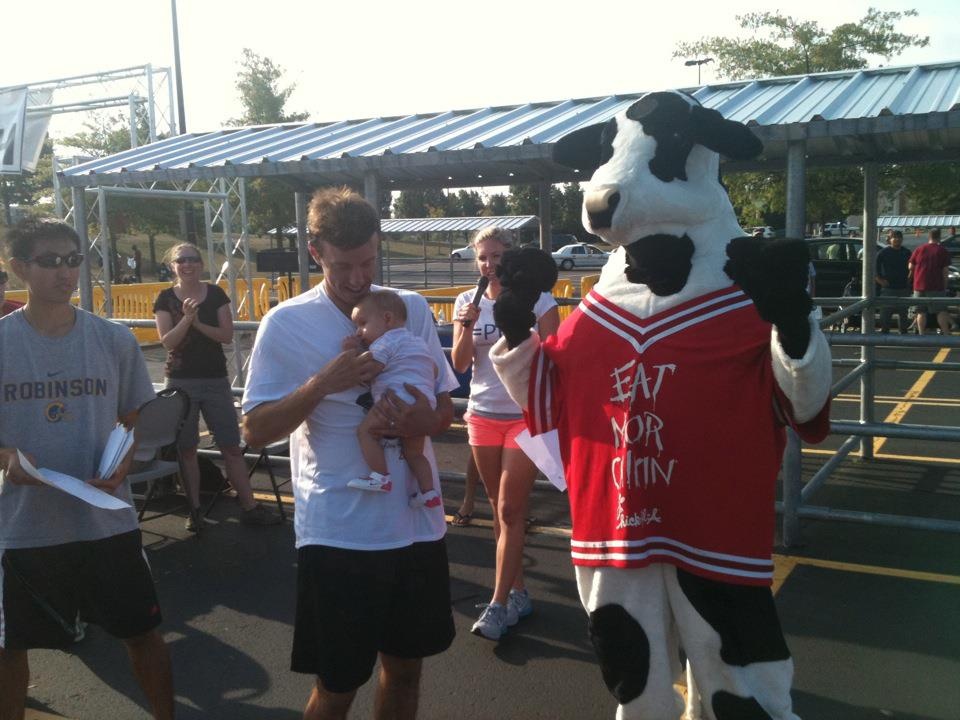 Top 10 Results:
(
full results
)
Place
Name
Bib No
City
Age
Time
Time
Pace
    1    Alan Webb                   Charlottesville  VA   29   14:29      14:30  4:40/M
    2    Mulugeta Genbere            Silver Spring  MD     27   14:41      14:41  4:44/M
    3    Gunmessa Megerssa           Washington  DC        33   14:44      14:44  4:45/M
    4    Jordan McDougal             Warrenton  VA         25   15:02      15:03  4:51/M
    5    Teresabayisa Fekensa        Washington  DC        24   15:26      15:27  4:59/M
    6    Chalie Bitew                Washington  DC        24   15:34      15:35  5:01/M
    7    Matthew Linman              Washington  DC        29   16:05      16:07  5:11/M
    8    John Zimmerman              Mclean  VA            46   16:10      16:11  5:13/M
    9    jeremy lynch                Springfield  VA       32   16:40      16:42  5:23/M
   10    Miles Aitken                Washington  DC        28   17:07      17:08  5:31/M