Running is full of personal mantras that if espoused often enough, become universal truths. Two mantras that currently apply to German Fernandez are "Talent does not go away" and "You're only as good as your last race." The former quote provides hope for Fernandez fans while the latter casts a shadow of doubt over his future running career.

In his first three professional races under Nike and the Oregon Track Club, Fernandez has shown glimpses of hope, brilliance, and uncertainty. He opened his outdoor campaign towards the tail end of the season with a 3:40.71 clocking for 1500m in Antwerp on August 26th, followed by a personal best of 3:34.60 at the Berlin Meeting on September 7th, and concluding with a 7:53.61 run in Rieti on September 9th.

These three races exemplify the sentiments for the past, present, and future of Fernandez' running career. He's no Ebenezer Scrooge, but Antwerp is the Ghost of German's Past, Berlin is the Ghost of German's "Present", and Rieti is the Ghost of German's Future. To those critics who think that we will never see the lethal Fernandez again, I say "Bah, humbug."


Hope and the Ghost of German's Past

The 2008 high school outdoor track and field season was worth the 29-year wait for Fernandez. Many high school greats had attempted to break Jeff Nelson's two-mile national record of 8:36.30, but none had succeeded until Fernandez. After a disappointing cross-country season where he saw a shocking defeat at the Footlocker National Cross-Country Championships, Fernandez took to track like a duck to water.

At the California State Track and Field Championships, Fernandez completed the greatest single-day double in high school distance running history. Not only did he run 4:00.29 for 1600m wire-to-wire by himself, he came back two hours later and ran 8:34.23 for 3200m. The Lukas Verzbicas two-day triple in 2011 (8:40.70 for two-miles/4:10.67 for the mile/14:06.78 for 5000m on the following day) or the Edward Cheserek double (4:06.4 for 1600m and 8:54.82 for 3200m) does not hold water to Fernandez' double.

8:34 for 3200m on a double at the 2008 California State Track and Field Championship

After then breaking the two-mile record at the 2008 Nike Outdoor National Meet with a time of 8:34.40, Fernandez had solidified his position as the Chosen One. "[He] was supposed to bring balance to the [running] universe, not destroy it." Well, "destroy it" may be a bit harsh, but feelings of caution should come with the rise of a young superstar. Look at the fabled career of Alan Webb – perhaps the bar was set too high for him to truly succeed.


Brilliance and the Ghost of German's "Present"

Following one of the most successful high school seasons ever, Fernandez chose to attend Oklahoma State University. His impact on the team was almost immediate, as he won NCAA Pre-Nationals, became the Big 12 individual champion, won the USA Track and Field Junior Cross Country championships, placed 11th at the World Junior Cross Country Championships (the first non-African), and was poised to vie for a top three placing at the NCAA Cross Country Championships. However, Fernandez suffered an injury with 1500m to go in the race that forced him to drop out. The disappointment of dropping out did not change Fernandez' demeanor as the indoor season was soon approaching.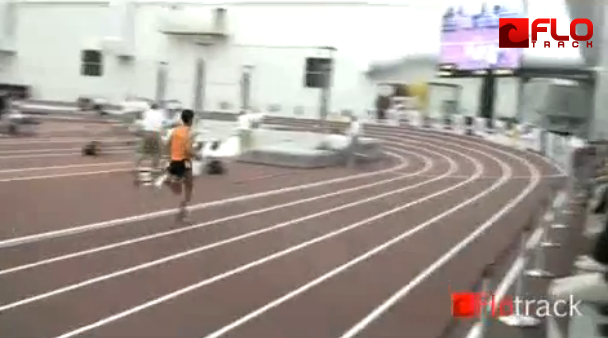 Watch German Fernandez run the World Junior Record in the mile in 3:55.02

3:55.02 for the mile. No rabbit, in the midst of training, and he didn't even have to run that fast as 4:00 would have scored the same amount of points at the Big 12 Championships. This wasn't just the NCAA leading time or American junior record, but the World Junior Record in the mile. Fernandez also ran 7:47.97 for 3000m that would have also been a World junior record, but was disallowed because it was run on an oversized track. Again, The Chosen One was beginning to meet our expectations.

Anything less than NCAA titles and records would have been a disappointment for Fernandez during the 2009 outdoor track and field season. He became the NCAA 1500m champion as a true freshman with a wire-to-wire victory in 3:39.00 and set the American junior record for 5000m of 13:25.46 when he took fifth at the USA Track and Field Championships. It seemed that if his linear improvement continued, Fernandez would ascend from his status as a demi-god to a full-fledged God in the Pantheon of distance running.


Uncertainty and the Ghost of German's Future

The rest of German's collegiate running career did not go as planned. Hampered by injuries and self doubt, he never set personal records at 1500m or 5000m. While he did help lead OSU to the NCAA Cross Country National Team Championship, he never garnered another individual NCAA crown. Between 2009 and 2011, Fernandez posted bests of 3:44.18 for 1500m, 4:03.13 for the mile, and 7:51.02 for 3000m. While these times are nothing to scoff at, the bar of expectations does not go back down once it's raised. Fernandez lacked his devastating kick that he would calmly display over the final 200m of any race.

Questions were raised over whether he should have gone professional after the 2009 outdoor season or whether he should have even selected Oklahoma State University. Unlike other NCAA sports, choosing to forgo one's eligibility to sign a professional contract may not be the best decision in the running world.

Athletes benefit from the NCAA racing schedule by learning to run tactical races with competitors of equal ability. By leaving this system freshman year, such as Alan Webb chose to do after his freshman year at Michigan, he did not look as confident in preliminary rounds of international races. Others have greatly benefited from the NCAA, such as 10,000m silver medalist Galen Rupp, who has taken a long-term approach to developing his running ability.

Fernandez' short professional career so far has been a mirror of his racing career. His 3:40.71 in Antwerp provided a small peek of the Fernandez kick we used to expect.

Although it was Indianapolis in June where Fernandez set a personal best for the first time in three years (3:37 just before the Olympic Trials), it was his first big international race in Germany that stated he was back. At the Berlin Meeting German barely hung onto the early pace, but produced the fastest final lap of the entire field to finish seventh. If you look at the picture below, you can see how far back he had to come over the last 400m to even retain contact with the pack.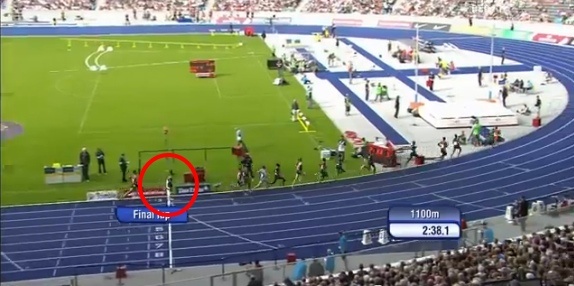 Following this performance, something magical was in store for his 3000m at Rieti. He had set a personal best in the 1500m while only doing strength training, so the 3k would be perfect for him to pop a big time. In a very weird race, Fernandez came undone and finished second to last with a time of 7:53.6. Well, the comeback party did not last very long. Was his race in Berlin a lucky one or is that the German we used to see?

Perhaps an even better comparison to these three races is not A Christmas Carol, but the original Star Wars trilogy. Antwerp is A New Hope because it exceeds expectations, but isn't the best. Berlin is The Empire Strikes Back because it's the finest of the trilogy. Lastly, Rieti is the Return of the Jedi because it's good, but mediocre in comparison.

Pop culture and movies aside, German Fernandez is headed back in the right direction.