No high school boys team has ever won a second title at Nike Cross Nationals. The reigning champions Christian Brothers Academy (CBA) from Lincroft, NJ look to run themselves into the cross-country history books as they enter the season as the number one ranked team in the nation. Can they win a second consecutive NXN team title?

Since the inception of NXN in 2004, the greatest teams in high school boys cross-country have been unable to replicate their title run. Perennial powerhouses such as Fayetteville-Manlius High School from New York, Ferris High School from Washington, and York Community High School from Elmhurst, Illinois can testify to the degree of difficult involved in the NXN repeat championships.

However, CBA is a special case because they have already had their name recorded in the NXN record books. At the 2011 NXN Championships, Christian Brothers Academy tallied 91 points, which was the lowest point total for a winning team since York Community High School and Arcadia High School recorded 92 points in their victories.

CBA's main concern for worry Carroll Senior High School from Southlake, Texas, who ended up in second place with a score of 95 points.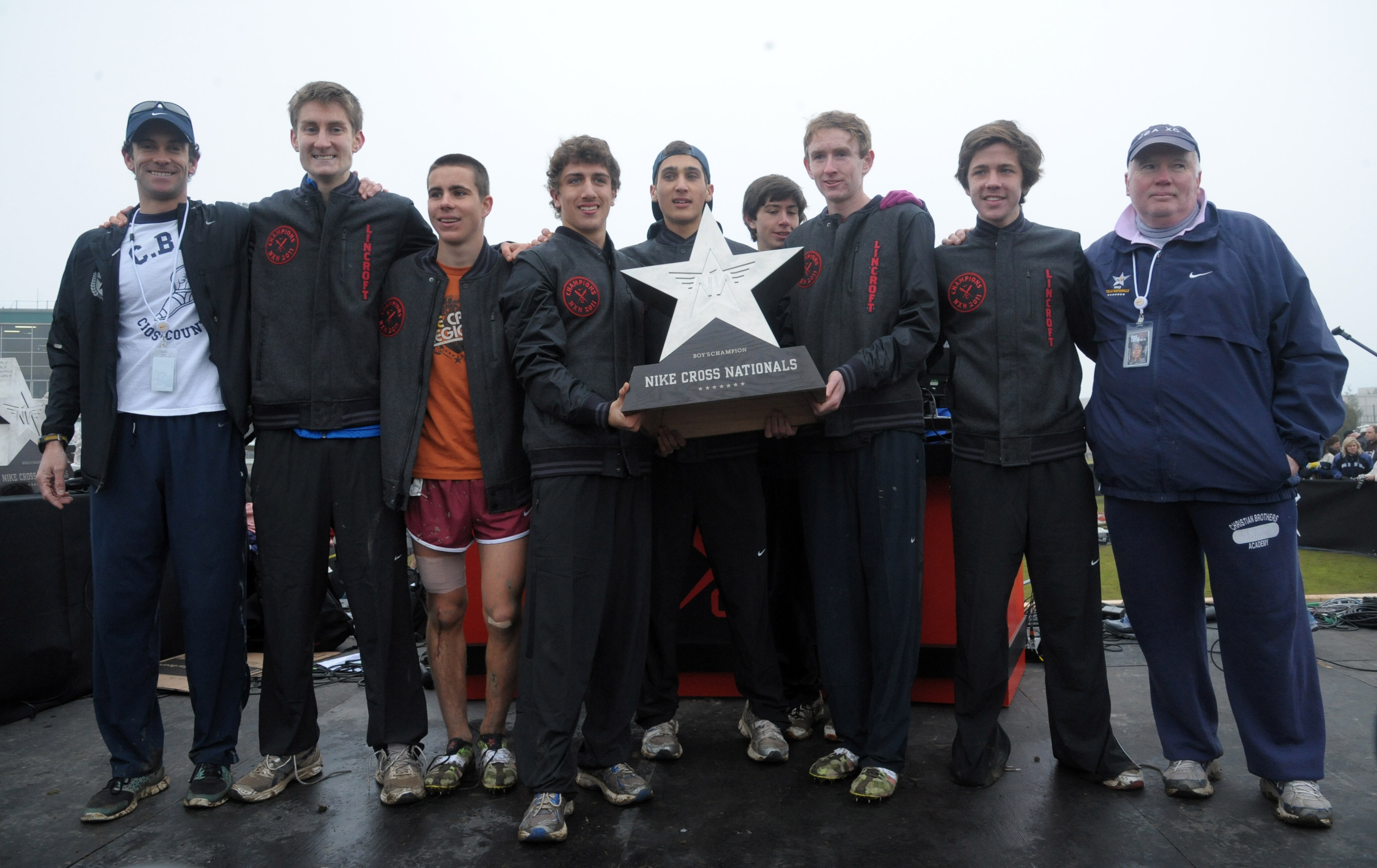 Although CBA lose three of their top seven, they have the depth to make another run for the championship. Those graduating seniors include George Kelly (4th in team scoring at NXN; 23rd overall at NXN), Tim Gorman (14th in team scoring; 36th overall), and Conrad Lippert (54th in team scoring; 95th overall).

The returning top five have personal bests at 3200m between 9:08 and 9:17. Lead by senior Jack Boyle, CBA looks to improve on their impressive 24-second spread for their #1-5 runners at NXN. The team also includes returnees junior Mike McMclemens, senior William Bragg, and senior Aaron Libertore.

Additionally, there are three runners that are making a push to toe the line in Portland, Oregon. Junior Thomas Rooney did not compete at NXN last season, but posted a personal best of 9:11.53 for 3200m this spring. Rooney should solidify an already airtight top-five for CBA. Additionally, both junior Fran Bogan and top returning freshman Jack Mangini ran the open race at the 2011 NXN Northeast Regionals, but should be looking to compete in the championship race in 2012.

Christian Brothers Academy not only have the potential to be the first team to repeat as NXN champions, but the first to take home a second title. A squad such as the 2012 CBA boys seldom exists in a year following a championship because a team will graduate their top runners, which are mainly the more experienced seniors. While the 2012 CBA squad exhibits no lack of depth, can they achieve what no other boys cross-country team has ever done?

When setting a world record, an athlete must be equally audacious and talented in order to do what no other athlete has done before him or her. Christian Brothers Academy must set aside the past in order to achieve history.



| | | | | | |
| --- | --- | --- | --- | --- | --- |
| Name | Class | Returning NXN Place | 3200m best | 1600m best | 800m best |
| Jack Boyle | Senior | 9th in team scoring | 9:08.28 @ the NJ Meet of Champions (US #75) | 4:21.39 @ the Monmouth County Championships (NJ) | |
| Mike McClemens | Junior | 28th in team scoring | 9:15.95 @ the Holmdel Night of 3200s (NJ) | 4:20.40 @ the Monmouth County Championships | 1:57.27 @ the Monmouth County Championships |
| William Bragg | Senior | 36th in team scoring | 9:17.15 @ the NJ Non Public A Championship | 4:18.29 @ the Monmouth County Championship (NJ) | |
| Aaron Libertore | Senior | 89th in team scoring | 9:13.18 @ the Holmdel Night of 3200s (NJ) | 4:18.89 @ the Monmouth County Championships (NJ) | 1:58.10 @ the Monmouth County Championships |
| Thomas Rooney | Junior | N/A | 9:11.53 @ the Holmdel Night of 3200s (NJ) | | |
| Fran Bogan | Junior | N/A | 9:36.18 @ the 2012 NJ Indoor Group Championship | 4:29.20 @ the Holmdel Twilight Series #3 | |