Kebede shatters the course record in Chicago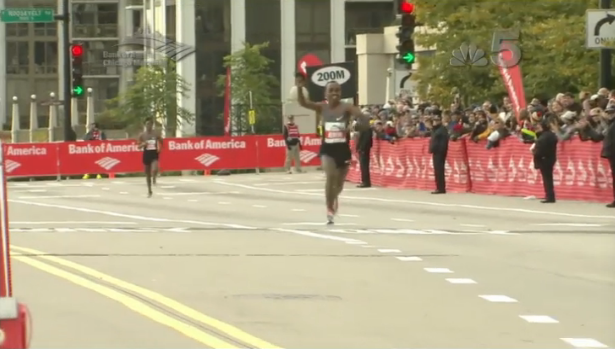 In dominant fashion, Tsegaye Kedebe crushed the previous couse record at the 2012 Chicago Marathon with a winning time of 2:04:38. Kebede was kicking the heels of the rabbits as he hung tightly to the pace early one. Once the pacemakers dropped out at mile 16, Kebede went to the front and pushed on towards the finish. He was challenged by fellow Ethiopians Feyisa Lilesa, Tilahun Regassa, and Sammy Kitwara of Kenya towards the end of the race.

In the final miles, only Lilesa and Kebede remained, but Kebede pulled ahead at mile 25 and convincingly turned for home to take the victory at the 2012 Bank of America Chicago Marathon.

Kebede's winning time of 2:04:38 is the 10th fastest marathon of all-time.

Dathan Ritzenhein carefully executed his race plan by staying off the early pace and running nearly even half-marathon splits. Ritz finished in 2:07:50, which is a two minute personal best for him in the marathon. He placed 9th overall.

View full results here: http://flo.mx/VAFhCg

Men's Marathon Quick Hits
2012 Bank of America Chicago Marathon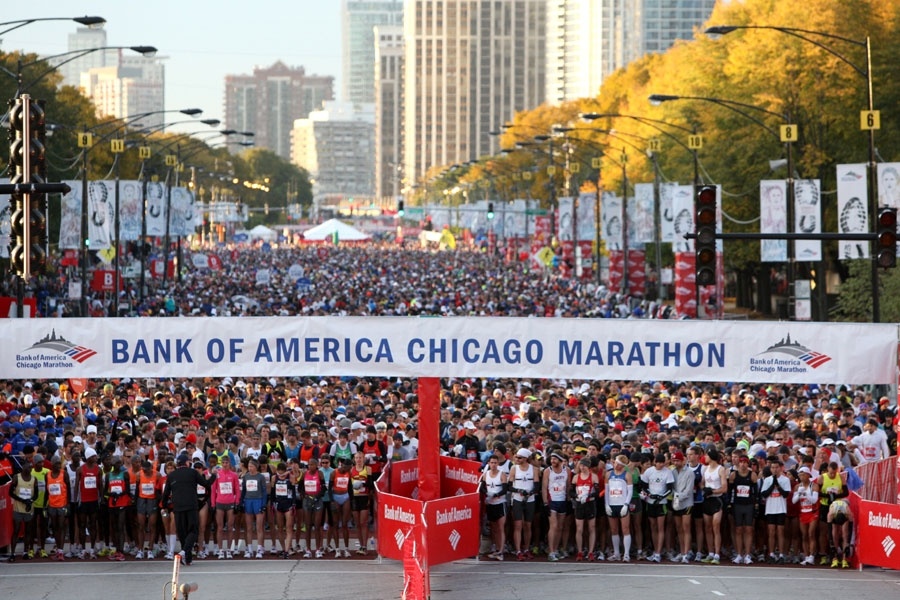 Marathon Schedule:
Men Start: 7:30am CST
Marathon Records:
World Record - 2:03:38 - Patrick Mukau (KEN) 25 September 2011
Chicago Record - 2:05:37 - Moses Mosop (KEN) 9 October 2011
American Record - 2:05:38 - Khalid Khannouchi 14 April 2002
2:04:58 - Ryan Hall 17 April 2011
American Records set the Chicago Marathon

Men - 2:07.01 - Khalid Khannouchi (2002)
Women - 2:21:21 - Joan Benoit Samuelson (1985)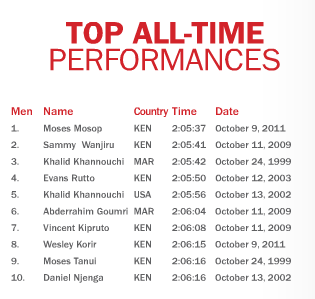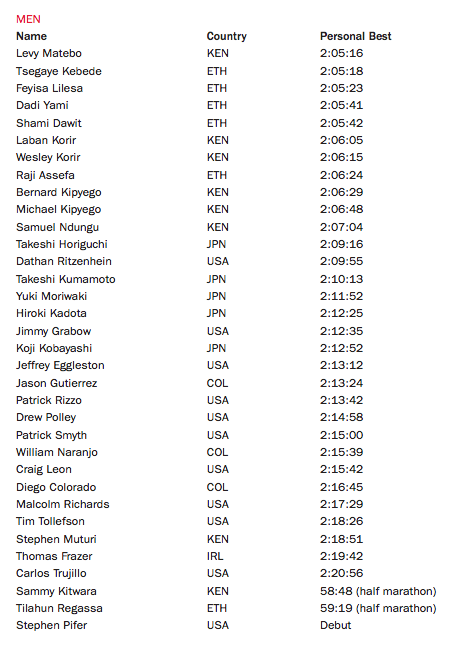 The Favorites:
(personal best)
1. Tsegaye Kebede, Ethiopia (2:05.18 marathon) - He's won the Fukuoka marathon twice, Paris and London. Bronze medalist in 2008 in the marathon, but was not selected in 2012. He finished third at the London marathon this year.
2. Sammy Kitwara, Kenya (58:48 half-marathon) - The fifth fastest half-marathoner of all-time. He made his marathon debut this year in Rotterdam, but dropped out at 30k.
3. Feyisa Lelesa, Ethiopia (2:05:23 marathon) - Ran his personal best in the marathon at the age of 19. He ran 59:22 earlier this year in Houston.
4. Wesley Korir, Kenya (2:06:15 marathon) - Reigning Boston marathon champion and took second in Chicago last year. He knows the streets of Chicago very well as this is his fifth Chicago marathon.
5. Tilahun Regassa, Ethiopia (59:19 half-marathon) - Training partner with Lelesa and making his marathon debut on Sunday. He's won a slew of US road races (Falmouth, Bolder Boulder, Boilermaker, Crazy 8s, etc) over the last few years.
The Americans:
(personal best)
1. Dathan Ritzenhein (2:09:55) - He's healthy and ready to roll. His plan is go out conservatively in 63 or 64 through 13.1 miles, but Ritz has the ability to pop a big race when everything goes right.
2. Jimmy Grabow (2:12:35) - Ran his debut marathon at the U.S. Olympic Trials, where he finished 10th in 2:12.29. That time was the 12th fastest American debut of all-time.
3. Patrick Rizzo (2:13:42) - His Workout Wedneday showed that he's in good shape. Took 13th at the U.S. Olympic Trials in 2:13.42 (his personal best).
4. Patrick Smyth (2:15:00) - He ran his only marathon at the U.S. Olympic Trials, where he ran 2:15.00. Smyth has had durability issues in the past, but looks to be over his injuries and is looking to run between 2:11 and 2:13 on Sunday.
5. Craig Leon (2:15:42) - Another solid performer at the U.S. Olympic Trials where he ran 2:15.42.

Past Chicago Marathon Results: http://flo.mx/OK5a0R

---
The 2012 Chicago Marathon is off!!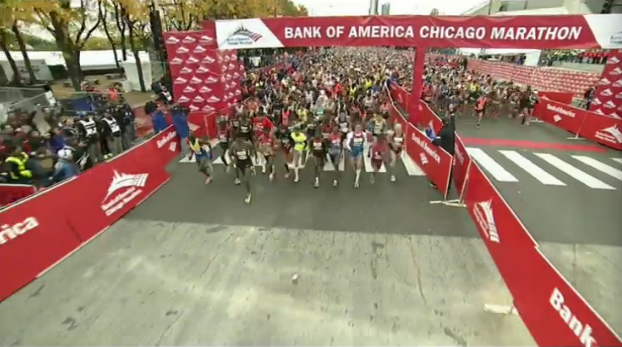 The 2012 Chicago Marathon is one the deepest Chicago fields ever assembled. There are twelve men in the field who have run under 2:10. Is the fifth time the charm for Wesley Korir or will Tsegaye Kebede run away from the field? What the fifth fastest half-marathoner of all-time, Sammy Kitwara? Ritzenhein and other Americans are looking to set personal bests as well.
Read the marathon preview here
Watch the quick marathon preview here
---
Mile 1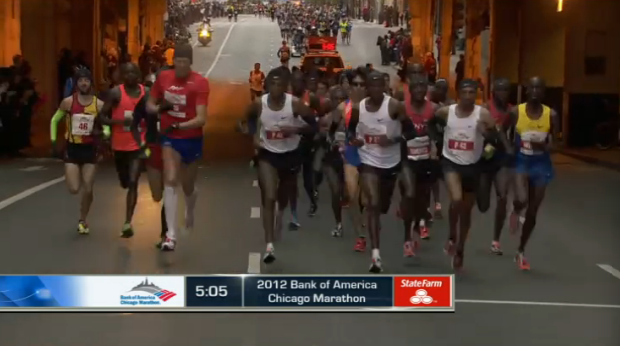 Split - 5:05
Pace - 2:13
Jason Hartmann is the pacemaker. The field went through a bit slow in 5:05. Ritz is right up front. I guess it's better to go out in 5:05 than 4:30.
---
Mile 2
Split - 9:48 (4:43)
Pace - 2:08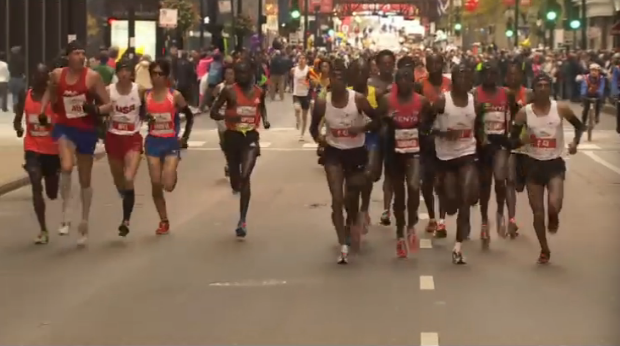 Big second mile. They pack as picked it up and ran a 4:42 for the second mile. Good to see that they want to go for it today. Everyone is still up there. Ritz finally took off his blue USA t-shirt to reveal his white USA jersey.
---
Mile 3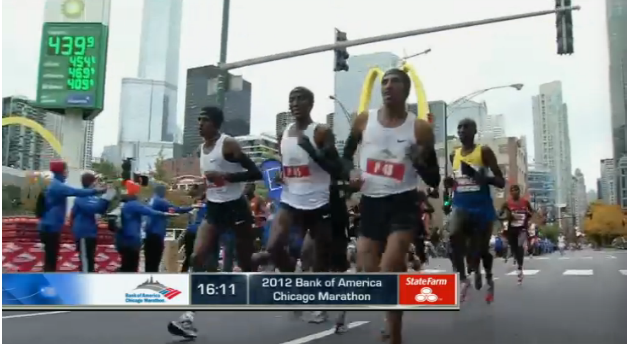 Split - 14:34 (15:03 for the 5k)
Pace - 2:07
The men had the same split for 5k last year, so everything has been honest so far. The three pacemakers are out front breaking the harsh Chicago wind for everyone.
---
Mile 4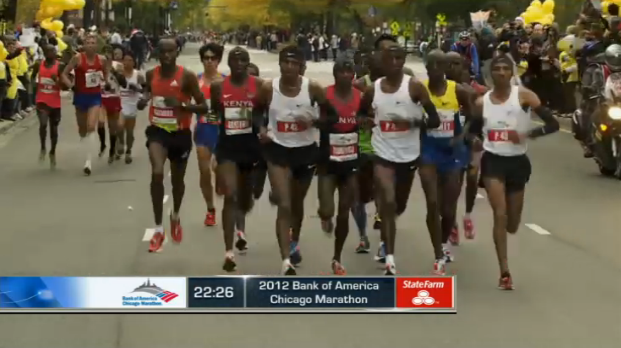 Split - 19:17
Pace - 2:06:18
Ritz is tucked off on the side with Hartmann. Everyone eles is tightly packed behind the pacemakers.
---
Mile 5
Split - 24:02
Pace - 2:05:56
The Ritzenhein group is about 30 meters down behind the front pack. He's always run well when he's conservative early on. As long as he has Hartmann to pace and break the win, he'll be alright for now... He'll have to make a big race decision in a few miles.
---
Mile 6
Split - 28:54 (29:55 for 10k)
Pace - 2:06:11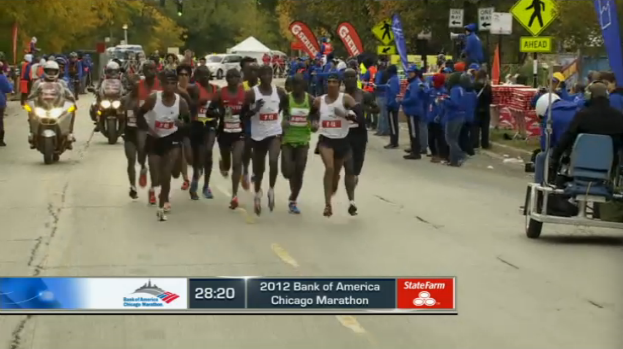 Yami, Korir, and Kitwara are in the front pack. Hartmann and Ritz are beginning to make up some ground, but not too much. They're still a bit above course record pace.
---
Mile 7
Split - 33:41
Pace - 2:06:04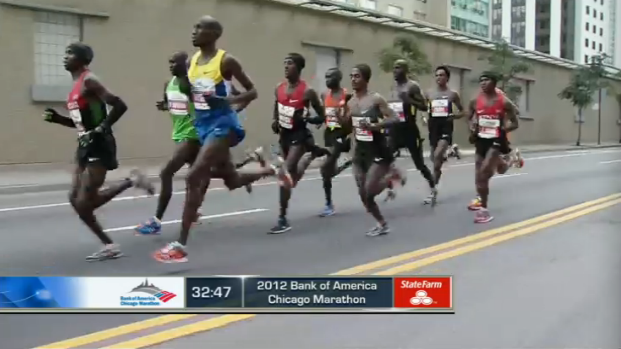 Matebo, Korir, Regassa, and all the favorites are still up front. They've been running into the wind for about six miles. Ritz is reported to be ~12 seconds back.
---
Mile 8
Split - 38:33
Pace - 2:06:15
The pacemakers seem to be picking it up and the lead men are backing off. Hopefully the wind has died down. Kebede should just tuck in and he'll be completely protected from the wind.
---
Mile 9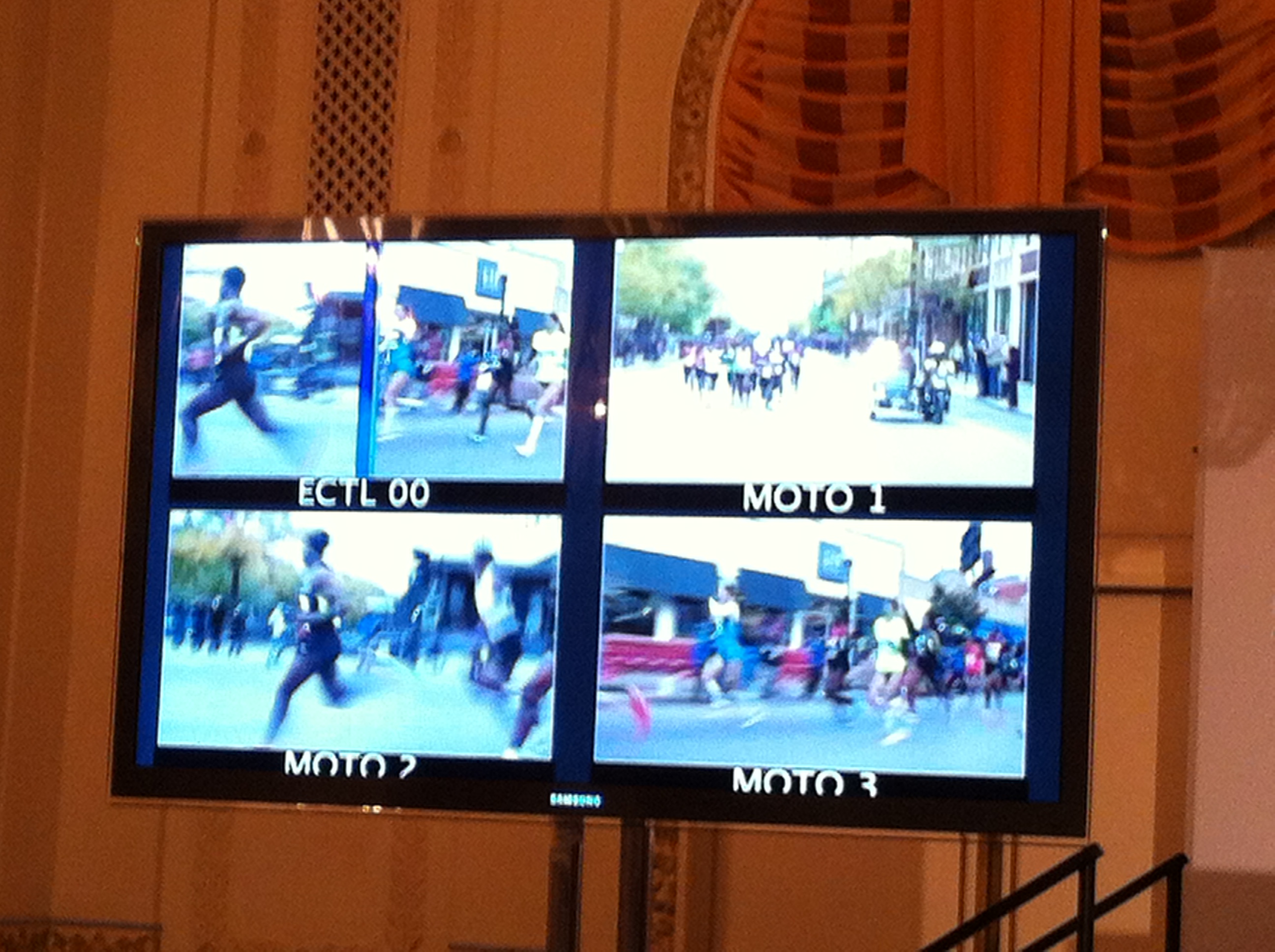 Split - 43:21 (44:53 split for 15k; 45:09 for Ritz)
Pace - 2:06:11
Commercial breaks? What commercial breaks? Everything still the same as the men's leaders zigzag through the streets of Chicago. The last three 5k splits have been 15:03, 14:52, and 14:58.
---
Mile 10
Split - 48:06
Pace - 2:06:01
Paula Radcliffe in the booth. The men are starting to slightly increase the pace. Right now it looks like at least seven guys could break the course record today.
---
Mile 11

Split - 52:51
Pace - 2:05:53
The winds have died down and the men are still running a solid pace. If you throw out the first slow mile, they'd be on schedule for the course record.

Update: Ritz is 200m back from the leaders
---
Mile 12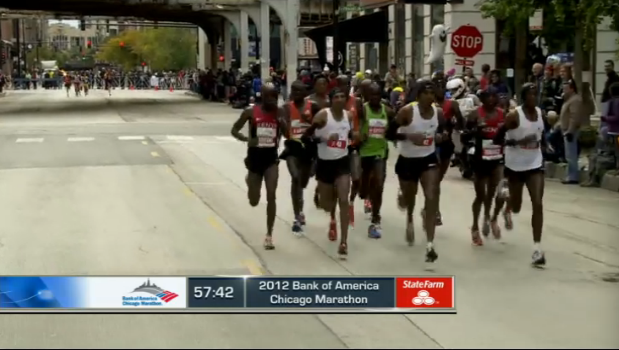 Split - 57:39 (58:02 for Ritz)
Pace - 2:05:52
Kebede and Ndungu are right up front. Ndungu has run 2:07:04 for the marathon.
---
Mile 13
Split - 62:23 (62:55 for 13.1 miles)
Pace - 2:05:50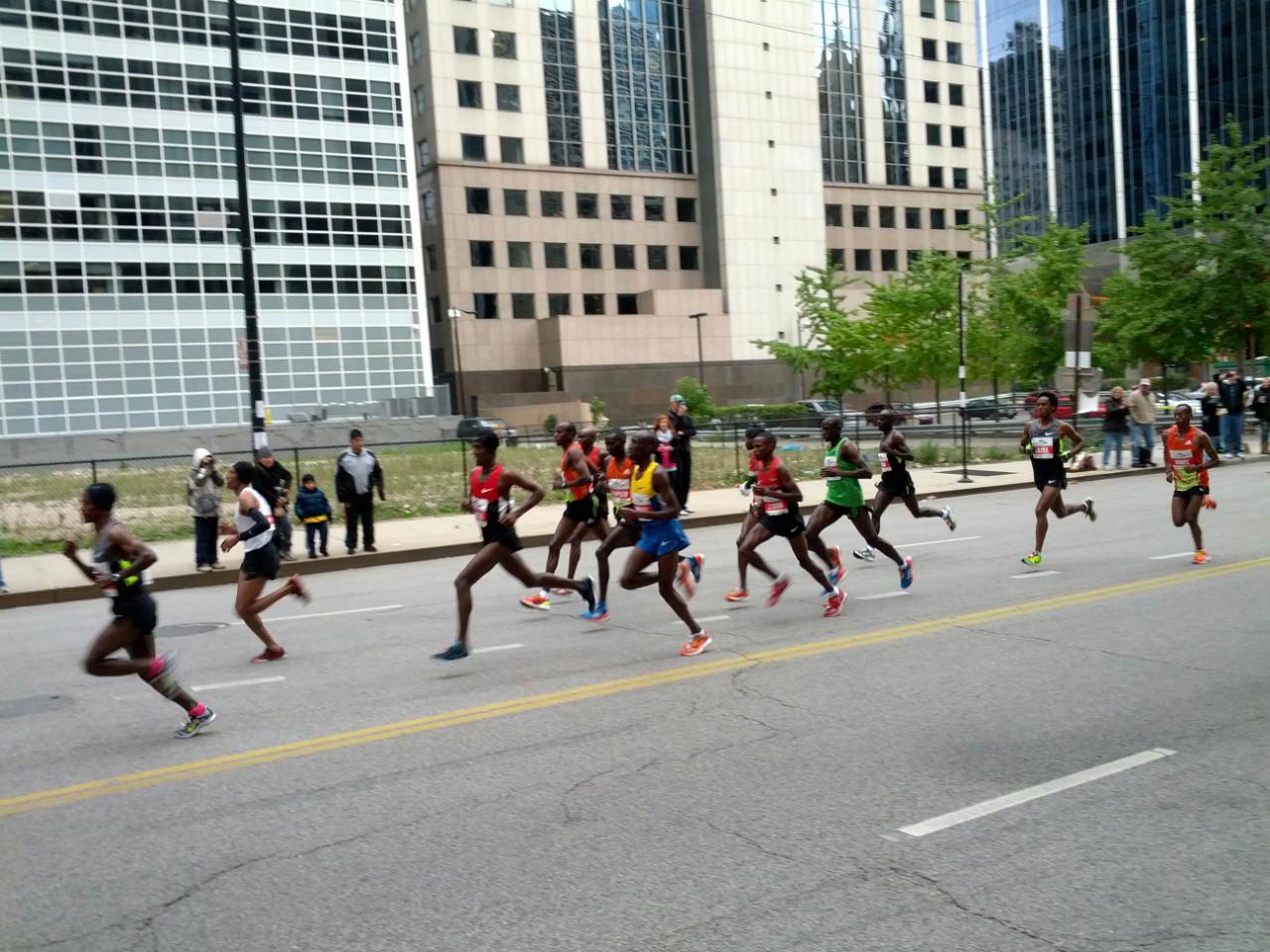 (Photo Credit: Eric Finan and The University of Cincinnati XC team)
The last 5k split was 14:47 (The first three were 15:03, 14:52, and 14:58). The last two 10k splits were 29:55 and 29:45. It's been a very subtle increase in the pace and if this continues, the course record will be in jeopardy.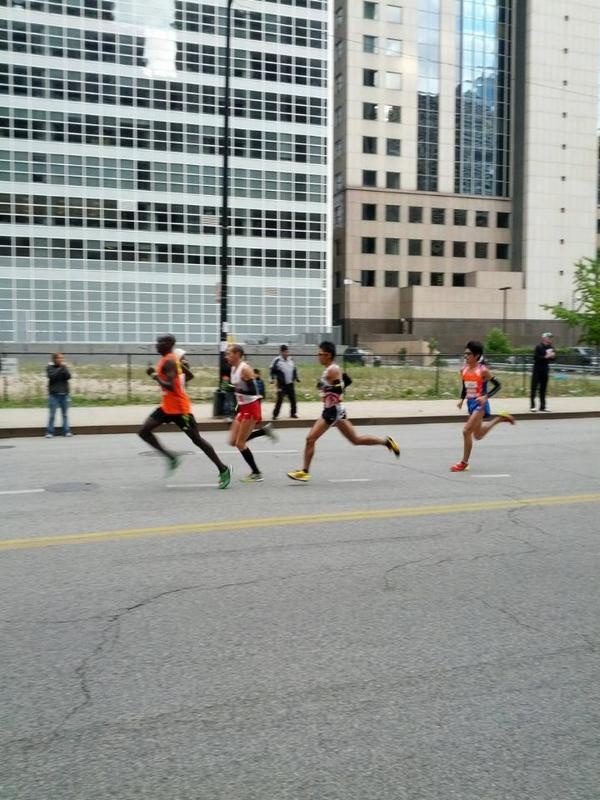 (Photo: Eric Finan)
---
Mile 14
Split - 1:07:11
Pace - 2:05:43
It looks like Hartmann is gone and Ritz is with a chase pack of four other men. If any of these guys starts to drop off the pace (2:07 right now), Ritz will be alone. When we talked to the elite field, we feared that Ritz would be stuck in "no man's land" between the other Americans the lead group. He'll have to make a pivotal decision in a few miles if he doesn't want to run alone for the second half of the race.
---
Mile 15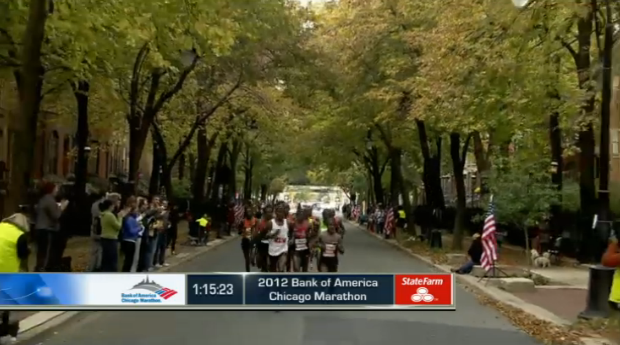 Split - 1:12:00
Pace - 2:05:44
Ritz is 35-seconds back from the lead group. He's on schedule to run 2:06:55. There's only one rabbit left up front. There are twelve men in the front pack. Crazy.
---
Mile 16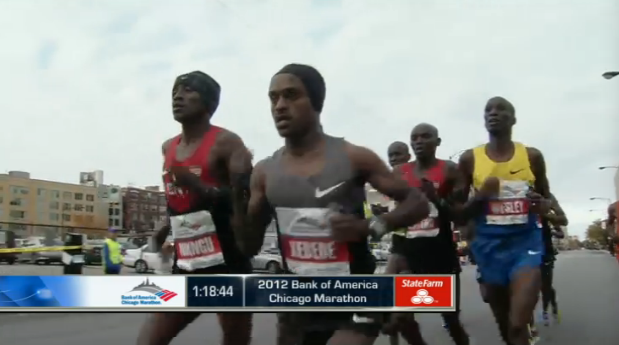 Split - 1:16:47
Pace - 2:05:44
The pacemakers have dropped out. It's Ndungu and Kebede leading the front pack. The last 5k split was 14:54. Everyone in the media room feels that a big surge should happen in the next few miles.
---
Mile 17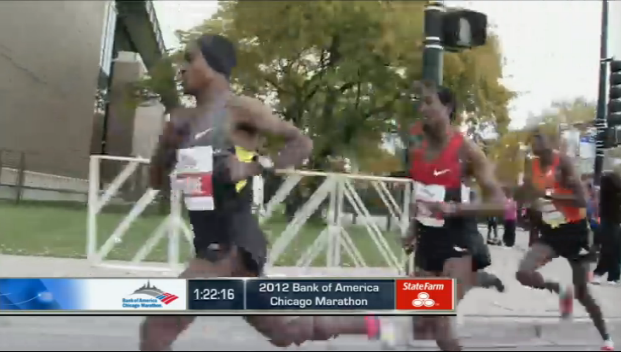 Split - 1:21:25
Pace - 2:05:28
Aaaaannnnddd here we go. Kebede and Ndungu both love to run from the front and they've injected some pace at mile 17. Kebede has so much experience and always seems to be competitive in all of his races. How was he left off the Ethiopian marathon team?
---
Mile 18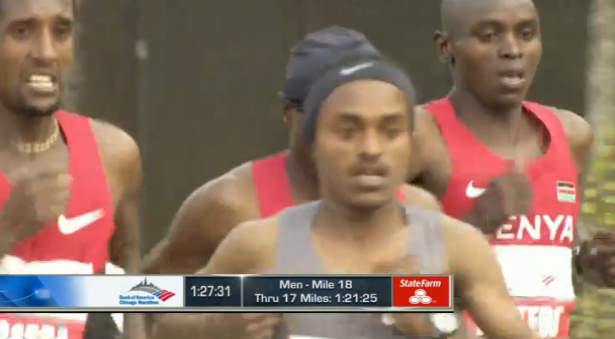 Split - 1:26:03
Pace - 2:05:15
Kebede is all business up front. The little man really wants to win, but the increase in pace hasn't broken anyway. Regassa is on his shoulder, but he looks like he's in a bit of pain. A 4:37 mile at the end of a marathon will do that to a man.
---
Mile 19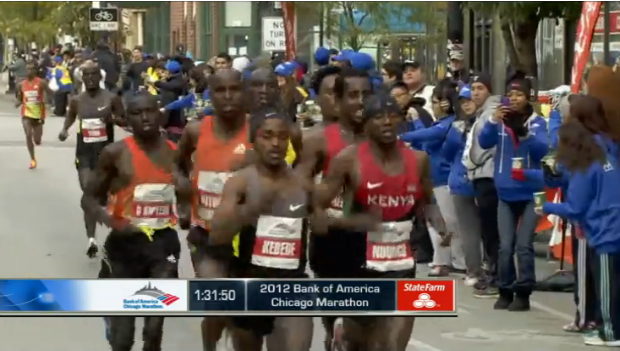 Split - 1:30:40 (1:29:02 for 30k; Ritz is behind in 1:30:02 for 30k)
Pace - 2:05:02
The cracks in the armor are starting to show for some of the men. Kebede has been relentless from the front in the last few miles and the leaders are starting to dwindle down.
---
Mile 20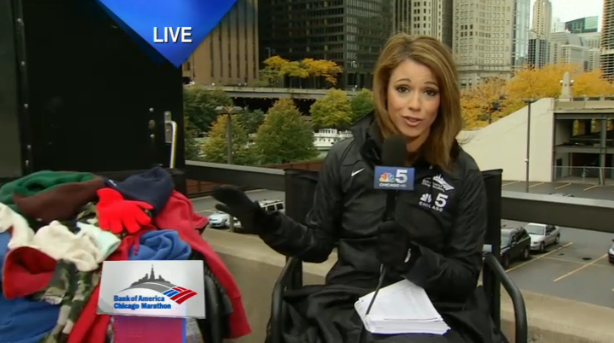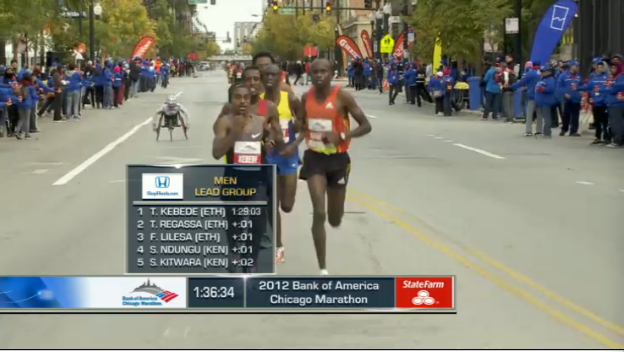 Split - 1:35:15
Pace - 2:04:47
Normally I'm annoyed with weather updates, but I'm okay with it in Chicago. The men's race is absolutely incredible. The ten mile splits have been 48:06 and 47:09. We're flirting with a sub-2:05 marathon in Chicago this morning. Dare I say it... close to world record pace? Let's not get ahead of ourselves yet. The last six miles are the hardest.
---
Mile 21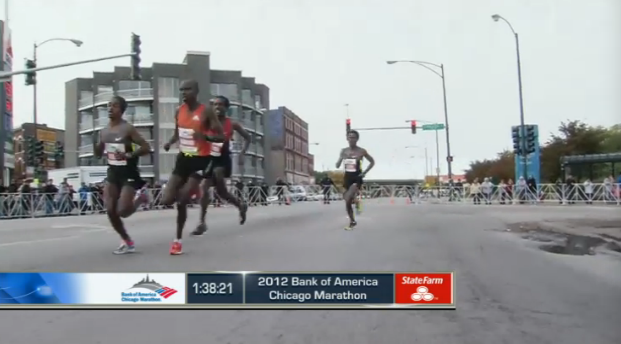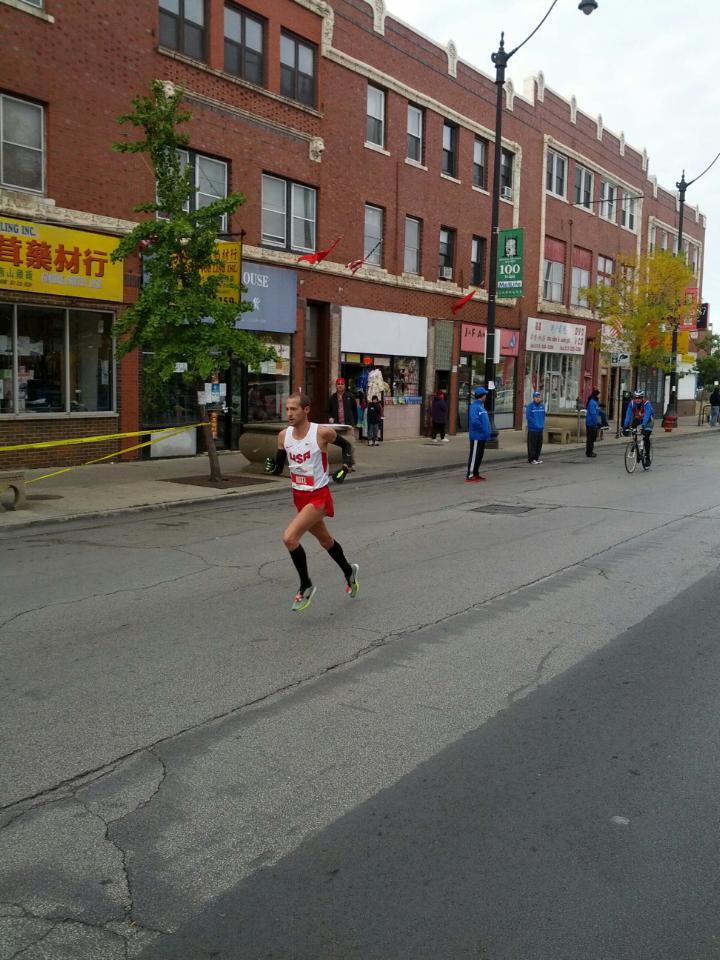 (Photo: Eric Finan)

Split - 1:39:48
Pace - 2:04:30
"Regassa looks like Freddy Krueger with that face. Kitwara looks like he has botox injections with that stoic face." Classic.
---
Mile 22

Split - 1:44:32 (4:44 for the last mile; 14:14 for the last 5k)
Pace - 2:04:29
It's down to three Ethiopians and one lone Kenya. They just showed Ritz running past someone who dropped off the lead pack. Regassa throws in a HUGE surge and even though his face says that he's hurting, his legs say that he's ready to roll.
---
Mile 23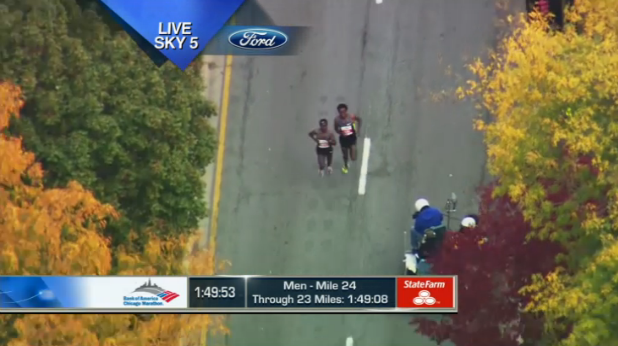 Split - 1:49:08 (4:36 last mile)
Pace - 2:04:19
It's down to the medal men. Kebede, Regassa, and Lilesa. All three Ethiopians are up front. It looked as Regassa was going to pay for his big move, but he latched onto his countrymen and it hanging tough. Kebede and Lilesa look so smooth.
Update: Regassa is starting to get dropped by Kebede and Lilesa. It's going to be down two the two.
We're watching history in Chicago right now. The second half of the race has been insane.
---
Mile 24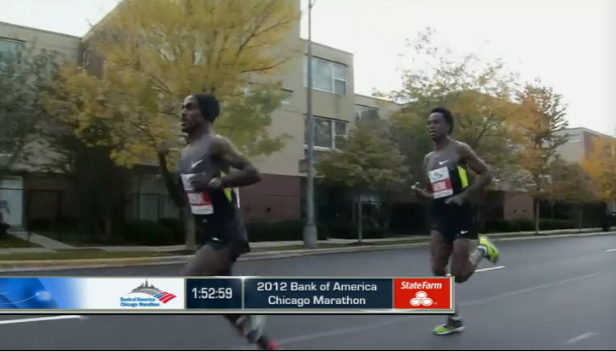 Split - 1:53:51 (4:43 last mile)
Pace - 2:04:17
The Ethiopian Federation must be questioning their Olympic Marathon team decisions right now. Kebede is just started to break away from Lilesa. He's looked incredible from the gun. We're on pace for the sixth fastest marathon of all-time.
---
Mile 25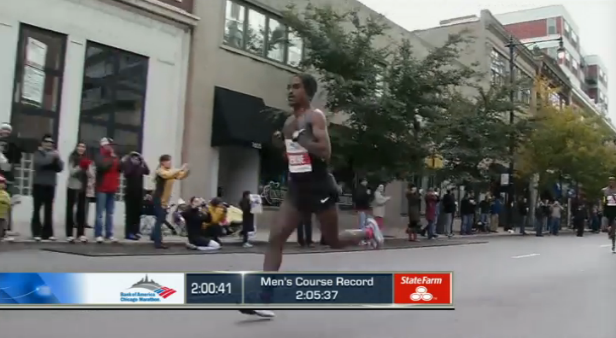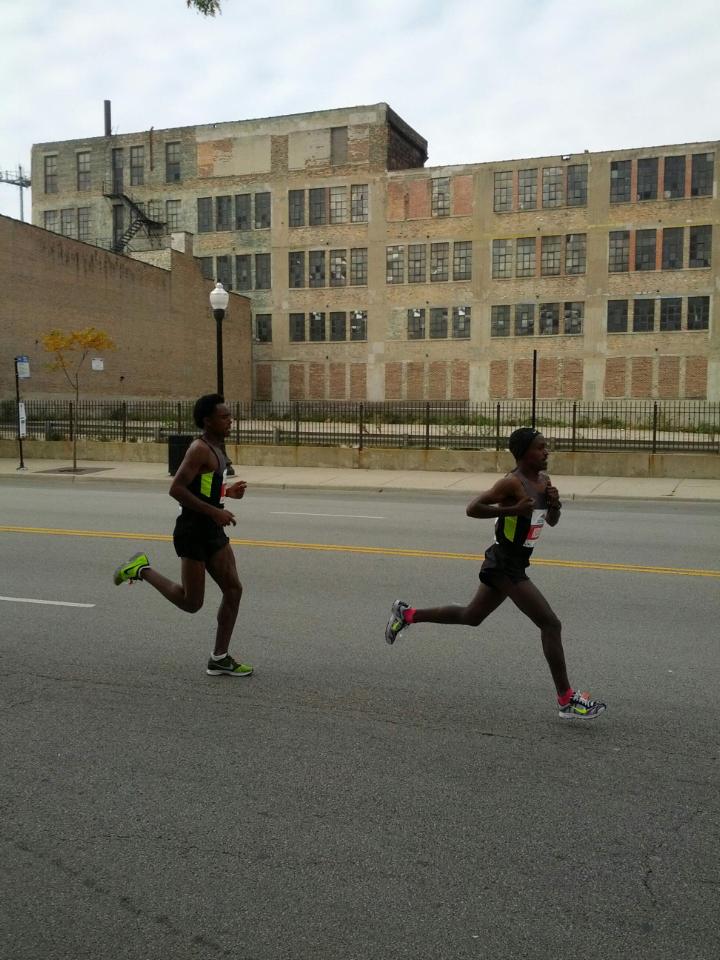 (Photo: Eric Finan)
Split - 1:58:41 (1:57:59 for 40k)
Pace - 2:04:22
Lilesa looked like he was ready to go, but Kebede anticipated his move and now has opened a small gap. Two years ago, Wanjiru broke Kebede on the hill and it looks like he's learned his lesson. Kebede was 1:59:41 with one mile to go.
Kebede earned this victory today. He's lead, thrown in surges, and hasn't backed down to any challenges. Lilesa fought the good fight, but Kebede was just too much.
---
Finish - 2:04:38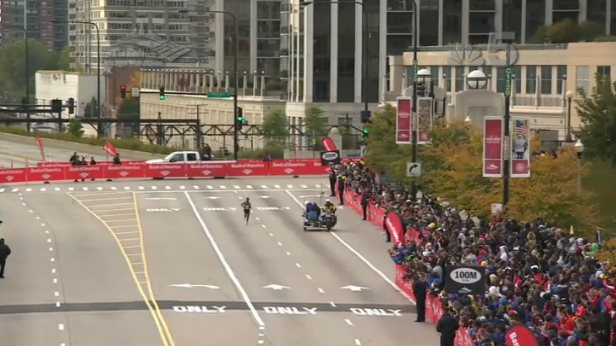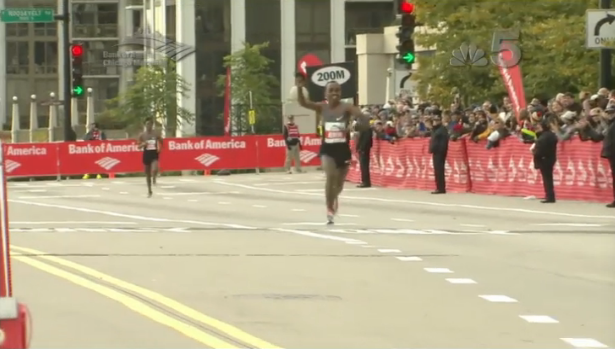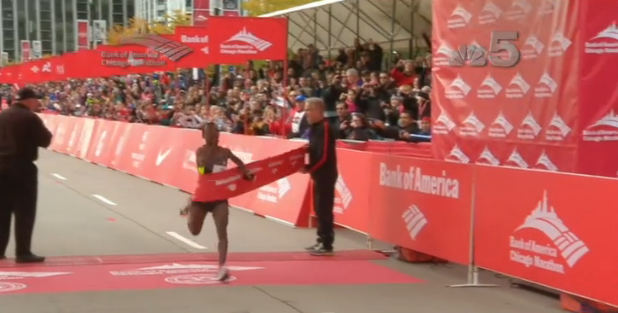 2:03:36 for 6 miles
Kebede is the first Ethiopian male to win. He's now the course record holder in Chicago. Lilesa second and Kitwara third.
Ritz finished in 2:07:50. It's a big PR for him. Initial reports seem like he executed his plan perfectly.
10k splits
29:55
29:45
29:22
28:56