Baysa Edges Out Jeptoo At The Line for 2012 Chicago Marathon Victory



Updates by Chris Chavez

Allyson Felix and Jeneba Tarmoh were not running the 2012 Chicago Marathon, but the finish between Atsede Baysa and Rita Jeptoo reminded a lot of people of the photo finish at the 2012 Olympic Trials. Replay would come to show that Baysa held onto the win as the two runners crossed the finish line at 2 hours and 22 minutes. Baysa edged out Jeptoo 2:22:03 to 2:22:04 for the exciting finish.

2011 Chicago Marathon winner Lilya Shobukhova stayed among the leaders through the first 18 miles, but dropped back and ended up finishing fourth at 2:22:59. Maria Konovalova impressed for the first half of the race. At 38 years old, she finished in sixth place. Two spots behind her, the first American crossed the finish line as Renee Metivier Baille finished in 2:27:17.
View full results here: http://flo.mx/QNPOaa

Women's Marathon Quick Hits
2012 Bank of America Chicago Marathon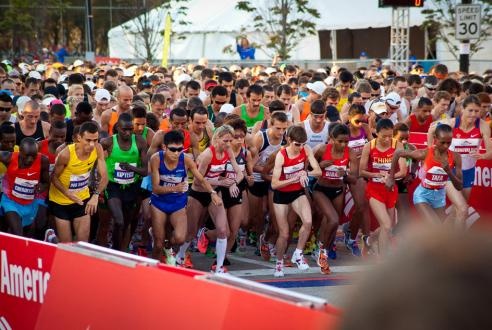 Marathon Records:
World Record - 2:15:25 - Paula Radcliffe (GBR) 13 April 2003
Chicago Record - 2:17:18 - Paula Radcliffe (GBR) 13 October 2002
American Record - 2:19:36 - Deena Kastor 23 April 2006

American Records set the Chicago Marathon
Men - 2:07.01 - Khalid Khannouchi (2002)
Women - 2:21:21 - Joan Benoit Samuelson (1985)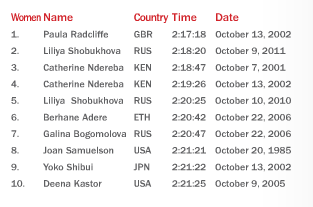 The Favorites: (personal best)
1. Liliya Shobukhova, Russia (2:18:20; 30:29.36 for 10k; 14:23.75 for 5k) - After dropping out of the Olympic marathon, Shobukhova returns to Chicago looking to make history. Last year, Shobukhova set her personal best and the Chicago marathon course record in 2:18:20. If she's past her hamstring injury, she'll gunning for her fourth consecutive Chicago marathon victory. She's the second fastest woman of all-time at the marathon and fourth fastest woman at 5000m.

2. Lucy Kabuu, Kenya (2:19:34; 14:33.49 for 5k) - Earlier this year, Kabuu ran the second fastest marathon debut in history in 2:19:34 in Dubai. In 2008, she ran personal bests of 30:39.96 for 10k and 14:33.49 for 5k.

3. Werknesh Kidane, Ethiopia (2:26:15; 30:07.15 for 10k; 14:33.04 for 5k) - Although her personal best is "only" 2:26, Kidane has incredible potential to improve her personal best in the marathon. She's the eighth fastest woman of all time at 10k with a time of 30:07.15 and among the top 30 all-time performances in the half-marathon with her 1:07:26 finish in Philadelphia last year.

The Americans: (personal best)
1. Dot McMahan (2:31:48) - The seasoned veteran has finished in the top ten at the last two U.S. Olympic Trial Marathons. Her personal best in the marathon was set last year at the Grandma's Marathon in Duluth, MN. She's looking to run under 2:30 on Sunday.

2. Renee Metivier Baillie (debut) - The 11-time NCAA All-American at the University of Colorado is making her marathon debut in Chicago. She ran her half marathon personal best of 1:11:51 two years ago in Houston. Most recently, she won the The New Haven 20k U.S. Championship in 1:07.08

3. Addie Bracy (2:44:34) - Two years after setting her personal best in the Windy City, Bracy returns to Chicago. She had to withdraw from the U.S. Olympic Trials marathon with a stress reaction in her femur, but she's healthy and ready to go on Sunday.

4. Stephanie Pezzullo (debut) - Originally a soccer player who made the switch to the 3000m steeplechase, Pezzullo is also making her marathon debut in Chicago. She's run 1:13 three times this year for the half marathon.

Past Chicago Marathon Results: http://flo.mx/OK5a0R

---

The 2012 Chicago Marathon is off!!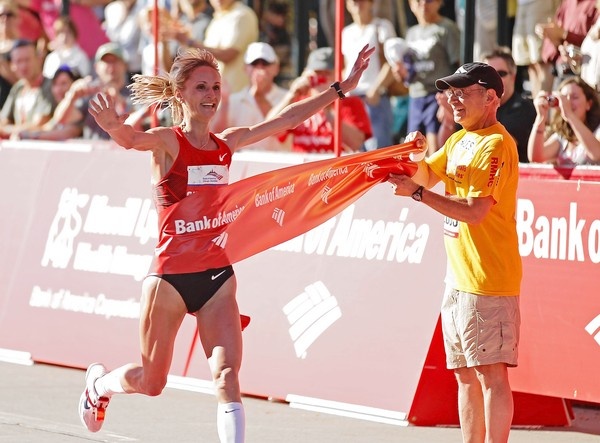 The 2012 Women's Chicago Marathon is about history and redemption. Liliya Shobukhova looks to reaffirm her status as the world's best female marathoner after she disappointing Olympic Marathon performance. If she's fit and healthy, Shobukhova will be the first individual to win four consecutive Chicago marathons. In her way stands Lucy Kabuu of Kenya and Werknesh Kidane of Ethiopia. While Kabuu is an immediate threat because she's run 2:19 for the marathon, Kidane is a bit of unknown because her other personal bests indicate that she has the potential to drop marathon best.

Read the marathon preview here
Watch the quick marathon preview here
---
Mile 1
Split - 5:33
Pace - 5:33

The women's field is off and it's not the fastest start to the race. Not that quick of a start for both fields, but things could get going soon.

---
Mile 2
Split - 10:57
Pace - 5:28

Pace picks up just a tad. The pack is still tight. Still a general consensus that it is a slow start to the race in general.

---

Mile 3
Split - 16:30
Pace - 5:30
Weather is cooperating. Pace is consistent. The split for at the 5K mark was 17:04. Shobukhova in the zone.

---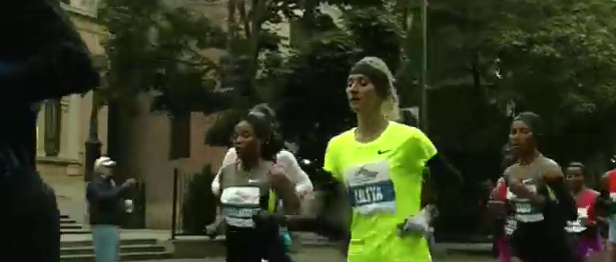 Mile 4
Split - 21:54
Pace - 5:28

Lileya is leading the pack now. Not too difficult to spot in that neon yellow tee. Layers are coming off soon.

---
Mile 5
Split - 27:14
Pace - 5:26
Lileya was in the top three at the 5K mark and not much has changed. On the heels of some men ahead of her. Fatuma Sado of Ethiopia right with her.
---
Mile 6
Split - 32:48
Pace - 5:28
Everyone's running into the wind, but everyone seems to be keeping at a steady pace.
---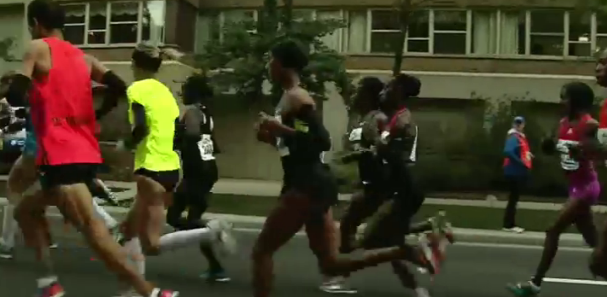 Mile 7
Split - 38:16
Pace - 5:28

Pace setters are the story on the broadcast right now with not much distance between them and the Russians up in the front. Konovalova was the leader and Shobukhova was just a second behind her in fifth. Close pack of eight runners.

---
Mile 8
Split - 43:40
Pace - 5:27.25

Konovalova crossed the 10K mark at 34:00 tied with Ethiopians Baya and Sado for the lead. First American crossed at 34:44 and it was Renee Metivier Baille.

---
Mile 9
Split - 49:40
Pace - 5:31

Paula Radcliffe is in Chicago as an analyst. Her course record appears to be secure in a slower women's field this year. Konovalova is getting the pacers to put in just a bit more work right on their heels.

---


Mile 10
Split - 54:25
Pace - 5:26

The split at 15K was 50:49 with Konovalova strong up in front. She dropped out of the race last year, but at 38-years old, the Russian is throwing it down early on.

---
Mile 11
Split - 59:46
Pace - 5:26

American Metivier Baillie is hanging tough with the leaders just over a minute behind Konovalova. She was in 11th place overall through the 15K mark.
---
Mile 12
Split - 65:10
Pace - 5:25

Konovalova and the leaders getting water at the same time. At 20K for the women are at 67:40 with the last 5K being clocked in at 16:41. The Russians and Ethiopians are sticking with their respective teammates.


---
Mile 13
Split - 1:10:40

Pace - 5:26

The half marathon mark was crossed at 1:11:13. Shobukhova looking at her watch. Only time will tell when she makes her move up to the top spot. She's next to Baysa right behind Konovalova.

---
Mile 14
Split - 1:16:04
Pace - 5:26

The women's group is still very competitive with a group of six to eight runners. Pacers throwing their arms up in the air to get the crowd going behind the ladies. Konovalova, Baysa, and Shobukhova still up in the front.

---
Mile 15
Split - 1:21:25
Pace - 5:25

Ethiopian making its move now with two up in the front. Shobukhova in the middle of the pack. Konovalova still in the mix.
---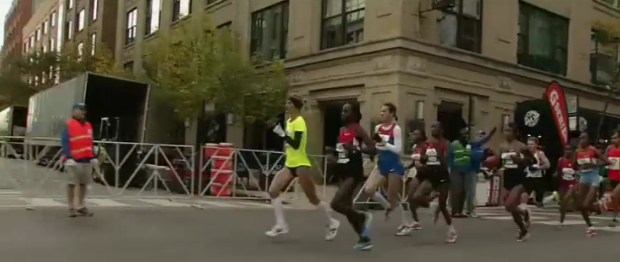 Mile 16
Split - 1:27:00

Pace - 5:26

Shobukhova is making her move and up in the front. Looking comfortable enough for a finish in the race, which would be nice after the disappointment in London.

---
Mile 17
Split - 1:32:28

Pace - 5:26

While the men are on pace for a course record, the women are still not. Shobukhova is still the top runner with the neon yellow top. Three Africans lined up right behind her. Nine women are still in the main pack.

---
Mile 18
Split - 1:37:83

Pace - 5:28

Change at the front of the group with Shobukhova dropping to fifth and dropped her yellow top. Sado, Baysa, Kabuu is the lead pack. and 1:41:14 was the split at the 30K mark with the last 5K being 16:49.

---
Mile 19
Split - 1:43:07

Pace - 5:26

Down to a squad of three with the two Ethiopians and the one Kenyan. The first 10K was at 33:59 and their latest one was clocked at 33:44. Lucy Kabuu (great name) is in the lead.
---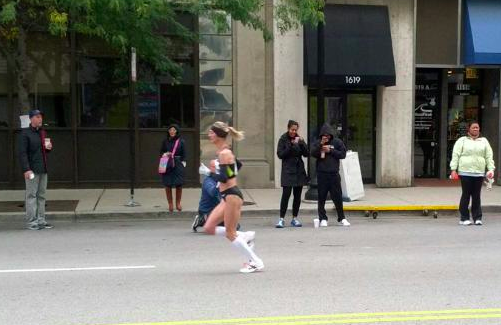 Mile 20
Split - 1:48:25

Pace - 5:26

Shobukhova is now eight seconds behind the lead pack. Kabuu still rocking it for Kenya with Rotich at her side. Liliya is going to need quite the kick to get back into the swing of things.

---
Mile 21
Split - 1:53:51

Pace - 5:26

Not much has changed in the lead pack. Impressive second marathon thus far for the 28-year old, Kabuu.
---
Mile 22
Split - 1:59:17

Pace - 5:25

Sub-2 hours for the 22-mile marker. Kenya's Rita Jeptoo on the women's side took the lead shortly after the 21st mile. She was coasting behind the leaders and kicked for the advance.

---
Mile 23
Split - 2:04:28

Pace - 5:25

As the men's winner crosses the finish line, we now await the first woman as we're back to a group of three leading things. Jeptoo and Kabuu, and Baysa are in the thick of things. Shobukhova still has ground to catch up.

---
Mile 24
Split - 2:09:57

Pace - 5:25

The three are all lined up and the pace is starting to pick up. The lead is being passed around. They are passing male runners left and right through the 40K mark. Update for America, Renee Metivier Bailieis pace to be the top American finisher.

---
Mile 25
Split - 2:15:--
Pace - 5:24


Baysa is pulling away with Jeptoo hanging tough in second. A few looks behind her and she just continues to push. An exciting finish between the two of them is in the works. Rotich is not giving up in third place.


---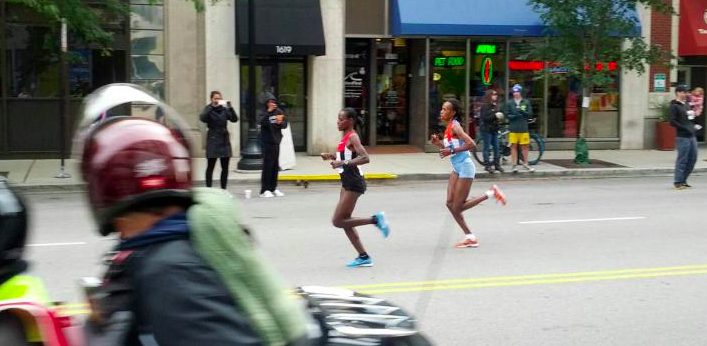 Mile 26
Split - 2:20:55

Pace - 5:25

Photo finish as the two cross the finish line at the same time. Jeptoo and Baysa think they each have the victory. Upon review, Baysa with the win. The kick was there for Jeptoo to win, but just too late.



FINAL:

Official winning time for Baysa was 2:22:03 and Jeptoo in second 2:22:04. 2011 Champion Shobukhova finished in 2:22:59. First American to cross the finsih line was Metivier Baillie in eighth place at 2:27:17.