Edward Cheserek is on the same pace as last year. That's bad news for everyone else.

The defending Foot Locker Finals champion, King Cheserek, will attempt to become the fourth boy's harrier to win two titles in a row.

Last year, Cheserek fended off challenges from NXN champion Futsum Zeinasellassie to narrowly take the victory in 14:51.5. Zeinasellassie finished second in 14:52.1.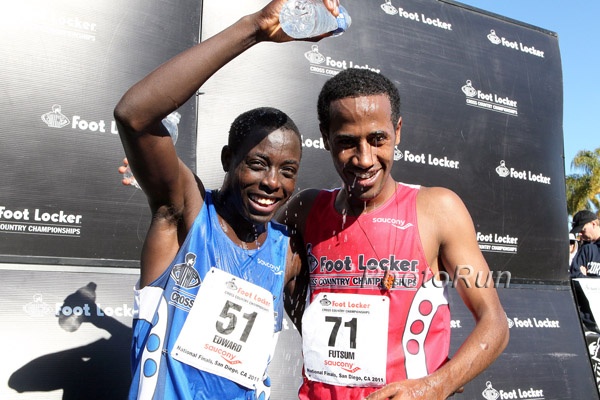 They shared the lead and a water bottle shower.

Perhaps more remarkable than their sprint finish was their separation from the rest of the field. Zeinasellassie was 28-seconds ahead of third place finisher Nathan Weitz.

Zeinasellassie and Weitz are now teammates at NAU and helped the Lumberjacks finish an incredible fourth at the 2012 NCAA XC National Championship. They were also the top two highest placing true freshmen in that race.

Since the two are now freshman at NAU, who is going to challenge Cheserek for the crown? There are a few worthy challengers, but history is on Cheserek's side. He's on the same pace while everyone else is "28-seconds" behind.

Even with a late start this year due to school commitments (see: SAT), Cheserek is still on a roll. He opened his season with a win at the Reebok Manhattan Invitational followed by victories at the Essex County Championships, the NJISAA Prep Championships, and the Foot Locker Northeast Regional.

It's pretty normal stuff for one of the greatest high school athletes of all-time.

It's nearly impossible to predict a runner's next race, but it doesn't hurt to try. Based on history and some statistics, it's Cheserek's race to lose.

When we say that Cheserek is on the same pace as last year, that's meant to be a literal statement.

Manhattan Invitational
| | |
| --- | --- |
| 2011 | 2012 |
| 11:55.39 | 11:58.70 |

Essex County Championship

| | |
| --- | --- |
| 2011 | 2012 |
| 14:20.0 | 14:18.70 |

In his post-race interview from Manhattan, Cheserek said that the important thing was to go for the win. Although he was challenged by Nick Ryan of Fayetteville-Manlius (second in 12:05), it was Cheserek all the way.

If Cheserek is in the same shape as last year, the only way he'll be beat is if someone can run sub-15 at Balboa Park.

There are three other guys that could potentially break the tape before Cheserek. But based on history, we have our doubts.

The Challengers

Sean McGorty from Chantilly, VA has been on an absolute tear this season. The senior standout has notched big victories at the Great American Cross Country Festival, the Virginia State Championships, and the Foot Locker South Regional.

Most recently, his course record of 14:28 at Foot Locker South stands out. He's coming into form at the perfect time of the season, but is it enough to dethrone Cheserek?

The previous course record of 14:32 was held by Andrew Bumbalough. When he won Foot Locker South in 2004, he went on to finish second at Foot Locker Finals in 15:24. Bumbalough lead the majority of the race, but was kicked down by eventual winner Kenneth Cormier.

One can assume his effort was pretty hard.

But one data point is not enough to make a reasonable comparison. Below, we compared the finishing times of the 2011 Foot Locker qualifiers from the South Regional and Foot Locker Finals.

2011 Foot Locker South Qualifiers
| | | |
| --- | --- | --- |
| Name | FL South | FL Finals |
| Craig Nowak | 14:37 | 15:31 |
| Ahmed Bile | 14:38 | 15:29 |
| Daniel Vertiz | 14:40 | 15:22 |
| Joshua Brickell | 14:41 | 15:24 |
| Thomas Graham | 14:52 | 15:24 |
| Sean McGorty | 14:54 | 15:28 |
| Jacob Thomson | 14:55 | 15:41 |
| Thomas Madden | 14:56 | 15:45 |
| Mark Blackmon | 15:01 | |
| Robert Domanic | 15:02 | 15:42 |

There's no direct correlation between the two races because some runners had the same, better, or worse performances a few weeks later. There is a decent range and we can predict that McGorty will run between 15:05 and 15:20 according to his previous run.

Then again, that's only a prediction. In 2007, Colby Lowe of Southlake Carroll ran 14:45 at Foot Locker South (the same course, McAlphine Park) and went on to run 15:12 at nationals. It'll come down to the day for McGorty and it seems like a low-15 finish is in the cards.

But that won't be enough to take down the King.

Antother prep who looked like the one to deny Cheserek's title defense was Jake Leingang. His wins at NXN Heartland and Foot Locker Midwest, not to mention his 14:27 5k on the track, made him a serious national title contender.

However, he'll have to bounce back from a poor performance from NXN where the mud took its toll on the fleet-footed Leingang. He ended up way back in 59th.

One runner who wasn't swallowed up by the mud was Ohio's Sam Wharton. Wharton, who was 19-seconds back from Leingang at the Nike Balance Outdoor 5k and second to him again at NXN Midwest, took the lead late at NXN and never looked back.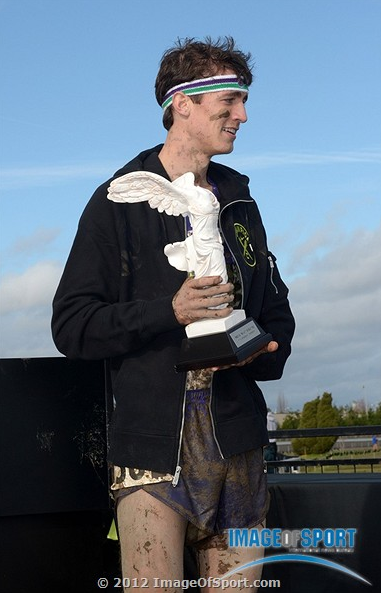 The Ohio Athletics Association ruled that weird white statues are permissible to take.

The surprise (to some, at least) NXN champion laid low the first few meets of the season in preparation for the NXN / Foot Locker double. If he recovers from Portland, he'll be well-rested for his final race of the season. He's already shown that he's tough in the mud, but Cheserek is a whole different element.

If Cheserek can repeat his Foot Locker performance from last year, he won't be denied a second title. Then again, every race is different.