It's the final countdown of the best stories from the 2012 high school cross country season. The first half of the top fifteen moments were filled with statistics, streaks, and intrastate rivalries. The second half covers everything from having to call people in Indiana to confirm state meet results and watching one of the greatest high school runners of all-time run all by her lonesome.
The first half of our list (#15 - 8) can be found
here
.
---

7) Christian Brothers Academy and the almost perfect season
It's a story that could have been the greatest single season team performance of all-time, but now it just reads like a Bernstein Bears book.
Christian Brothers Academy weren't just the defending national champions, but they hadn't lost a race since they took 5th at the 2010 NXN championships.
Even though CBA had lost three of their top seven going into the season, they weren't depleted. The perennial powerhouse managed to find three guys to put on extra layers of socks and step into the big shoes left behind by the graduated seniors.
This team was destined to be among the best of all-time. In five of their races, the CBA set the team average record. They rested their top five and still won the NJ state title. Even though they had to come from behind to win NXN Northeast, their self-awareness in that the did not properly execute their race strategy showed that champion mentality.
CBA course records
| | | |
| --- | --- | --- |
| Race | Course | Team Average |
| Great American | Wake Med Soccer Park | 15:24.1 |
| Bowdoin Park Classic | Bowdoin Park | 16:14.64 |
| Reebok Manhattan Invitational | Van Cortlandt Park | 12:44.54 |
| Shore Conference Championships | Ocean County Park | 15:08.67 |
| NJ State Group Championships | Holmdel Park | 16:03.20 |
When the caked mud was finally washed off Lincroft jerseys, CBA's season ended with a whimper rather than a bang. CBA took their first loss in two years with their fourth place finish at NXN.

6) Arcadia is back and everyone should be worried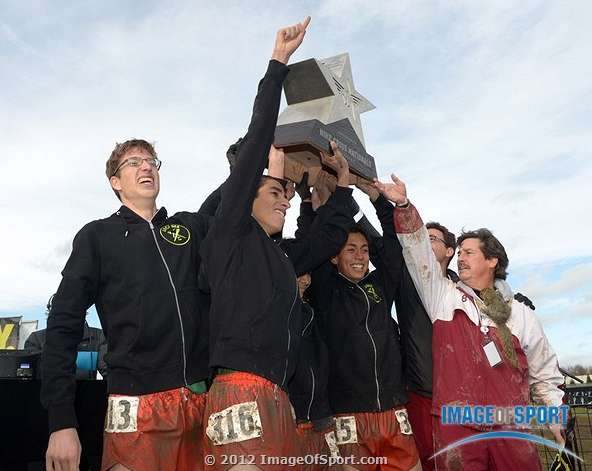 There is a thin line between incredible performances and insane occurrences. The following are a few events that aren't mutually exclusive to either of the aforementioned groups: two NXN titles in three years (plus a fourth place finish), a domesticated team squirrel, and 1,000 mile summers for everyone on the team.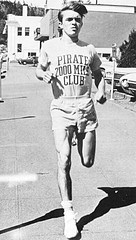 There's a lot more new members in the Prefontaine 1,000 mile club.
Arcadia High School didn't become the first boy's team to win back to back NXN titles, but they were pretty close.
With the spotlight on the first and second teams from last year (Christian Brothers Academy and Southlake Carroll, respectively), Arcadia could silently creep up in the last mile in Portland to win the 2012 NXN championship.
Now that they have a target on their back, Arcadia can't "ride the wave" from California to Oregon. Even with this bullseye, it's not Arcadia that should be worried, but everyone else.
There's been something going on in southern California in the last few years that have brought Acadia from great to the best.
In terms of in-state competitiveness, they've always been near the top in California. The last few years have been up and down, if you consider finishing 8th in one of the most competitive states in the U.S. "down."
2005 - 3rd
2006 - 7th
2007 - 8th
2008 - 4th
2009 - 3rd
2010 - 1st
2011 - 2nd
2012 - 1st
When Arcadia rebounded from their two down years in 2008, they were set for another four years. However, those pioneers of the sport couldn't lead Arcadia forever. When they took second at NXN in 2011, four of their top seven were seniors.
Arcadia - NXN 2011
| | | | |
| --- | --- | --- | --- |
| Name | Place | Time | Grade |
| Sergio Gonzalez | 25 | 15:50 | SR |
| Estevan DeLaRosa | 35 | 15:55 | SO |
| Ryan Vargas | 56 | 16:05 | SR |
| Mitchell Pratt | 103 | 16:30 | JR |
| Francis Lee | 123 | 16:40 | SR |
| Charlie Shen | 140 | 16:48 | SR |
| Josue Gonzalez | 164 | 17:02 | SO |
Though the seniors had come and gone, they left a tradition of success behind at their alma mater. A few weeks ago, when Arcadia once again won the national champion, they did so with four new faces.

The main reason why everyone should be nervous is because they don't lose four guys, but only one. Their number two man, Mitchell Pratt, will be the only member of the squad who will not make an appearance in 2013.

5) "I think this is the beginning of a beautiful friendship."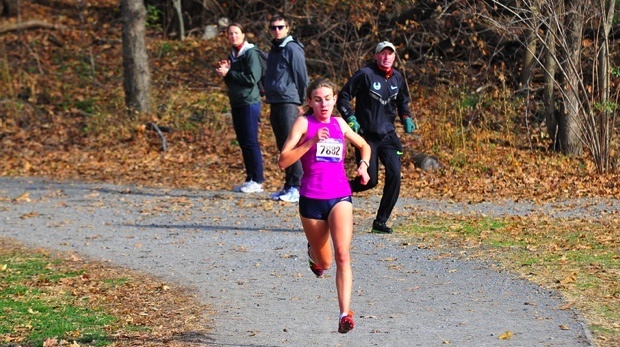 Photo:
Susan Pearsall
The Mary Cain - Alberto Salazar partnership is a victory for America.
When Galen Rupp was in high school, he was astounded of what the top distance runners were capable of doing. Rupp
told USA Today
, "I remember being in high school and looking at what some of the African guys would do in major championships, and I'd just be in awe."
Alberto told him that eventually, he'd be able to compete with the best in the world. A silver medal from the London Olympics sure makes that a valid prediction.
The best talent should be with the best coaches. That's why when high school athletes look at different colleges, that don't necessarily pick the flavor of the month team, but a coach that they feel will help with long-term success.
Since Cain has another year left before she graduates, that decision had to come a bit earlier.
Throughout the years, Salazar's long-term approach with Rupp has paid off in spades. Even though there have been some bumps in the road to a silver medal, the bigger picture is what is important.
That's why this partnership is something special. Cain has plenty of road left to travel, but 4:11 for 1500m and 6th place at the World Junior Championships is a good start.
Whether it's because she's a year stronger or whether it's Salazar's influence, Cain has improved on her weaknesses. She improved her sixth place finish at NXN to a close second behind one of the greatest high school cross country runners of all-time.
As she said in her post-race interview, "It's time for track."

4) The Rise of Rohrer


When the topic of training came up at a college meet this season, one freshman remarked that he had set a personal best in the 3200m this fall.
When do college freshmen run 3200m during cross country? He responded by saying that he broke his high school PR en route during a 5000m.
When Anna Rohrer passed the two mile marker at Foot Locker in 11:10, she once again dipped under her outdoor 3200m personal best of 11:11.
Rohrer's stock is soaring and it's impossible to know the final payout. Last year, she ran 11:11 off a small stint of 15-mile weeks. One healthy summer or training later and she's the Foot Locker national champion.
She's aggressive, smart, and tough when she runs. She's been able to cover surges, recover on hills, and take control of a race at the click of a stopwatch.
Even when she fell in the 400m at the national championship, she had the mental fortitude not to panic and still break open a national caliber race.
She's taking an extended period of rest, but we're excited to see what Rohrer will do on the track. Hopefully she'll break some personal bests.

3) All Hail the King


He vacated his throne for a small portion of the season, but the King is back with his crown. Edward Cheserek became the fourth male harrier to repeat as the Foot Locker national champion.
In the
week leading up to Foot Locker
, we highlighted Cheserek's season and tried to figure out if someone could usurp his throne. Our conclusion was that if someone was going to beat Cheserek, it was going to take a sub-15 performance.
Cheserek broke the tape in 14:59 and the other pre-race favorite, Sean McGorty, took second in 15:05.
What's left for the King? Last indoor season, he took home three national titles (DMR, SMR, and 2-mile) and set the indoor high school 5k record in 13:57.04.
The senior indoor record shouldn't be too far out of his reach (it's 14:06.78), but the outdoor record may be far beyond him. Galen Rupp's 13:37.91 run from 2004 may be untouchable for the King.
Otherwise, expect more of the same from Ed Ches.

2) Seventh Heaven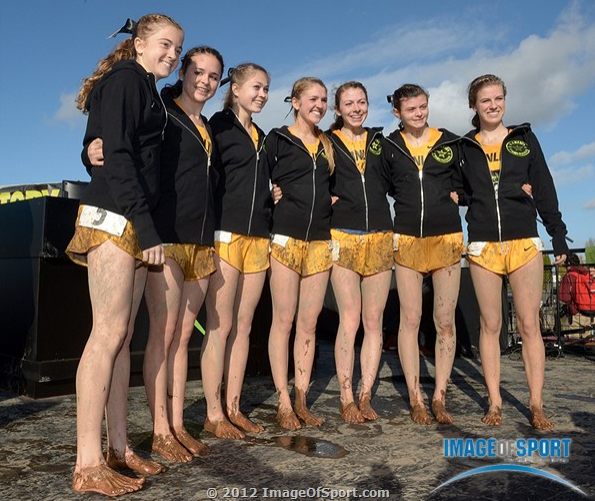 The most impressive streak in high school running continues for another year. The Fayetteville-Manlius girls will once again enter the next cross country season as the defending NXN championships.
There was never any doubt if they could win lucky number seven. They had the credentials, the history, and came to Portland as the heavy pre-race favorites. They didn't necessarily have to believe that they were the best, but that's what everyone else thought. The psychology of a high school runner is an interesting phenomenon.
Within the first four minutes, the race was FM's to lose. They had 57 points at one of the early splits (Carmel was in second with 197) and never relinquished their dominant grasp on the race.
They'll lose three seniors in Jillian Fanning, Katie Brislin, and Michelle Duffy, but that's never been a problem in the past for the Manlius dynasty.

1) She's making her case and checking it thrice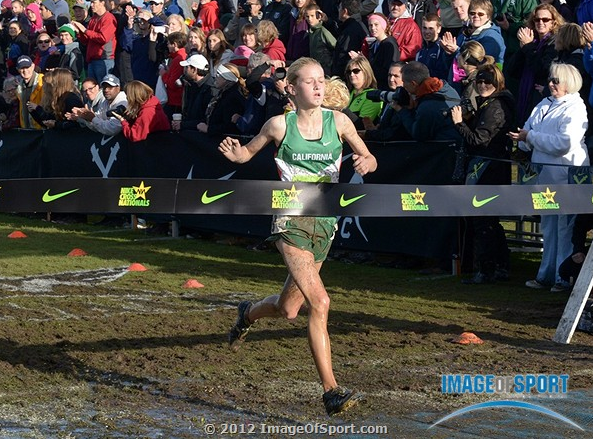 The number one cross country runner, without a doubt, is Sarah Baxter. During her undefeated high school career, she's shattered once-unbreakable course records and has two national championship trophies on her mantle.
Bill Plaschke of the LA Times
put it best when he wrote, "She is unbeaten, unreal, and wonderfully unaware."
The article in itself serves as a reason for the aura behind Baxter. The difference between her and Jordan Hasay isn't just their performances, but the role of the media.
Back when Hasay was running the second fastest time in Mt. SAC history, there was more curiosity compared to the reaction in the present. When Hasay ran, the news would be filtered through smaller news outlets and some pictures of her mythical ponytail would surface on the internet.
Now, you can watch nearly every one of Baxter's course records on the internet. The abudance of the media has made Baxter a bit less of a mystery and even though she's touted to become the greatest of all-time, there might be less pressure.
While she's the queen of cross country, we're still waiting for her to make some outdoor postseason appearances. Baxter set her personal best of 10:08.11 for 3200m at the Arcadia Invitational, but didn't run any races past the California State Championships. She's taken the best harriers down in the fall, but we'd love to see her toe the painted line against the best in the spring.
That's also the main reason why there will be a different feel when Baxter graduates. Outside of cross country, she's never run a big post-season race let alone the Olympic Trials 1500m.
Even though it's bad for the fans, it might be wise for Baxter's long-term development. How many people expect Baxter to win an NCAA title her freshman year?
She may very well be a champion in college since she's a two-time NXN champion and not a two-time Foot Locker champion. Although it's doubtful, if she chooses to run the double next year, she may start a new tradition for female Foot Locker finalists. That's one more year until the High School Cross Country Hall of Fame can put her name on the ballot and "vote."
Let's enjoy the present and leave the future for when it arrives. Sarah Baxter, the greatest cross country runner in 2012, has one more year to become the best in history.