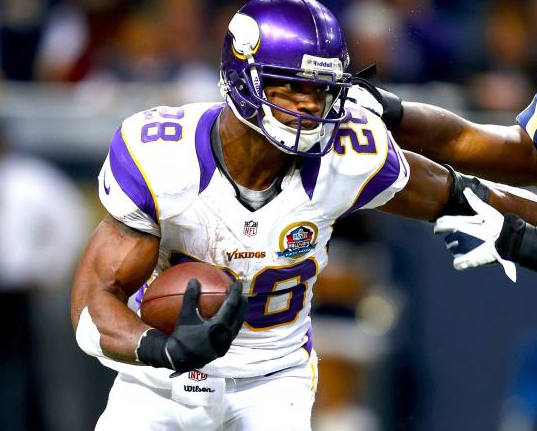 Adrian Peterson enters Sunday's game against the Green Bay Packers needing 208 rushing yards for the NFL single season rushing record. Late Saturday night, Narticles surfaced with the focus not on Peterson's record chase, but his comments saying that he believes that he could qualify for the 2016 Olympics and possibly even defeat Usain Bolt in a race.
Peterson made the comments in an interview with Graham Bensinger of Yahoo! Sports. Peterson's original plan was to chase an Olympic medal at the 2012 Summer Olympics Games in London, but plans derailed when he suffered a torn ACL. His comeback from the injury has his name atop the list of NFL Comeback Players of the Year and in some cases, Most Valuable Player contention.
A superb athlete on the football field, he is entitled to voicing his opinion. At the same time, he should realize that he is talking about world class athletes that try to make a living by running fast times on the track year round.
Peterson said that he wants to win an Olympic medal much like Bob Hayes, James Jett, and Michael Bates have in the past. One thing to note is that they all won their medals at the Olympics and then pursued a career in football. Peterson is already six years into his NFL career and would have to at least take a year off to train for Rio, if he wants a real shot of getting there.
This is much like the argument being made that Usain Bolt would be able to take kick returns or play soccer in Europe. It would be entertaining to watch, but the skill set does not translate into immediate success in the other sport.
Track and Field commentator Ato Boldin added to the Peterson debate by tweeting out the article link with his own commentary saying: "Here we go again....#notthesamespeed." If there is a person that can tell apart the tools needed for success on the track, leave it to the four time Olympic medalist and NFL speed coach.
This all harkens back to the same conversation made when Denard Robinson of Michigan or Chris Johnson of the Tennessee Titans made the similar comments about racing Bolt.
A suggestion that has been made is to set up a 100-meter race with all of the football players that think they stand a chance against Bolt and have the race run in the summer. This way time is allotted for the football players and Bolt to train and get in full shape. Getting all of the athletes and their management to agree to an exhibition race would be tough just with factors in the air like money and injury risk.
So much like the thoughts of them beating Bolt, everything is pure imagination at this point. Will be ever see a race go down? It would be a nice way to bring attention to the sport in the years between Olympics, but it seems unlikely.
-----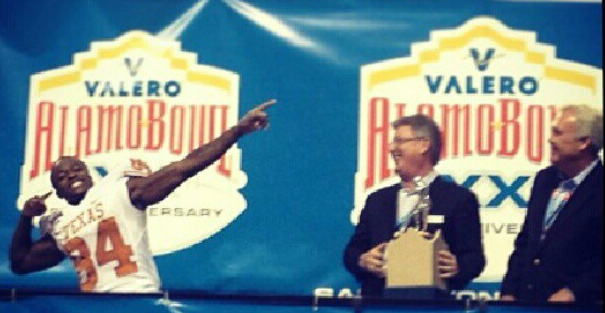 Track speed on the football field did pay off for the Texas Longhorns on Saturday night as Marquise Goodwin put on a show in his final collegiate football game.
Goodwin rushed for a 64-yard touchdown on his only carry and collected four receptions, which included the 36-yard game winning touchdown for the Longhorns.
And thus started the NFL draft talk....
Goodwin is currently ranked 30th on ESPN's draft board for wide receivers, which put him in the category of "borderline draft prospect." What this means is that a team may draft him mainly for his speed and then work on his other skills to give him a role as a kick returner. A fourth round pick seems to be a possible destination for Goodwin.
Just five months after finishing 10th at the Olympics in the long jump, Goodwin accepted player of the game honors for the Alamo Bowl and then did the Usain Bolt pose on the stage. At the end of the day, it is nice to see he still has a little bit of track on his mind.
Here are the videos of Goodwin's 64-yard rushing touchdown and his 36-yard game winning reception:
2nd Quarter 14:40 - TEX 1st and 10 at TEX 36