Video: Thurs, Feb 14th

According to early reports from local media in South Africa, paralympian Oscar Pistorius was arrested after shooting his girlfriend while mistaking her for a burglar.

Video: Get To Know Oscar Pistorius

A police spokesman said that the victim was shot twice – once in the head and arm – and died at Pistorius' home.


Pistorius inspired millions at the 2012 Summer Olympic Games in London, when the double amputee ran in the men's 400-meter semi-finals and was a part of South Africa's 4x400-meter relay team.


Follow @BarryBateman on Twitter for live updates on the story from Pretoria.

Bateman tweeted that Pistorius' lawyer issued a quick statement saying Oscar is "doing fine, but he's very emotional."

According to early indications, Reeva Steenkamp was the victim. Less than 24 hours before the shooting, she tweeted "What do you have up your sleeve for your love tomorrow??? #getexcited #ValentinesDay"

No name has been officially released by the police yet. South African journalist Kalay Mistray told Australia's Sky News, Steenkamp was looking to surprise Pistorius with a Valentines Day gift.

Update 1:45 a.m. (CT) - The police told Reuters that a 9mm pistol was found in Pistorius' home and the victim's body was removed from the scene.

South Africa has one of the highest crime rates in the world. Looking into a map that displays crime rates in South Africa, Pretoria is in red, which indicates an 80 to 100 percent crime rate. It would not be strange for residents in the area to keep weapons against possible home invasions.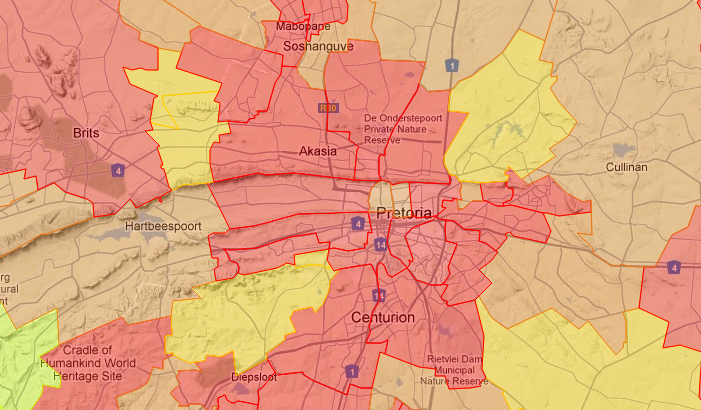 Update 1:58 a.m: Bateman reports from South Africa saying Pistorius' neighbors made the call to the police. Police also said that Pistorius is cooperating with them and he will appear in court today. As for his state, their observations gather that he is "traumatised after losing someone close to him."

Update 2:10 a.m.: A police spokesman tells NBC News that Pistorius will be charged with murder in his court appearance later today. Per the South Africa's New Age Sports Editor, it is not clear whether Pistorius will be charged with murder or culpible homicide.

Update 2:20 a.m.: Athletics Australia's Chief Executive Officer Dallas O'Brien issued the following statement:

"Obviously we have been made aware of the tragic news developing in South Africa and Oscar Pistorius and the reported shooting of his girlfriend.

Clearly, all the details around this incident are still coming to light, and for this reason we have no information at this time about how this effects Oscar's plans."


No further comment would be made by them.

Update 2:40 a.m: ESPN has a statement from South Africa's Sports Confederation and Olympic Committee:


"SASCOC, like the rest of the public, knows no more than what is in the public domain, which is there has been an alleged fatal shooting on the basis of a mistaken identity and an apparent assumption of a burglary."

SASCOC would go on to express their condolences to the families of those concerned. No further comment would be made due to the ongoing police work.

Update 2:55 a.m.: The following news has been gathered by an eyewitness news team in South Africa.

- Pistorius has been taken to the Boschkop police station and is accompanied by his sister and lawyer.

- Meanwhile, Steenkampf's agent says that the model's family is Port Elizabeth in a state of shock yet awaiting an official statement from people on the scene. There is too much speculation and the family will pass along details when accurate information is provided.

Update 4:55 a.m.: Pistorius has been scheduled to appear in court on Friday.

Updates: The initial reports of Pistorius shooting his girlfriend mistakenly for a burglar have been dismissed by police, according to Bateman. Also in question now are the number of shots fired from two to six.

There have been previous reports of domestic incidents at the home of the paralympian with neighbors telling Bateman possible shouting prior to the incident.

More from Bateman: Police denied Pistorius of bail and he is currently in jail. There is no scheduled court appearance for today.


Update 12:00 p.m.: There has not been a statement made by Nike, but the following ad has been removed from Pistorius' website.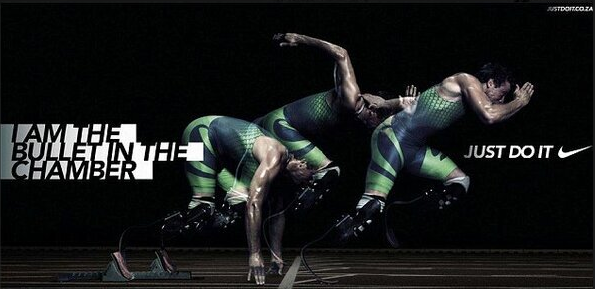 The Daily Mail published an interesting piece with an inside look into Pistorius' home. He kept several weapons to protect himself against possible home invadors. A cricket bat, a baseball bat, a pistol, and machine gun were accessible to him in case of emergency.

Update 11:00 p.m.: There will be a post-mortem for Steenkamp at 8 a.m. local time. Unconfirmed reports also indicate an 11 a.m. bail application for Pistorius.

More details will be passed along as they become known.