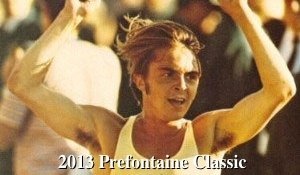 Schedule of Events in Pacific Time (Entries Linked)
12:32 Women's 400-meter dash
12:38 Women's 5,000-meter run
1:03 Women's 400-meter hurdles
1:11 Men's 3,000-meter steeplechase
1:24 Women's 1,500-meter run
1:34 Women's 100-meter dash
1:42 Men's 100-meter dash
1:49 Men's 400-meter dash
1:55 Women's 800-meter run
2:05 Men's 110-meter hurdles
2:13 Men's 200-meter dash
2:20 Men's 5,000-meter run
2:41 Men's 800-meter run
2:49 Bowerman Mile

Meet Records
Women's 400-meter dash: 49.34 by Ana Guevara (MEX) in 2003
Women's 5,000-meter run:14:33.96 by Vivian Cheruiyot (KEN) in 2011
Women's 400-meter hurdles: 53.03 by Lashinda Demus (USA) in 2010
Men's 3,000-meter steeplechase: 8:08.08 by Paul Koech (KEN) in 2007
Women's 1,500-meter run: 3:59.89 by Gelete Burka (ETH) in 2009
Women's 100-meter dash: 10.70 by Carmelita Jeter (USA) in 2011
Men's 100-meter dash: 9.80 by Steve Mulling (JAM) in 2011
Men's 400-meter dash: 43.92 by Michael Johnson (USA) in 2000
Women's 800-meter run: 1:57.37 by Alysia Montaño (USA) in 2012
Men's 110 hurdles: 12.90 by David Oliver (USA) in 2010
Men's 200-meter dash: 19.72 by Walter Dix (USA) in 2010
Men's 5,000-meter run: 12:56.98 by Mo Farah (GBR) in 2012
Men's 800-meter run: 1:43.68 by Abubaker Kaki (SUD) in 2011
Bowerman Mile: 3:48.28 Daniel K. Komen (KEN) in 2007

---
Women's 400-meter dash: Sanya Richards-Ross struggles in her season debut as she finishes in last. Before New York York, she wanted to hit the 50.00 range to make sure she was good for US Champs. That was not there today. Amantle Montsho took off and won the race in 50.01 with Francena McCorory finished second in 50.37.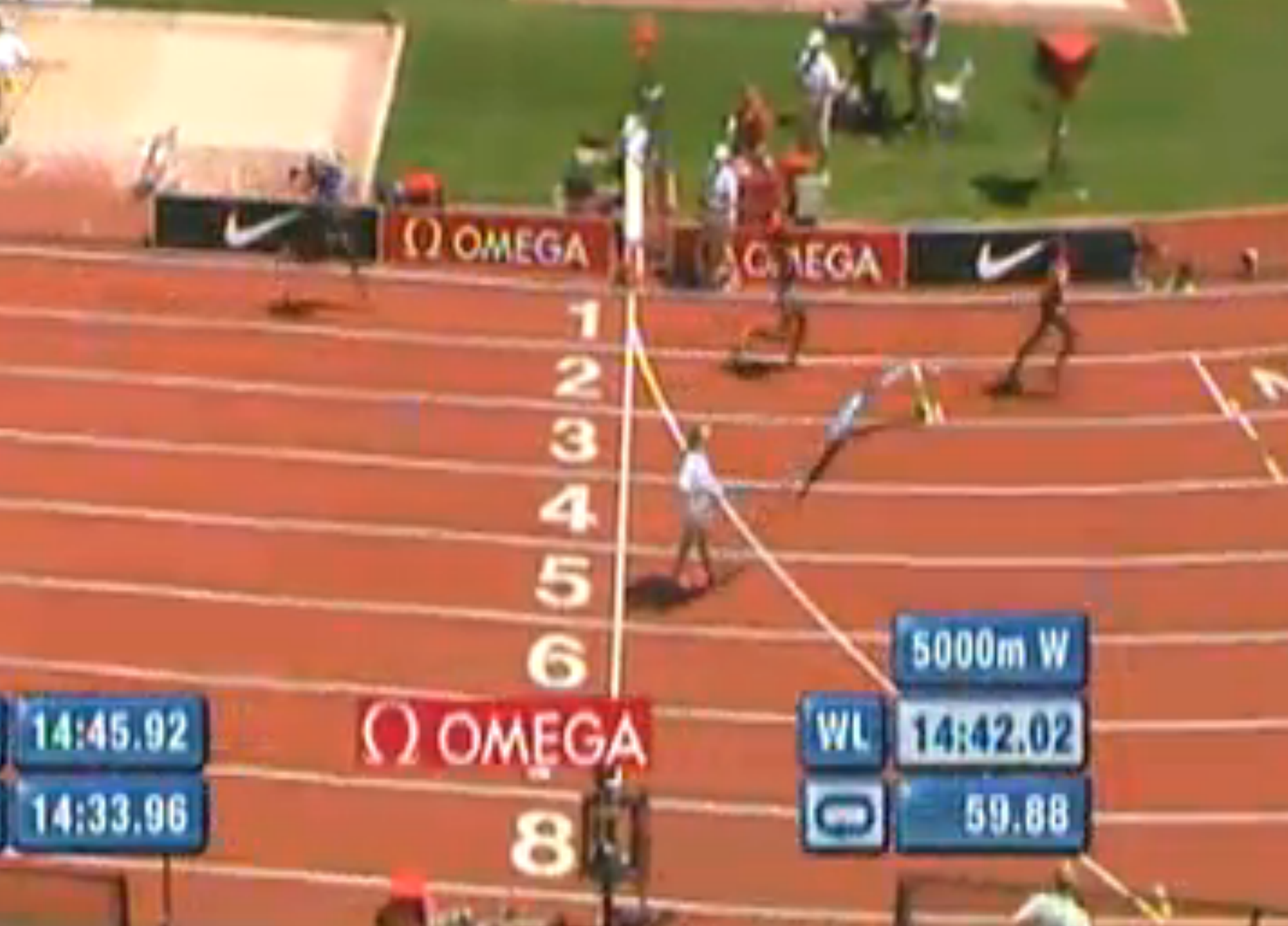 Women's 5,000-meter run: Tirunesh Dibaba was introduced as the "baby faced destroyer" and she did just that winning in 14:42.02 for a new world leading time. 21-year-old Mercy Cherono challenged her with 100-meters to go, but could not catch the world record holder.
The last 400-meter battle between the two was clocked under 60-seconds.

Kim Conley was the top American in ninth with a personal best of 15:09. She hits the IAAF World "A" standard. Last year, she hit the A-standard at the Olympic Trials and will avaoid a late chase in 2013.

Paces: The field of women crossed the first mile at 4:36,
8:49 through 3,000-meters, and 3:06 through 4,000-meters.


Note: Alexi Pappas was assigned pacing duties with not too crazy of an outfit. She stepped off the track after 800-meters.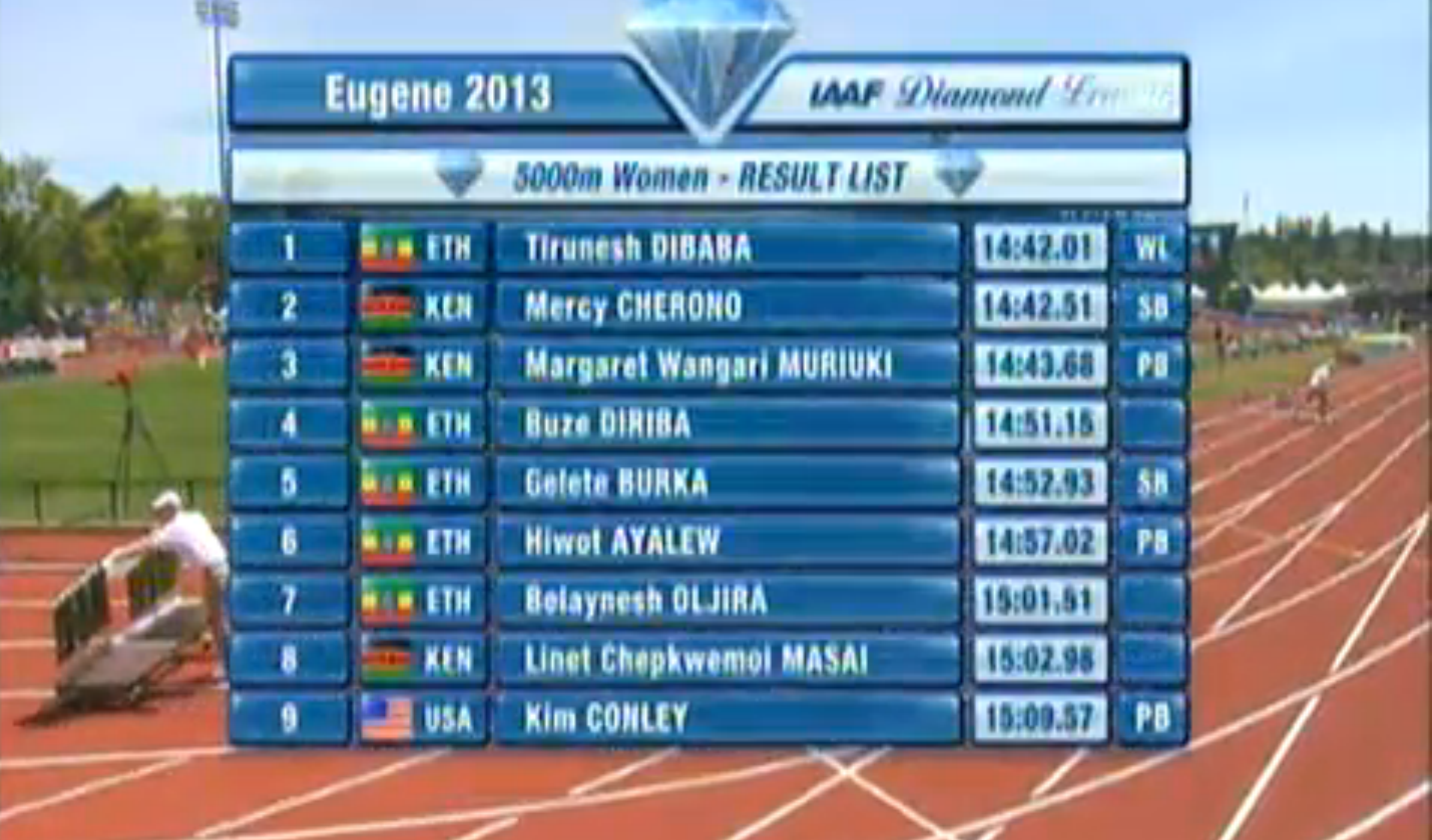 Women's 400-meter hurdles: In a field with six of eight Olympic finalists, Zuzana Hejnova demolishes the field in a new world leading time of 53.70. Georganne Moline finished second in 54.75. She will compete at the NCAA Outdoor Track National Championship next weekend as she sported the Arizona Wildcats uniform at Hayward Field.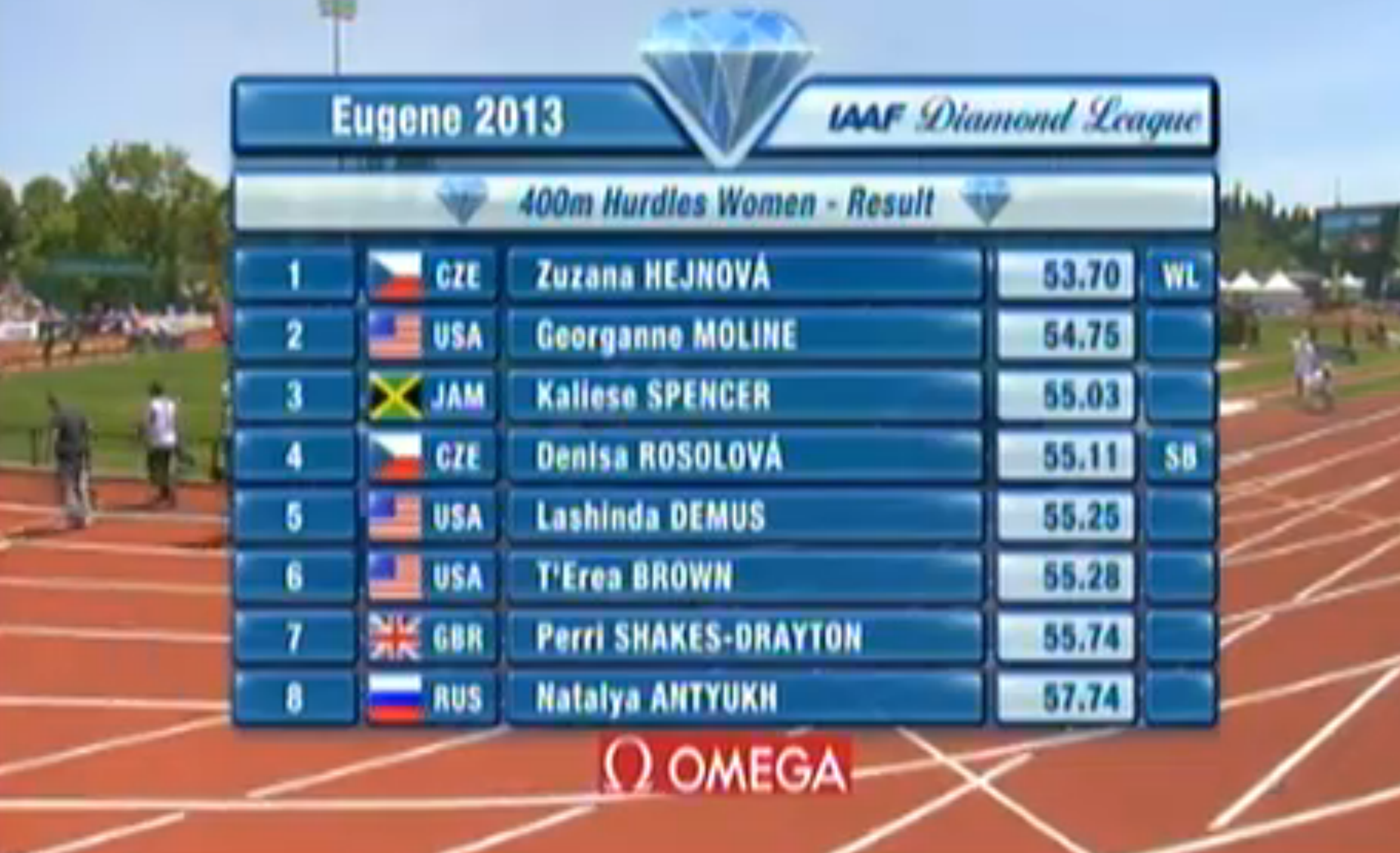 3,000-meter men's steeplechase
Ezekiel Kemboi has shown his dancing skills. On Saturday, he displayed some self-defense skill. He battled the last few meters against Conseslus Kipruto and attempted to cut him off. Kipruto would cross the finish line with the win as the gold medalist's dirty tactics failed. No disqualification was made as of 1:30 p.m.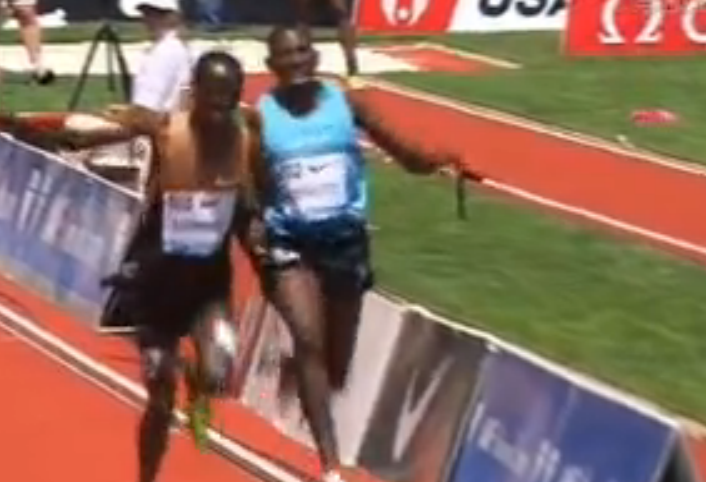 With eight of the fifteen participants in the race being African, Evan Jager had his work cut out for him in his 2013 steeplechase debut. The sixth-place finisher from London showed no rust as he just missed the American record in 8:08.60, which is the second best of all-time for an American.

American Dan Huling also hits the IAAF World "A"Standard in 8:22.38.

Women's 1,500-meter run
Kenyan Hellen Obiri took off with 300-meters to go as she separated herself from Faith Kipyegon for a new meet and stadium record of 3:58.59. She closed in 61 seconds for her final lap.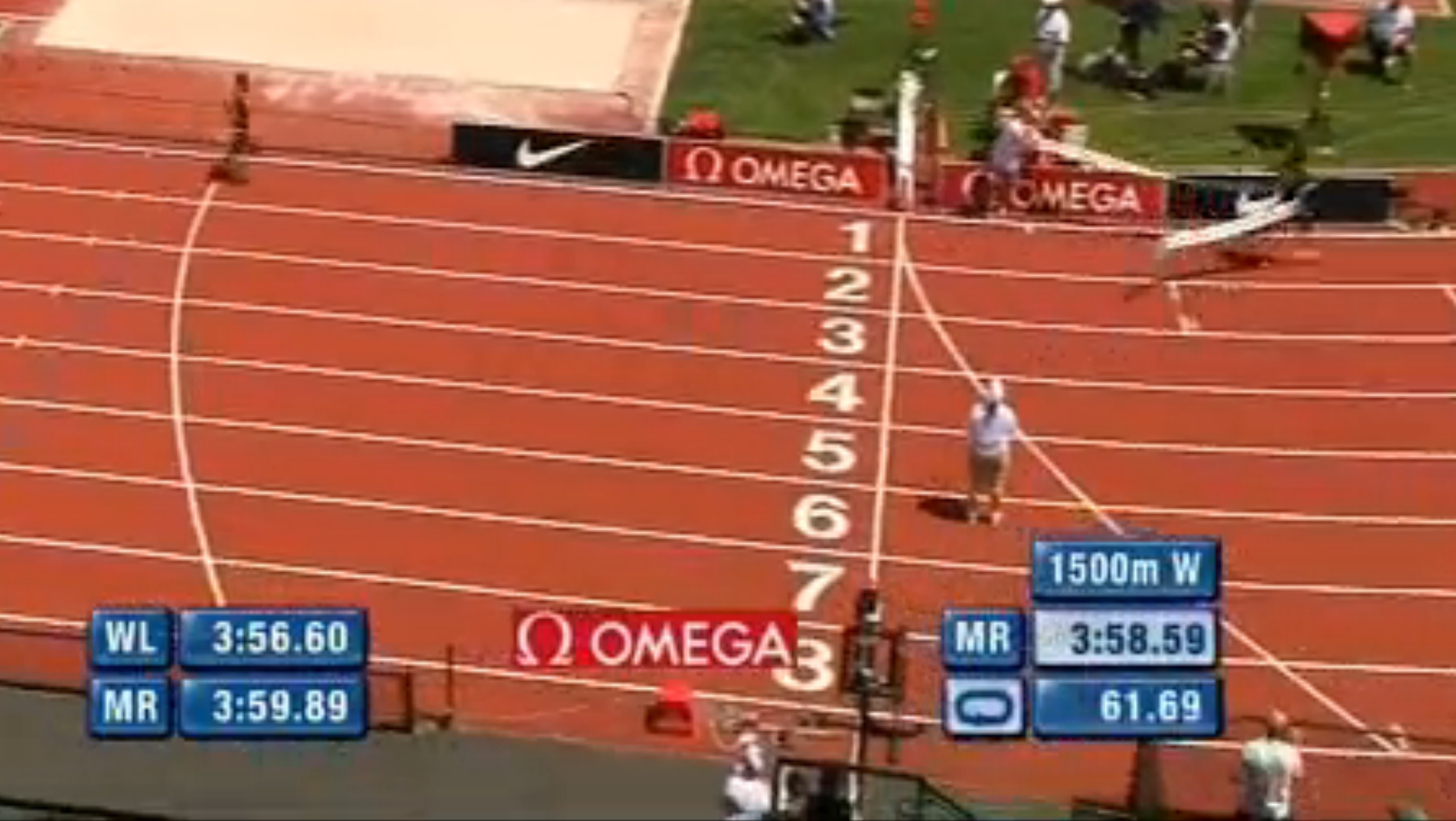 Oregon Project Athlete Treniere Moser finished in 4:02 for a new personal best. She now has the "A" standard in the 1,500-meter and 5,000-meter races. Another personal best was seen by Canadian Sheila Reid in 4:02.96.

Women's 100-meter dash
Shelley-Ann Fraser-Pryce wins the race in 10.71, but due to the wind (+2.2) it will not count as a world leading time. Americans Carmelita Jeter and Allyson Felix finished in third and seventh place respectively.



Men's 100-meter dash
Justin Gatlin is not slowing down after running the second fastest time in 2013 as he wins the 100-meter dash at the Prefontaine Classic in 9.88. The time was wind aided with the meter reading +2.88. He held off Mike Rodgers and Ryan Bailey before the finish line.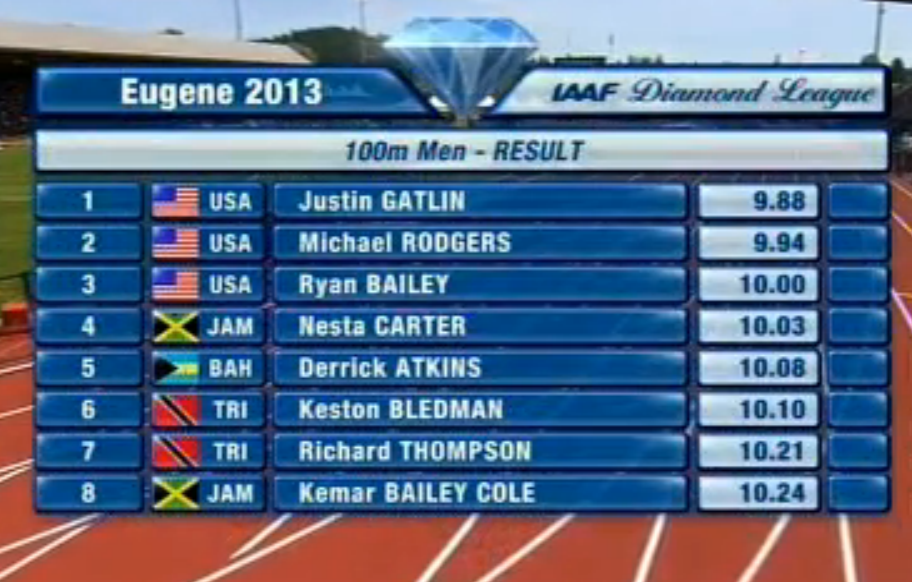 Men's 400-meter dash
LaShawn Merritt upsets Olympic gold medalist Kirani James with a winning time of 44.33. James got off to a slow start and finished in 44.32. Expect a battle when things go down in Moscow.

Tony McQuay finished third in 45.31.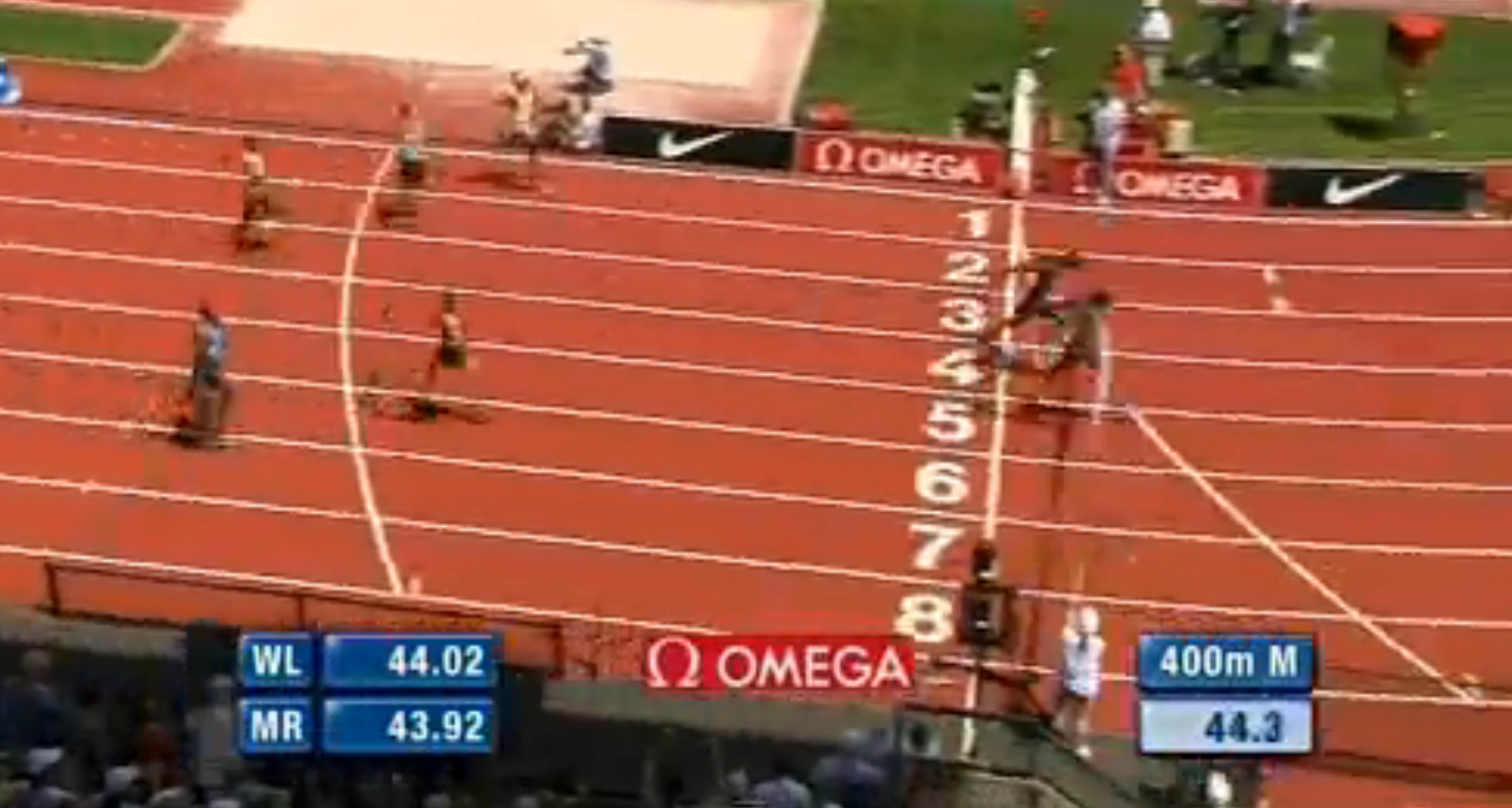 Women's 800-meter run


Alysia Montano took off her signature flower from her head and passed it onto Mary Cain as the 17-year-old high schooler broke the two-minute barrier for the first time in her career. 1:59.5 is a new high school and junior national record.

Cainsanity

, indeed.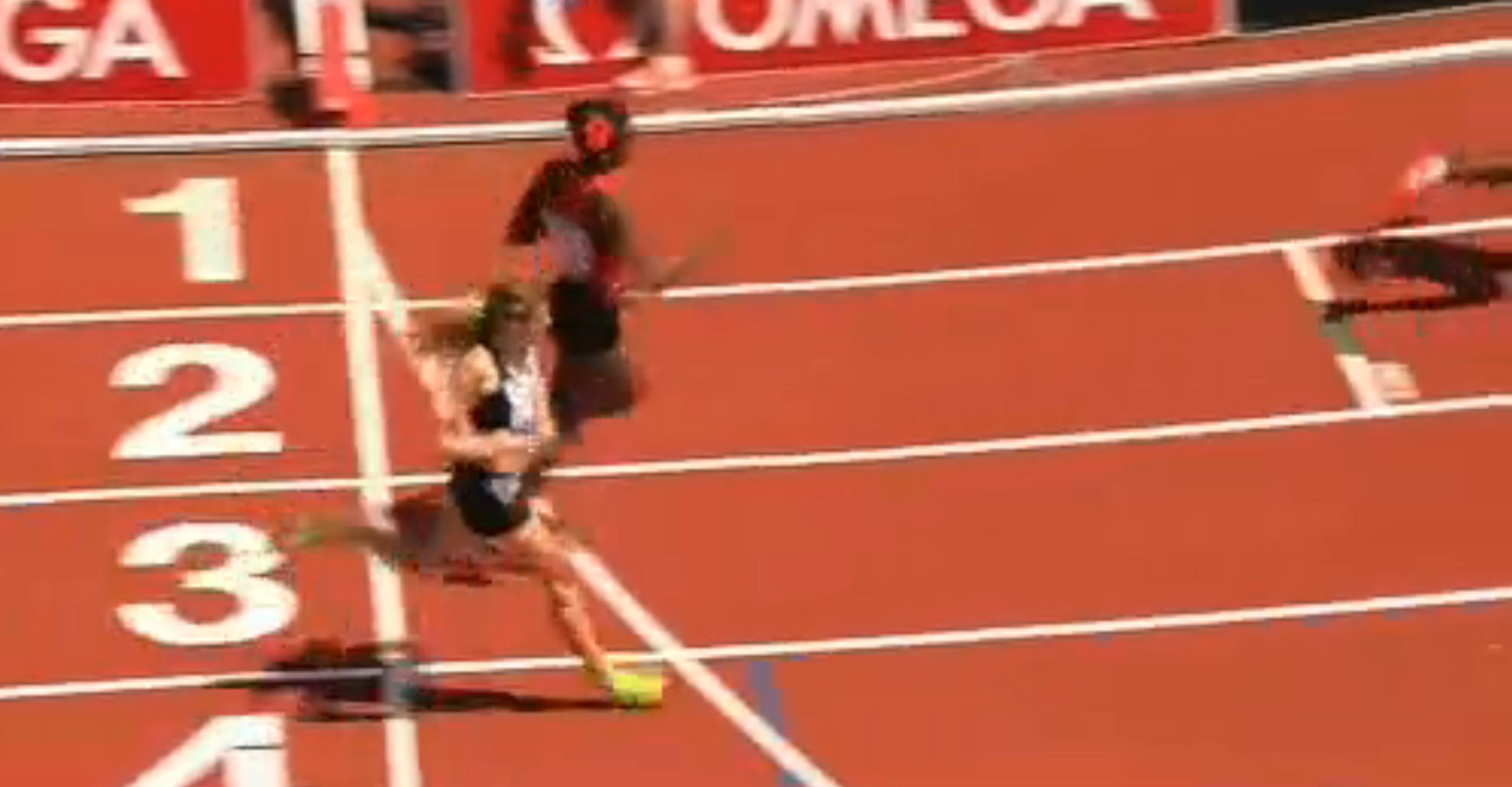 Brenda Martinez finished second in 1:58 behind Francine Niyonsaba, who set a new world leading time of 1:56.72. She is just 20-years-old and is coming off a year in which she won the 2012 African Championships and ran 1:58.67 at the Olympics for Burundi.

Men's 110 Hurdles
New Jamaican record and world leading time of 13.05 for Hansle Parchment. Orlando Ortega and David Oliver followed across the finish line. Things starting to speed up for all hurdlers.

Men's 200-meter dash
Nickel Ashmeade holds off Walter Dix, a late addition to the Prefontaine Classic, for the win in 20.15. The wind was registered at 20.14. He entered the day with the world leading time.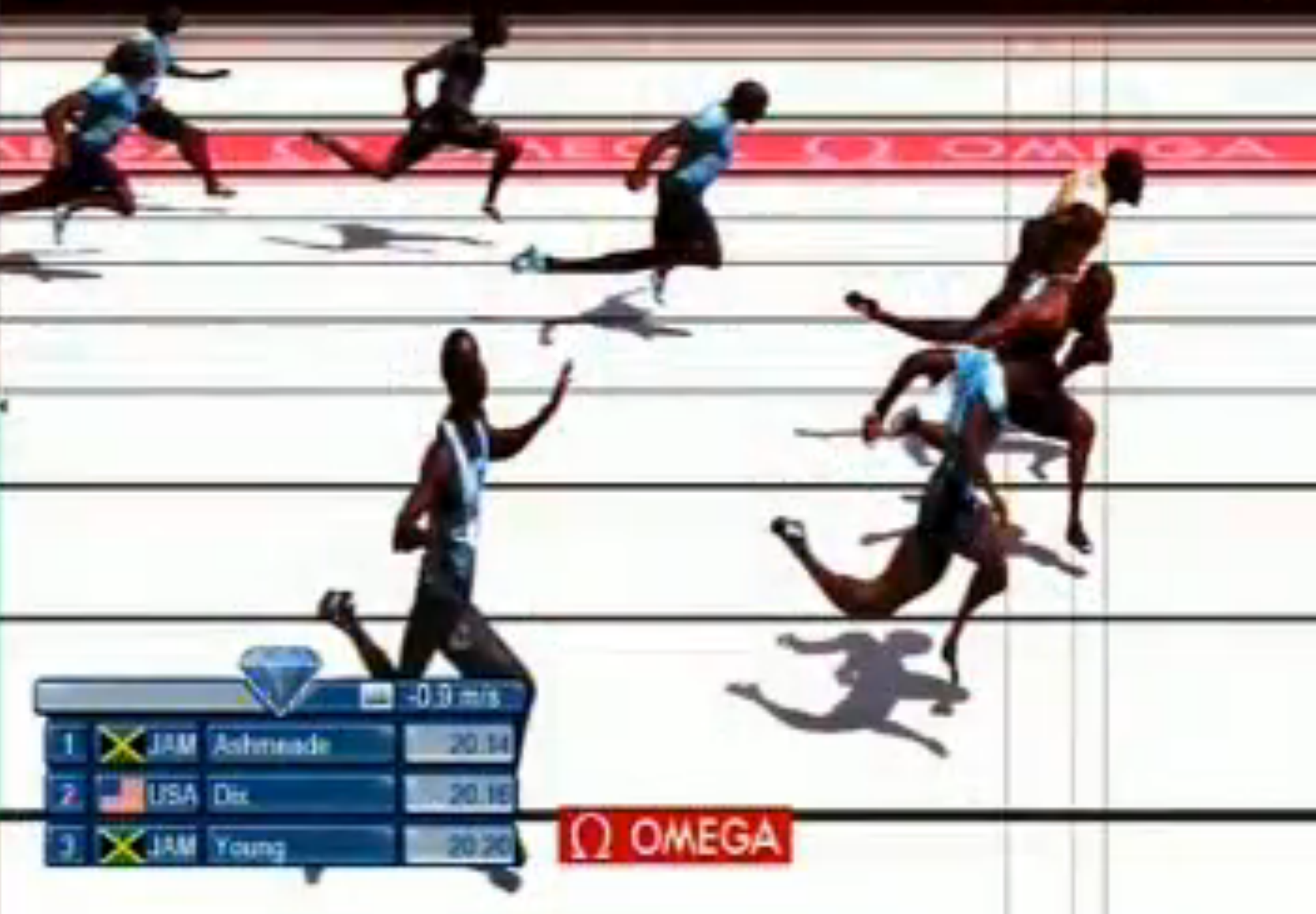 Men's 5,000-meter run




Through 3,800-meters the Oregon Track Project made their move to the front of the race as Mo Farah charged past the pack of Kenyans. Going into the bell lap, Farah led, but was passed by Edwin Soi in the final 200-meters for a new world leading time of 13:04.76. Bernard Lagat was the top American in 13:07.76.

Oregon Project: Mo Farah (13:04.75), Galen Rupp (13:08.69), Dathan Ritenhein (13:09.53) and Cam Levins (13:15.19). Levins just missed the Canadian record of 13:13.96 by Jeff Schiebier.

Men's 800
Matt Scherer took the field through 49.36 and Mohammed Aman would follow shortly after the rabbit dropped. He led through 600 in 1:18. The 19-year-old won in 1:44.43. American Nick Symmonds made his 800-meter season debut and finished third. He was just .1 off the IAAF World "A" standard. Duane Solomon finished in sixth with his time of 1:45.67.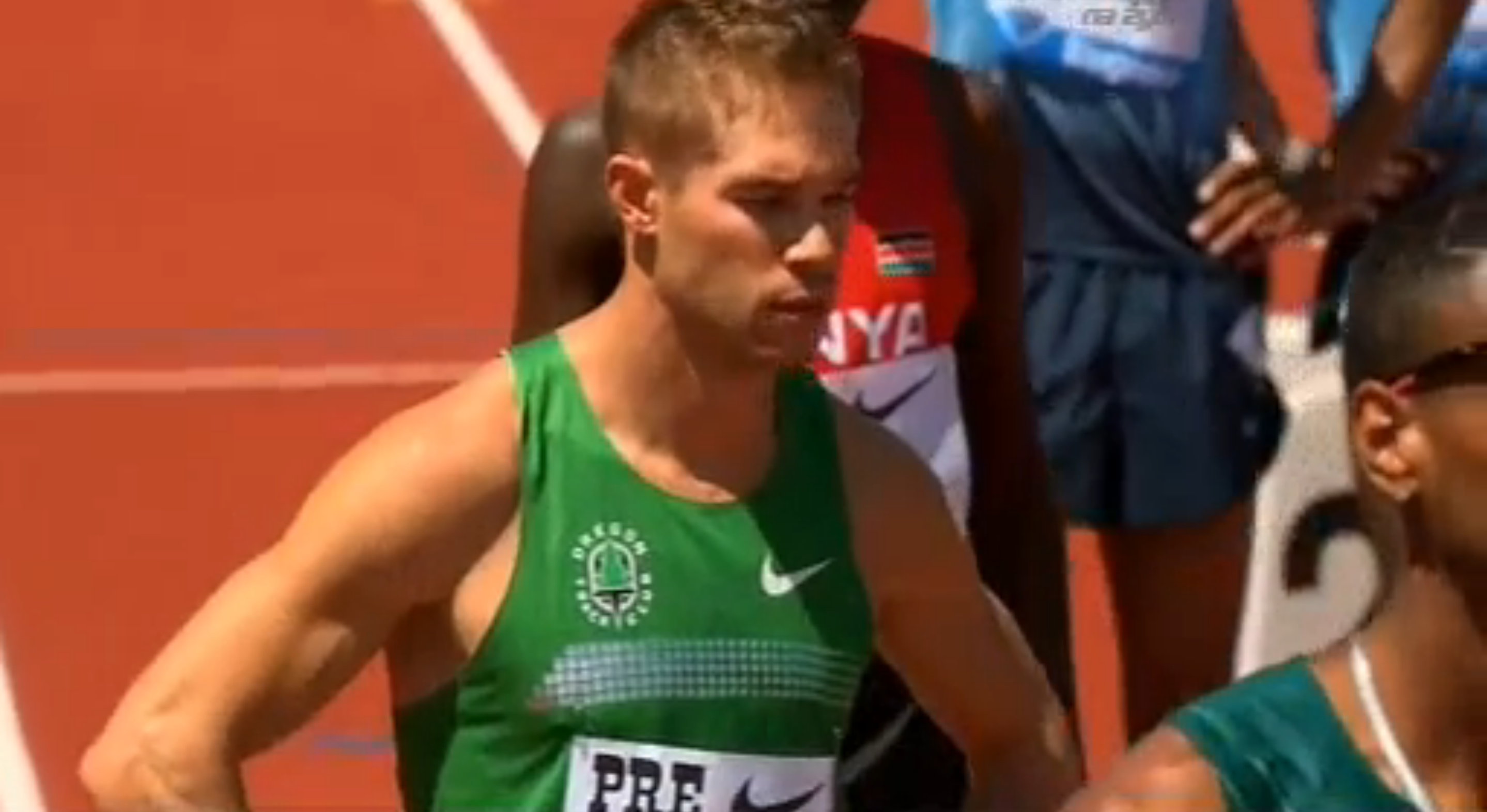 Bowerman Mile


Silas Kiplagat out for redemption from his seventh place finish in London defeats Asbel Kiprop at the finish line in 3:49 for a new world leading time. Kiprop led with 100-meters to go and did not look over any shoulder before Kiplagat crept up on the right side for the surprise victory.

Lopez Lomong was the top American in 3:51.45 with a new personal best. Matt Centrowitz also finished with a personal best in 3:51.79.

Olympic gold medalist Taoufik Makhloufi finished in 11th place with a time of 3:52.94. Olympic silver medalist Leo Manzano did not finish the race. Manzano was in the back of the pack for the most part of the race.