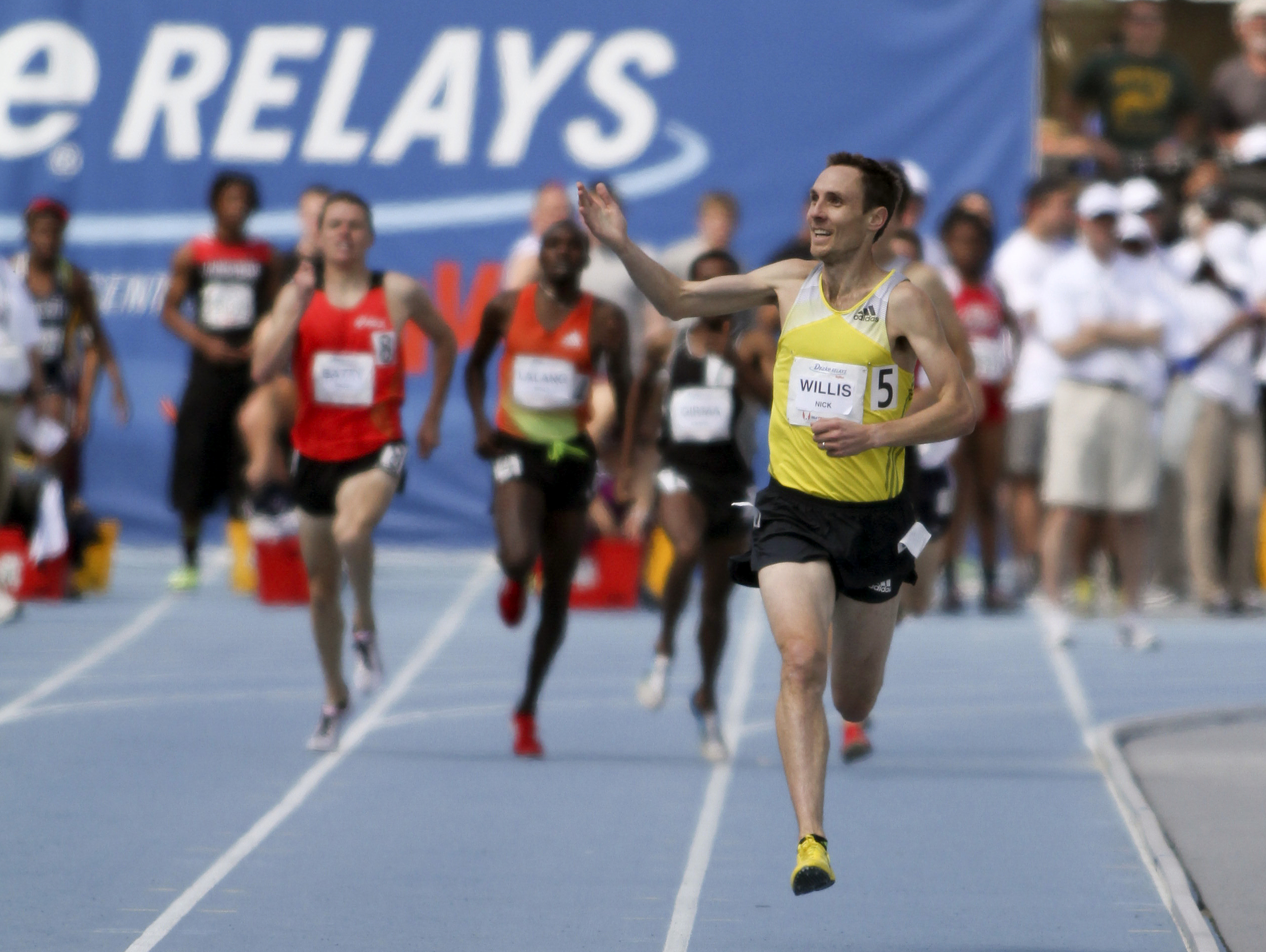 Nick Willis of New Zealand is entered to compete in the 2013 World Speed Golf Championships at Bandon Dunes, Ore. The Championships will be held after the track season is over on October 26.

What is Speedgolf you may ask? I asked the same question myself. How could a game that's historically is played at a dawdling pace, be played at a quick speed?

Speedgolfinternational.com is the host site for the event in October and their slogan is, "Hit. Run. Repeat."

Running repeats come along with the job requirements for Willis, but adding in a few swings of the golf club may make things tricky.

The game of Speedgolf is just as it sounds; golf being played a very rapid pace. Scores are calculated when you add the time taken to complete the round and the total strokes taken.

An example of this would be if you shoot a score of 70 and it takes you 70 minutes to complete, your Speedgolf score (SGS) would come to be 140 (70+70). In most instances, competitors carry about 5-6 clubs in a smaller bag, ditch the golf shoes for running shoes and depending on the weather, you'll see some dressed in tights as well.

Speedgolf International's mission is to "emphasize faster play, fitness, creativity, fun, and better golf performance."

Excited to announce that I'll be slicing and hooking my way around the Speedgolf World Champs at Bandon Dunes, OR (Oct, 2013)

— Nick Willis (@nickwillis) June 5, 2013
Justin Britton of Flotrack, shares a few questions with 2008 Olympic Silver Medalist for 1500m,

Nick Willis

.

Justin: How did you get yourself involved in Speedgolf/involved in participating in the Championships?

Nick: I had heard about Steve Scott inventing the game, and wanted to give it a go myself, as I had played golf most of my life, but never competitively. For my first run back following a three week break after the 2008 Olympic season, I decided a round of speedgolf would motivate me to put back on my running shoes. Before the 2013 US Masters, CBS broadcast a replay of the 2012 speedgolf world champs, and some friends were tweeting that I should give it a go. That's how I got connected to Tim Scott, co-founder of speedgolf international, who is also an avid track fan (UofO alum)

JB: Did being a Silver medalist in the 1500m play a role in your participation in the event?

NS: Yeah, I'm sure it was the main reason, to help promote the event, but my lone go at the game seems to match up fairly well with the scores many of the mid-level players shot at last year's championships. But competition is a whole different animal to a fun solo round!

JB: Chris Smith is the World Record holder with a 5-Under par 65 in under 44 minutes correct? How do you think that you'd compare with his level of play?

NS: I'd like to think I could gain 3-7 minutes running on those guys, but they are professional golfers, so I would have to have the round of my life just to stay in the picture, while they hit a bunch out of bounds!

JB: Is it exciting that you're able to incorporate your running into the classic game of slow paced golf and transform it to a different version of sport?

NS: Yeah its the perfect marriage of two of my passions. I love golf, but it takes too long to play when you have other commitments in life (as a kid you have all the summer to kill). Playing a round in under an hour allows you to enjoy golf without it taking up the whole day (and you get your run in at the same time!)However, my practice during the season involves driving a cart, so not to hurt my track training!

JB: Have you played Speedgolf before? If so, what's your best in the event and what are the challenges that come with playing golf while having to move at a quicker pace?

NS: I surprised myself with a fluke round of 79 in 43 minutes in my lone attempt, and have been a little scared to try it again, in case I can't break 90!

The key for speedgolf is to get your drives on the fairway, so you don't have to waste any time looking for your ball. It actually takes a lot of pressure off your shots when you don't have time to overthink them. Just set up, take one look at your target and hit. Carrying only 6 clubs also helps you get in the groove with one or two favorite irons, which helps with confidence.

Nick shared with us that we could also see another Olympic medalist in the Speedgolf World Championships this coming October. Who it may be, you ask? We'll have to wait and see for possibly the quickest game of golf to ever be played.
I'm looking forward to participating at the 2013 #speedgolf world champs at Bandon Dunes in October. @nickwillis @paulmerca70601 @runliao

— Bernard Lagat (@Lagat1500) June 6, 2013