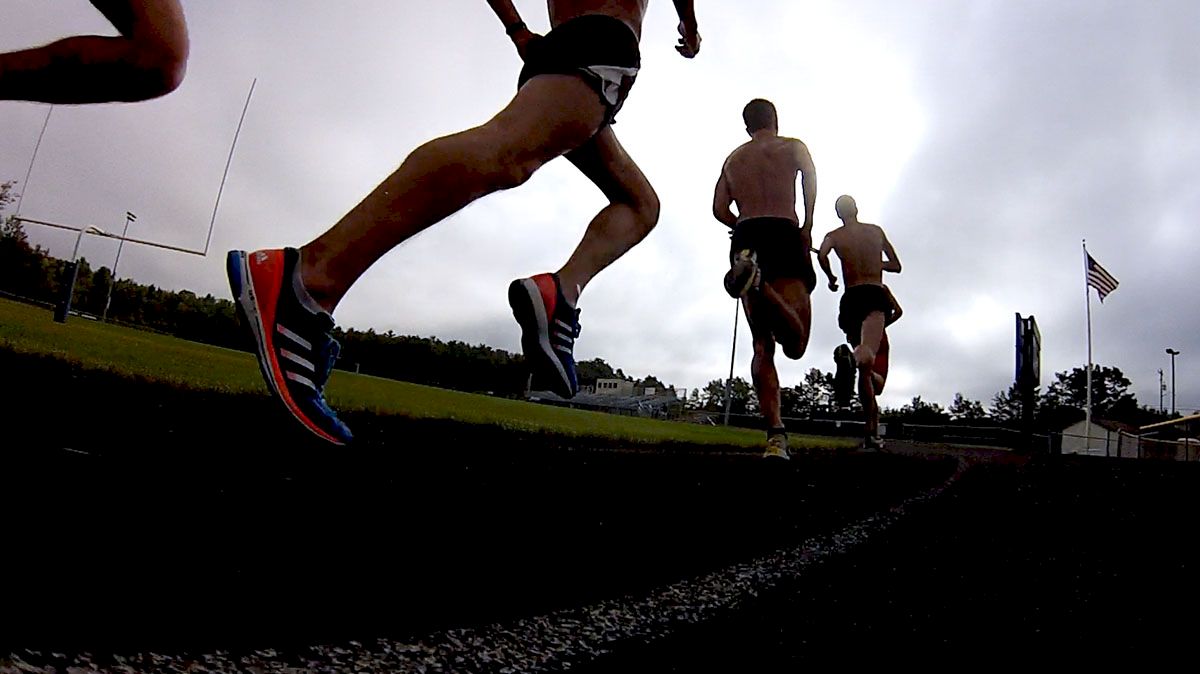 The Warm-Up Lap: NCAA National Championships Weekend
By Kyle Terwillegar, USTFCCCA
NEW ORLEANS - This is it. This weekend will decide who goes home as champions, who makes it to the podium and who makes All-American status.
It's NCAA Championship weekend.
The state of Indiana will be abuzz with the Division I Championships in Terre Haute and the Division III Championships in Hanover, while the Pacific Northwest plays host to the Division II Championships in Spokane, Wash.
Exciting team races in every single division for both genders have ensued throughout the season in the National Coaches Polls, and this weekend will be a chance to settle it once and for all on the course.
The Warm-Up Lap covers some of the main storylines in each of the three divisions for both men and women to prep you for the weekend.
Can't be there to watch in person? No worries, because NCAA.com will be broadcasting live streams of all three meets throughout the day. See the timetable below to plan your Saturday accordingly (you must be onUSTFCCCA.org for it to funtion properly), and the meet information boxes below to make sure you're up-to-date on everything NCAA Cross Country Championships.
DIVISION I

DIVISION II

DIVISION III

*student-athletes' teams must be USTFCCCA members
Division I
Team Storylines
Men
Three different teams have claimed the top spot in the U.S. Track & Field and Cross Country Coaches Association (USTFCCCA) National Coaches Polls at various points throughout this 2013, but when all is said and done, the only No. 1 rank that truly matters is that at the top of the final scoreboard this Saturday in Terre Haute, Ind., at the LaVern Gibson Championship Cross Country Course.
Will 2012 All-Americans Futsum Zienasellassie and Brian Shrader of current No. 1 Northern Arizona keep up the momentum they gained last with an upset of former No. 1 Colorado at the Mountain Region and claim its first national title?
After an unassuming regular season, will No. 2 Oklahoma State — the defending champions and winners of three of the past four national titles — and the meet's lone three-time All-American in Tom Farrell and two-time All-American Shadrack Kipchirchir keep their recent streak of dominance alive?
Could No. 3 Colorado, led by Morgan Pearson, Blake Theroux and Ben Saarel, bounce back from that narrow 61-69 loss to NAU at regionals and claim its first title since 2006?
Recent history could be construed to support any of those teams' cases. The pre-NCAAs No. 1 team has won each of the past two titles (Oklahoma State in 2012, Wisconsin in 2011) and six of the past 10, working in the favor of NAU. However, Oklahoma State won its first two titles after entering the championships as the nation's second-ranked team in both 2009 and 2010, and Colorado accounted for the other two upsets in the past decade with titles in 2004 and 2006 from the No. 2 and No. 4 positions, respectively.
Or perhaps none of the aforementioned teams will hoist the championship trophy Saturday afternoon. West Region Champion No. 4 Stanford is peaking at the right time with Jim Rosa leading the pack, and Pac-12 foe No. 5 Oregon is also in the hunt to round out the top five with Pac-12 and West champ Edward Cheserek. In a big championship race like this where surprising unsung heroes can make just as big an impact as the front runners to the team scores, anything can happen.
Women
The race for the women's team title is just as up-in-the-air as the men's, with a pair of teams in a virtual tie atop the National Coaches Polls in No. 1 Providence and No. 2 Arizona, with No. 3 Arkansas, No. 4 Florida State, No. 5 Colorado and No. 6 Georgetown not far behind.
The Friars may enter with a one voting-point advantage over the Wildcats, 353-352, and the advantage in first-place vote, six to five, but Arizona claimed the only head-to-head match-up between the two. Arizona won the Wisconsin adidas Invitational while Providence finished third with troubles rounding out its scoring lineup, resulting in the Friars losing their No. 1 rank — which it had held since the preseason — to the Wildcats.
Since then, 2012 All-American Elvin Kibet has led the Wildcats to narrow titles at both the Pac-12 Championships and the West Regional — both with struggles at the No. 5 position in their scoring lineup. Providence, meanwhile, has found its No. 5 runner to complement the All-American trio of Big East champion Emily Sisson, Sarah Collins and Laura Nagel, resulting in Big East and Northeast Region titles and the reclamation of the No. 1 rank.
One team with no depth issues is No. 3 Arkansas, which will look to jump at a falter by either Providence or Arizona. The Razorbacks finished in between Arizona and Providence at Wisconsin, and have since followed individual SEC and South Central Region winner Dominique Scott to team wins at those meets.
Carrying the No. 1 rank into NCAAs hasn't been a great indicator of championships fortunes of late, as only four teams in the past 10 years that entered as the top-ranked team in the field have finished that way. Not since Villanova claimed the title in 2010 has a pre-race favorite claimed the title. Florida State entered as the top team in each of the past two seasons only to finish fourth both times.
Coincidentally, FSU is No. 4, led by the duo of Southeast champ Colleen Quigley and Hannah Walker, heading to Terre Haute this year.
Individual Race
Men
As he has been all season long, defending national champion Kennedy Kithuka of Texas Tech is the favorite in this final race of the season. The Red Raider has won each of his seven races this season decisively, including two big wins over UTEP's Anthony Rotich — the second-best returner from the 2012 NCAA Championships with a fourth-place showing.
With 2011 national champion and 2013 The Bowerman Finalist Lawi Lalang of Arizona out with injury, Notre Dame Invitational and Conference-USA champion Rotich may again be the be Kithuka's top challenger at NCAAs.
It wasn't Rotich who gave Kithuka his biggest challenge of the regular season, however. That distinction goes to Arkansas' Kemoy Campbell, who was 17th at this meet in 2012. Running through the slop on a rainy day at the Arkansas Chile Pepper Festival in early October, Wisconsin adidas Invitational and SEC champion Campbell was just eight seconds shy of the defending national champ.
Tom Farrell of Oklahoma State (ninth in 2012) and Southeast Region champion Paul Chelimo (10th) are the other returning top-10 finishers from a year ago. Farrell is the only three-time All-American in the field, while Chelimo is one of just three two-time All-Americans. NC State's Andrew Colley, who finished runner-up to Chelimo in the Southeast Region, and Oklahoma State's Shadrack Kipchirchir are the others.
All told, more than half of last season's All-Americans — 21, to be precise — are back in action again in 2013. A third of those returners finished between 14th and 20th, all of whom return to the championships this season looking to improve. That group includes — in order — recently reinstated Jared Ward of BYU, Brian Shrader of No. 1 NAU, Colley, Campbell, Kipchirchir, Ryan Dohner of Texas and Midwest Region champ Chris O'Hare of Tulsa.
A number of freshmen will be in contention for All-America honors, headlined by Pac-12 and West Region champ Edward Cheserek of Oregon, who finished fourth at the Pre-National Invitational behind Kithuka, Rotich and O'Hare. Pac-12 rivals Sean McGorty of Stanford and Ben Saarel of Colorado will push Cheserek for top freshman honors, as will Big East/Mid-Atlantic champion Patrick Tiernan of Villanova and Big Ten champion Malachy Schrobilgen.
No. 3 Oklahoma State returns a nation-best three All-Americans in Farrell, Kipchirchir and Joseph Manilafasha (24th), but Kirubel Erassa was its top runner at both the Cowboy Jamboree and the Big 12 meet with runner-up finishes.
No. 1 Northern Arizona brings two All-Americans back as it goes for the title in Shrader and Futsum Zienasellassie (31st), who has been the Lumberjacks' top runner for much of the season. No. 8 BYU (Ward and Tylor Thatcher/34th) and No. 17 Eastern Kentucky (Wade Meddles/38th, Soufiane Bouchikhi/40th) also bring back two from last year.
No. 23 Texas also has two All-Americans in the meet in 2012 honoree Ryan Dohner (19th) and 2011 honoree Craig Lutz (33rd).
Women
Betsy Saina, the 2012 champ from Iowa State, was a senior in 2012, leaving the door open for a new champion in 2013. First in line to walk through said door is No. 15 Dartmouth's Abbey D'Agostino. In following up a 2013 track season during which she won three national titles, D'Agostino has won all five of her races this season by at least ten seconds, including over a deep field at the Wisconsin adidas Invitational and the Northeast Region title.
She finished third in 2011 and was runner-up in a tight finish to Saina last season — both times within two seconds of the title. Should that pattern hold true, it would conclude with a title for the Dartmouth star this weekend in the final cross country race of her collegiate career.
In terms of returning All-Americans, Cally Macumber of Kentucky is the next-closest challenger with her sixth-place finish a year ago. Cal Poly's Laura Hollander and No. 1 Providence's Sarah Collins were ninth and 10th, respectively, as freshmen in 2012.
Other top-20 returners include Southeast Region Champion Colleen Quigley of No. 4 Florida State (12th), Colonial champion Elaina Balouris of William and Mary (13th), Big East Champion Emily Sisson of Providence (15th) and Elvin Kibet of No. 2 Arizona (19th).
Sisson has shown this year to be D'Agostino's top challenger, at least in head-to-head competition. She gave D'Agostino her closest race of the season with an 11-second loss at the Northeast Region, followed two seconds later by teammate Collins and 2011 All-American Waverly Neer of Columbia. She was also the next-closest finisher at the Wisconsin adidas Invitational, just ahead of returning All-American and South Central Region winner Marielle Hall of Texas.
In total, 18 All-Americans return from a year ago. D'Agostino, Sisson, Ohio's Juli Accurso and Colorado's Shalaya Kipp all enter as two-time All-Americans. Kipp did not compete last year during a redshirt season.
Kipp, Boise State's Emma Bates and Florida State's Hannah Walker were all absent from the NCAA Championships for various reasons a year ago, but will all be prominent factors in the race this year. Bates won the Pre-National Invitational and the West Region titles.
Providence is the only team to return three All-Americans in Sisson, Collins and Laura Nagel (35th). William and Mary is the only other team with multiple returning All-Americans with Balouris and Southeast Region winner Emily Stites (26th), who defeated Macumber for that title.
Division II
Storylines
Men
Adams State or Western State? Western State or Adams State? That is what the race for the NCAA Championship has boiled down to in the past four seasons, and all signs point to another titanic showdown between the two. Adams State is No. 1 entering the meet for the fifth consecutive season, winning titles in four of the past five years including 2012. The one year it didn't win? In 2011, when Western State dethroned them from the No. 2 position.
This year, the two have traded team victories. Western State fired the first shot when it took down the No. 1 Grizzlies for the RMAC title, but Adams State exacted a measure of revenge with a title at the South Central Regional two weekends ago. Vegard Olstad of WSCU took the individual titles in both races over returning national individual runner-up Kevin Batt and third-place Tabor Stevens, along with two other returning All-Americans. Olstad is joined by returning All-American teammate Ian Butler (40th).
GLIAC/Midwest Region champion No. 3 Grand Valley State, CCAA/West Region champ No. 4 Chico State — led by three-time All-American Isaac Chavez — and No. 5 NSIC/Central Region winner Augustana (S.D.) round out the top five contenders, per the latest National Coaches Polls. Lurking in sixth is Colorado Mines, which returns three All-Americans from its national runner-up team a year ago, including two-time All-American Derek Alcorn.
Chavez, who finished fifth in 2010, third in 2011 and 13th a year ago, is one of two three-time All-Americans in the field, along with No. 8 Lock Haven's Alex Monroe. Monroe was fifth a year ago, 10th in 2011 and 32nd in 2010.
Nestled in at 11th between Monroe and Chavez a year ago was American International's Mike Biwott, another top contender for the individual crown.. Now a sophomore, Northeast Region champion Biwott has put together a dominant season that includes three National Athlete of the Week honors, a runner-up finish at the Paul Short Run against mostly Division I competition and five other wins.
In total, 15 All-Americans return from a year ago.
Former National Athlete of the Week Johnnie Guy of Southern Indiana, the winner in the Midwest Region, and Central Region winner Paul Yak of Augustana (S.D.) headline other region winners who will look to translate their regional success to the national level.
Women
Grand Valley State has been No. 1 for the duration of the season and the Lakers are looking to duplicate their NCAA title from 2012, which would be their third in four years. GVSU, led by two of the top six finishers from the 2012 meet in Jessica Janecke (fourth) and Allyson Winchester (sixth), a two-time All-American.
Though this would be the third title in four years for GVSU should the Lakers emerge victorious, they didn't win either of their previous titles as the pre-NCAA favorite in the poll. In fact, the last time GVSU entered as No. 1 in 2009, it ended up runner-up, and the pre-meet favorite has failed to win the title in each of the past four seasons dating back to 2009.
While top-ranked favorites haven't had much luck of late, teams ranked second through fifth each have a title in the past four years. Adams State won as the No. 4 team in 2010, and the Grizzlies are No. 2 this year led by South Central Region champ Lauren Martin. The Grizzlies defeated No. 3 Western State twice in the past month at the RMAC Championships and the South Central Regional, but fell in their only head-to-head match-up with GVSU at the Roy Griak Invitational in late September. Adams State was 11th in the mostly Division I race to GVSU's ninth.
GVSU won last year's title despite being ranked No. 3 pre-meet, which is where No. 3 Western State sits this year. Julie Pack returns after finishing ninth last year with All-America honors.
Adams State won its last title in 2009 from the No. 4 spot, which is a feat 2012 individual runner-up Susan Tanui and her West Region Champion Alaska Anchorage Seawolves will look to duplicate on Saturday. Tanui is the top returner from last year's meet, joined by fellow All-American Ivy O'Guinn.
Even the No. 5 team isn't out of the running, as Augustana (S.D.) claimed the 2011 title from that spot. Chico State, this year's No. 5 heading to Spokane — the site of that 2011 meet — is hoping for a similar result.
With defending individual champion Alicia Nelson of Adams State gone after her 2012 senior season, the next in line based on last year's results would be Tanui of Alaska Anchorage. Janecke (fourth), Winchester (sixth), three-time All-American Runa Falch of Augustana (S.D.) (eighth), Pack (ninth) and Kristen Brondbo of Augustana (10th) all return from a year ago after top-10 finishes, but none even emerged as their own region champion.
Winchester and Janecke were defeated by Ferris State's Samantha Johnson in the Midwest Region; Falch and Brondbo fell to U-Mary's Jennifer Agnew in the Central, and Pack lost out to Adams State's Martin in the South Central. The full list of regional athletes of the year, filled with contenders for the 2013 individual NCAA crown, can be found here.
In total, 17 All-Americans return from a year ago.
Division III
Storylines
Men
Two-time defending national champion North Central (Ill.) has won four of the past five NCAA titles, and is favored to ramp that up to five of the past six as the unanimous No. 1 team in the National Coaches Poll.
Twice in the past month the top-ranked Cardinals, led by multiple-time National Athlete of the Week and returning All-American John Crain, have taken down the No. 2 team in the country Washington (Mo.) by wide margins at UW-Oshkosh and the Midwest Regional.
Pre-NCAAs favorites have claimed three of the past six national crowns, though North Central itself came from the No. 2 spot to take last year's team win. It has won as the favorite two other times (2009, 2011), and also lost once during that time as the No. 1 team in 2010.
Crain himself is among the top contenders for the individual title, with 2012 champion Tim Nelson of UW-Stout having exhausted his eligibility to leave the door open for a new champion. While Nelson may no longer be in the field, Crain is among seven top-10 finishers who return for the 2013 championships.
Bobby Over of Allegheny (Pa.) was runner-up last year and is coming off the third Mideast Region title of his career. In descending order, Over (second), St. Olaf's Grant Wintheiser (third), Washington (Mo.)'s Kevin Sparks (fourth), Bates' Tully Hannan (fifth), Crain (sixth), Tim Hartung of York (Pa.) (seventh) and Bowdoin's Coby Horowitz (ninth) are all back for another shot at the title this year.
In total, 15 All-Americans are back from a year ago.
Other returning All-Americans who will look to make a big impact on the individual race include Central Region champion Eli Horton of No. 8 Central (Iowa), Atlantic Region winner Nick Marcantonio of region champ No. 7 SUNY Cortland, and New England winner Mike LeDuc of Connecticut College.
Horton, Marcantonio and Leduc are among the regional winners will also race for the title.
Sparks and former National Athlete of the Week Drew Padgett will lead WashU in an attempt to bring down the Cardinals, as will Wintheiser's No. 3 St. Olaf squad, which won the Central Region title.
No. 4 Williams and No. 5 Middlebury were separated by just one point at the New England Championships, and they will look to settle the score and go for a team title in Hanover.
Women
The Johns Hopkins women pulled the upset to win their first national cross country title last season, but the Blue Jays won't be taking anyone by surprise this year. A big bull's-eye is attached firmly to their backs as not only the defending champion, but also the unanimous No. 1 team in the nation.
Led by individual runner-up Hannah Oneda, the Blue Jays cruised to a Mideast Region title and are undefeated against Division III competition entering the meet this Saturday, with several tests against top-level Division I teams at Boston College's Battle in Beantown and the Paul Short Run on their resumes. Oneda and Holly Clarke are both returning All-Americans.
A pre-meet favorite in the coaches polls hasn't won the women's race since Middlebury claimed the title in 2010, though three teams in the past six years have accomplished the feat.
No. 2 Williams, fresh off a title in the very tough New England Region behind individual winner and returning All-American Kaleigh Kenny, will look to extend the streak of NCAA Championships upsets to three years in a row and win its first title since 2004. The team the Ephs upset, No. 4 Middlebury, has national title aspirations of its own as it looks to claim its sixth team crown since the turn of the new millennium.
Calvin hasn't won the title since 1999, but is in strong position to contend at No. 3 behind the duo of Great Lakes Region champ freshman Cassie Vince and Nicole Michmerhuizen. The Knights finished runner-up in 2008.
Speaking of runners-up, that's how No. 5 Wartburg finished the 2012 meet. The Knights return a pair of All-Americans in Alana Enabnit and Sammi Bruett.
Finishing seventh a year ago, Enabnit is the top returning All-American based on last year's results, followed by Jorden Johnson of St. Olaf (ninth) and Oneda (10th) to round out the top 10.
Cal Lutheran's Melissa Skiba (11th), Bruett (13th) and St. Scholastica's Chelsea Johnson also return as top-15 finishers. Johnson has had perhaps the most dominant season of anyone in the division with Pre-Nationals, Roy Griak and Central Region titles all to her credit in convincing fashion.
Midwest Region winner Lucy Cheadle of Washington (Mo.) also returns as an All-American.
The regional championships winners produced an entire other class of top-tier runners vying for the title. Vince, West Region winner Michaela Freeby of Willamette, Mideast champ Kelsey Patrick of Lebanon Valley and Atlantic Region victor Grace Tilton of RPI all defeated All-Americans throughout the season en route to their region titles.