Last fall, Kara Goucher recognized that she had lost control of her career.

Even worse, for the first time in her life running had ceased being a passion as injury frustrations and the pressures of a high-profile shoe contract mounted.

"When you get to a certain level there are expectations and things that you have to do in your contract," Goucher said. "If you fall back a little bit, it becomes like, 'Oh my God. Now I am not going to make my ranking.'

"All of a sudden you start doing things that you're not emotionally vested in. You're just doing it to check a box. A couple of years later you find yourself saying, 'I don't even know what I am doing. I'm just kind of trying to stay afloat and meet these requirements.'"

Once she came to grips with being "over her situation," Goucher went to her husband and decided that she needed to take back command over the course of her life.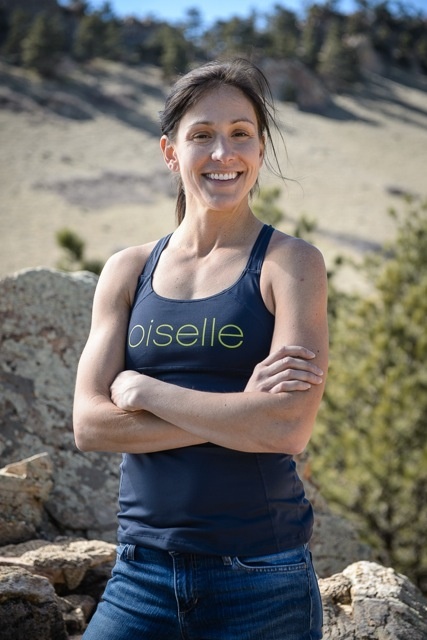 "The only person I needed to be on my side was Adam," Goucher said. "I was like, 'Can we sell our house that we built that was supposed to be our forever home?' Of course he was 100-percent on my side. I got tired of the situation and what was I going to do about it? Was I going to be a victim or was I going to take control of my life and make my life the way I want it? That's kind of what I did."

The changes Goucher made were dramatic.

Over the winter, she moved her family from Portland, Ore., to Boulder, where she switched coaches from Jerry Schumacher to Mark Wetmore and Heather Burroughs, her college mentor and former teammate at Colorado.

Rather than resign a restrictive deal with shoe giant Nike, she instead chose upstarts in women's apparel maker Oiselle and Skechers Performance, an upstart player in the running-shoe world.

After an additional injury setback and now 15 months away from racing, an unencumbered Goucher is ready to begin reclaiming her place at the pantheon of American women's distance running, beginning with her comeback race at the Rock 'n' Roll Philadelphia Half Marathon on Sept. 21.

"I know I have a long way to come back, but I just feel it in my gut and in my soul and I just want it," Goucher said. "It's not really for anyone else but myself this time. Before it was to make everybody else happy, to prove something. I wanted everybody to be proud of me, or something. I never did it for myself."

Knocked down

Goucher's latest round of injuries actually began in 2012, when she developed a foot issue prior to the Olympics. Through physio, she was able to manage the pain and wound up finishing 11th in London in 2:26:07. After the Games, she took a short break before trying to mount a fall campaign. The foot flared up pretty bad and so she shut things down.

"I took a god, long break after that," Goucher said. "Much to Jerry's dismay, I went to Mexico and had a life."

Although Goucher returned healthy, once she got back into training for the 2013 Boston Marathon, she found herself behind the eight ball in comparison to teammate Shalane Flanagan, who Goucher said was in "insane shape."

"I hadn't been running, so I think in kind of trying to keep up with her I dug a little hole of being tired," she said.


Prior to Boston, Goucher said she had one of her hamstrings injured by a therapist she refused to name. Frustrated and dinged up, she finished sixth in 2:28:11 but emerged healthy. That spring, she switched gears and focused on the track.

At the USA Outdoor Championships in Des Moines, she finished fifth in the 10,000m in 32:59.23 and walked off the track in tears after "the most horrendous race ever." Ten days later, while out on a run with Flanagan, Goucher broke the second metatarsal on her right foot.

Limited only to cross training and running on an Alter-G treadmill, Goucher's mind drifted into a dark place.

"I got to a place we I would worry like, 'I am getting old. I have to do this now. If I don't it's not going to happen,'" she said. "I was making the situation more frustrating because I had gotten it drilled into my head that, 'I'm old. I've only got a couple of more years. If I'm ever going to run something like sub-2:20 it's got to happen now."

Crisis of confidence

Goucher first began hearing the clock tick on her career even before the Olympics, during her build up back to racing after giving birth to her son, Colt.

"It was like, 'Well, I'm 33. I'm 34. I'm starting to get older and I need to make something happen now,'" Goucher said. "And instead of making something happen, all I did was become a mediocre runner because I was always coming back from something. Instead of doing something great, I just became average."

Goucher also was unable to plug her ears completely to the naysayers, which forced her to feel like she constantly had something to prove.

"I really try not to listen to negativity but I hear things," she said. "I've heard people saying how slow my 10-K was. I used to joke with Shalane that I would do something and then she would turn around a year later and do it bigger and better. I was like, 'What the hell?'"

Running became more of a chore for Goucher at the tail end of her time training with the Oregon Project, and little changed after switching to Schumacher's group, now the Bowerman Track Club.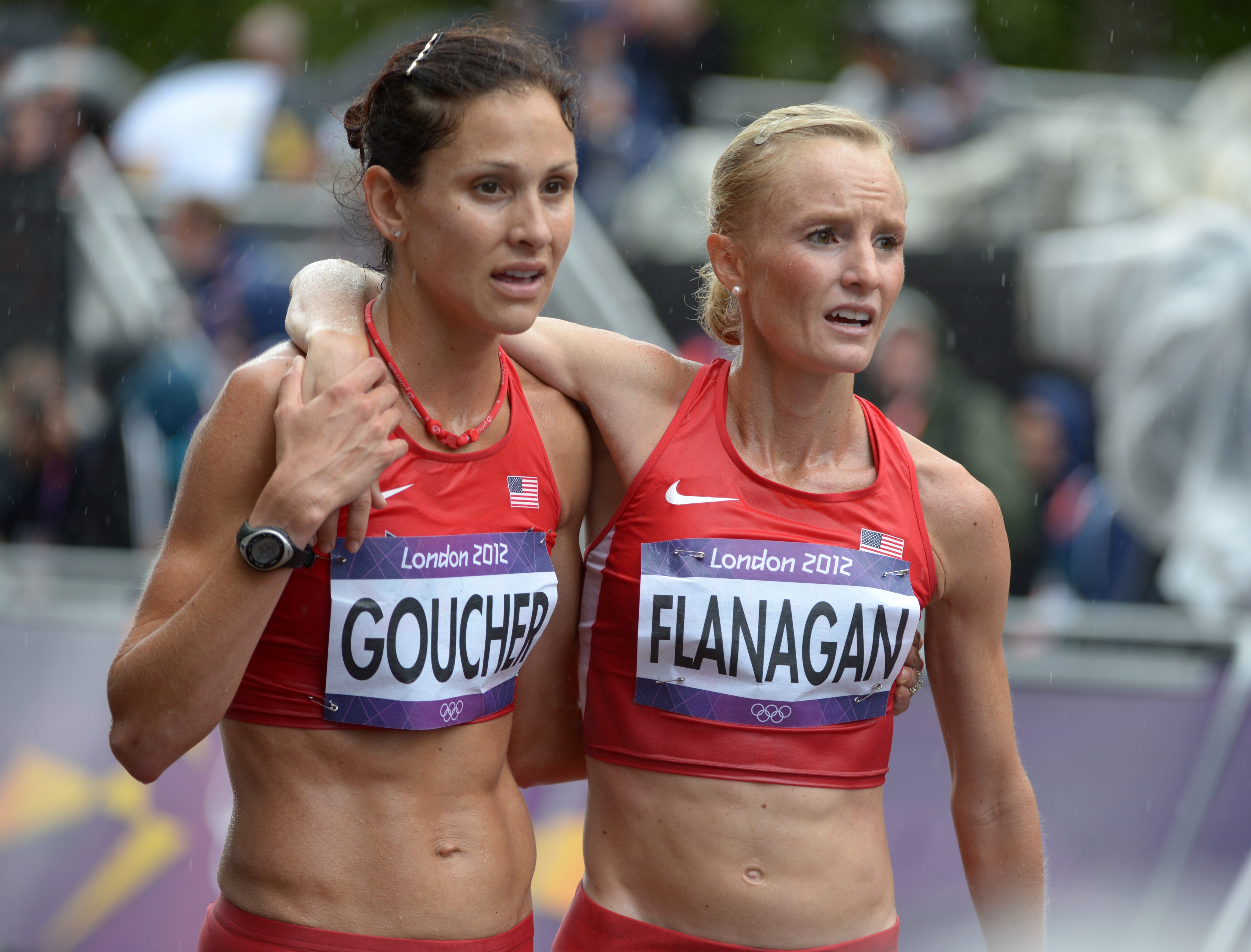 "I joined Jerry's team and that gave me a little surge of renewal because I was running with such awesome people and all of my teammates were so fun," she said. "They really refreshed me a lot. But at the end of the day, I was still in the same situation.

"Last year was just not my year. I felt like everything that I did was not for my own career but was for some purpose or to meet some expectation and I was just like, 'I can't keep doing this. Instead of being a great runner, I'm just average, and I'm not even enjoying it.' It's one thing if you're toward the end of you're career and you're having fun and you're like, 'This is awesome! I just want to live out my last few days.' It's another thing when you are working hard at something and hating it.

"I definitely lost my way. It was like, Okay, I can either ride it out and just be okay, I'll win prize money here and there and no one will begrudge me," Goucher added. "They'll be like, 'She had a great career.' Or, I can start doing what I want and be someone again, be on the podium again."

Going back for the future

Having come to the end of her Nike deal, Goucher knew that if she was going to do something to get herself out of the rut she was in, the time was now.

"I just knew it in my gut that I wanted to come back to Colorado," Goucher said. "I missed Boulder. We came here for Pac-12 Cross Country and I didn't want to leave. I was like, 'Why don't we live here?' That's when I started talking to Mark and Heather more openly about coming back.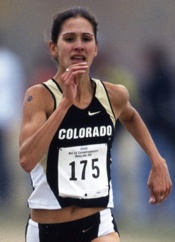 "I have a special relationship with Mark. He believed in me when no one else did. He's the one who put it in my mind that I could be national champion and things like that in college when no one else thought that. There absolutely is comfort in that and knowing someone believes in me regardless of what the results say the last few years."

In January, the Gouchers moved back to Boulder. But her career reclamation project hit another snag in March when she felt a twinge in her back while doing the last of 10 500-meter repeats during a training session for the Boston Marathon. She was diagnosed with a stress fracture of her sacrum and again forced to the sidelines, unfulfilled.

"I went to Boston and I had a great time," she said. "I went to parties and thought, 'Oh, this is what my life will be like when I'm done.' Then the women ran by me in Wellesley and I started crying. I was like, 'This is bullshit. I want to be out there.'"

Too competitive to allow her career to devolve into racing to collect appearance fees and prize money, something she said "would hurt my soul," but no longer pressured to over-train or race prematurely, Goucher remained resolute and patient in her recovery.

The 36-year-old also found daily inspiration in her new, younger teammates Jenny Simpson, the 27-year-old two-time Worlds medalist in the 1500m, and 23-year-old Emma Coburn, currently the third-ranked steeplechase runner in the world.

"I am training with these two women who are among the very best runners in the world and they're both ridiculously athletic and powerful," Goucher said. "I remember the first day that Mark made me jump over a hurdle with them. I was seriously trying not to cry because I just knew that I couldn't do it and was afraid of getting hurt. But they've forced me to believe in myself and to see, 'Oh, that wasn't so scary.'

"Emma and I have bonded. She'll throw me a party just for jumping over a hurdle, so that's pretty amazing. It's been great being around them. They're so fun, and so fast and so positive. They have no limits to what they believe is possible. That rubs off on you."

Forward focus

Goucher returned to running outdoors on June 2, a couple weeks ahead of schedule, and has seen her weekly mileage build back up over 100. While she says training has been good and her body feels strong, she does not believe she is going into Philly anywhere near peak condition. Her goal is to run something "in the 71-minute range."

"I don't feel like I am all the way back," she admitted. "I'm not going to lie to everybody and say, 'Yeah, I am going to go out and run 68:30.' There has just been too much time away. But every week there is noticeable progress in the way I feel and on paper. I will be realistic. You're not going to see me running a sub-69 race, and probably not sub-70. I am probably still two months away from that still.

"I'll have to watch the clock, obviously, for the first four or five mile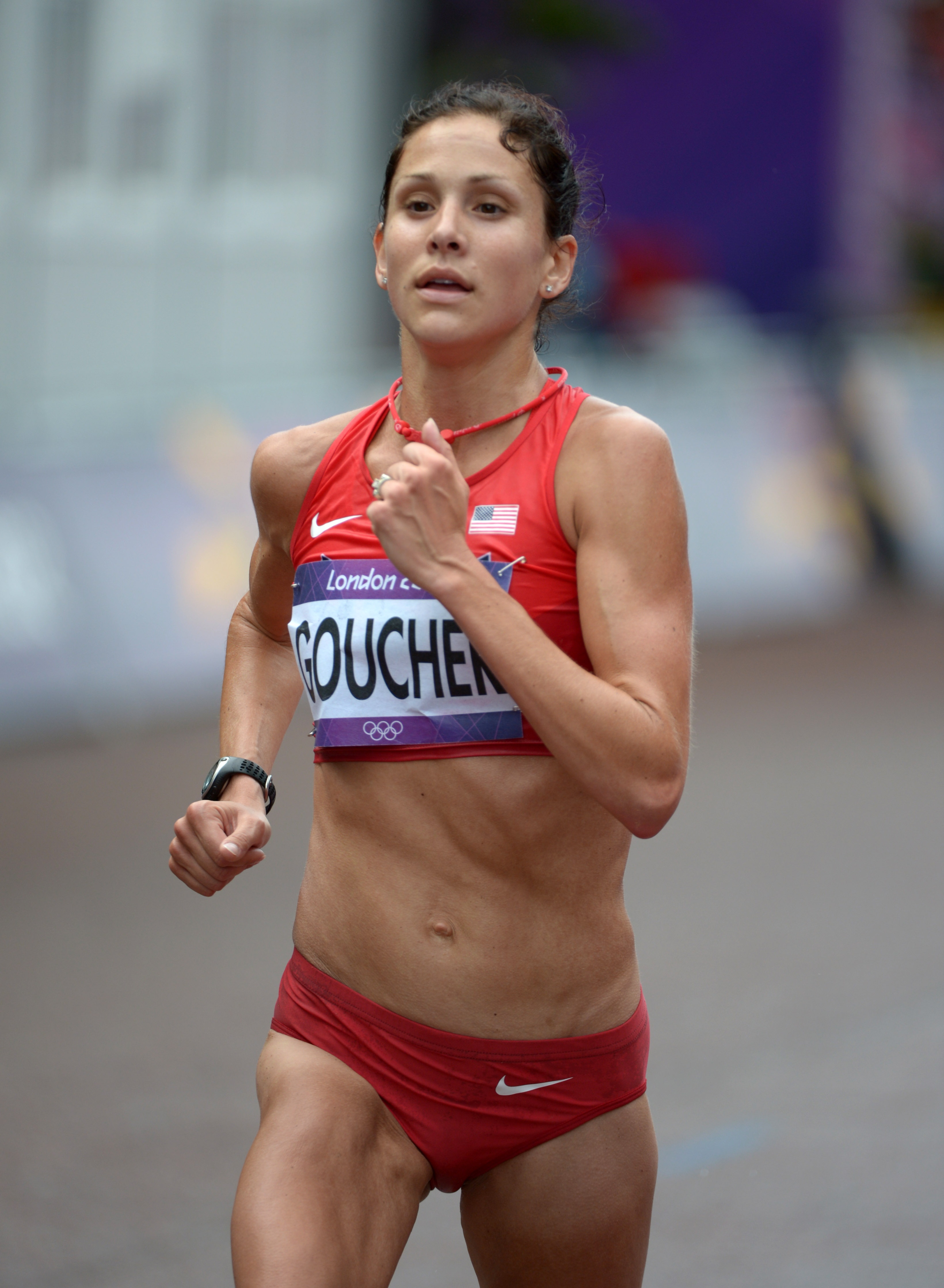 s because if they start running 5:15s I can't do that. But after that it will be, really, just like how do I feel and checking back with myself. I would really like to get after it in the last five miles but what that means, I am not sure. I may have been broken by the lead pack by then if they are running something really fast. I hope not, but we'll just have to see how it goes and how it unfolds."
Goucher said that Rock 'n' Roll Philly is really the table-setter in her long-range plan, which includes road and track races with an eye on the upcoming major championships.
"I want my fall marathon to be as good as possible, but I am also not going to go out and run 2:20," she said. "That's just not going to happen. That is a time that we have talked about potentially running next year if everything were to go well. The goal is a really smart tactical race, where I am hopefully getting some people at the end and finishing higher than some people expect.
"Then the goal for next year is to just get fast again. I want to get back to running 15-minute 5-Ks again, to run 31-minute 10-Ks, be a fast track athlete again, get my athleticism back. And I want to make the World Championships team, for sure. Then, if all goes well, I want to run a fast an early-fall or late-summer marathon."
Making her third Olympic Team in 2016, however, remain her primary motivation.
"I talked to Adam last year and he was like, 'What do you want?' I was like, 'I want to make another Olympic Team,'" Goucher said. "Rio is really the driving force behind everything."
But more than that, Goucher said she is running for self-satisfaction.
"I'm not crazy," she said. "I know that I am 36, but I still want these big things that I'm sure people think are laughable at this stage. I just don't care. I believe that I have it in me. I believe that I can do it and it doesn't matter anymore what anyone else thinks. From now on, this is really for myself."