USATF 5K Championships 2014
Huddle Right At Home for USA 5k Championships
Huddle Right At Home for USA 5k Championships
Sep 19, 2014
by Lincoln Shryack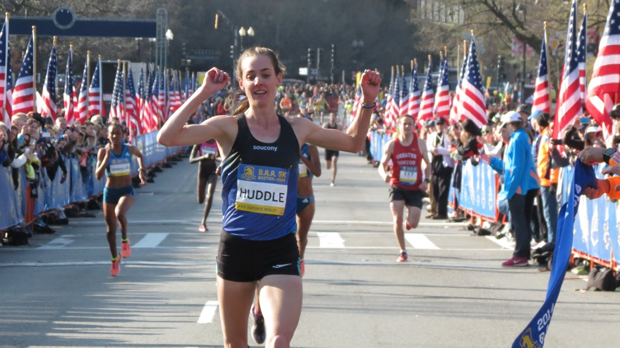 On Sunday, the streets in downtown Providence, RI will play host to the USA National 5k Championships, a staple on the American road racing calendar. Defending champion Molly Huddle returns looking to add another road racing crown to her already illustrious resume. Huddle has been outstanding in 2014, most notably in the 5k at Monaco, where she broke her previous American record by running 14:42.64 in July. 2013 men's champion Andrew Bumbalough had been slated to defend his title, but he withdrew this week after a brutal showing at the Continental Cup in Morocco, where he placed 7th in 14:51.
The race in Providence will include names not usually seen on the roads, among them Nike Oregon Project members Matthew Centrowitz, Jordan Hasay, and Mary Cain. Those three will look to improve on a trio of disappointing 5th Avenue miles, especially Centro, who we considered the overwhelming favorite in New York. Centro will try to rebound in a distance he rarely runs, as the only other 5k he has raced this season was his 13:20 from Payton Jordan in May.
It should be interesting to see how/if Cain and Hasay work together in this race, since this is a much more comfortable distance for Hasay. Cain has run 15:45, but that was more than a year ago, and on a track. Since Hasay took down Cain in the mile last weekend, it doesn't seem likely that Cain will beat her teammate in a much less familiar distance.
The Oregon Project's appearance on this starting list is just the latest in a series of surprising race choices for the group, as previously Galen Rupp raced the 1500m in Zurich and of course Hasay competed at 5th Ave. 2014 was the year to experiment with unfamiliar distances, and Al Sal's squad has taken full advantage.
The women's race in Providence will be Molly Huddle's to lose. The hometown hero has won four road races this season, the latest being the USA 20k Championships on September 1st. Huddle has the best range of any American distance runner, shown by her ability to run the AR in the 5k on July 18th, and then turnaround and win the USA 7-mile Championships eight days later. Huddle makes jumping distances and switching surfaces look easy, and she should have no trouble on Sunday dominating the field in her preferred distance. Huddle wins in 15:22.
The men's race is much more of a toss-up, since the field is much deeper and the defending champion will not be in the race. After Centrowitz, the big names appear to be Aaron Braun, Diego Estrada, Trevor Dunbar, and Girma Mecheso.
Braun returns to Providence after he placed 2nd in the event last year. He has not raced much in 2014 after taking a break, but he did finish a respectable 4th at the USA 10k Championships in July. Braun has never shied away from a quick pace, and potentially could be called upon to dictate the tempo on Sunday.
Estrada was 4th at the USA 20k Championships, but outside of that has had a relatively quiet 2014. It seems that Estrada is wisely beginning his transition to the roads, as his decision to compete for Team USA makes qualifying for World/Olympic teams a lot more difficult on the track. Estrada has run 13:31 on the roads, and Sunday will be a good test of his speed since he hasn't run a 5k since Payton Jordan in May.
Trevor Dunbar has PR'd in the mile, 3,000m and 5,000m in 2014. The former Oregon Duck turned Nike athlete ran 13:26 in that scintillating NCAA 5k final in June, and managed to run career bests of 3:57.19 and 7:45.09 over the span of three days in Ireland this July. Sunday will be Dunbar's second road race in a row, after he took 3rd behind Jordan McNamara and Leo Manzano at the Liberty Mile on August 1st. After a long NCAA season, Dunbar has kept his summer racing schedule light, and that could play into his hands nicely as he makes his 5k debut on the roads.
Mecheso is a wild-card heading into Sunday. Shocking was the word used to describe his victory at the 20k championships on Labor Day, as the former Oklahoma State standout beat a field that included Christo Landry, Luke Puskedra, and Diego Estrada. Mecheso used the brutal conditions on that day to his advantage and kept the pace moderate before surging hard the last mile. The rest of Mecheso's season has been less than stellar, however, as he could only manage a 10th place finish at the 10,000m at the USA Championships.
Braun makes the most sense here, as he has had the most success on the roads, and at this race specifically. The fastest time ever run by an American at this event was 13:37 by Tim Broe in 2004, and a field as deep as this one could challenge that time on Sunday. We'll say Braun in 13:42.