D1 NCAA XC Championships 2014
Portland Made the Podium with Only Five Finishers
Portland Made the Podium with Only Five Finishers
Nov 26, 2014
by Taylor Dutch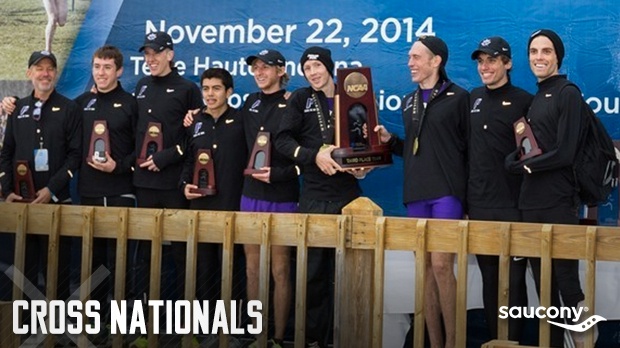 On the greatest stage where everything mattered and opportunity presented itself, the Portland Pilots made the decision to step up. Last Saturday in Terre Haute, the Pilots took home a third-place team finish at the NCAA championships, the first podium trophy for the squad in program history. But what is even more impressive is the fact that the Pilots managed to accomplish the feat with only five men crossing the finish line, not including consistent top scorer David Perry and Ryan Poland.
"We got a huge race out of Timo Goehler, he was the seventh man who was kind of a question mark obviously for getting it done at this meet, and he got about 45th which is huge and then [laughs] we got a really big race out of Danny Martinez, 59th. He really gutted it out and wanted to contribute," said Coach Rob Connor in his post race interview.
"We only finished five, and that was Woody Kincaid off of some really chopped up training with his injury, he's coming off of a stress reaction and he really gutted out a 70th place which sealed the deal."
The results of the race show Portland with a 175-point spread, tallied by a third-straight All American performance from Scott Fauble (12), an All American finish from Reid Buchanan (28), and final scores from Timo Goehler (44), Danny Martinez (59) and William Kincaid (70).
David Perry was unable to finish after a tear in his lower left leg forced him to drop out of the race. Perry finished 14th overall at D1 west to help the Pilots earn a runner-up finish in the region, and came up big with a first place finish at the West Coast Conference Championships weeks earlier.
"Nobody quit. I saw David go down and I knew I wasn't having my day but I knew that we could still have our day," said Kincaid according to PortlandPilots.com. "We went for it."
Instead of losing focus when one of their top scorers was forced to withdraw, the remaining Pilots chose to step up. At the 3k mark, the Pilots were fourth, eighth at the 5k, and seventh at the 8k before a final huge push to the finish from each individual.
Buchanan, for example, was in 73rd-place at the 5k mark and passed 40 people between that point and the 8k mark. Kincaid, who has been battling injury and inconsistent training, pulled through with a courageous effort to pass 35 runners from 8k into the finish line. Another senior, Goehler moved up 37 places from the 5k mark to the finish, and from the 3k on, Martinez, who is just a sophomore, passed an astounding 96 runners to help bring home the third-place trophy for the Pilots.
"Our school has a history of soccer trophies. Top four finishes, two national championships. I walk by those trophies everyday on the way into the office and it's been my goal for 25 years to get one of those myself for the team, so it's real special," said Connor.