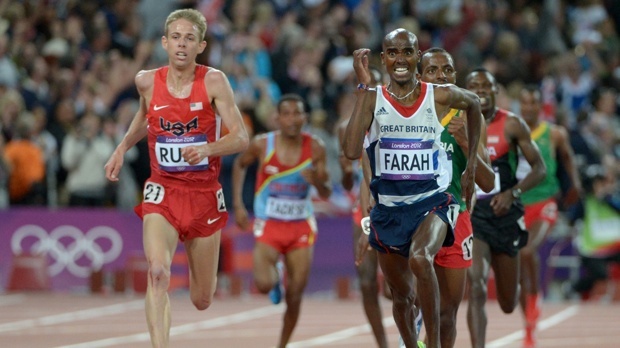 Mo Farah and Galen Rupp went 1-2 in the 10,000 meters at 2012 Olympic Games.

According to an article in The Age, a Melbourne, Australia news source, the IOC has been in talks about eliminating such track events as the 10,000 meters, 200 meters, and the shot put from the Olympic schedule. The author of the piece, Michael Gleeson, lists the 10k as the most vulnerable of the three events, as the committee seeks to trim certain programs so that other sports can be included in the Games. None of the reported changes would be made before the 2016 Rio de Janeiro Olympics.
According to Brian Roe, a senior international technical official at the Olympics and World Championships, a meeting between "senior athletics people" took place recently in Europe, where the reduction of track and field events was among the topics. The article doesn't mention how far along the talks are, or when any such measure would go into effect, but according to Roe, the 10k would be in the most danger, as it is rarely run on the IAAF calendar. According to Roe, five events were discussed in total- 10,000m, 200m, shot put, 20k race walk, and the triple jump.
The IOC recently approved a measure to limit the total number of summer games athletes to 10,500 individuals across 310 events. Track and field alone has 2200 competitors in any given Olympic Games, more than 1/5 of the total participants. According to Gleeson, the IOC is seeking to attract a younger generation of fans to the Olympic Games, and doing so would mean potentially adding such events as surfing and karate. The 10,500 count would still need to be reached, placing the sport with the highest number of participants in danger of losing events.