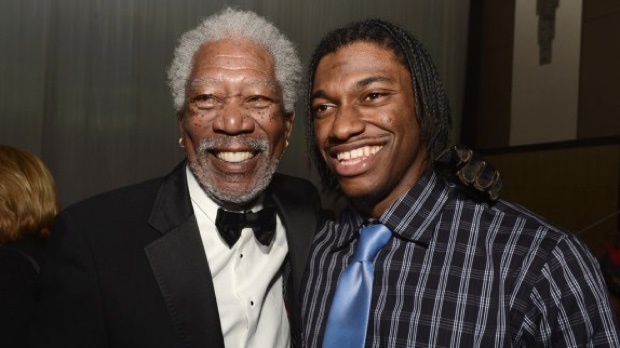 Robert Griffin with track superfan Morgan Freeman


WASHINGTON- Ever since an order of ten hurdles was delivered to a Northwest D.C. apartment complex on Monday around rush hour, speculation on the potential owner has consumed the sports world.
The affluent neighborhood was abuzz with media attention as no other track-related equipment had ever been purchased by one of the tenants, however the rumors quickly focused on one man in particular, a man that had long since given up on the sport.
Today, those rumors became reality, and one of track's greatest talents finally came back to his first love.
ESPN NFL Insider Adam Schefter has confirmed that Washington Redskins quarterback Robert Griffin III will announce his retirement from football later today, citing his lifelong dream to compete in the Olympics. A press conference is scheduled for 6pm.
While many have wondered when the former NCAA All-American hurdler would return to track, Griffin's decision to leave football at just 25 was unexpected. The former Heisman Trophy winner had one year left on his rookie contract, which would have paid him $3.2 million in 2015.
Although Griffin had an outstanding rookie season in 2012 where he threw 20 touchdowns to only 5 interceptions all while leading the Redskins to the playoffs, the injury bug has plagued him over the last two years of his career. In the 24 games Griffin has played since the start of 2013, the Redskins have won just five.
When asked about Griffin's poor record as a starter over the last two years, Redskins owner Dan Snyder said this in February, "Well, those (losses) aren't entirely his fault. I mean, he does play for the Redskins, after all."
When notified of Griffin's retirement, Seahawks running back Marshawn Lynch said, "I'm thankful," refusing however, to elaborate. Lynch tweeted later that he respected Griffin, because like Lynch, he's "bout that action, boss."
Griffin hinted at a potential early exit from the NFL back in September when he went down with yet another injury. In an interview with Fox's Erin Andrews, Griffin was asked what he would miss the most once he retired from football.
How will RGIII handle the track limelight?
"I guess most people would say 'the competition', or 'the team', but if I'm being honest with myself, I'm going to really miss the trainers and team doctors that I've gotten to know so well over the last few years. Those guys are like family to me now."
Redskins head trainer Larry Hess says that Griffin's old rehab equipment is being retired into the Redskins Hall of Fame, an honor that Hess says Griffin "certainly deserves." Hess noted this accolade was given to the former quarterback just so that no one could use his old equipment again, seeing that most people in the organization thought anything he touched was jinxed.
It appears that a new page has been turned for RGIII. According to Griffin's agent,
Ben Dogra
, Griffin has been training for the 400 hurdles over the last several months as he toyed with the idea of giving up football for track. Workouts have reportedly gone very well, according to Dogra, and Griffin is already mapping out his outdoor season.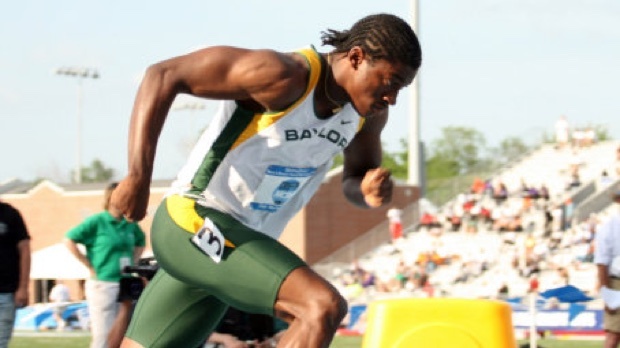 RGIII during his glory days on the Baylor track team
Dogra says that Griffin will confirm for the FloTrack Throwdown on August 9th in Portland once a location has been released. Griffin apparently heard what went down at December's World Beer Mile Championships and wanted to make sure that didn't happen again.
Dogra also noted that he is no longer Griffin's agent since unsponsored track athletes can't afford agents.
Make sure to check right back here at 6pm, as we'll be giving LIVE updates during the RGIII Retirement press conference. We'll also be on-site getting a post-press conference interview with track's newest superstar, which can be viewed with a FloPRO subscription.