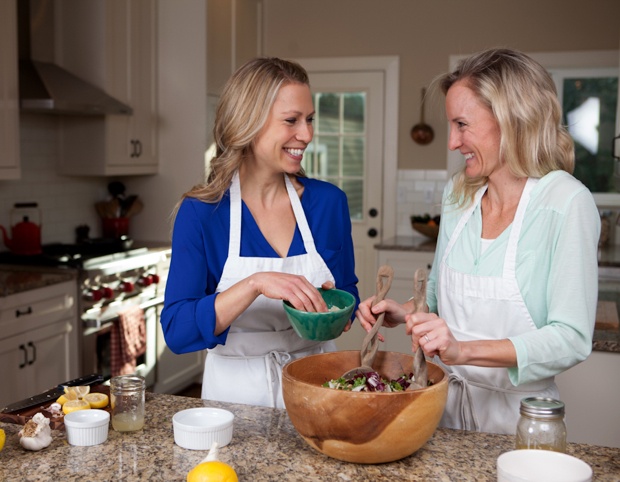 The Olympic marathoner's journey to runner-inspired cookbook Run Fast, Eat Slow with friend and chef Elyse Kopecky.


Heading into the Boston Marathon on Monday, Shalane Flanagan has made a significant change in her race preparation. For a race that the hometown girl has openly talked about as her main target to win, Flanagan has dedicated herself not only to training on the roads, but also in the kitchen.
A collaboration with her friend and chef Elyse Kopecky has inspired Flanagan to be part of the upcoming cookbook
Run Fast, Eat Slow
. Through the whole food principles illustrated in the book due out fall of 2016, Flanagan will arrive at the starting line in Hopkinton well-nourished and stronger than ever.
"The recipes Elyse and I have created are indulgent, sustainable, nourishing and rejuvenating," Flanagan said. "Specifically, in prep for Boston, I feel strong."
Run Fast, Eat Slow was an idea that came over dinner between the two former North Carolina teammates and college roommates. Shalane was returning from a summer racing season abroad, and happy to shop at her local Portland, Oregon farmers market. Kopecky was inspired by her new career path of culinary nutrition, which had taken her from her previous job as a digital marketing producer to the Natural Gourmet Institute for Health and Culinary Arts in New York City.
The two friends talked about Kopecky's new career path, runner diets, and how frequently runners make poor eating choices. They agreed that they both wanted to educate the running community about the benefits of eating better, and the idea of the cookbook was born that night.
College Food to Grown-Up Meals
"In college what we thought was cooking was actually preparing the food, and now all the recipes in our book are made from whole foods, from scratch, not stuff out of the jar and preparing ingredients," Kopecky said.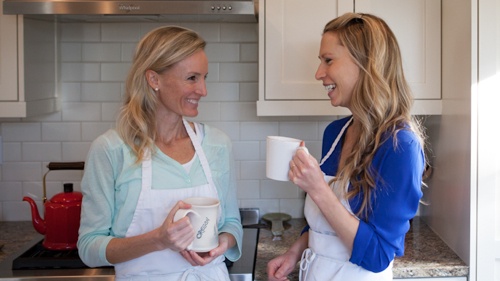 As college roommates, Flanagan and Kopecky would experiment in the kitchen with different recipes. Some meals were better than others, including a fondue dinner that left half of their guests sick after eating under-cooked meat. But some of their more successful meals have inspired recipes in their cookbook today, like Flanagan's rice bowls.
"Shalane's special thing was huge rice bowls that we would throw together with kind of whatever we had on hand but the base of it was rice, scrambled eggs, some beans, cheese and salsa," Kopecky said. "So we have our own grown-up version of that in the book, which is not just scrambled eggs but includes healthy veggies in an avocado cream sauce."
After the cookbook idea was born over dinner, Flanagan and Kopecky continued to talk about it for months, until a weekend camping trip solidified their plans. Kopecky suggested that Flanagan start keeping a food journal heading into the 2014 Berlin Marathon. Flanagan started keeping track of her eating habits and together, the two friends made a list of Flanagan's favorite foods that she felt fueled her running best, combined with Kopecky's favorite foods that she learned from her studies at NGI. They have been building from the list ever since.
"My priority is to inspire female runners to think long term about their health," Flanagan said. "We hope to convince female readers that by getting in the kitchen and cooking for themselves they will help prevent bone loss, infertility, weight issues, eating disorders and a lifetime of issues related to poor nutrition."
A Culinary Breakthrough
While competing in college, Kopecky suffered from athletic amenorrhea, the condition when a female athlete fails to get her menstrual cycle. She was put on hormone therapy and suffered from injuries throughout her collegiate career. It wasn't until she moved to Switzerland, where she was exposed to a high fat, whole food diet, that Kopecky's body began to change for the better. Foods like whole meats, whole cheeses, and whole milk yogurt without the added ingredients or preservatives helped Kopecky overcome her athletic amenorrhea.
"I've always been focused on learning more about the impact that the whole foods, high fat diet can have on hormone health," Kopecky said. "That was my journey as a runner, I suffered also in college from stress fractures and I think that was directly related to what I thought was eating a healthy diet but it was far from healthy."
Along with the whole foods principle, Kopecky and Flanagan emphasize the idea of indulging in food - eating whole foods, healthy fats and cooking from scratch. Foods with no preservatives or added ingredients cooked with healthy fats like butter and coconut oil are thought to satisfy hunger longer, and fill the body with the "good stuff," as Kopecky says.
In full training mode for the Boston Marathon, Flanagan has noticed significant changes in the way her body has responded since applying the whole food, indulgent way of eating.
"The guiding nutritional principles have allowed me not to stress about my recovery and leanness," Flanagan said. "By maximizing nourishment I can tell my body has found its ideal racing weight naturally and no deprivation is needed."
Sizing Up the Competition in the Kitchen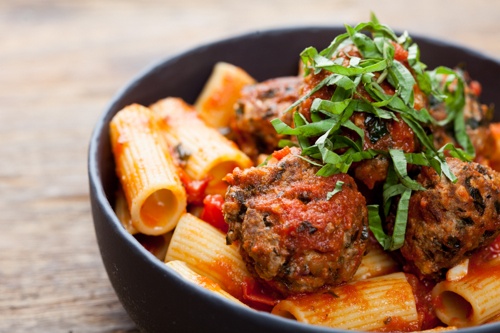 Along with inspiration from their college culinary escapades, Flanagan and Kopecky also use the Olympic marathoner's East African competition as inspiration for dishes. Many of Flanagan's toughest competitors from Ethiopia and Kenya consume teff, a whole grain that is said to be more nutritious than quinoa. While experimenting with teff flour, they created a recipe for teff pumpkin pancakes.
Another one of Flanagan's favorite dishes was developed with high altitude training in mind. With iron deficiency more prevalent at high altitude, Flanagan and Kopecky created an iron-rich recipe of grass-fed Bison meatballs, meant as the ultimate fuel while in higher altitudes.
With many more runner-inspired recipes, Kopecky and Flanagan aim to inspire the running community with a balanced, nourishment-based way of living.
"I hope that our cookbook lights a fire within people so that they are excited to get in the kitchen and cook up delicious, healthy, satisfying meals that leave them feeling nourished and energized," Flanagan said.