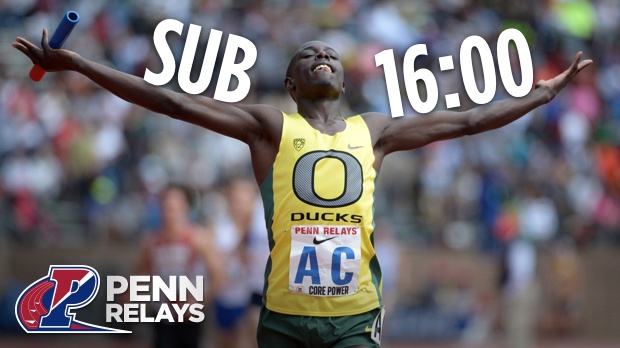 Here's why…
One word. Villanova.
Let's back-track a bit and dive deep into why Villanova is the reason for a sub-16:00 performance.
1) THE FIELD
Oregon, Stanford, Villanova, Adams State, Oklahoma, Penn State, Georgetown, Texas, Michigan, Wisconsin, Columbia, Penn, Indiana, Dartmouth, Cornell, Princeton, Buffalo, and Yale.
First thing is first, we have to remove Adams State from the field.
The D2 powerhouse tweeted yesterday that they, unfortunately, will not be attending the Relays, however if they did they would be a legit threat with four superstars in Oliver Aitchison (3:40.77), Kevin Batt (3:59.53), Matt Daniels (3:59.89), and Tabor Stevens (4:00.90). I guess we will have to wait to see them in action at Payton Jordan.
@FloTrack sad to say Adams state won't be competing this weekend at Penn. Catch us out at Payton Jordan next weekend though!

— Matt Daniels (@MattDaniels480) April 21, 2015
Second, we narrow the field down to the contending teams:
Oregon, Stanford, and Villanova
Wait a minute, why did you leave out Penn State with Kidder and Creese?
According to the preliminary athlete entries for this event (which sometimes change) their third and fourth legs, Matt Fischer and Glen Burkhardt do not carry strong enough marks to run under four minutes.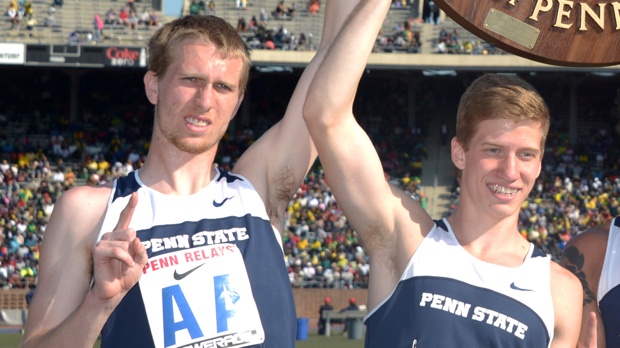 What about Georgetown? They ran four guys under 4:00 in the same race!
The Hoyas, also according to preliminary athlete entries, look to be putting heavier focus on the DMR and 4x800 as their 4xmile team consists of Fahy (3:45), Leibold (3:42), Gil (4:09) and Bile (3:58). If only they would stack their 4xmile...then we would get a repeat of this!

2) THE ATHLETE ENTRIES
According to the preliminary athletes entered, here are the rosters of the three contenders:

OREGON: Colby Alexander, Chris Brewer, Edward Cheserek, Jeramy Elkaim
STANFORD: Thomas Coyle, Maksim Korolev, Sean McGorty, Erik Olson
VILLANOVA: Robert Denault, Sam McEntee, Patrick Tiernan, Jordan WIlliamsz
*As mentioned earlier entries are subject to change.

Side Note:
It's a bummer we won't get to see
Johnny Gregorek
,
Will Geoghegan
or
Eric Jenkins
on the Oregon squad. That team would be scary good!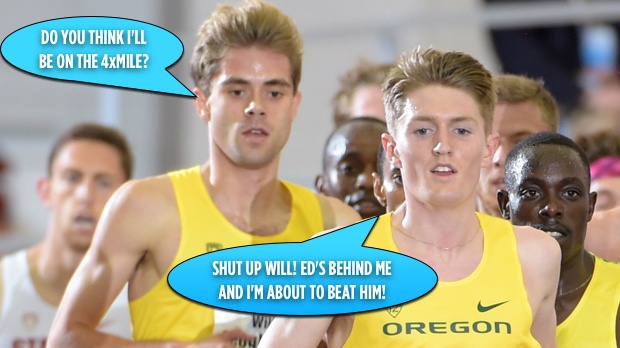 3) TEAM POTENTIAL
Based off of these 12 athlete's PBs, here are the PB team totals:
PB = Personal best mile time -or- 1500m converted mile time (*1.08) -or- Penn Relays 4xMile split -or- NCAA/Penn Relays DMR 1600m converted mile time
| | |
| --- | --- |
| VILLANOVA | |
| Jordan Williamsz | 03:54.08 |
| Sam McEntee | 03:54.15 |
| Robert Denault | 03:58.25 |
| Patrick Tiernan | 04:00.00 |
| Total | 15:46.48 |
| | |
| OREGON | |
| Edward Cheserek | 03:53.82 |
| Colby Alexander | 03:59.17 |
| Jeramy Elkaim | 03:59.18 |
| Chris Brewer | 04:02.11 |
| Total | 15:54.28 |
| | |
| STANFORD | |
| Sean McGorty | 03:58.27 |
| Thomas Coyle | 03:59.32 |
| Erik Olson | 04:00.09 |
| Maksim Korolev | 04:02.24 |
| Total | 15:59.92 |
Clearly Villanova has the tools to give Oregon a run for their money. The Oregon Ducks are the favorites going in as the defending champs, and with Edward Cheserek on the anchor. However, Villanova's 7.80 second advantage based off of PBs is not something to be ignored.
4) THE LEAD-OFF LEG
Now that we know there are three legit teams capable of putting together four under 4:00, it really comes down to the lead-off leg. Penn Relays 4xmile lead-off legs are historically slow. The main reason is because the lead-off leg is run tactically while the remaining legs are either run fast to not get caught or run fast to catch someone in front. The past four lead-off leg winners averaged a 4:08.75 split. Even the Penn Relays record, 16:04.54 held by the 2005 Michigan Wolverines had a lead-off leg run of 4:05.90.
5) WHY THE LEAD-OFF LEG WILL BE FAST THIS TIME
We come full circle. The lead-off leg will be fast this year because of Villanova.
- Villanova will have the best lead-off leg talent-wise (projected lead-off legs: Denault > Coyle > Brewer)
- Villanova like everyone else will want a fast race to get separation on Cheserek's anchor and they have someone to do it in Denault.
- Villanova knows Penn Relays and if they run a fast lead-off they will eliminate teams who try to get away with putting a non-sub four runner on lead-off. (i.e. eliminate G-Town and PSU)
- Villanova wants NCAA redemption. In the 2015 NCAA Indoor DMR, Villanova failed to compete for the win despite having a 3:55 split from their anchor Jordy Williamsz. Williamsz was too far back to compete with Creese and Cheserek. So, they won't want to take any chances this time around.
-
Even if Villanova goes out too hard and dies, they have insurance. They have the luxury of having two 3:36 guys on the same squad. So the fear of dying and falling back 5-10m isn't as critical.
- Villanova is 'all-in' running four of their best legs for the 4xMile. Last year they were 'all-in' for the 4x800 and won. This year the focus is on the 4xMile.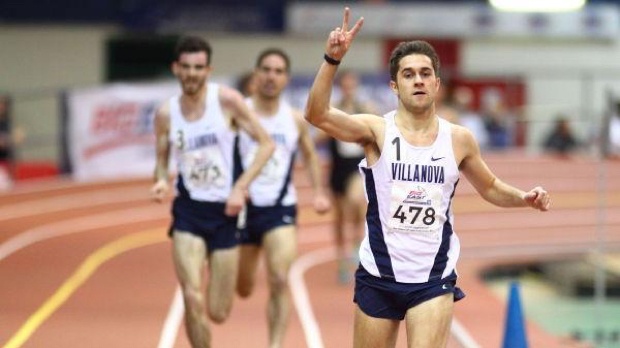 6) THE UNKNOWN
While we don't know what Nova or Stanford or Oregon's race strategy is, we do know it will be a great race. So dear 'Nova, Stanford, Oregon, and the rest of the field, run at least 4:01 and we get to watch history! Let us know what you think will happen!