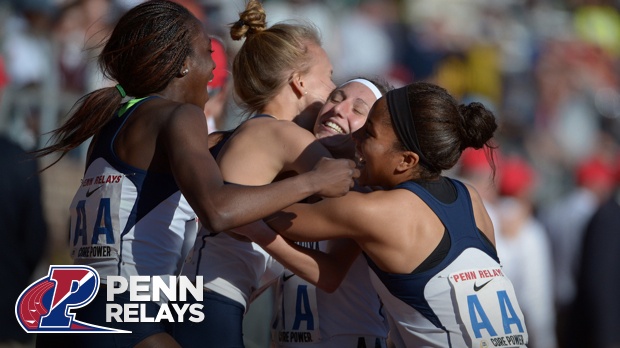 Tomorrow marks day one of the oldest and largest track meet in the world, the Penn Relays Carnival. Since April 21, 1895, the Penn Relays have been the host of some of the greatest performances run between high school, collegiate and professional competition, and tomorrow will be no different as the women's event line-up promises exciting match-ups at every turn. Here is a breakdown, according to the preliminary entries, of some of the top events that you cannot miss this weekend (line-ups are subject to change):
Women's Distance Medley Relay (Thursday 5:30 p.m. ET)
The women's distance medley relay holds an exciting line-up, reflecting some of the insane match-ups from the NCAA Indoor final.
Returning champion squad Stanford is listed to run a preliminary crazy fast squad of Jessica Tonn, Olivia Baker, Claudia Saunders, and Elise Cranny! If the Stanford coaching staff decides to run this squad, then there is no way the Cardinal team can lose. Tonn is shaping up to be incredibly strong in her fifth year, clocking personal bests in nearly every event on the track, including the 3k, mile, 1500m AND 5k. Freshman phenom Olivia Baker has made a huge statement in her track debut for the Card squad, including a 600m PB back in January and contributions to both the NCAA runner-up DMR and most recently the Big Meet championship 4x400m. Saunders has run a season's best 800m of 2:06 this year (PB is 2:02 from NCAA Outdoor preliminary). She did not qualify individually for the 800m at the NCAA Indoor Championships, but as 2014 showed, Saunders will only get stronger as the season progresses. Cranny is always a formidable opponent on that 1600m anchor leg with a scary fast PB of 4:10 in the 1500m and killer finishing speed. They will also be looking to get some redemption after losing to defending Penn Relays champs
Villanova in the final meters at Franklin Field
. If Stanford runs this preliminary all-star squad, they will be a sure bet to earn the wheel they lost out on last year when Villanova stole the show on a killer anchor leg from Emily Lipari.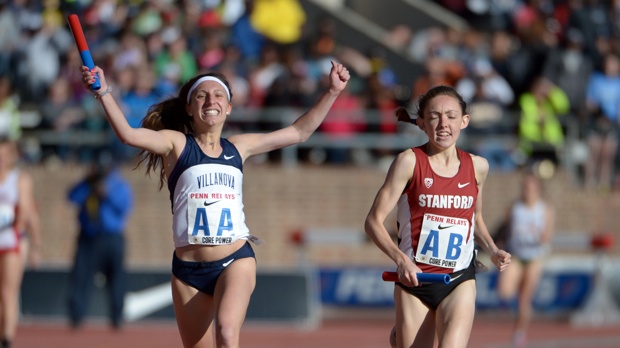 Returning champs Villanova may not have an ace in Lipari this year, but they will be looking for some redemption in the DMR after a devastating DQ at the NCAA Indoor Championships. The preliminary list shows Stephanie Schappert, Sidney Hayes, Siofra Cleirigh Buttner, and Angel Piccirillo as the ladies in the line-up. Schappert recently finished ninth in the mile at the NCAA Indoor Championships, and continues to look strong with a new PB in the 800m (2:05) a couple weeks ago. Freshman Sidney Hayes has clocked a PB of 55:84 this year at the BU Valentine Invite, and Cleirigh Buttner should prove to be a great addition with an 800m PB of 2:03 and recent runs of 2:06 and 4:22 in the 1500m. Piccirillo will put the Wildcats in good position heading into the anchor leg, as the junior earned her first first team All American honor at the NCAA Indoor Championships in March.
The Georgetown Hoyas will also be a force to be reckoned with after throwing down a preliminary squad of Becca Deloache, Piper Donaghu, Sabrina Southerland, and Katrina Coogan. The Hoyas finished third last year in the event and are returning from a seventh-place finish at the NCAA Indoor Championships. Deloache competed on the NCAA DMR squad and also in the 800m in Fayetteville. Although she failed to qualify for the final, Deloache has secured PBs in both he 800m (2:04) and 1500m (4:23) this season alone. Donaghu will also be a great addition as the Hoya has been chipping away on her personal best in the 800m from a 2:07 to a 2:05 this season. Southerland has yet to open up in outdoor, but secured a blazing season's best mark of 2:03 in Feb. and competed in the preliminaries of the NCAA Indoor Championships in Fayetteville. Coogan holds dangerously fast personal bests in the 1500m and mile, and has shown to be a tough competitor in big races. Her runner-up finish in the 3k at NCAA Indoors as well as her 16th-place finish at NCAA Cross proved that.
NC State will also be along for the ride with a preliminary squad of Megan Rempel, Tiana Patillo, Kenyetta Iyevbele, and Samantha George. If they stick with the line-up, the sixth-place NCAA Indoor squad will lead off with the Canadian freshman Patillo, who recently clocked a PB of 4:23 in Charlottesville April 18. Iyevbele holds a blazing PB in the 800m of 2:03 from 2012, and most recently ran a 2:06 in Charlottesville. George is also on a roll this season after clocking a PB in everything from the 800m to the 5k. She most recently ran 2:07 in the 800m at Raleigh Relays and followed the performance with a blazing 4:16 in the 1500m in Charlottesville.
Women's 4x1500m (Friday 1:20 p.m. ET)
The women's 4x1500m has three major players in 2014 runner-up Stanford, returning champs Villanova, and darkhorse Georgetown.
Stanford is bringing their 'A' game with a preliminary quartet of All Americans Elise Cranny, Jessica Tonn, Claudia Saunders, and Rebecca Mehra. Every single one of these ladies have run a 4:21 or faster 1500m in the past month. Cranny, the NCAA Indoor 3k runner-up is returning from an impressive double at Big Meet where she ran 2:08 in the 800m and 4:18 in the 1500m to knock out two NCAA regional qualifying marks. Tonn also impressed at the dual meet with a personal best of 4:18 in the 1500m and a runner-up finish in the 3k. Tonn is also coming off of a breakout indoor season where she clocked a new personal best in the mile in a time of 4:38. NCAA Outdoor 800m runner-up Claudia Saunders is coming on strong this outdoor season after running a new personal best (4:21) in the 1500m at the Stanford Invite. Mehra was also part of that Stanford 1-2-3 finish at Big Meet after clocking a season's best mark of 4:18 in the 1500m. The sophomore owns a PB of 4:17 from last year, and will be a great addition to this Cardinal squad.
Returning champions Villanova will return to Franklin Field after another epic finish from then-senior Emily Lipari. Lipari may have graduated, but the preliminary entries have a squad of fast contenders looking to reclaim the wheel. Kelsey Margey, who holds a PB of 4:17 from 2013, and a season's best of 2:08 in the 800m is on the list to lead off. She has yet to run an outdoor race in 2015, but her solid performances in 2014 (4:17.91 SB and 2:05 PB) should set her up well for her first outdoor race of the season. The Wildcats will have a new addition in Irish phenom Siofra Cleirigh Buttner, who holds personal bests of 2:03 and 4:22, both from 2013, and All American Angel Piccirillo who is returning from a seventh-place finish in the mile at the NCAA Indoor Championships. In the same season she also clocked a PB of 4:34 in Ames, Iowa. All American Stephanie Schappert will also be a strong leg should the Villanova staff decide to run this preliminary line-up. She is returning from a ninth-place finish at the NCAA Indoor Championships and recently clocked a PB in the 800m (2:05) at the Alumni Invitational April 11.
Georgetown is bringing a formidable preliminary squad of Madeline Chambers, Katrina Coogan, Hannah Meczypor, and Haley Pierce. The preliminary list does not have quite the same depth as Stanford or Villanova, but the Hoyas have major players in Madeline Chambers and Katrina Coogan, who have the potential to put Georgetown in dangerous position. Chambers most recently threw down a personal best of 4:20 on April 18 and Coogan holds a PB of 4:13 from 2013. The third-place 3k finisher at NCAA Indoors ran a season's best of 4:36 in the mile back in January and a PB of 2:07 in the 800m in Feb. If Meczypor and Pierce can stick with the pace of their respective legs, the Hoyas will match-up nicely with the stiff competition of the 4x1500m.
Women's 4x400m (Saturday 5:50 p.m. ET)
The 4x400m will be all about that Texas rivalry between the UT Longhorns and Texas A&M Aggies.
Texas has a preliminary line-up of Kendall Baisden, Ashley Spencer, Courtney Okolo, and Ariel Jones. The Texas Longhorns clocked a world lead of 3:29.36 in the indoor season and later a world lead and season's best of 3:28.48 for a huge win at the NCAA Indoor Championships. Both Okolo and Baisden are coming off of a big victory in the open 400m over Olympic Champion and UT alum Sanya Richards-Ross at the
Michael Johnson Classic
. The Longhorns split 50.99 and 51.22, respectively, which puts them both at the top of the collegiate lists this season. Okolo's mark catapulted her to the No. 1 mark in the world so far this season. The defending NCAA indoor and outdoor champion also clocked a PB in the 200m with a 23.45 at altitude in Albuquerque. 2014 World Junior Champ Kendall Baisden has been a mainstay of the Longhorn 4x400m and has clocked PBs in nearly every event this season from the 60m to the 200m, and is ready to roll after a stellar performance in Waco.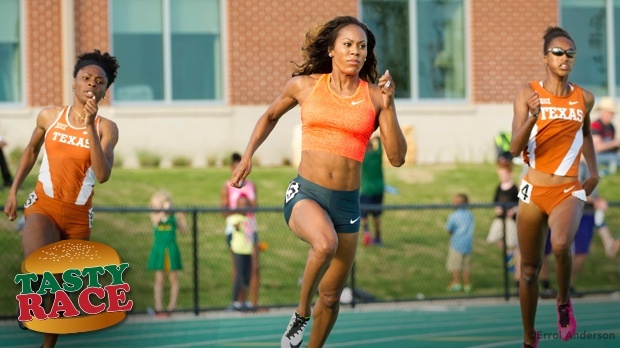 Texas A&M is rocking a preliminary squad that includes Shamier Little, Kamaria Brown, Ebony Crear, and Olivia Ekpone. The Aggies will contend with 2014 NCAA Outdoor 400m hurdles champ Little, who most recently clocked a season's best and victory in the 400m hurdles (56.42) at the Stanford Invitational, and PBs in the 400m (51.92) and 200m (23.48) earlier in the season. 2014 NCAA 200m champion Brown is coming off of a new 400m PB at the Michael Johnson Classic with a 51.76, which was good for fourth overall. Crear, the freshman has been a solid contribution all season long on the Aggie squad after helping Texas A&M to a season's best on March 28 at the Texas Relays. Ekpone should prove to be an impressive anchor leg after contributing to the Aggie's season's best performance at Texas Relays as well.
Women's Sprint Medley (Friday 6:20 p.m. ET)
The sprint medley should also be an interesting performance as the Oregon Ducks plan on throwing together a preliminary squad that includes recent world leader in the 100m Jenna Prandini, Jasmine Todd, Raevyn Rogers, and Annie Leblanc. In a stunning performance at the Brooks Mt. SAC Relays,
Prandini
set two school records and posted two world-leading marks in the 100m and 200m. Her wind-legal time of 10.92 broke the previous school record set by English Gardner in 2013 and tied the fastest time in the world so far this season. She returned to take down another school record in the 200m after clocking a 22.42.
Jenna Prandini 10.92! This is just ridiculous now.. #MTSACRelays pic.twitter.com/APnsItQc3j

— FloTrack (@FloTrack) April 18, 2015
Todd is also returning from a great weekend performance after winning her heat of the 100m at Mt. SAC in 11.03, with the wind just over the legal mark at 2.3 m/s. In Eugene, Leblanc secured the win in the 800m over Nike Oregon Project's Treniere Moser with a time of 2:04, and Rogers was just on her heels in 2:05.66, the top freshman 800m time in the nation this year.
Women's 4x400m and 4x100m (4x100m - Saturday 12:50 p.m. ET, 4x400m Saturday 2:35 p.m. ET)
Team USA is scheduled to throw together a blazing fast 4x400m squad that could include two-time Olympic relay team gold medalist Dee Dee Trotter, former Longhorn and 2014 NCAA relay champion Briana Nelson, 4x400m World Indoor Silver Medalist Jernail hayes, and Arizona standout Shapri Romero.
In the 4x100m, a strong line-up of candidates awaits to take on the World. The preliminary entries include 2007 4x100m World Champion Mikele Barber, 2011 4x100m World Champion Marshevet Hooker, 2011 NCAA 100m champion Candyce McGrone, recently turned pro Kaylin Whitney, and national finalist Jessica Young.
17-year-old Whitney just recently signed with Nike as her sponsor after winning the 200m at the 2014 World Junior Championships and contributing to the World Junior 4x100m Championship squad. If she runs on the relay team this weekend, it will be her sixth race as a professional, after clocking season's bests of 11.66 in the 100m and 23.16 in the 200m in Tampa two weeks ago.