Payton Jordan Invitational
How the Payton Jordan 10k Changed the Game
How the Payton Jordan 10k Changed the Game
How-the-Payton-Jordan-10k-Changed-the-Game
May 1, 2015
by Meg Bellino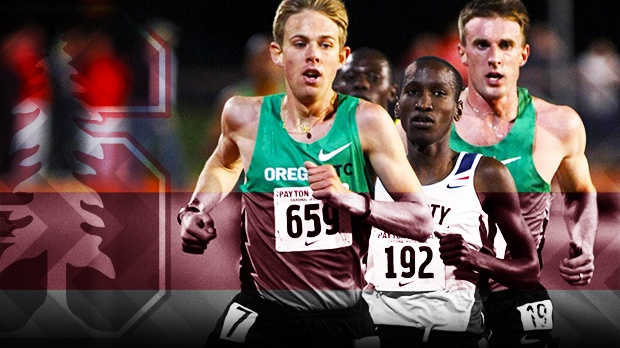 With 800m to go in the 2009 World Championship 5000m finals, Chris Solinsky was spent. In a season where he ran the final lap of the U.S. Championship 5k in 53-seconds, he found himself unable to go when the real racing began. He fell short of his medal dreams and finished 12th. 2009 was supposed to be Chris Solinsky's year, what the heck happened?
"It clicked for me that summer that a lot of the top guys in the world, these guys at the bell, they're not nearly as anaerobic as I was," Solinsky said. "So I was like, OK, I need to work on my aerobic strength. I need to get myself to the point when I'm at the bell with these guys I have the kick that I had at U.S. Nationals."
He and his coach Jerry Schumacher set out a plan to make Solinsky stronger. He needed to get to a point where running 62-second, 63-second laps in a 5k weren't difficult, and that when the bell lap rang, he would be ready to hang with the best kickers in the world. The obvious choice? Get him in a competitive 10,000m race to test his fitness.
2010 wasn't an Olympic or world championship year so experimenting in a new event seemed logical. Training was going well, so Schumacher entered Solinsky in the Stanford Payton Jordan Cardinal Invitational 10,000m race in early May. Solinsky remembers going into the race with a modest time goal, but really just hoping to be competitive and win.
"I remember sending an email to my friends and family saying, 'Well, I'm in really good shape, apparently they're going after the American Record, so I may have a shot at the American record, but I have no idea, so tune in and watch."
--
Annually, the world, U.S., and NCAA lists are dotted with Payton Jordan performances. In the 2014 World lists, 10 of the top 40 men's 10k marks were set at Payton, and 11 of the top 40 women's. In the U.S. alone (in 2014), seven of the top 15 men's and eight of the top 10 women's bests were all recorded in Palo Alto, Calif. And on the all-time NCAA lists, eight of the top 10 men's (including the 2010 Collegiate Record by Sam Chelanga) and seven of the top 10 women's bests were all set at Payton. Even Lisa (Koll) Uhl's collegiate record of 31:18.07 from 2010 was set at the Stanford Invitational, an earlier race set at the same facility at Stanford University. "In the last five years from the Payton Jordan and first Stanford meet, and you ask [runners] where'd you run your best time, I'm going to say 90% of those athletes say Stanford or Payton Jordan," said Todd Williams, a 2-time Olympian for 10,000m.
The chances of running in a quality 10k race are few and far between, making Stanford's the most influential for athletes wanting to run fast. "With a low number of 10,000m races offered internationally, Payton Jordan continues to be the place for distance runners around the world to post fast times," Marathon Olympic Bronze Medalist Deena Kastor said. "Not only do runners go to this meet to continue the tradition of excellence there, but they are treated to perfect weather and crowds who are invested in the outcome of the races." Kastor would know. In 2002, she set the (then) American Record of 30:50.32 at Payton.
But Payton Jordan, named for the former Stanford coach, isn't a national championship. It's not on national television. It doesn't offer out-of-the-world prize money. It's not staged in a major global city, like most elite track venues. But why do the top American and international athletes flock to northern California every year to test their fitness in hopes of a surpassing their time goals?
Get The Americans To Qualify
Prior to 1999, only nine American men had run faster than 27:45 for 10,000m. American distance running wasn't down, per see, thanks to the likes of Bob Kennedy, Williams, and a few others. But what we see today, with the plethora of Americans making World and Olympic finals and, like Galen Rupp, winning medals in distance events, wasn't a reality.
"The state of American distance runners, particularly in the 10,000m, both at the pro and collegiate level, performances were dismal," University of Oregon Associate Athletic Director and TrackTown USA President Vin Lananna said. "29:45 at that time was qualifying for the NCAA meet. We really didn't have any athletes that had broken 28:00. So our key was to really try to get people with the Olympic and World Championship "A" standard"
At the time, Lananna was the Director of Track and Field at Stanford. In 1993, track and field meets were held in Stanford Stadium, where football games are played. Lananna and his crew knew they had ideal weather conditions for long distance races, but not the facility. Their goal was to simply get the Americans to qualify for Olympic of World Championships by achieving the "A" standard in their respective events.
To qualify for the Olympic or World Championships, athletes must achieve the "A" standard in their respective event. In the U.S., athletes must have the "A" standard AND finish in the top-3 at the U.S. Championship. With most championship races based on winning, not necessarily a fast time, Americans needed a place where they could achieve their standards without having to travel overseas.
Lananna remembers a time when he and his crew were "spitballing" ideas on how to set up a fast race, with one being to have a 10k before a football game.
"Bill Walsh was the football coach, and he actually bought into the idea," Lananna said.
The race never happened, however. It wasn't until major donors like Pitch Johnson, Chuck Cobb, and Otis Chandler stepped in, and the new facility, Cobb Track and Angell Field, was built. With the new facility in place, all Lananna needed now was the speed.
"[There were] All these other meets around the country, Mt. SAC, Penn Relays, but none of them really provided appropriate pacesetters," Lananna said.
This would be the edge that set Payton Jordan apart.
The Man With The Connections
Kim McDonald was one of the most prominent track and field managers in the world. He represented some of the world's top African runners, and his most famous American asset was former American record holder Bob Kennedy, the first non-African to break 13:00 in the 5k. At the time, McDonald and his athletes trained in Palo Alto during the month of April and early May.
"We talked about what prevents the U.S. athletes from running these fast times, well, having pacesetters who could run long enough," Lananna said. "The person who controlled all the pacesetters in the world was Kim McDonald."
Todd Williams' career ended before the Payton Jordan Cardinal Invite really took off, but was still greatly impacted by McDonald's ability to control races. In 1995, Williams had just returned from finishing ninth at the World Cross Country Championships in Durham, England. He remembers McDonald calling him with the idea of sending a few of his athletes to Knoxville, Tenn. (where Williams lived and trained at his alma mater the University of Tennessee) to run a 10k with Williams at the Sea Ray Relays. Knoxville in April can be humid. It can be raining, freezing, or sleeting. It lacks the ideal conditions that Stanford has over anyone else. Still, Simon Chemoiywo, the 1994 World Cross Country Silver Medalist, won the race in 27:25.82. Williams finished fourth in his lifetime best of 27:31.34, making him the 12th-fastest American ever in the 10k.
"I hate to be one of those old guys," said Williams, laughing. "If I could've ran at Stanford.. I could've ran that. If I could jump in a time machine, and somehow have that meet and take my 27:31 with that same effort in a field, in the conditions, with everything being perfect that it usually is there, my 27:31 potentially could've been a little bit faster."
With Lananna providing the meet management and facility and McDonald providing the pacesetters and some of the world's best athletes, including Kennedy, a major meet was born.
"You start bringing people together, talented athletes, better things are likely going to happen more frequently," said Kennedy, who ran 27:38.37 to win Payton Jordan in 1999. McDonald didn't just provide athletes to pace these standard-chasing races, he provided them with expectations, and extraordinary ones at that.
"One of his biggest assets for me was that his expectations were so high," Kennedy said. "I do remember a time where we were talking about pacemaking the 5000m, and I was trying to run under 13:00, which would be more like 7:45 through 3000m, and he's like 'Well, we're gonna send someone through at 7:39 and I don't know why you wouldn't be at that pace, because I think you can run way faster than 13:00."
With this mentality, McDonald and Lananna's vision of getting several athletes under 28:00 each year looked promising.
Records And Jamba Juice
Long before Meb Keflezighi found success in the marathon - he won Olympic silver in Athens in 2004, the 2009 New York City Marathon, and the 2014 Boston Marathon - he made history in a different event, the 10,000m. At the 2000 Sydney Olympics, Meb finished 12th in the 10k final with a personal-best of 27:53.63 and a year later was looking to go faster.
In 2001, the fastest time ever run on American soil was 27:07.34 by legendary Ethiopian Haile Gebrselassie at the 1996 Atlanta Olympic Games. The American record of 27:20.56 was set by Mark Nenow in Brussels in 1986. At the time, no American had run faster on U.S. soil than Alberto Salazar's 27:30.00 in Eugene in 1982.
Meb came to Payton Jordan (then just the Cardinal Invite) looking for the American record while Lananna and meet manager Michael Riley were looking for McDonald's Kenyan runners from Puma International, Abraham Chebii, Ben Maiyo, Luke Kipkosgei, to challenge Gebrselassie's all-comers mark.
Two of the Puma athletes were enlisted as pacesetters and a talented roster that also included the likes of Alan Culpepper, Abdi Abdirahman, and Kennedy, was assembled. With pacing through nearly 9k, Chebii clocked in at 27:04.20, with Maiyo second in 27:07.55, Kipkosgei third in 27:12.37 and Meb finishing fourth with a new American record of 27:13.98.
But the night wasn't just memorable for those blistering times.
One of Lananna's marketing tactics for the evening including a partnership with Jamba Juice.
"If anybody broke the American record they would all get a Jamba," Lananna said. "When the athletes were running, it wasn't like we had this gigantically sophisticated 10k crowd like we have in Eugene, but we started to get a lot of people to come to the event because they were intrigued by this American record idea. And they were all screaming for Meb, and Meb thought it was all for him, but really what they were yelling was 'Jamba!'"
The line at the local Jamba Juice was out the door following Meb's success.
In November of 2001, McDonald suffered a heart attack and passed away at age 45. The 10,000m race was renamed in his honor the following year.
In 2002, Lananna and his crew set up another American record attempt for Deena (Drossin) Kastor. Kastor was on fire that spring, winning the U.S. 15km Championships, finishing runner-up at the World Cross Country Championships and setting the then 5k road American Record in the Carlsbad 5000m. For Kastor, it was an easy choice to make.
"I chose to run Payton Jordan in 2002 in attempt to break the American record because it was the only quality 10,000m in the world besides the World Championship events, which are usually more tactical and less focused on posting fast times," Kastor said.
Together with Japanese athlete Yoko Shibui (going after the Japanese 10k record), Kastor and Shibui traded positions leading the race. Shibui eventually won in 30:48.89, a new Japanese record, and Kastor broke Lynn Jennings' 10-year mark of 31:19.89 by running 30:50.32.
Solinsky's Stunner
The Kim McDonald Memorial 10k continued to advance the profile of American distance running with marquee match-ups and fast times. The 2006 race, equipped with it's new name of Payton Jordan, featured Alan Webb, Dathan Ritzenhein, and Anthony Famiglietti duking it out. Webb won in 27:34.72, with Ritz and Famiglietti 1 and 3-seconds behind. In 2007, Oregon's Galen Rupp broke the collegiate record in 27:33.48. 2008 saw another American record go down when Shalane Flanagan broke Kastor's mark by running 30:34.49.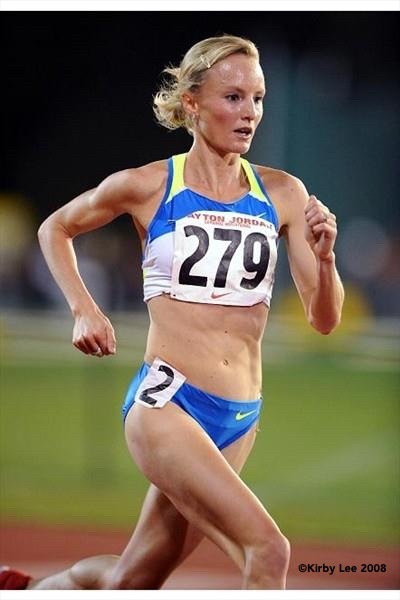 In 2010, Rupp and his coach, Alberto Salazar, were chasing the American record. After going back and forth between Palo Alto and Eugene, the duo decided on Payton Jordan.
"I don't really care where they run, I'm racing to win no matter what," Solinsky remembers. "[If] They come here, I might blow up or I might go for it."
A film crew was on hand to capture the record. Nike posters plastered with Rupp's face read "GO GALEN" and were distributed to fans. He was scheduled to appear at the new Nike store the following morning. All signs pointed to a great evening for Rupp. Solinsky had other ideas.
"If he can do it, I should be able to do it," he said.
On May 2, 2010, and with one mile to go in the 10,000m race, it was Galen Rupp, Liberty's Sam Chelanga, Solinsky and Kenyan Daniel Salel. Did anybody expect Solinsky, who was making his 10k debut, to be in the lead group? Did anybody expect Solinsky to pass Rupp and take the lead with two laps to go?
"At no point did I ever know where we were," Solinsky said of his 10k debut. "I threw away thinking about time and was just trying to compete."
Solinsky's winning time of 26:59.60 made him the first non-African to break 27:00. Salel was second in 27:07.85, Chelanga third in a new collegiate record of 27:08.39, Rupp fourth in 27:10.74, and Simon Bairu fifth in 27:23.63, a new Canadian record.
That race impacted the running world immensely, not only for how many records were broken in a single race, but because the most unsuspecting athlete in the field came out on top.
One athlete, Ben True, remembers 2010 well. True had just graduated from Dartmouth College and was running for the Oregon Track Club at the time.
"I remember watching the race with a few guys and just being amazed, especially in the last mile," True said. "Watching him pull away, and then dip under 27:00, that's what I think of when I think of Payton Jordan."
The Stanford Mystique
Athletes come from near and far to run the 10k at Stanford each spring, a stark contrast to the number of fast 10ks available when Kennedy was in his prime.
"There was Brussels at the end of the summer, Hengalo at the beginning of the summer. That was pretty much it," Kennedy said. "So to have something on U.S. soil, at a decent time of the year, it does change the game. It's the right facility, right weather. And then it's got an organization that's committed to putting the right pacemakers in place."
Solinsky echoed Kennedy's sentiments. "Even if you end up running [against] the same field somewhere else, you wouldn't have that mystique that Stanford has," he said. "Not only do you have the quality of athletes chasing these fast standards, but there's just the expectation of going to Stanford that you're going to run fast."
Solinsky posing after his big win, Photo: Victor Sailer, PhotoRun
This weekend, True will compete in the Kim McDonald Memorial 10,000m. It will be his first 10k since 2013. True is no stranger to Payton Jordan, though. Last year he won the 5000m there in a blistering 13:02.74, ranking him eighth in the world for 2014.
"Payton Jordan has really become the only 10k of the year that is fast," True said. "And so knowing that I decided that I might as well take a crack at it."
"The real goal is to get the standard (27:45) out of the way so I have more opportunities come USAs (The U.S. Championships June 26-28), but every time I race I also try and win."
Former Oklahoma State standout and 2:10 marathoner Ryan Vail is also in the 10k field this Saturday, and noted in his blog this week that "Payton Jordan is different. Everybody wants to run fast, so the pace goes out hard, and it stays hard for all of the 25 laps," Vail said. "It is the only 10k track race in the world that you can count on every year to go out on IAAF "A" standard pace. That is not an exaggeration."
The Payton Jordan Cardinal Invite has changed the game of American distance running. It's a stamp on the calendar each year that says "Come here. Run fast." It's a chance for people to set records, meet standards, and race against the best under the best conditions. Even Williams, who never got a chance to race at the event, is an advocate for the meet and hopes to see it flourish.
"Bottom line is, people know if you go to Stanford, there's a pretty damn good chance you're going to run your best time."