Colleen Quigley Joins the Bowerman Track Club
Colleen Quigley Joins the Bowerman Track Club
Jun 25, 2015
by Taylor Dutch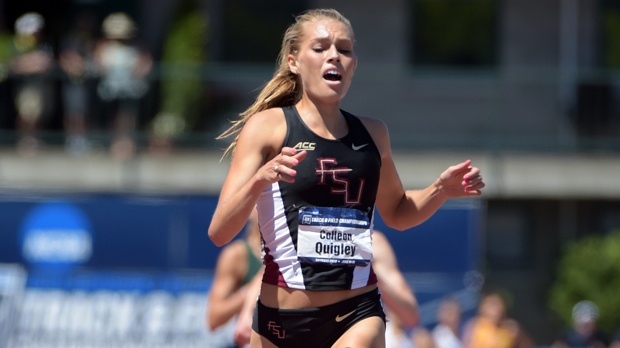 EUGENE, Ore. - After a dominating win in the steeplechase at the NCAA Outdoor Championships two weeks ago, former Florida State standout Colleen Quigley has joined the Bowerman Track Club.
"It's a small group, but it's a mighty group," Quigley said over the phone.
"It has a little bit of everything that I need with the 5K strength from Emily [Infeld] and the 1500m speed from Sammy [Silva]," Quigley said of the girls in the group.
Quigley joins the Portland-based club coached by Jerry Schumacher that includes multiple World Championship and Olympic medalists, including Andy Bayer, Andrew Bumbalough, Chris Derrick, German Fernandez, Shalane Flanagan, Elliot Heath, Ryan Hill, Dan Huling, Emily Infeld, Evan Jager, Lopez Lomong, Chris Solinsky, Matt Tegenkamp, and Sammy Silva.
The former Seminole recently capped off a college career that included nine All American honors in events ranging from cross country to the indoor mile.
In the 2014-15 season, Quigley earned her third-consecutive All American honor in cross country with a 23rd-place finish at the NCAA Cross Country Championships. She returned to the track in Feb. with a 4:29 personal best in the mile, which catapulted her as the top-ranked collegiate miler in the NCAA. She finished third overall at the NCAA Indoor Championships with a 4:31 finishing time behind Leah O'Connor and Shelby Houlihan.
Quigley earned redemption two weeks ago at the NCAA Outdoor Championships when she went
wire-to-wire
with defending NCAA Champion O'Connor in the final 400m at Hayward Field. Quigley ultimately pulled away around the Bowerman curve to claim her first NCAA title in a new personal best of 9:29.


Her NCAA steeplechase performance currently ranks her fifth in the United States and 11th in the world.

"I know that Pascal [Dobert] is an absolute legend and will give me everything I need in terms of steeple stuff," Quigley said of the Bowerman Track Club steeplechase coach.
Dobert has been instrumental in guiding American record-holder Evan Jager and top American steeplechasers Dan Huling and Andy Bayer to successful careers on the track.
"I knew I wanted something more structured, something where we meet everyday, you know, you see the coach everyday, more of a team feel," Quigley said.
"Knowing that I have a year to make this transition into the Olympic Trials, I didn't really have a lot of time to mess around and figure it out," she said.
"I had to get it right, and the Bowerman Track Club is right for me."
Quigley will make her debut in a Bowerman Track Club uniform during the first round of the women's steeplechase Thursday at Hayward Field.