In honor of Carl Lewis' birthday, we selected nine of his greatest accomplishments to go along with his nine Olympic gold medals. From world record-holder to pop star, Carl Lewis will go down as one of the greatest and most iconic track and field athletes in history.
9. Jumped 8.13m as a High School Senior
In the summer of 1979, Carl Lewis leaped to a PR and national record in the long jump with a mark of 8.13m (26'8''). His previous PR was nearly a foot behind. The current high school record in the long jump belongs to Marquise Goodwin with a mark of 8.18 (26'10'').
8. Qualified for Olympic Games as a College Freshman
As a freshman at the University of Houston, Lewis qualified to compete in the long jump at the 1980 Olympic Games in Moscow. However, Lewis did not compete because the United States decided to boycott the 1980 Olympics. Instead, he competed at the Boycott Olympic Games in Philadelphia, where he took third place.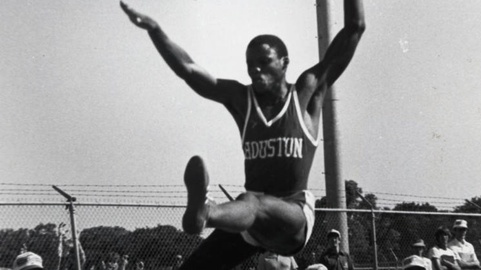 Image courtesy of University of Houston.


7. Released Album "Modern Man" in 1987.
As his athletic career started to wind down, Lewis took a shot at being a pop star. He released the album
Modern Man
in 1987. The music video "Break It Up" was one of his more popular tracks.
In his last Olympic Games, 35-year-old Carl Lewis won his fourth consecutive gold medal in the long jump. This was the ninth and final Olympic gold medal Lewis would take home. Despite his dominance in the event, Lewis never held a World record.
5. Won Eight Gold Medals at the Outdoor World Championships.
Lewis took home his eighth career gold medal at the 1991 World Championships in Tokyo after winning the 100m 4x100m and long jump. To this day, Lewis is the only athlete in the world to accomplish this feat.
4. Inducted into the USATF Hall of Fame
In 2001,
Lewis was inducted into the USATF Hall of Fame
, making him one of the greatest track and field athletes the world has ever seen. Larry Myricks, Henry Marsh and Alberto Salazar were inducted along with Lewis.
3. Ran a World Record in 100m
In the 1991 Outdoor World Championships, Carl Lewis won the 100m in a World record time of 9.86. This was just one of three wins that came from the World Championships in Tokyo. This was his first and only World record.
In his first time competing at the Olympic Games, Carl Lewis won gold medals in the 100m, 200m, long jump, and 4x100m relay. Jesse Owens, (who Lewis considered his idol) won the same four events at the 1936 Olympic Games in Berlin.
1. Won 65 Consecutive Long Jumps, Remained Undefeated For a Decade
For 10 years, Carl Lewis never lost a long jump. But after 65 consecutive wins, his streak came to an end after losing to Mike Powell at the 1991 Olympic Games. Lewis jumped to a PR of 8.87m (29' 1' 1/4''), while Powell broke the World record and jumped 8.95m (29' 4 1/4'').