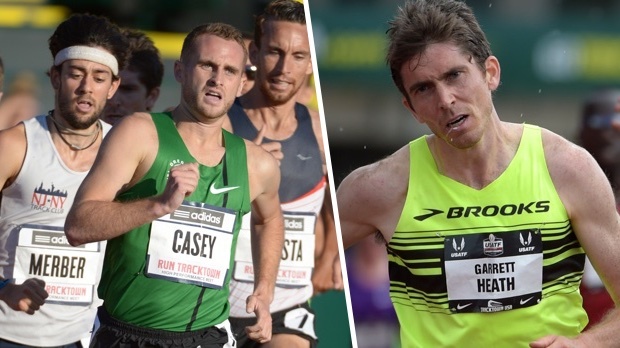 Pat Casey and Garrett Heath are going in different directions heading into the Throwdown


With just one week until the inaugural FloTrack Throwdown in Portland, Oregon on August 8th, it's time to break down one of our most intriguing races of the meet: the men's mile.
No event captures the imagination of American distance fans more than the four-lapper, as the mile is the great equalizer among mid-distance and distance athletes. 800 specialists and 5k runners can meet in the middle with the mile, because the race is like a tug-of-war between speed and strength. It's also the perfect race to pique the interest of new track fans, because let's be honest, what's the one question that non-track people always ask distance runners?
How fast can you run a mile?
We here at FloTrack are posing that question to some of America's finest pros, and we're super pumped about the rare opportunity for these athletes to run a domestic mile this late in the season.
The atmosphere at Duniway Park next Saturday is going to be just like the European races that these athletes travel to each summer, minus the long flight across the pond and the language barrier. There's gonna be beer, loud music, and exciting activities all around the track, not to mention fantastic pacing with perfect weather conditions.
Many of these athletes have set their PRs in Europe, and it's no coincidence that they've done so with passionate fans and other entertainment going on during the meet. Just looking at this men's mile at the Throwdown, the big names in the field have all set their 1500 PRs in Europe.
Enough ranting, it's time to analyze this race. To do that, I've put together a stock report to assess where the contenders are at heading into this rare domestic mile. Who's up? Who's down? Who's gonna Throwdown? Let's take a look:
David Torrence, Hoka One One
Finish at USAs: 5th in 5,000m
Status: Stock Up
Reason: Just won silver at Pan Ams
The 29-year-old Torrence is a favorite in the Throwdown mile not only because of his 3:52 PR, but because he enters Portland riding a wave of confidence after finishing a close 2nd to Juan Luis Barrios in the Pan Ams 5,000m. Torrence beat Garrett Heath and Cam Levins in that tactical race, showing that he's very sharp this late in the season. Torrence hasn't run incredibly fast times in 2015, but his silver in Toronto combined with his 5th place finish at USAs prove that he's ready to change that in Portland.
Jordan McNamara, Nike OTC
Finish at USAs: 10th in 1,500m
Status: Stock Down
Reason: Inconsistency
No one would deny that J-Mac is one of the most dangerous names in this race, and when he's truly on he can be very tough to beat. It's been a bumpy summer for McNamara, however, and 28-year-old enters Portland fresh off a 4:09 last place finish in the Morton Games mile. For a guy that's run 3:52, 4:09 is an outlier, but McNamara will need get things right in a hurry if he wants to hang with this deep field next weekend.
Garrett Heath, Brooks Beasts
Finish at USAs: 4th in 5,000m
Status: Stock Up
Reason: Consistency
Garrett Heath was excruciatingly close to making his first World team last month at USAs, finishing just .07 seconds behind Galen Rupp for fourth place in the 5,000m. While that was likely tough to swallow, Heath has had a very solid 2015 across a range of distances, running 3:34 for 1500, 7:37 over 3,000m and 13:16 in the 5k. Given those times, his 3:53 PR could come tumbling down next Saturday.

Remember when Evan Jager ran 3:32 at the Portland Track Festival in June? Well, that wouldn't have happened without Heath running very aggressively from the front and setting the tone in that race. His fearlessness makes him a co-favorite with Torrence next weekend.

Portland Track Festival 1500 - Garrett Heath 3:34:



Pat Casey, Nike OTC
Finish at USAs: 12th in 1,500m
Status: Stock Down
Reason: String of poor performances
Before I get into why Casey earned a "stock down" rating, I will say that he did put together a nice showing in the Morton Games mile last week to finish 2nd in 3:57.36, the second-straight year he's been runner-up in Dublin. In the 2014 race, Casey set his 3:52 PR.
The problem is that his good race there came on the heels of several bad ones, as Casey was 12th in the USA 1500, and not much better in his two Euro 1500s, as he was ninth in Budapest and 12th in Heusden. After a 2014 season that saw him finish 2nd at USA's and break 3:40 seven times, the 25-year-old has only one sub-3:40 to his credit in 2015.
The FloTrack Throwdown is next Saturday, August 8th at Duniway Park in Portland, Oregon. Doors to the event open at 4:00pm PT, with the racing starting at 4:30pm. Come check out a track event unlike any you've seen before, and watch America's finest Throwdown! BUY TICKETS HERE!