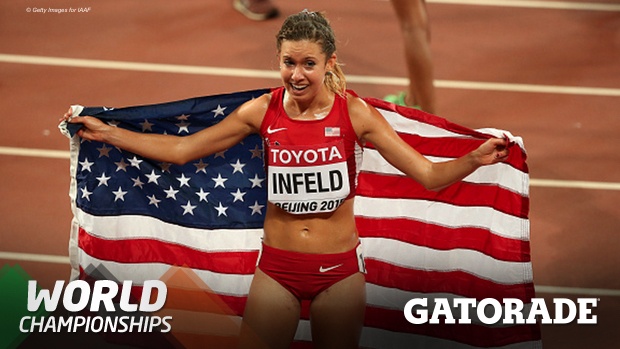 BEIJING - In an exciting women's 10K finish,
Vivian Jepkemoi Cheruiyot
of Kenya took down
Gelete Burka
of Ethiopia for the World Championship 10K title. But the race for third was the highlight of the evening. American
Emily Infeld
out-kicked teammate and medal favorite
Molly Huddle
for bronze in a lean at the line. Infeld finished in 31:43.49 and Huddle closed in 31:43.58.
"I didn't think I had a chance to medal and it just kind of happened, and the only thing that I feel bad about is that I think Molly [Huddle] let up and I don't think she knew I was there," Infeld told the media at National Stadium Monday night.
"I hate to take a medal from a teammate and fellow American, she's phenomenal, but I'm really happy, I really can't believe it!" Infeld said.

The first 5000m of the evening contest showed no signs of the favorites controlling the race. Two Japanese athletes, Yuka Takashima and Rei Ohara traded off leading through 3:13 at 1000m, 6:27 at 2000m, 9:40 at 3000m, 12:55 at 4000m and 16:11 at 5000m, slowing significantly between 4000m and 5000m. The favorites, including Cheruiyot, Burka, Huddle and Olympic silver medalist
Sally Kipyego
, remained calm and attached to the large pack.
Through 6000m, there remained 23 women capable of doing something special in this grueling 6.2 mile race. The pace picked up as
Sara Moreira
of Portugal led the group in 19:23, and former leaders Takashima and Ohara fell back to the 13th and 15th spots. Huddle looked to be in great form, tucked in behind the leaders in fifth place. Infeld and Bowerman Track Club teammate
Shalane Flanagan
sat in 11th and 12th place, only a full second behind Moreira.
Around 7000m, Huddle showed brave spirit by responding aggressively to World Junior 5K Champion
Alemitu Heroye
and World Bronze 10K medalist
Belaynesh Oljira
of Ethiopia. All the while, Flanagan and Infeld remained a second behind the leaders in the ninth and 11th positions.
With four laps to go at 27:01, U.S. Outdoor Champion Huddle sat in second place behind Heroye, looking strong and incredibly poised. The performance marked her first World Championship 10K after placing sixth in the 5K in 2013. The move up in distance looked to be Huddle's best decision yet.
With 1000m to go, Huddle was in the lead with Heroye at her heels, followed closely by Kipyego, Infeld and Cheruiyot. It looked to be anybody's race approaching the bell lap, as the pack of seven started to sprint furiously. When Cheruiyot and Burka pulled away with about 200m to go, it looked like Huddle would become the first American woman to medal in the event since
Kara Goucher
in
2007.
But the final 100m of a race should never be counted out, and Monday's race was no exception. In her final steps, Huddle approached the finish line with her arms in the air anticipating a podium spot only to discover that Infeld had stepped in front to claim the bronze medal by just 0.09 seconds.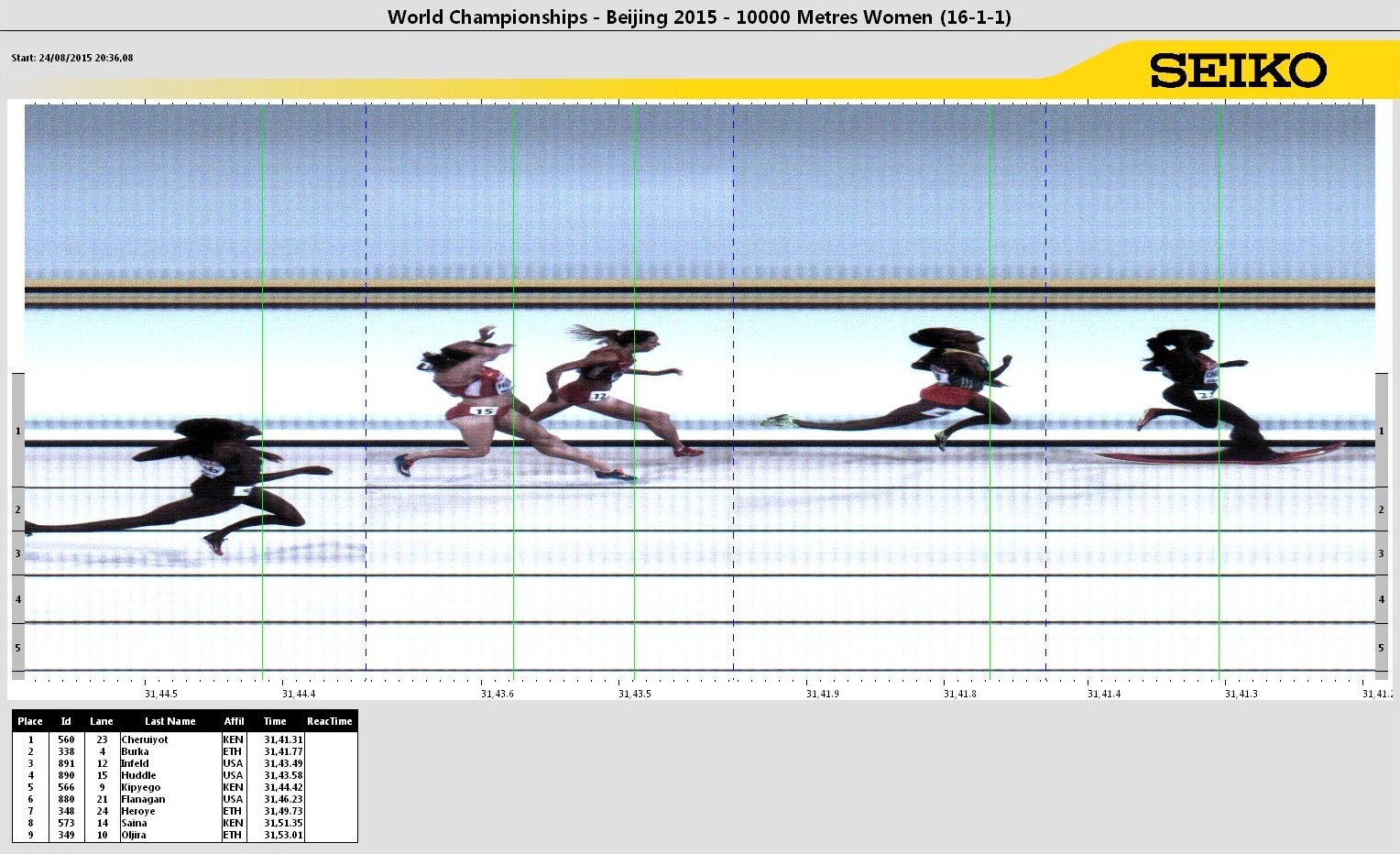 Infeld leans to secure the World Championship bronze medal. Photo courtesy of IAAF


"I hate to take that spot the way that I did, because I know she didn't know that I was there and I feel like she was celebrating but I was just trying to run through the line," Infeld said.
"I feel like this played into my hands because I have a pretty good kick just because of my background as a miler, and it went out pretty slow so I felt really good, and gosh I'm just really excited, I'm so happy!" Infeld explained.
Infeld's quick finish was reminiscent of her dominating Georgetown days when she was an NCAA Indoor 3000m champion in 2012. This was her first World Championship team after several years of inconsistent training and injuries. As stated previously, she is the first American to medal in this event since Kara Goucher earned bronze* in 2007.
Nine months ago, Infeld contemplated quitting running altogether when she learned that she had a sacral stress fracture, her second in two years. But a
change in event and a strong desire to give the sport one last shot
has resulted in Infeld's best season to date.
"It's surreal, I still can't believe it happened. I feel like I'm in a dream. It's going to be weird tomorrow when I wake up and realize that it actually happened," Infeld said.
Huddle's fourth place finish and Flanagan's sixth place finish gives the U.S. the best showing ever in the women's 10,000m at the World Championships.
Watch Infeld's full reaction after winning bronze in the 10K Monday at National Stadium:
*Kara Goucher finished third behind Turkey's Elvan Abeylegesse in Osaka in 2007. Recently, Abeylegesse's samples tested positive and Goucher is likely to be upgraded to silver