IAAF World Championships
Ashton Eaton Breaks His Own Decathlon World Record at World Championships
Ashton Eaton Breaks His Own Decathlon World Record at World Championships
Aug 28, 2015
by Lincoln Shryack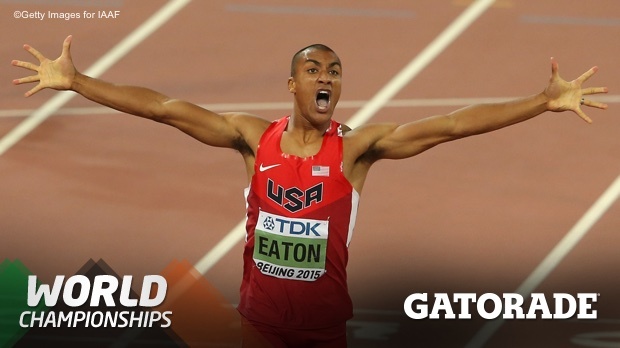 BEIJING - Despite competing in his first decathlon in over two years, it's safe to say that world record-holder Ashton Eaton remains the most athletic man in the world. He broke his 2012 decathlon world record by scoring 9045 points, a six point improvement on his previous world record.
Eaton eclipsed the mark by running 4:17.52
in the 1500m under the lights at the National Stadium. Heading into the final event, Eaton needed to run 4:18.25 or faster. With a roaring crowd surrounding him, Eaton was paced to a runner-up finish by Algeria's Larbi Bourrada who won in 4:16.61.
Prior to the 1500m, Eaton recalled sitting in the call room tired and unsure of his ability to break 4:18 after completing 10 events, but he found motivation in the idea of inspiring others.
"I was just thinking, it's not for me so I have to go," Eaton told the media.
"Really I was just thinking about me sitting on the couch when I was little and watching somebody like Michael Johnson or Carl Lewis jump and run, and that's the reason I'm here today. I thought maybe there's a kid on a couch somewhere and if I break this world record they may be inspired to do something," Eaton said.
Eaton's previous world record was completed at the 2012 Olympic Trials in Eugene, Oregon, where the Oregon alum tallied a then-world record point total of 9039. The other worldly decathlon performance included personal bests in the long jump, pole vault, 1500m, and 100m.
Friday and Saturday at the Bird's Nest was highlighted by a world decathlon best in the 400m (45.00) and season's best marks in the javelin, discus, 1500m and 100m to contribute to the world record performance.
What is even more impressive is that Eaton's performance was the first time the Olympic Champion had completed a full decathlon in over two years. On and off injuries prevented him from exerting himself in all 10 events, but Eaton managed to make a comeback on the biggest stage Saturday in Beijing.
"I don't really do this for myself, I think I use track and field as my expression just for my belief that…I think the point of life is to just to try and improve," Eaton said.
Watch Eaton's immediate reaction to his record-breaking performance in Beijing:
World Record Watch Live Updates:

UPDATE 3:

We now know what Ashton Eaton needs to do to break his 9039 world record in the decathlon. After his HUGE 63.63m javelin throw in the penultimate event, the American needs only to run 4:18.25 or faster in the 1500m to break his record in Beijing!
It certainly is going to be close, as Eaton's PR is 4:14.48 from his record-breaking decathlon back in 2012.

UPDATE 2:

Eaton is just 45 points off World record pace through eight events after the hurdles, discus, and pole vault in Beijing this morning/afternoon. Heading into the javelin, Eaton's point total stands at 7423 points, which is 254 points ahead of second-place.
The gold medal is all but secure, and now the only thing left to be determined is Eaton's tremendous score.
The American scored 1015 points with his 13.69 in the 110 hurdles, 733 points with his 43.34m throw in the discus, and 972 with a 5.20m clearance in the pole vault. The pole vault is the only event so far today that Eaton failed to surpass his mark from his 2012 World record.
Fortunately, Eaton only threw 58.87m in the javelin during his record-breaking decathlon, a mark that he has already surpassed this season in open competition. The second-to-last event will be crucial for Eaton's chances to break his 9039 record.
UPDATE 1:

After completing five of the 10 events on Friday, the defending champion and world record holder compiled a point total of 4703, giving him a 173 point advantage over second place heading into Saturday's final day.
Eaton's 4703 total trails only his 4728 first day best that he set at the 2012 Olympic Trials, where the American went on to set his 9039 point world record. This of course begs the question- can the 27-year-old break his own world record on Saturday in Beijing?
Based on his remarkable 45.00 400 PR in Day One's final event, Ashton Eaton appears very fit and will have an outside shot to improve his record tomorrow if he can make up ground in the field events.
"I thought the clock was off by a second, I swear. They should go back and check it…No way in hell did we think I was running that fast. I was like, ah, 46-flat maxed out," a surprised Eaton said afterwards.
His time in the 400 tonight was more than a half-second improvement on his personal best, and the fastest time ever run in a decathlon by .68 seconds, giving him a whopping 1060 points in that event. It concluded a day where Eaton also ran an impressive 10.23 to start the competition in the 100m, the fastest ever run in that event at the World Championships. That time trails only his 10.21 PR set at the 2012 Trials.
Eaton wasn't as pleased with his high jump today, where he managed only 2.01m to gather 813 points, off his 2.05m jump that he did during his 2012 world record, which equated to 860 points.
"It's just a really hard event for me to get technically, and I've worked on it for years now, so it's a managing thing now," Eaton said.
Eaton figures to pick up more points on his 2012 record to start tomorrow's second day of competition in the 110 hurdles, as he has run 13.38 for a season's best this year, while his time from the world record was just 13.70. Certainly fatigue will play a factor, but with his ridiculous 400 PR tonight after four events, he'll be expected to perform very well in the hurdles to start the day.
Among the final four events tomorrow, discus, pole vault, javelin, and 1500 meters, Eaton has already performed better this season than his decathlon world record marks in the javelin and pole vault, including a 5.40m PR in the latter event just a few weeks ago at the FloTrack Throwdown.
If all goes well on Saturday, Eaton will head into the final event, the dreaded 1500m, with a shot to go above 9039 points. The last time he ran that event, which most decathletes hate, was two years ago in Moscow at the 2013 World Championships.
2015
Worlds
2013
Worlds
2012
Olympics
World
Record
100
1040
1011
1011
1044
LJ
1030
992
1068
1120
SP
760
752
769
741
HJ
813
740
850
850
400
1060
1007
963
973
Day 1
4703
4502
4661
4728