IAAF World Championships
U.S. Men's 4x100m Relay Team Disqualified, Botches Yet Another Baton Exchange
U.S. Men's 4x100m Relay Team Disqualified, Botches Yet Another Baton Exchange
Aug 29, 2015
by Meg Bellino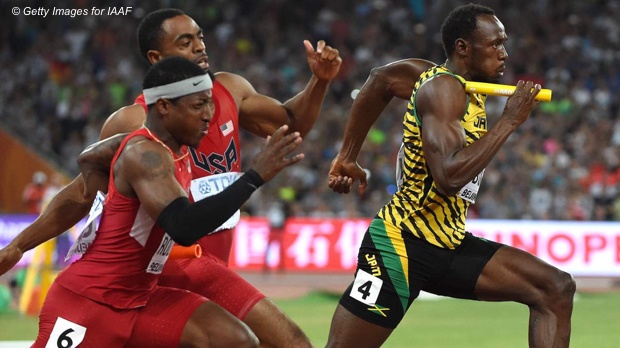 BEIJING - The U.S. men's 4x100m relay team was disqualified this evening after the third baton exchange between
Tyson Gay
and
Mike Rodgers
extended past the exchange zone.
They initially earned silver behind Jamaica (37.36) with a 37.77 performance. The order of the team,
Trayvon Bromell
to
Justin Gatlin
to Gay to Rodgers, worked well in the preliminary rounds. The first two hand-offs were flawless and all signs pointed toward a close anchor leg between the U.S. and Jamaica until Gay and Rodgers botched the handoff.
Rodgers was extremely disappointed after the race. "We really was whipping their tails for three legs," he said. "It looked like my steps were on in the video. I kind of don't know what happened."
Gatlin echoed Rodgers' sentiments saying he wasn't sure what was the cause of the exchange mishap and that they worked very hard to put the best team on the track.
"Contrary to popular belief, a lot of people don't think the U.S. teams don't do a lot of practice, a lot of relays," Gatlin said. "Maybe because of not enough time or ego. But this year we put all that aside and we worked together."
Past results don't lie. In the last seven World Championships, the men's squad has won two gold medals (2003, 2007), one silver (2013), DNF'd or DQ'd in the rounds (2005, 2009) and DNF'd or DQ'd in the final (2011, 2015). Additionally, they were DQ'd from the 2008 Olympics.*
So what is the problem here? The procedures the USATF coaches go through in choosing and coaching the relay teams? Are the athletes caving under the pressure of winning a gold medal? Maybe it's lack of preparation? Except the U.S. team required all members of their relay pools to attend two training camps in Monaco and Japan.
Twitter exploded after the DQ was issued. Check out what some of the running community had to say:
A disappointed Team USA explaining their 4x1 Relay DQ here in Beijing. pic.twitter.com/d9KFoxxMwk

— Lewis Johnson (@LewisJohnsonMG) August 29, 2015
Wrote a story after DQ in 2009 about how @usatf hoped to fix the problem. Then a DNF and a DQ in 2 of next 3 worlds in 4 x 1 men

— Philip Hersh (@olyphil) August 29, 2015
We need to stop the good old boy system, and put people out there who want to win. As a coach, how do I tell my athletes the USA can win.

— Carl Lewis (@Carl_Lewis) August 29, 2015
@Carl_Lewis Really? I'm sure all want to go out there & WIN. It's more the inability to handle pressure.. I think! https://t.co/xdoceAGK29

— Bernard Lagat (@Lagat1500) August 29, 2015
@TrackNationUSA. USATF AND THE PEOPLE WHO SELECT OUR RELAY COACHES, AND COACH OUR TEAMS, SHOULD NEVER BE INVOLVED WITH A USA RELAY

— Carl Lewis (@Carl_Lewis) August 29, 2015
What do you think the problem is with the U.S. 4x1 teams?
*Information via spreadsheet HERE.