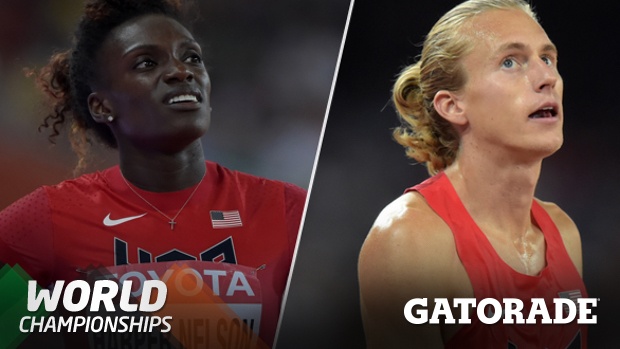 BEIJING - Team USA closed off the ninth and final evening of the 2015 IAAF World Championships with a memorable men's 4x400m victory over Trinidad and Tobago and Great Britain. Their time, 2:57.82, was highlighted by anchor leg
LaShawn Merritt
holding off a charging group of teams over the final 150m. The U.S. men's 4x400m team has now won six straight gold medals in the event, with Merritt being a part of all six.
Merritt and the relay aside, the U.S. finished the championships with 18 total medals, the fewest Team USA has ever accumulated at a world championship or Olympics since 2003, according to
NBC Olympics
. Their 4x4 gold on the men's side was the only track gold Team USA will be bringing back to the states.
FULL MEDAL COUNT
Those stats were noticed. At the Team USA press briefing before the final day of competition,
Jill Geer
, USATF Chief Public Affairs Officer, offered her takeaway from the championships saying:
"Pending what happens tonight, we should remain the World's No. 1 Track and Field Team here at the World Championships. That really, bottom line, is the most important thing to take out of this. We certainly didn't win in exactly the way that we planned to. We clearly had some events where we didn't have as high a place finishes as we would have expected, but we also had other events where we probably exceeded expectations. That's pretty standard for us."
Essentially, Geer said the team suffered from some bad luck, stating, "…the upside of that is that those things are correctable: a false start, a handoff where it isn't supposed to be, hitting a hurdle — those are momentary execution points that are correct. It's much easier to correct those errors than it is to try to go and find talent. When you look at our team, we clearly had the talent, especially where we were coming in on the World lists."
This is true. And several U.S. athletes will be bringing hardware home.
Allyson Felix
aka "
The Beyonce of Track
" won the 400m, her ninth global individual medal.
Justin Gatlin
put the team on his back winning two silvers in the 100m and 200m and running a spectacular leg on the 4x100m relay (before the disqualification, obviously).
Ashton Eaton set a world record
,
Christian Taylor nearly set a world record
, and
Tianna Bartoletta
and
Joe Kovacs
all won commanding individual gold medals with inspiring performances. We tallied six gold, six silver and six bronze. It's a good mix, but many expected more.
The women in the 110m hurdles sat atop the world rankings all season and failed to earn one medal.
Evan Jager
and
Emma Coburn
fell short of their steeplechase medal hopes, and
Galen Rupp
and
Matt Centrowitz
, former World and Olympic medalists, are coming home empty handed.
Good and bad, Twitter exploded after the realization of Team USA's performances, or lack thereof. Geer was right about the U.S. team being arguably the most talented mix of athletes in the world, Beijing just didn't bring us as much dominance as expected.
THE GOOD
#TeamUSA has won 6 straight golds in m4x4. @lashawnmerritt part of all 6, passes @Carl_Lewis as most successful U.S. man at WC (11 medals).

— USATF (@usatf) August 30, 2015
We have @allysonfelix's 400m split at 47.6. We're currently checking to see if she has jet packs under her shoes... #Beijing2015

— USATF (@usatf) August 30, 2015
Only medal for USA 800m and up was from @emily_infeld. Time for us all to rise up to her level ðŸ™ÂÂÂŒ🏻

— emma coburn (@emmajcoburn) August 30, 2015
THE BAD
US wins 0 men's track events at Worlds/Olympics for first time (h/t @DavidWoods007). It won 1 medal in men's/women's events longer than 400m

— Nick Zaccardi (@nzaccardi) August 30, 2015
2 Thoughts: Why was SRR running? She didn't make US final. She's good, but deserving? And why wasn't Felix, the World Champ, the anchor leg?

— Pat Price (@WritingAboutRun) August 30, 2015
USA will finish third or worse in the gold-medal standings at a World Championships for the first time.

— Nick Zaccardi (@nzaccardi) August 30, 2015
Kenya brought it! USA has some work to do before next year. pic.twitter.com/N77NWe4oRZ

— Ryan Fenton (@ryanflotrack) August 30, 2015