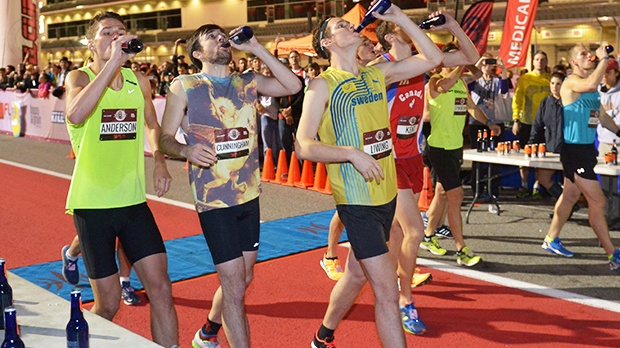 They've been nicknamed "The Kenyans" of the Beer Mile. The drinking and running duo of Corey Gallagher and Lewis Kent out of Canada have turned this sport upside down since last year's championships.

After running the two fastest times ever, Gallagher and Kent will finally meet (again) in Austin on Dec. 1 to run in the second annual FloTrack Beer Mile World Championships. But hey, we're not here to just watch two guys run against each other.


Here's a full rundown of the men's field competing on Tuesday.

The Master
Jim Finlayson, once compared to a fine wine, because he just keeps getting better with age, is a known threat in the event. The 43-year-old from British Columbia holds the Super Masters (40+) Beer Mile World Record, and is currently
ranked sixth all-time with a mark of 5:01.24
, which he ran just over a month ago.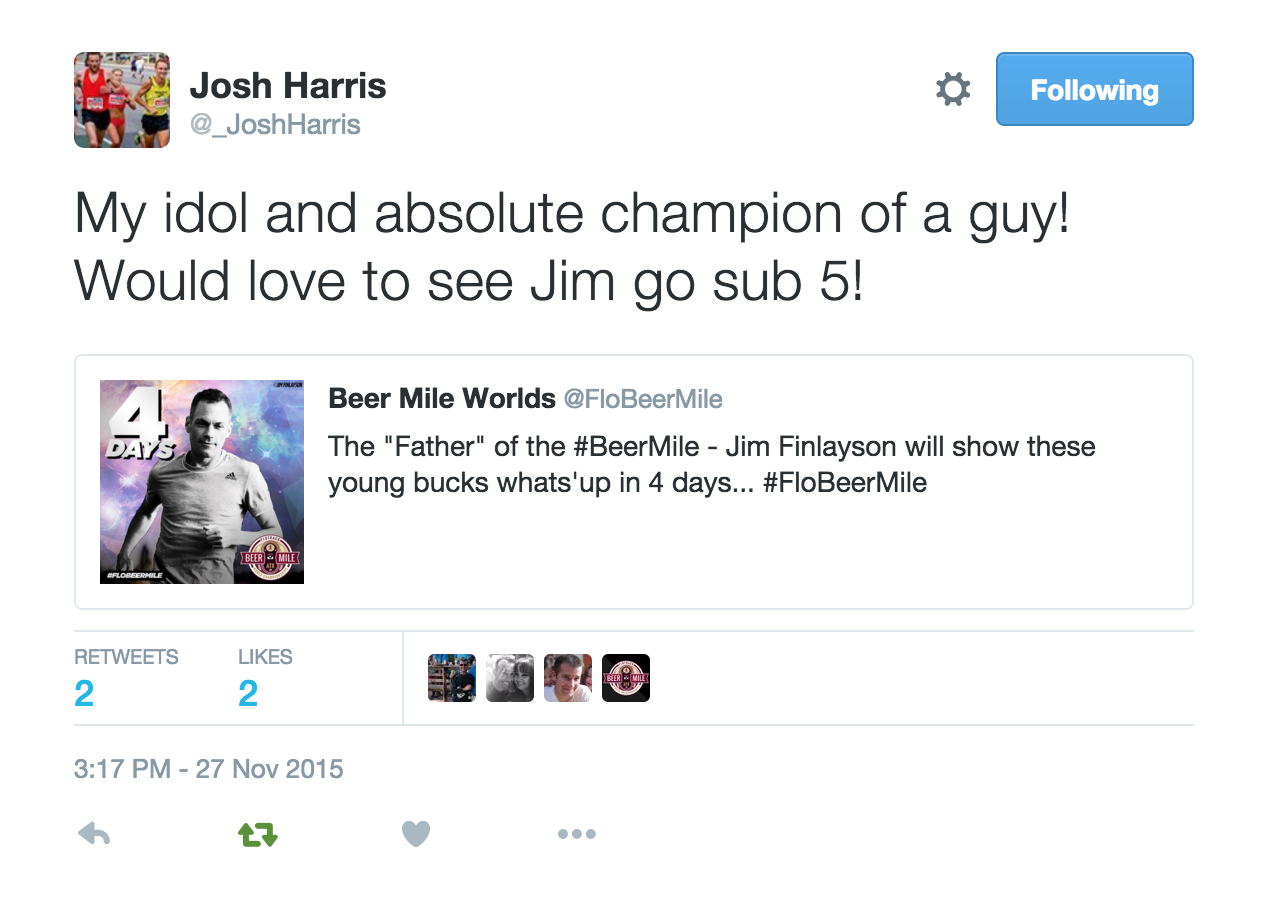 At the 2014 Beer Mile World Championships, Finlayson placed third (5:21.44) ahead of big name elite athletes Kent and Olympian Nick Symmonds. Let's not forget to mention that three days prior he raced at the Canadian Cross Country Championships as a tune-up.
The guy is a machine.
Certainly the oldest in the men's field and arguably the wisest, Finlayson has lived a life that most runners can't even imagine as he has learned to compete with multiple sclerosis.
READ: JIM FINLAYSON TACKLES MS AND BEER MILE
As "The Father" of the beer mile, and a tough competitor at that, Finlayson should never be counted out in a championship.
The Dark Horse
Last year's second-place finisher
Michael Cunningham
took the race out fast and set the tone early last year. He's back this year as the top American in the field, as well as the fastest non-beer drinking runner out there. After running collegiately at Penn, Cunningham went sub-four minutes in a road mile in 2013.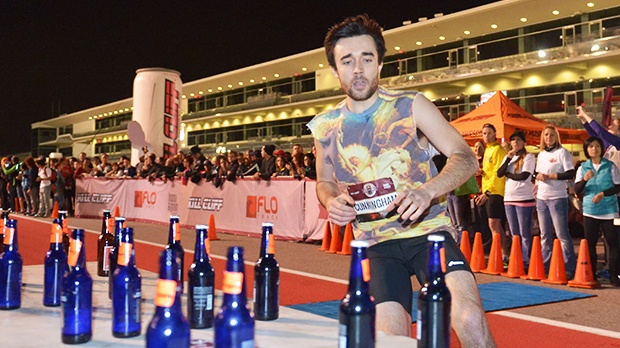 The gloveless Cunningham led the first 1200m in 2014, but was hampered by back-to-back ten second chugs on his third and fourth beer, a full two seconds slower than World Champion Gallagher who took over with 400m to go.
"You can't breathe, you want oxygen not beer," Cunningham admitted after his beer mile PR (5:07:95) at last year's World Championships.
"Just fight through those couple hard, few seconds… so you can breath again," he added.
INTERVIEW: MICHAEL CUNNINGHAM WANTED THE VICTORY, SETTLES FOR AMERICAN RECORD
There's no doubt about it that his man from New York can mix it up the top beer milers in the world. If he can get those chugging splits down and be there with 400m to go, Cunningham could shock the world.
The Showdown
The much-anticipated match-up between defending World Champion Corey Gallagher and current world record-holder Lewis Kent is finally going down for the first time ever on Tuesday night. Beer mile fans around the world are waiting with bated breath at the first ever match-up between the two athletes!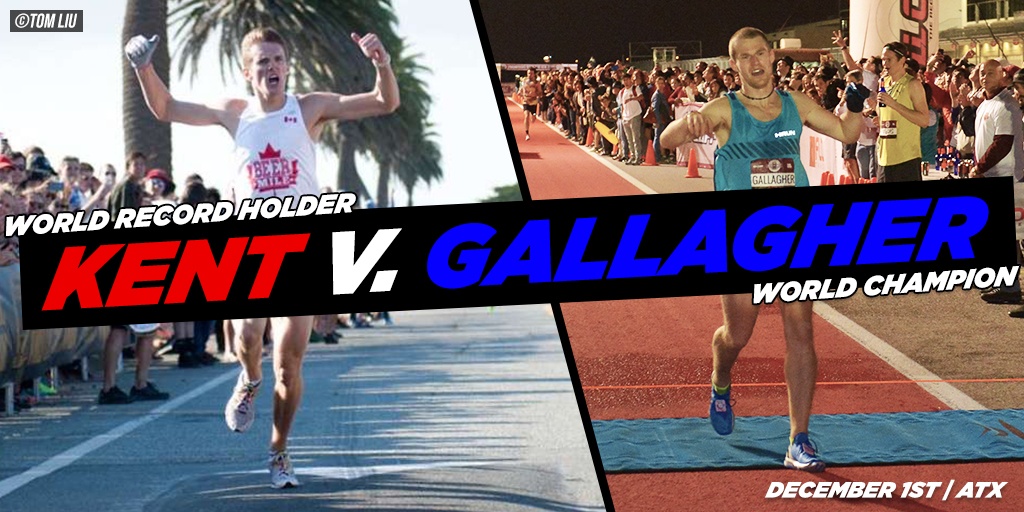 But surprisingly those fans are wrong. It may come as a surprise to you as it did to me, but Lewis Kent did in fact compete at the 2014 FloTrack Beer Mile World Championships
.
Really?!
Back then, as just a young (but legal) lad, he was a tall and lanky runner at Western Ontario with a respectable, but average beer mile PR of 5:32.6.
REALLY?!

A lot has changed since then. Donald Trump is running for President. Russia is banned from international track and field competition. And Lewis Kent is in Sports Illustrated, on the Ellen Show and sponsored by Brooks.
Really.
READ: MAN GETS PAID SALARY TO DRINK BEER, RUN
Not much has changed for Corey Gallagher. He does have a nice mustache now and he did get engaged a few months ago. He is still the World Champion. He is still as confident as ever and he is still trying his hardest to become the beer mile world record-holder.
He wants to be the best. And he doesn't care who is in his way.
It's hard to believe that as the reigning World Champion, Gallagher is the underdog heading into Tuesday's event. The man holds the second-
fastest time ever run, a 4:54.4
months ago, beat Kent the last time they raced, and probably most likely calls Austin his second home. And he's the underdog?!

Yes. But you know, none of that will really matter come Tuesday night when the gun goes off.
VIDEO: COREY GALLAGHER WINS 2014 BEER MILE WORLD CHAMPIONSHIP
What matters is that we will be witnessing history, the possibility of two men going sub-five minutes in the same beer mile.
What matters is that we have the two fastest men ever when it comes to drinking four beers and running four laps for one Beer Mile World Championship.
Nothing else matters. Except maybe for Kent's
insane 4:51.9 beer mile world record
- 40 seconds faster than his last 2014 performance.
Other than that, nothing else matters.
It's 2015 and we are watching grown men drink beer and run laps around a track. This year's
FloTrack Beer Mile World Championships
is going to be one for the ages.
---
The Women's Elite Beer Mile Rundown