The FloTrack Beer Mile World Championships isn't just for the "elite" beer milers, you know. With community races and a "sub-elite" field, Austin locals and runners from all over the country will give their best shot at drinking four beers and running four laps. Last year, 81-year-old Elvira Montes from El Paso finished in 20:44. After the race she said would have preferred scotch over beer. Whatever works!
One competitor in this year's sub-elite race is 35-year-old Austinite Iram Leon. Leon, who was
featured on ESPN's E:60
this summer, was diagnosed with brain cancer in November of 2010. He is an avid runner, completing countless 5Ks, 10Ks, half marathons and marathons. "I'm always training for multiple things," Leon said over email. "I take life one day at a time so the most important race is always the next one, which right now, well, is yours!"
His tumors are stable, and Leon said his next MRI is exactly one week after the Beer Mile World Championships. He is signed up for a 5K race this Friday and a 10K with his 8-year-old daughter in January. It will be her fourth 10K.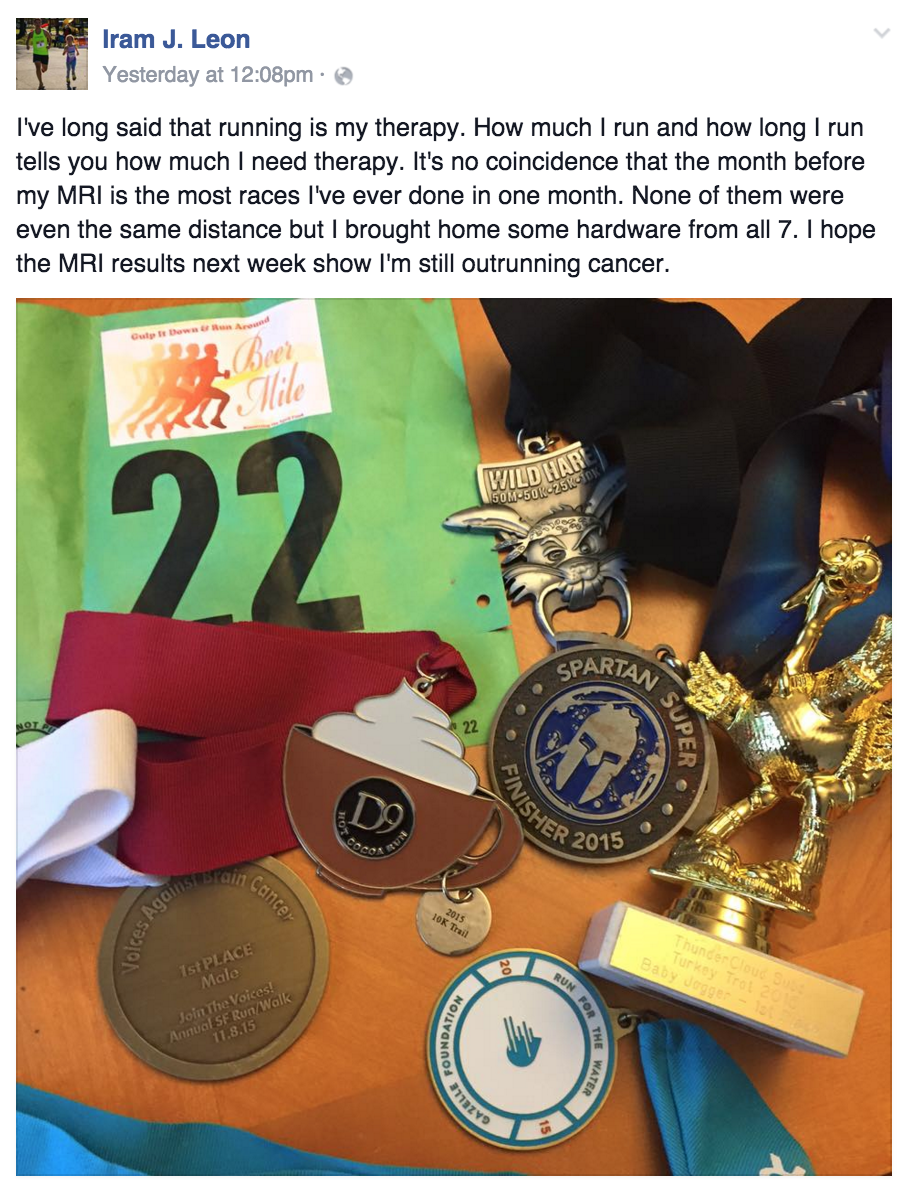 A recent snapshot of Leon's Facebook page on November 29, 2015

Leon gained entry into the sub-elite field after winning the Austin Beer Mile in 6 minutes and 30 seconds on November 28. "I decided to do the beer mile for one reason and one reason alone," Leon said. "Logan [Delaware, of Big Mouth Announcing] uses the proceeds for a good cause and he's a great announcer at many races, including some of the ones I've done raising money for various cancer causes."
He took down the women's top returner Andrea Fisher in the process. "She beat me in three of the four laps heading out, even though I beat her in because she just chugs so well," Leon said. "I have broken a five-minute mile on the track four years running, which I hadn't done since high school before the tumor."
Leon says he rarely drinks alcohol, and that he probably drinks more at the Austin Beer Mile each year than the entire year combined. The Beer Mile World Championships will be his first beer mile outside of Delaware's annual event.
"I tell my doctor I do it and he rolls his eyes and says as long as I don't make a habit of it, so we'll see if he reprimands me for doing two so close together."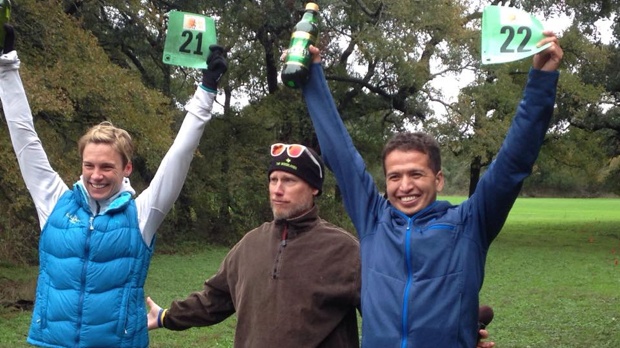 Fisher (left) and Leon (right) celebrate going 1-2 at the Austin Beer Mile with Logan Delaware, Photo courtesy of Facebook
--
Cheer on Iram during the sub elite race of the Beer Mile World Championships beginning at 8:10pm CT on Tuesday, December 1! More info HERE