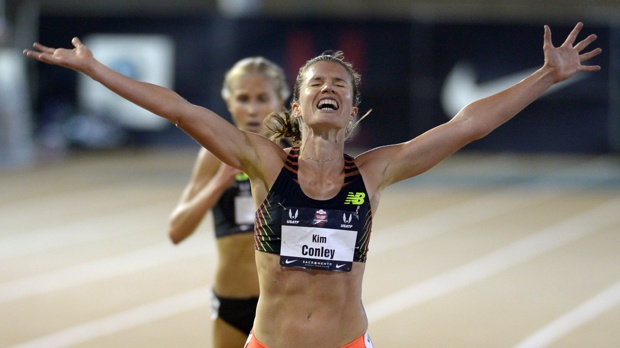 The inaugural Pacific 10,000m Pursuit is scheduled to take place this Sunday at Sacramento State University's Hornet Stadium, and holds promise for a highly competitive distance competition. With Olympic qualifying standards on the line, deep fields, and a much anticipated rematch, the 10K track race is setting up to be an exciting start to the 2016 Olympic year. Here are four storylines to keep in mind while watching the meet live on FloTrack Sunday night.
Rematch of Kim Conley and Jordan Hasay
At the 2014 USATF Outdoor Championships, hometown favorite Kim Conley won her first ever national title in the 10K against Nike Oregon Project's Jordan Hasay. At the same green and gold track of this Sunday's race, the two athletes battled through 25 laps until Conley unleashed a kick down the final straightaway to claim the victory in 32:02, just one second ahead of Hasay. The race was remembered as one of the most exciting battles of the championship and even made
FloTrack's list of top five races of 2014
.
A year and a half later at the same track, Conley and Hasay will meet once again to throw down another memorable performance.
NCAA Champ Molly Seidel Will Utilize XC Fitness
Fresh off of her NCAA Cross Country Championship performance, Notre Dame's Molly Seidel is set to roll into her first track race of the season against a professional field. Seidel is riding a breakout year that also included an NCAA 10K title on the track in June. The cross country season proved to be just as dominant as the Notre Dame standout captured the school's first ever national title in cross country, which also broke the long-standing
"Foot Locker Curse,"
where a female athlete won both the Foot Locker Championships while in high school and went on to win the NCAA Championships in college.

Fit as ever from her best cross country season to date, Seidel is poised to contend well with the field on Sunday.

It's Going to Be Olympic Trials Fast
In collaboration with Sacramento State Track and Field, the NorCal Distance Project and Strava Track Club, the field was assembled with two objectives in mind —
1. To provide a competitive race designed for the pursuit of marks for the 2016 Olympic Games. Those qualifying standards are 32:15 for women and 28:00 for men.
2. To provide a race that enables athletes to run a time fast enough to qualify for the 2016 U.S. Olympic Trials.
Led by Hasay's 10K personal best of 31:39, the women's race has 11 athletes who have run under 32:30. The men's race includes eight athletes who have run under 28:50, including Christopher Thompson who holds a 27:27 personal best.
The Fields Are STACKED
Along with Conley, Hasay and Seidel, the women's field includes a number of legitimate contenders. The Boston Athletic Association is bringing a host of superstars including three-time Olympian Jen Rhines, former Boise State NCAA Champion Emma Bates, and 2011 NCAA Champion Juliet Bottorff. 2:31 marathoner and new mom Sara Hall will be going back down to the 10K distance and holds a personal best of 32:50 in the 10K, which she ran this year in Portland. 2013 CIM Marathon winner Becky Wade will be running her first track race of the year in Sacramento and will contend with a 32:40 PR.
In the men's race, Thompson leads the charge with the fastest seed time of 27:27 and will be chased by athletes like former Stanford standout Erik Olson, Boulder's Sean Quigley, Nick Hilton of Team Run Flagstaff, Mauricio Gonzalez of Posso Sports, and Marvin Blanco from Venezuela. Also, a surpise entry in Oregon TC's Ben Blankenship. It will be interesting to see how the 1500/3K runner handles a 25 lap race.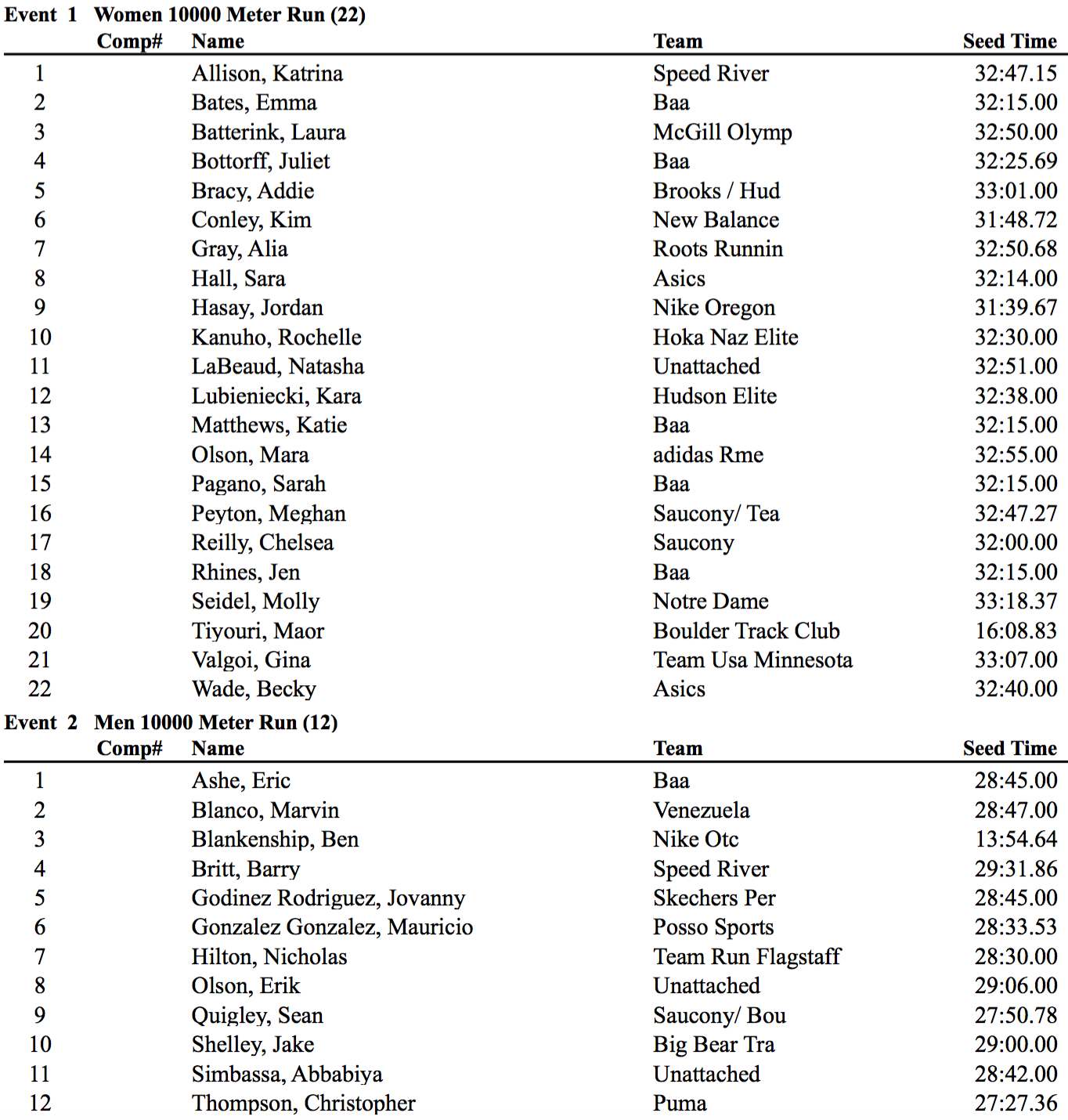 Catch all the action
live on FloTrack
Sunday night starting with the women's race at 6:00 p.m. PT, followed by the men's race at 6:50 p.m. PT.