I've been looking forward to doing this race for more than a year now. That seems pretty weird to say about any race besides an Olympic Trials race, but there is a reason behind that. I was originally scheduled to make my half marathon debut at this race last year. What better time to do it? So many of my teammates were preparing for the Marathon Trials in Houston the day before, so we would be able to do a lot of the same training together; and I thought it would be the perfect way to end my fall/winter schedule, then take a break and get ready for the Track Trials in late June. Well, long story short; I had some illness and injury issues in November that really negatively affected my training; so I didn't feel I would be prepared to run a fast half-marathon in mid-January. Instead I decided to focus on US Cross Country, which I did mid-February and ended up getting second.

I have always been a big believer in "everything happens for a reason." So that spring, I had the idea that the reason I got hurt and wasn't able to run the Houston Half in 2012, was so my timing on being ready for the Olympic Trials would be perfect, and I could end up making the team. Well perhaps the timing was perfect because I was able to run a 10 second PR at the trials; but was not able to make the team, finishing 5th.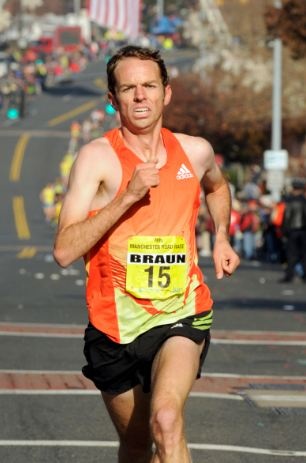 After finishing my track season I turned my sights toward this fall/winter season, and again couldn't help but see myself finally making my half-marathon debut January in Houston. So I set up my season, basically the same way I did fall/winter of 2011. I ran a couple USARC Championships early in the season, earning enough points to tie for the series win. Then I also had the NYRR Dash to the Finish 5k and Manchester Road Race on my calendar before Houston. I wanted to do another race in-between Manchester (on Thanksgiving day) and Houston but there just wasn't a good race that would work well for me. After the 5k (and marathon) in New York were cancelled due to the hurricane I realized that Manchester would be the only race I would get to do from the 10 mile I ran on October 6th and Houston this Sunday, January 13th. That's 3 months with only one race! Now that's not too uncommon for me, but only during time periods when I have just taken a break, and starting to train again.

Let me tell you, these past 3 months have been torture mentally! I have gone crazy knowing that I'm in good shape, ready to run fast and only getting to run one race. Luckily I made the most of that one race, winning the Manchester Road Race, tying the course record and ever since then I have been itching so badly to lace up my flats again and push myself to the limit. I have had that nervous/excited feeling all runners get before races all week, this week! I haven't been able to focus on even medial tasks; there have been a couple times this week where I have almost or did miss a turn to somewhere I was going while I was driving because I was thinking about this Sunday. But how could I not? There's going to be so many fast guys lining up next to me this Sunday. I know a few of the Africans in the field will be chasing the 50,000$ bonus the race is offering for breaking the World Record, and I'm counting on being in the mix of some great American runners who will also be running fast in Ben True, Luke Puskedra, and Meb (first time ever racing him)

My sister got me the latest The Killers CD for Christmas and in one of the songs is a lyric I really hope will be stuck in my head on the roads Sunday. It goes "What are you afraid of?… And what are you made of?"

And I'm hoping I'll have my reason for why I wasn't able to run last year: to be able to debut this year!