Part of the reason we run is to emulate our heroes. We learn for them and dream to run as fast as they do. The guys who did it for me were Bob Kennedy and Todd Williams. They were studs when I was learning distance running. I wanted to be like them.

I also wanted to be like my older college teammates, and they talked about Pat Porter. I quickly learned that he was the king of cross country. There was no question about that. I was a Division II guy and so was Pat Porter as an Adams State alum.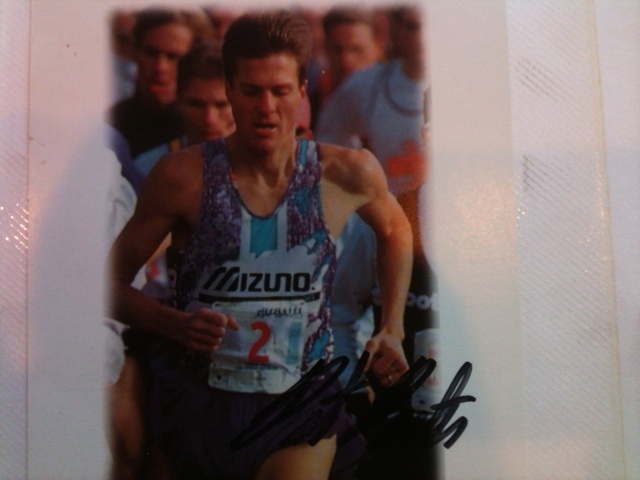 (A now treasured piece of my scrapbook.)

As a naive young runner, I quickly thought that Porter was the coolest thing going.
Other runners respected Pat Porter, and I followed that trend. Pat Porter looked different. He was lanky, which made his stride lope and bound. It was cool to watch. His great stride looked even cooler when the panther tattoo on his hip flared out.

In 1994, I ran to the USATF Cross Country Championships at Blue Lake Park in Portland, Oregon. The course was laid out over huge grass fields. As I waddled around the course the day before the meet, I suddenly heard "look out!" I jumped out of the way as Pat Porter and former NAU star Bo Reed came screaming by, testing a tight turn around a tree. I was more than happy to get out of the way, and Porter politely thanked me for moving.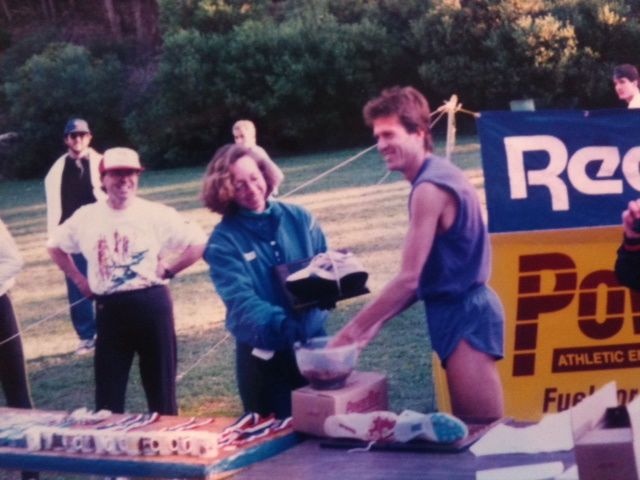 (Porter participating in the ceremonial muddying of his victory trophy at the
1994 PA-USATF XC Championships in Golden Gate Park in San Francisco.)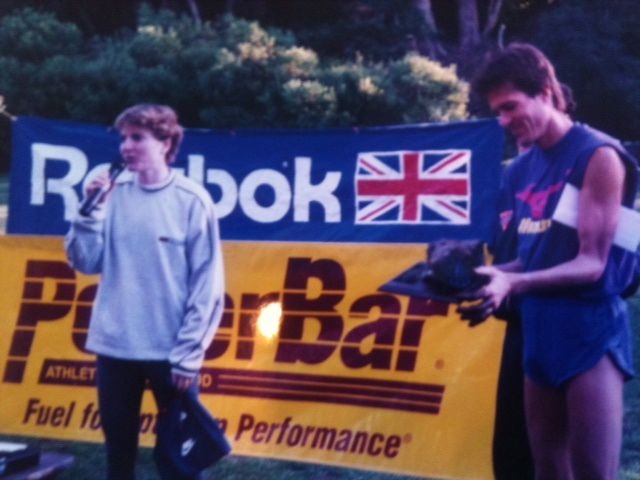 (Lynn Jennings and Porter address the crowd after their victories
at the 1994 PA-USATF XC Championships.)

Porter was different in that cross country was his focus. He ran on the roads to pay some bills (as discussed in a
1990 TnF News interview
), but he was all about the World XC Championships. He earned five top 10 finishes with a best of 4th in 1984.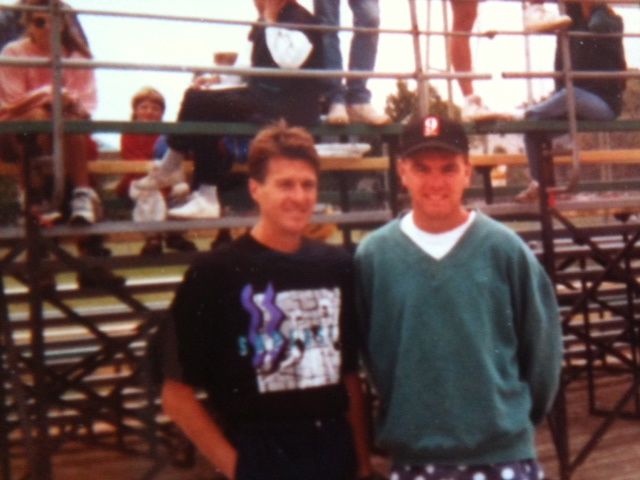 (Porter and I at the 1993 USATF TnF Champs at Hayward Field.)

Pat Porter is remembered as the best US cross country of his generation, but his accomplishments were not limited to hills and turf. His lifetime best for 10000 meters was 27:46, and he ran the distance at the 1984 and 1988 Olympics. Porter competed in four Olympic trials (1984-96).

Part of me does not feel justified in writing on Porter because I did not see him in his prime. I was fortunate enough, however, to speak with him a few times and toe the same starting line twice. Those kinds of connections keep me coming back to distance running.

Pat Porter was a small school guy who focused on cross country. He was known for taking races out hard and challenging all comers. That made many distance runners want to be like him. Everyone from legends Bob and Todd to average Division II guys like me. He set a standard for all of us.