Just wanted to wish everyone a Happy Thanksgiving on behalf of the Flotrack and Flocasts family! We just got through a great, intense college cross country season and I am thankful for our community out there. This past weekend and Monday Flocasts had its biggest collective day in our history and its been amazing to watch the community grow. And the community means so many things. The coaches, the athletes, the fans, the visitors to the site, our Flo family and the awesome contributors we have. There are so many passionate people in the track and field community and I feel so lucky to be a part of it.

This past weekend in Terre Haute was a culmination of weeks of work for many people and it was a blast to be there with Alex, Kevin Sully, RJ McNichol, Jesse Squire and the Saucony team. Sully, RJ and Jesse are guys I have recently met this year and added so much to our experience in Terre Haute this year. Dan Knewitz, Ryan Craven, Mike Lansing, Kevin Liao, Cate Westenhover, Harrison Holtz, Skyler Schmitt, Jeremy Hayes, Tony Casey, John W Davis, Zac Sweers and Matt Zielske are a few I'd like to thank for all the hard work this season in providing great content to the community and helping to make our sport exciting! Kevin Selby, a guy that has been with us from the beginning, can not go unmentioned. I know you all watch his great interviews and features but he's also someone who's always got great ideas, fresh perspective and is a great friend. I'd also like to give a shout out to my partner in crime, Alex Lohr. We have put this guy to the test over the past few months and its been awesome to see him grow into a new leader in our community! I am pumped to have Alex on the team and the newest full-time member to the Flo family. He's been a breath of fresh air with the excitement he brings each day.

Lastly I am thankful for Mark Flo, the Godfather of Flotrack. If it weren't for he and his brother Martin's ideas and motivation who knows where we (the community) would be. They have helped change the scope of track, wrestling, swimming, gymnastics, sailing, cyclocross and how media is provided across these worlds. Its been a wild, crazy, awesome ride to be a part of the platforms that have been created to highlight these unique communities.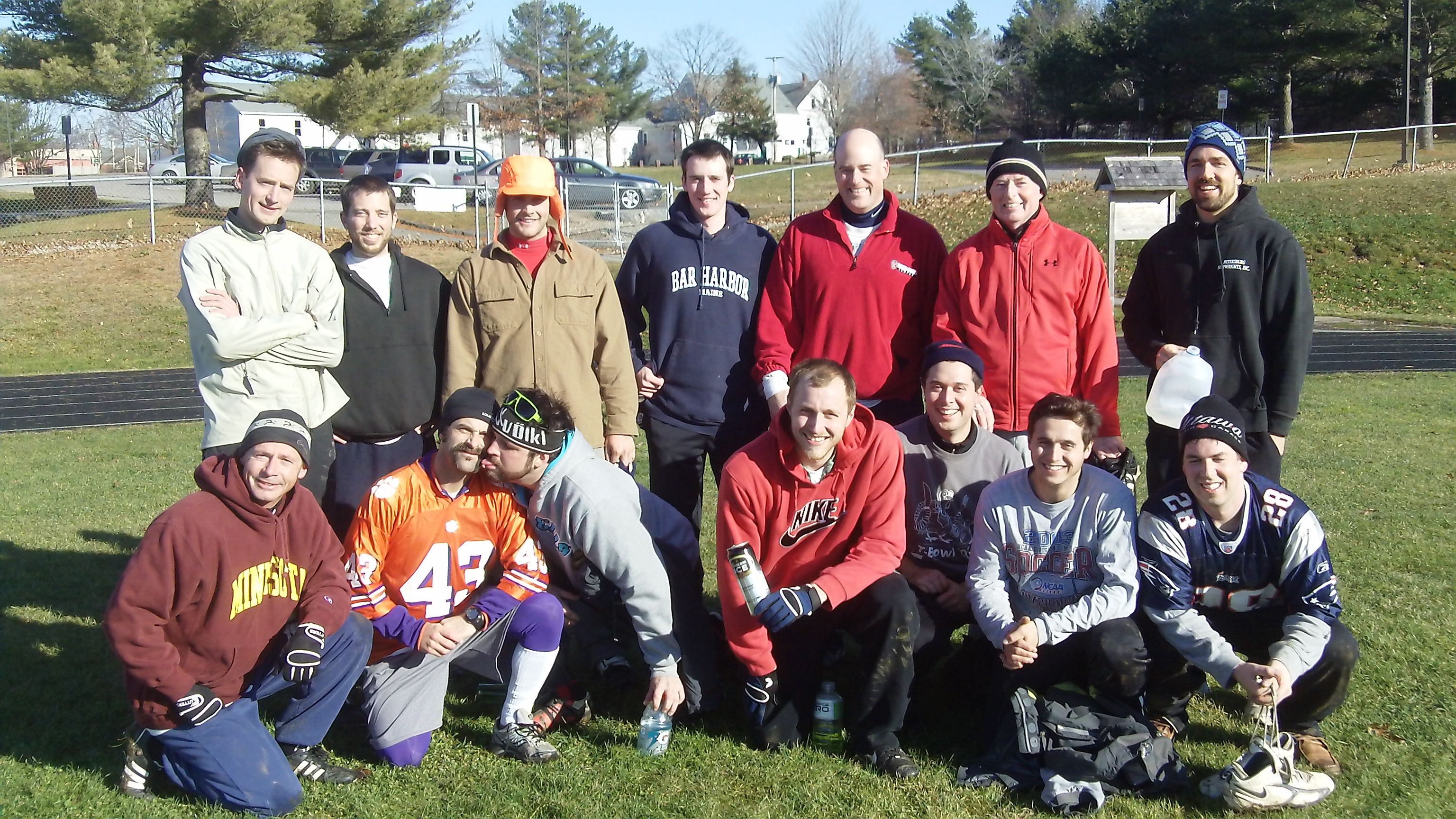 (Turkey Bowl 2011 this morning, our team lost in the championship game. You may also notice that mustaches make people act in strange ways)

Well back to the couch for now, in pain from the Turkey Bowl I played this morning. Just wanted to send my thanks to all. Enjoy the time with friends and family today and this weekend....hopefully you got a good turkey trot in or some two hand touch (tackle if you're real hardcore). We'll see you soon...still a little more XC to go with high school championships around the corner!

HAPPY THANKSGIVING!

Ryan


P.S. The stache is retired until 2012. Here's the progression throughout the day's events from football to desert.