Nick Symmonds' Run Gum Files Lawsuit Against USOC and USATF
Nick Symmonds' Run Gum Files Lawsuit Against USOC and USATF
Run Gum, the company co-founded by two-time Olympic 800m runner Nick Symmonds, on Wednesday filed an antitrust lawsuit in federal court against the U.S.
Jan 20, 2016
by Taylor Dutch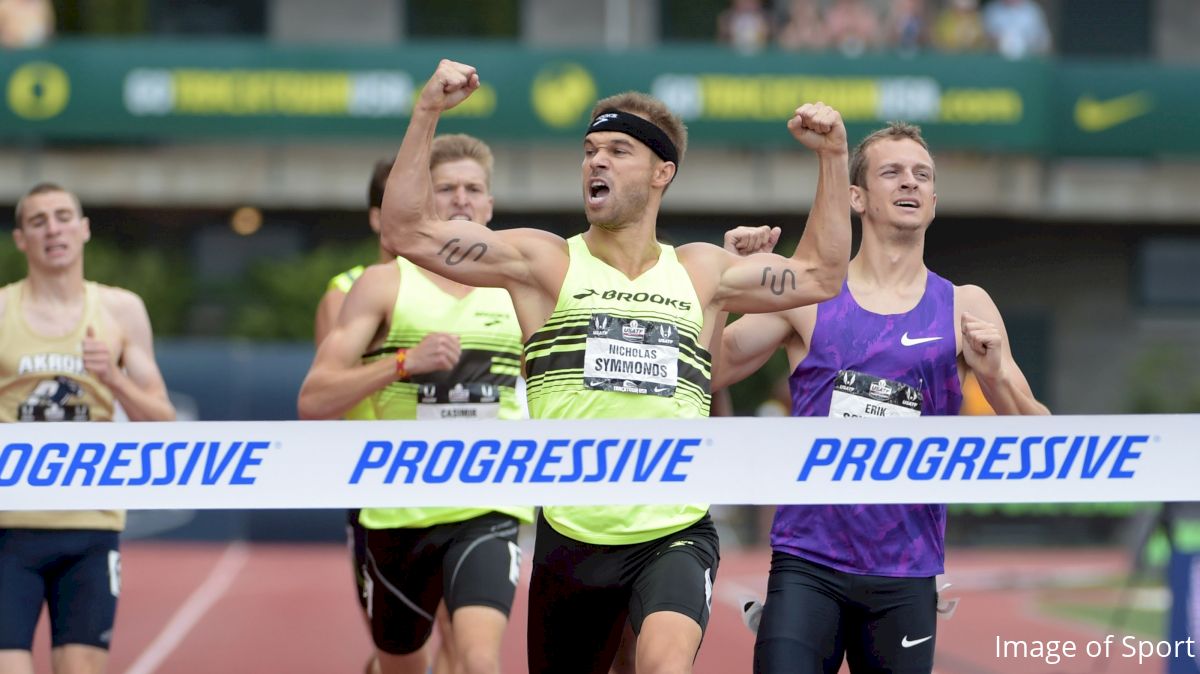 Run Gum, the company co-founded by two-time Olympic 800m runner Nick Symmonds, on Wednesday filed an antitrust lawsuit in federal court against the United States Olympic Committee and USA Track & Field, alleging that rules forbidding athletes to showcase their sponsors during the 2016 U.S. Olympic Trials limits free competition in the marketplace. Run Gum will be unable to advertize on athletes' apparel at the Trials due to USOC and USATF regulations.
"Run Gum is filing an antitrust lawsuit against both USATF and USOC, specifically for not allowing us to advertise on athletes' attire during the 2016 Olympic Trials," Symmonds told FloTrack in an in-person interview during his training stint in Phoenix, Ariz. "All Run Gum is asking is to be allowed to compete with the Nike and Brooks and Reebok and all the other shoe companies and allow us to bid on that advertising space."
According to the suit
filed in U.S. District Court in Eugene, Ore., Run Gum alleges that the USOC and USATF have engaged in "anticompetitive and unlawful conduct" by "jointly agreeing and conspiring to prevent certain businesses—while permitting others—from sponsoring individual athletes," at the Olympic Trials "in exchange for sponsor identification on the athletes' competition apparel."
The complaint continues to read: "This complete foreclosure of a valuable commercial opportunity, which is vigorously enforced, is a classic group boycott that injures would-be sponsors (and athletes), lacks any legitimate business justification or pro-competitive effects, and is illegal per se. USATF, the USOC, and their co-conspirators cannot curtail competition by picking and choosing eligible market participants and excluding the rest."
Run Gum is seeking an injunction that would "preliminarily and permanently" prevent the USOC and USATF from enforcing these regulations with the hope of "leveling the playing field among sponsors of track & field athletes at the Olympic Trials."
USATF Chief Public Affairs Officer Jill Geer told FloTrack, "We are unaware of the lawsuit and have not been served. In any circumstance, we do not comment on pending litigation."
A message for USOC spokesman Patrick Sandusky was not returned at the time of publishing.
Watch FloTrack's exclusive interview with Nick Symmonds from January 8:
Symmonds founded Run Gum with his Willamette University coach Sam Lapray in October 2014 and have since focused their marketing efforts in the elite track and field community.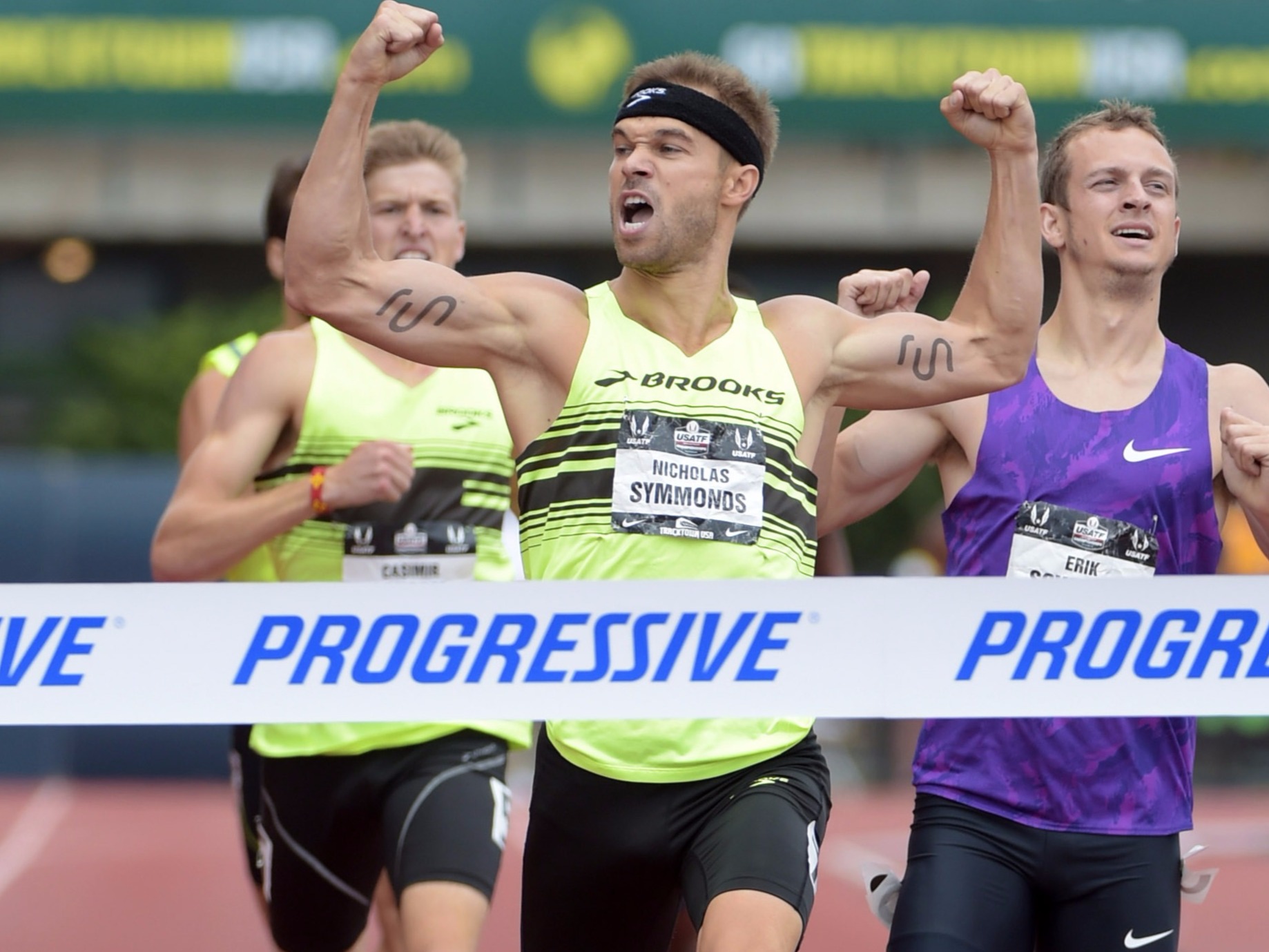 Last year
Run Gum sponsored 20 non-apparel sponsored athletes at the USATF Outdoor Championships
, which provided them short-term contracts for the championships that included branded uniforms and travel funds to compete on the national stage. Symmonds himself wore Run Gum tattoos on his biceps while winning his sixth 800m national title.
Rum Gum and any other approved sponsor is allowed to exercise this type of advertisement at the USATF Championships, but the Olympic Trials are under different restrictions specific to IOC and USOC regulations. Unlike the USATF Championships, a non-apparel company is not allowed to advertise on an athlete's clothing at the Trials.
"We knew that we needed to start somewhere and the community that we know best is the running community….specifically by utilizing the sponsorship of elite athletes to market to those runners," Symmonds said. "You got to see just how incredibly effective using athletes as endorsements, as endorsers can be."
USATF offers an explanation of the uniform advertising and logo regulations pertaining to the 2016 Olympic Trials on their website. As a United States Olympic Committee event, the U.S. Olympic Team Trials, for marathon, race walk and track and field, are all subject to the International Olympic Committee and United States Olympic Committee advertising regulations. The specific
athlete apparel and uniform requirements for the Trials
are as follows:
With the exception of standard manufacturers' equipment identification permitted by Rule 50 of the Olympic Charter (or the manufacturers' equipment identification permitted by the NGB's International Federation's rules, if applicable), the equipment, uniforms and the bibs/numbers of the competitors and officials at the Trials may not bear any commercial identification or promotional material of any kind (whether commercial or noncommercial). Competitor uniforms may bear the name of his or her track club, provided the club is a registered member and in good standing with USA Track & Field (as of November 1, 2015) and has been approved by the USOC. Any violation of the rules may result in disqualification.
As the apparel regulations stand, USATF extends the IOC guidelines, which are in place for the Olympic Games, and to the U.S. Olympic Team Trials as well. Those guidelines employ Rule 50, which is outlined in the
IOC's Guidelines Regarding Authorised Identifications
. The guidelines read as follows:
No form of publicity or propaganda, commercial or otherwise, may appear on persons, on sportswear, accessories or, more generally, on any article of clothing or equipment whatsoever worn or used by the athletes or other participants in the Olympic Games, except the identification […] of the manufacturer of the article or equipment concerned, provided that such identification shall not be marked conspicuously for advertising purposes.
One of the key
General Principles to Rule 50
that Run Gum is challenging is:
4. Where the Identification of the Manufacturer is not a Sports Brand (principally used in the business of manufacturing, providing, distributing and selling sports goods, not principally used for non-sports goods), such identification shall not be permitted, except for Clothing, for which the Identification of the Manufacturer may be that of a Clothing Brand.
In 1978, the Federal Amateur Sports Act granted the USOC complete control over the administration of Olympic sports and its intellectual property. Symmonds and his attorney Sathya Gosselin from Hausfield LLP challenge whether these regulations, which restrict athlete apparel advertising to strictly "clothing brand" and thus leaving a non-apparel company such as Run Gum out of contention for athlete apparel sponsorship space at the Trials, fall within the laws purview.
"I imagine it's to protect their [USOC and USATF] sponsors and I imagine there is some collusion among certain apparel manufacturers that encouraged them to keep it this way," Symmonds told FloTrack. "Whatever's going on behind the scenes, I'm not concerned with. What I am concerned with is there's being an injustice done right now, there is a trust granted to the apparel manufacturers and it needs to stop today and that's why we're filing this complaint."
According to the Federal Trade Commission, U.S antitrust law is aimed to "protect the process of competition for the benefit of consumers, making sure there are strong incentives for businesses to operate efficiently, keep prices down, and keep quality up."
In Run Gum's case, the company and its founders allege that USOC and USATF are creating restrictions on trade and a monopoly on the advertising market for the U.S. Olympic Team Trials.
"If McDonalds came in tomorrow or Starbucks came in tomorrow, any company, came in and said, we want to invest $500 million in the sport of track and field, specifically to athletes….let's think of someone without a contract, if they said hey I want to give you $1 million to wear a jersey with my logo on it at the 2016 Olympic Trials. That athlete is out of luck," Symmonds said.
"They can't take that money. There is no way for any company, any non-apparel manufacturer to advertise on an athlete during the Olympic Trials and that's wrong. You can't give a small sector of the market like the apparel manufacturers absolute control over that space. It restricts trade, it drives down the cost that companies have to pay for that space," he added.
Hausfeld LLP is the same legal team that in 2014 successfully challenged the NCAA on antitrust grounds on behalf of former UCLA basketball star Ed O'Bannon, who questioned whether the NCAA could legally prevent athletes from earning money on their names, likenesses, and identities.
More updates to follow